Tagged with "inspiration | The Hyper House"
Just because the Olympics are over doesn't mean you have to stop going for the gold. Gold is back in style and I couldn't be happier. I know some people will always be loyal to white gold/silver/platinum but I've always loved all things bright and shiny and the right shades of gold and brass can be so beautiful. I'm happy to see more designers giving gold a chance and I'm hunting for the perfect accents to bring some gold into my home.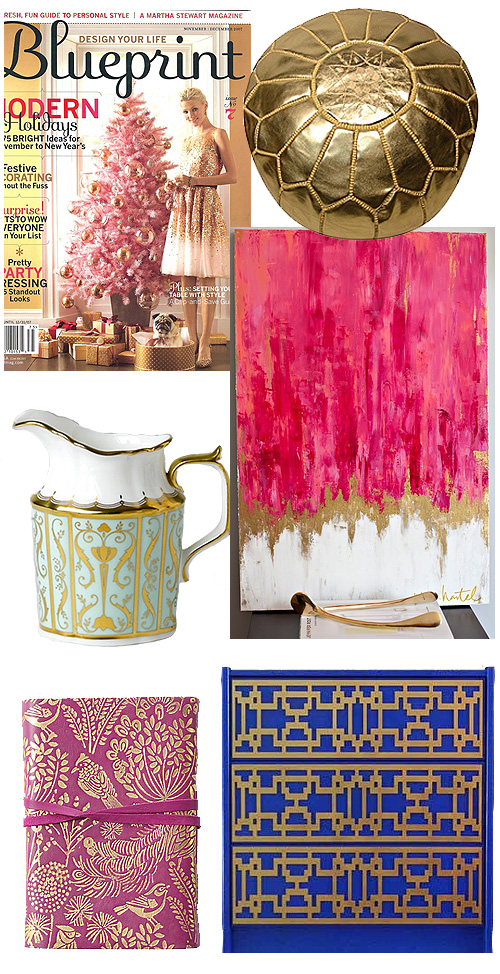 (clockwise from top left- Blueprint Magazine (December 2007), Gold Leather Metallic Pouf, Art by Maurie Hartel, O'verlays, Anthropologie's Prospero Journal, Royal Crown Derby Creamer)
I like to view gold as a neutral since I think it pairs so well with brighter colors like a bold blue, a soft aqua, or even a royal purple. Pink and gold have been a personal favorite since I saw a spread in Martha Stewart Weddings back in Winter 2007/2008 featuring a dusty pink and gold. That was also the same year of Blueprint Magazine's beloved pink Christmas (also by Martha, RIP Blueprint). Since then I've really grown to love all shades of pink with gold.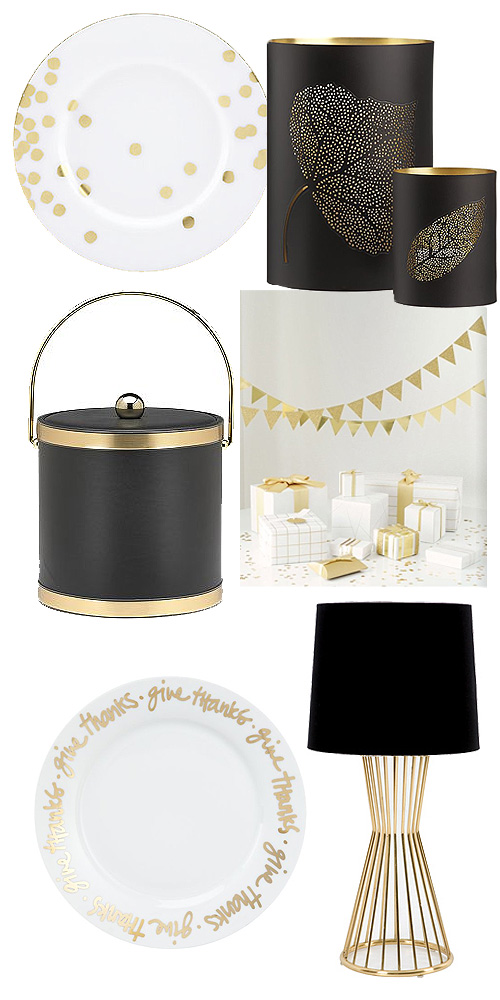 (clockwise from top left- Kate Spade NY Ticker Tape Plates, Crate & Barrel Hakkari Hurricanes, Cover of Gifted Magazine, Tulip Family lamp & shade, Crate & Barrel Give Thanks Plate, Brushed Brass Ice Bucket)
Gold seems to work even when paired with other neutrals. Gold and white can bring an amazing warm tone to a look and always makes me think of the fall and winter holidays like Thanksgiving and Christmas. Gold and black is such a bold contrast that I find it looks sophisticated and bold. I'm noticing the trend of black interior doors and trims coming back and when paired with gold it can form a daring choice.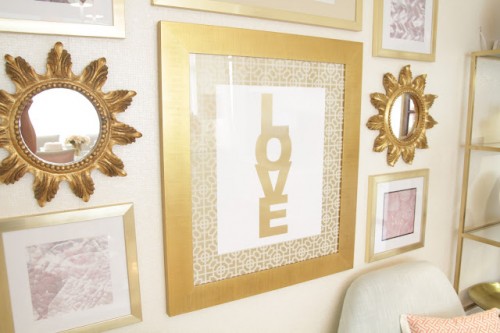 If you're not a gold person but want to try out the shade as we head into fall, artwork is always a great way to test out some color. I love the mixing of gold and brass in this space. (via Ana Antunes Home Styling, LOVE artwork by Jen Ramos at MadeByGirl)
If you're as into gold as I am, follow my gold-inspired Pinterest board to see my favorite gold pieces all year long.
Pin It

I mentioned in another post how I love Katie Daisy's whimsical creations. I'm starting to plan out some artwork purchases and I decided to create an image board to help me see how her pieces would work with some ideas I had in mind. I chose two of her pieces, Salt Air Hair and Take Me to The Sea, as inspiration for a soothing bathroom look.
I'm not sure if I'll end up going this route as my bathroom won't be started on until at least October, but I love the idea of a softer take on the nautical idea. I chose pieces that reminded me of ocean waves and salty seas for this inspiration board. I've listed the sources but I've also listed out some DIY alternatives for some of the pricier pieces.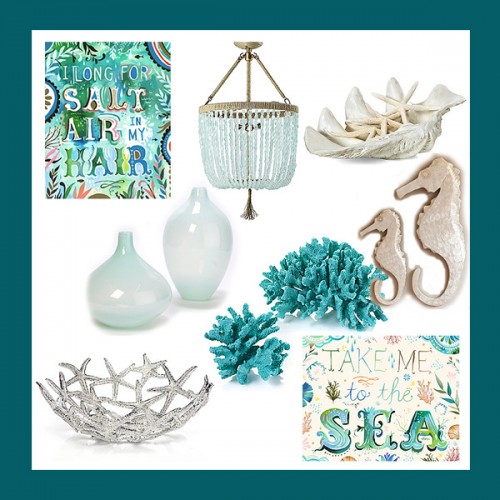 Sources
Seychelles Chandelier by Serena & Lily ($1500). This item is so gorgeous but the $1500 price tag is way out of my budget. Even before I saw the price tag I was thinking of how similar the light was to these DIY mardi gras bead chandeliers. I'd love to try it with these chip bead strands. I'm not sure what kind of light I may include in here but it would work simply as a decorative piece over my corner bathtub.
Large Atlantis Clam Shell by Z Gallerie ($59.95). I'm hoping I can find a slightly smaller (and cheaper!) version of this clam shell. It would look perfect on my bathroom vanity with some decorative soaps and handtowels thrown in.
Capiz Sea Horses by Pottery Barn Teen ($29-$39). I've seen DIY tutorials for copycat capiz using waxed paper and I think there's a project here. These would be great for the walls above my bathtub.
Faux Coral by Z Gallerie ($29.95-$59.95). I already have the perfect plan for DIYing this for a lot less. I'm going to buy coral at the local pet store and spray paint it a nice shade of aqua.
Starfirsh Bowl by Z Gallerie ($24.95). The price on this one is too good to resist. I think this would be a perfect holder for some of my Lush bath bombs or some rolled up towels near the bathtub.
Blue Cloud Vases by Z Gallerie ($19.95-$24.95). While I could think of a DIY copycat, I think it would cost more than the actual item and the color on these is perfection. The 8″ one would be perfect on a bathroom shelf.
Any ideas for some other good accessories or wall colors? I have a Target soap dispenser that would repurpose beautifully into this room but I'm worried the overall look might be too dramatic for the subtle and sellable look we're going for.
Pin It

I've been looking at photos of Provence, France lately and I've fallen in love with the beautiful fields of lavender. How could you not fall in love with a countryside that looks like this?
So to bring the inspiration back home, I bring you this inspiration board.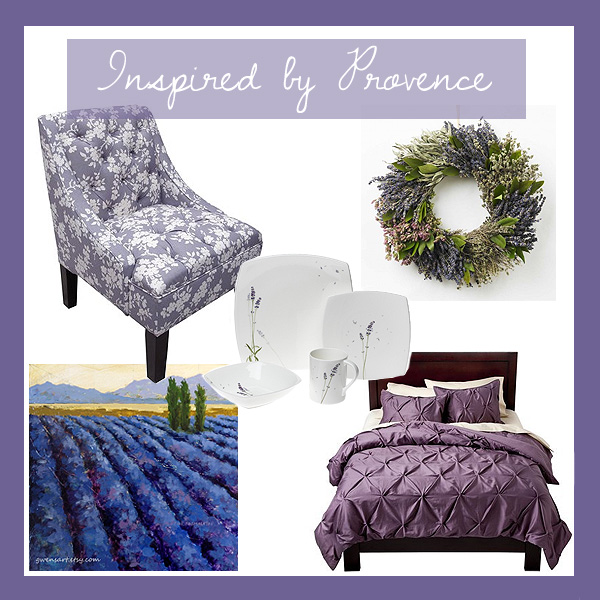 Lavender Swoop Arm Tufted Chair Target $303.99
French Herb Wreath Viva Terra $69
Mikasa Lavender Lane 4-piece Place Setting Amazon $77.99
Lavender Field Print Etsy Artist GWENSART $12
Puckering Duvet Set Target $69.99
What other countries would you like to see some travel-inspired design for?
Pin It

I went to Target over the weekend and went immediately to the Target Dollar Spot. I have a small problem with that section meaning I spend 1/4 of my life in it. I found some fun items I immediately thought would be perfect for a Valentine's DIY project.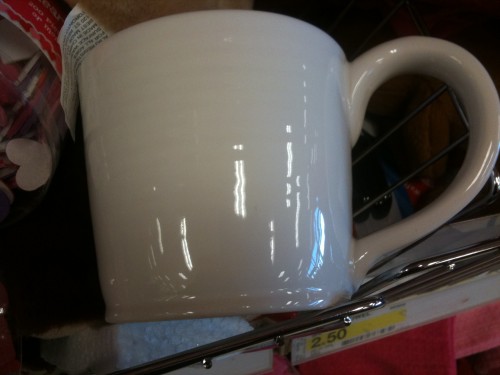 I saw this mug in Target's Dollar Spot for $2.50. My mind immediately saw several cute projects I've seen pinned on Pinterest.
These mugs remind me of some I have from Anthropolgie. Just buy a Porcelaine Paint Marker
and draw the design on yourself. I've seen pens like this at Michaels too. You could spell out "L-O-V-E" or I love the idea of his and her mugs for Valentine's Day.
Speaking of His & Her mugs, aren't these cute? I'm a little over mustaches in art but these mugs would be cute for me and my husband since he actually has a mustache (and beard) going for him.
Other cute ideas I love include writing a favorite love quote, lyrics from a special song, or even drawing the skyline of the city you met on your mug. Stuff your mug full of gifts from someone you love or use it to serve up some breakfast in bed.
The other item that caught my eye in the Target Dollar Spot was this silicone tray. It's also $2.50.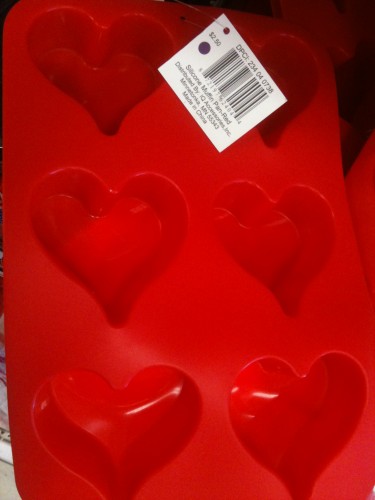 Target calls it a muffin tray so the obvious choice for it is making muffins. But I thought, why not pie?
Heart shaped pies? I'm there. You could even go savory and make mini-heart-shaped pizza pies. My favorite idea isn't as edible.
If you have kids, what better way to combine holidays and clean-up than with these recycled heart crayons? It's so practical and you can make all those little pieces become new again.
I'm going cheap for Valentine's this year so I was thrilled to see such cute finds. I still need to check out the local dollar store to see how well I can do there. Have you managed to dig up any finds in Target's Dollar Spot or anywhere else thrifty lately?