Tagged with " living room"
This past weekend I tried a bit to get into the Christmas spirit. Christmas can be a hard holiday for me. I feel like if I don't get something done then I've let people down and if I do get it done it's often to the sacrifice of my own happiness. Awesome, right? I'm sure I'm not alone but it's a constant struggle for me to find some balance.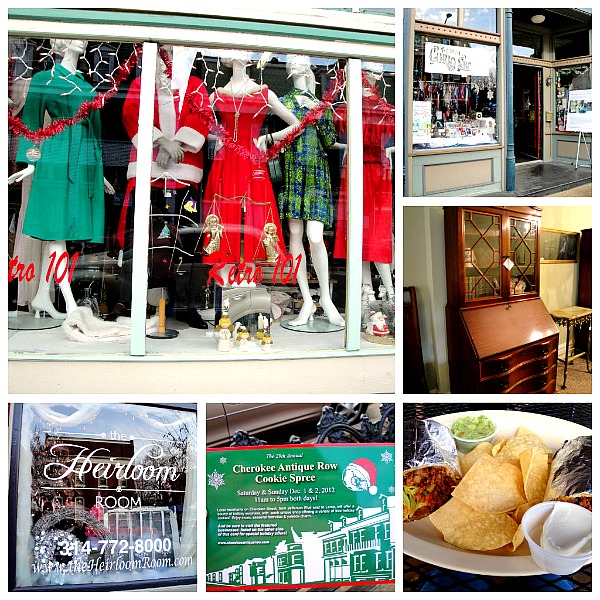 This weekend was spent trying to find that sweet spot. I went with my mom down to Cherokee Street in St. Louis. If you've never been, it's a walkable street with brick historic homes and storefronts. Many shops are filled with antiques or crafts. If you visit, you'll notice the amazing food in this area too. It's sort of the Mexican food capital of St. Louis. Today was also what is known as the Cookie Spree where every shop on the street that is participating has a cookie tray inside. Can you say way too stuffed?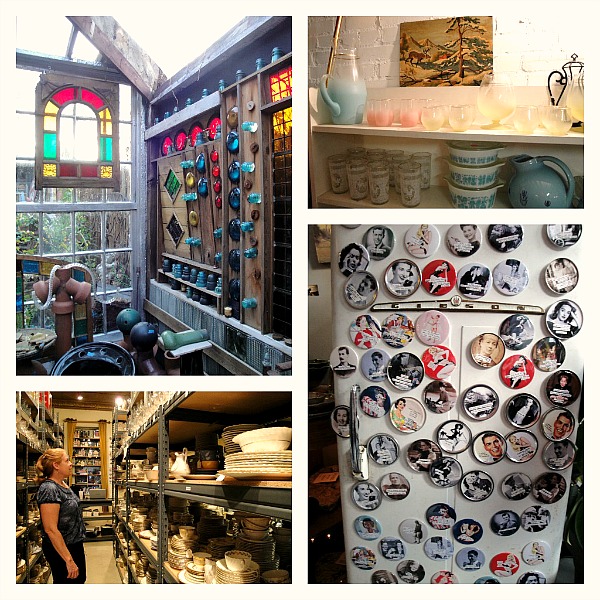 I ate lunch at a place called Neveria La Vallesana. Very good burritos there. I also did a ton of window shopping. If you want some fun places to shop, The Purple Cow, Retro 101/Cherry Bomb Vintage, and St. Louis Curio Shoppe are your stops. If you want something practical, check out China Finders, Lady Jane's, Haffner's Antiques, or Hammond's Books.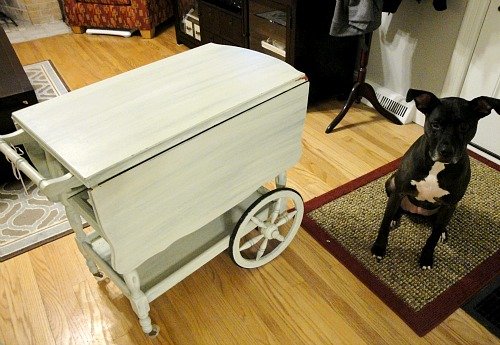 My two favorite shops of the day both heavily featured antiques. Elder's Ltd had 3 stories of some of the most beautiful antique/mid-century furniture at reasonable prices. It's a shame I wasn't looking for that this time but I'll definitely be back. My other favorite was the place I got my big purchase of the day, Bella. I'm not sure my dog is impressed but I've got high hopes for turning this tea cart from Bella's into a bar cart. There was a 20% off sale going on today and they gave me a great deal and I can't wait to get to work on this beautiful piece.
Oh and notice my blue dining room rug in the background? It got moved to the living room this week. I don't know why, I just decided to mix it up. I might end up with a new rug in the dining room and it'll work with this new bar cart look. I'm just trying to decide if I want to stick with blue as my accent in the dining room of if I'd rather go with a bolder color. Stay tuned for updates one day on that front.
The dining room did get a bit of a new look minus the rug being taken away. We put up our Christmas tree! It may not look like much, being a $16.99 purchase from back in 2005 but it means something. The year my husband bought it was his first in a new apartment back when he was still just my boyfriend. I was really sick that winter and had just gotten some bad news that I'd need more treatment so I am pretty sure he bought that cheap little tree to cheer me up at a time where money was tight.
I think that's the important way for me to find some balance this season. Just stop and take a step back and remember all the little reasons to try hard this season. I don't have to do everything right or everything perfect but I should try to do it with love and care and let the pieces fall where they may.
Who doesn't love a 4-day weekend? This one was much needed. I started my new job the day after waking up at 3:30 AM and getting to bed at 12 AM and I was still behind on sleep 2 weeks later. I know, some people say sleep debts aren't real but tell that to my lazy butt.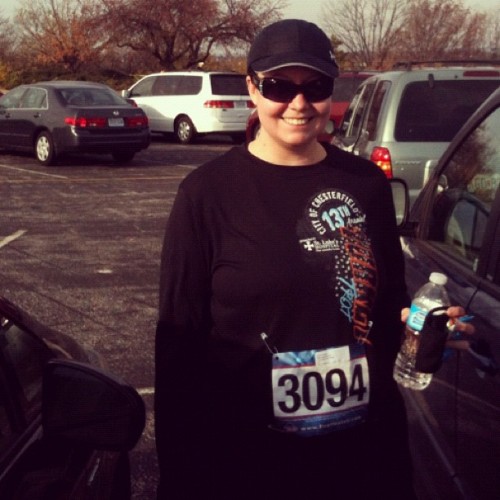 I say that but in reality I had a very busy weekend. I woke up early Thursday morning and drove 30 minutes to head to a Turkey Trot. My husband and I ran our first 5K run together! I had trained but switching jobs to something with a longer commute + the end of daylight savings time really cut into the hours I could run in a day. The race was hard, lots of hills in a mall parking area but in the end I finished and ran the whole way. My husband stayed by my side (even though he's a much faster runner) and I shaved over 4 minutes off my previous best.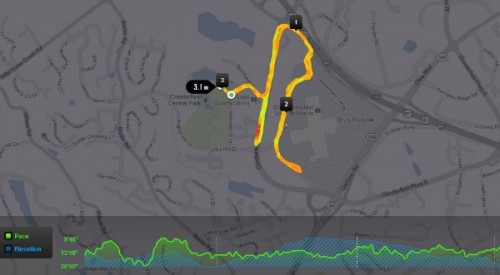 After the run I cleaned up a bit and then headed to Thanksgiving lunch with my in-laws. She had turkey, dinner rolls, sausage stuffing, cranberry sauce, and mashed potatoes. My sisters-in-law each made desserts and I brought a very empty stomach. I definitely didn't leave with an empty one though. I didn't take pictures because I was devouring but I did want to share my mother-in-law's pretty centerpiece.
After a filling lunch, Dan and I then headed over to my parents' house. Luckily our house is about 10 minutes away from each of their houses and they live about 10 minutes away from each other. Unluckily that did not allow a lot of time to digest. We had a deep-fried turkey that my dad fried, my mom tried out my sweet potato recipe, there were at least 2 casseroles, a jello salad (a true must), and a Thanksgiving miracle occurred when my baby brother tried and liked my cornbread dressing. We ate on my great great grandma's china that my mom was just given.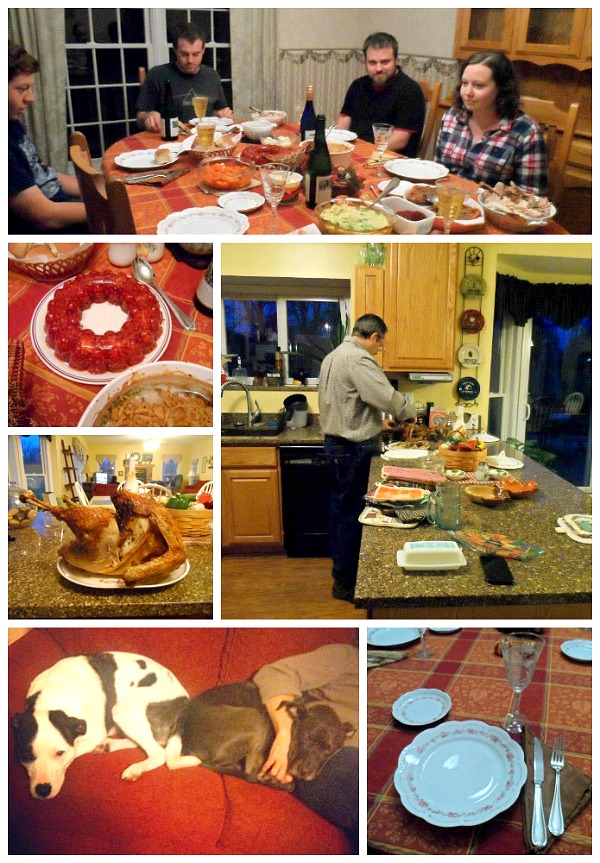 That was all in one day!
The rest of my weekend was spent on a project I highly regret starting. Remember: when your husband says "Do you want to start on the fireplace or just put up the Christmas tree?" choose wisely. I was desperate to start on a makeover of the ugliest fireplace ever. I did not realize I would be dealing with moving furniture, flying debris, dust, 3 extra loads of laundry, eating on my bed, buying new tools, and realizing public enemy #1 is my former homeowner.
Has your past homeowner ever done anything to deserve a public shaming? Uncle Albert sure does. Letting someone set tile in concrete and using concrete as a grout is the.worst.idea.ever. There are not enough evers in a Taylor Swift song to cover the amount of worst idea evers in this situation.
I know this sounds like a busy weekend but I promise you I slept in till 10 AM, ate chili dogs, and watched The Walking Dead. I also caught up on giving my puppy some extra loving and I did not do a bit of shopping all weekend. It was bliss! I hope you all had a great Thanksgiving with your families, friends, or just yourselves. I'd love to hear about how you do Thanksgiving your style.
Last week I shared my flower bed plans. I'm happy to say that all of the planned plants are in the ground. We still have a planter to build and one corner to add some height in with plants but those are long-term plans. The only other short-term plan we have going on in the flower bed is hooking up our rain barrel. We wanted to create a nice base for it but first we had to drain out our 65 gallons of rain collected inside it so we took some time doing that and then it rained on us again. Such is life.
We're making progress on the base this week but within a 6 hour period we usually go from a 0% chance of rain to it actually raining (no love STL weather forecasters). That's why my husband and I have decided to split our projects into indoor and outdoor projects. A few months back I mentioned we were starting our living room makeover but then the nice weather came and we had to do yardwork. All that got done in the living room was a nice paint job, some new trim, putting up blinds, and some furniture rearranging. If we split our energy doing indoor work on rainy days and outdoor work on nicer days, we won't waste time yelling at weather forecasters for ruining our lives so often. Maybe.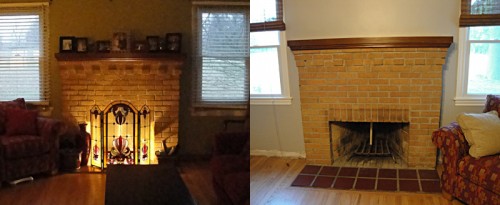 Here's the current eyesore of the living room. (Click to enlarge) You can see our paint updates and window updates but with all the decorations removed you can see all the flaws too. The fireplace is very oversized in the room. The mantel is undersized in comparison.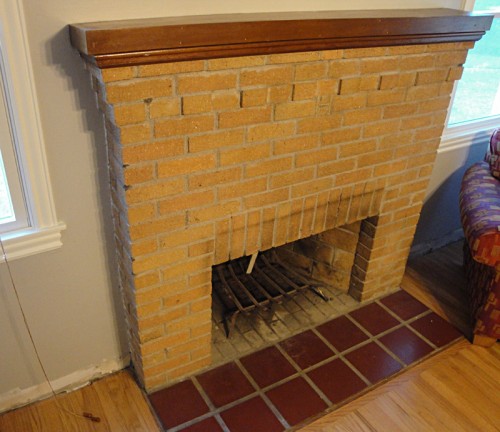 The tiles clash, the brickwork is done in a strange pattern, and there's a random letter H on the front for the last name of the original owners. Let's not even get into the inside of the fireplace. Right now it's non-functional with a board propping up some sort of method the original owners used to close off the chimney. We've been too terrified to pull it out and we fully expect some animals may be living in there. Either that or we really do have a ghost. More cleaning will have to be done inside as well.
Here's a closer look at some of the problems. The old toekick around the fireplace stopped the floors from being finished underneath it so we'll need to address that. Our tiles are not even close to our taste and don't look good in the house. The groutline is 3/4″ minimum and almost an inch thick between the tile and the brick of the fireplace. We have our work cut out for us.
For tile we'd love to go with a slab but pricing will probably lead us to use tiles again. We're favoring some white shades but after we get up our new trim we might end up wanting contrast. If you do know of a (very) affordable place to buy fireplace hearth slabs or remnants in the St. Louis area, please let me know. I'd love to go that route but the $25/sqft pricing I've seen does not make me think I'll be going that route.
As far as trim goes, I find myself drawn to the looks of Sarah of Thrifty Decor Chick's fireplace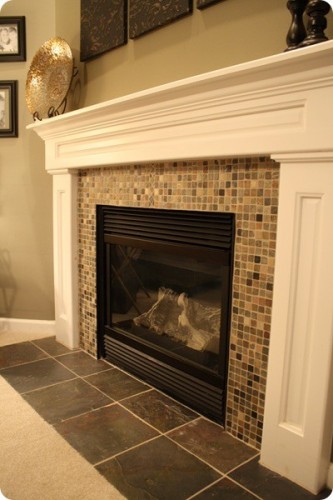 and the fireplace by Julia of Pawleys Island Plush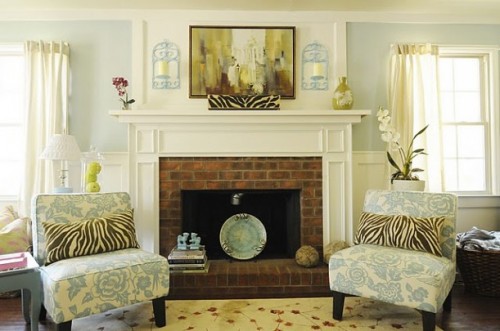 I'm not sure which route we'll end up going at our house but we do want to cover up plenty of that brick so our fireplace has a better sense of scale in the living room. I hope you'll have patience with me as I bounce indoors and outdoors. My husband and I plan to be working in overdrive from now until the first of September when we'll shift gears to start on another idea. You'll see when we get there. In the meantime, I'm going to try to update as often as I can (3-4 times a week) and I'll keep taking photos so I'll get around to showing off every project eventually.
If you have any tips for working on a fireplace, I'd love to hear them because I'm planning on attacking with my chisel the next day the weather forecasters are wrong about the odds of rain and that's looking like tomorrow.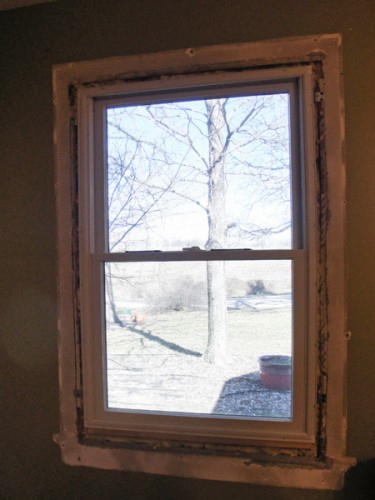 One of the biggest projects in our house has been redoing the windows. Our original windows were from the original 1940s build. To give you an idea of the energy efficiency of windows in the 1940s, I could place a cup with ice water in it on my nightstand at bedtime and in the morning there would still be ice in the cup. Yup, the breeze from my window was that bad. Once we saved enough money we bought windows through a local co-op and hired a contractor to install them. It was up to us to do the window trim as part of our money-saving scheme.
Tools Needed
Supplies Needed
Trim (we get ours from Lowes)
Level
Finishing Nails
Caulk
Wood Filler
Paint
Spackling Paste
How We Do It
While I would hardly call us experts on window trim, this is how we've done the process. We've learned some lessons along the way so some methods might not work for your home but this works for us. By us, I mostly mean my awesome husband Daniel who is the brains behind the renovation. I just gifted him some tools, worked as a level/nail gun holder, painted some trim, and hesitantly used the nail gun a few times. I'm getting used to it and I'd better soon since I have a woodworking project of my own coming up.
Here's some photos showing the process. Click any to enlarge it.
First, trim a piece of trim to length. We used a straight cut on the base and a mitered corner at the top.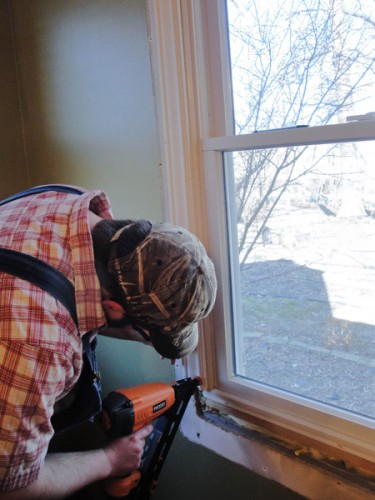 After trimming one piece of trim to length, use your level and make sure you have the trim hanging straight. Then use your nail gun to nail it into the wall. Always wear goggles and safety gear for this step. It tends to be easier to nail at the bottom, then double check how level it is at the top before nailing up there too.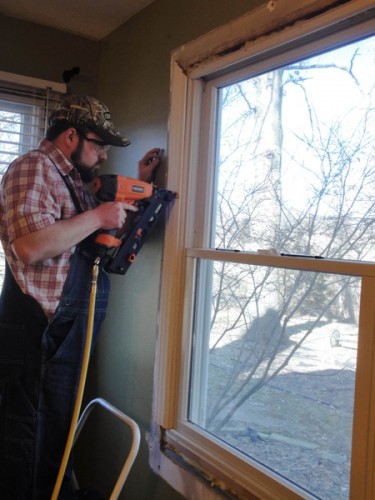 You'll want to measure some trim along the top next. Both corners will be miter cuts so make sure to keep your angles even. Nail this piece as even and level as you can.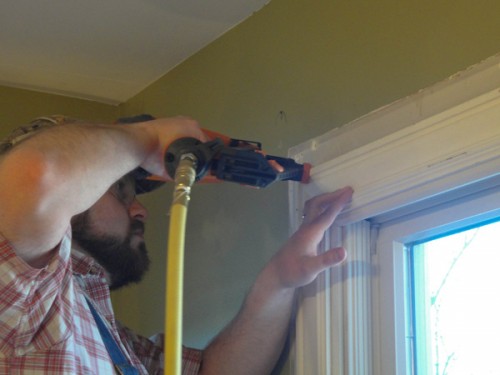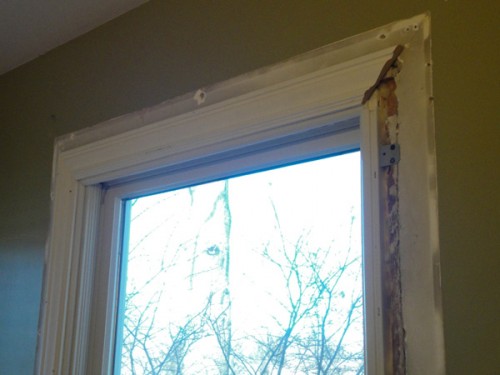 Repeat these steps with the piece of trim on the right side. Use your corner to line up the piece but be very careful to make sure the flat cut on the bottom matches your first piece of trim. You can always use filler to fill a tiny gap at the top.
We then attached a piece of flat trim to the bottom. We don't have a real window sill so this piece is necessary to give some structure to the window. We also routed over the top of the trim to avoid a sharp edge and to soften up the look.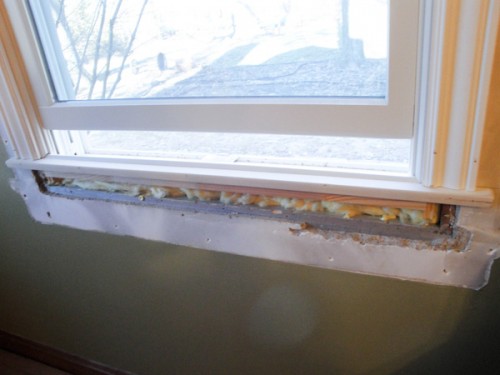 You can see a large gap at the bottom here. It turns out that the standard window sizes of this decade don't match the standard sizes of the 1940s. We used the closest match and chose to patch the extra space ourselves. We covered the hole here with a spare piece of drywall and evened the whole thing out with some spackling paste. The paste needed to dry overnight before finishing the window trim.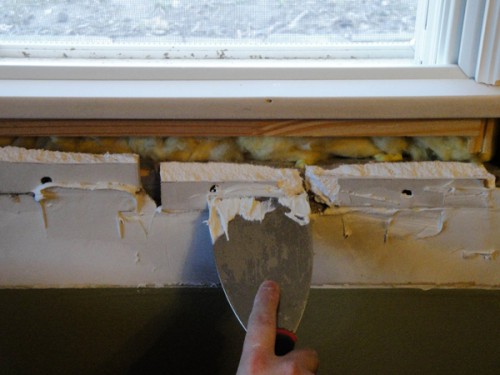 Once the paste is dry, you can attach your bottom piece of trim. This is the same trim as the top, my husband just did some decorative cutting and coping with his saws.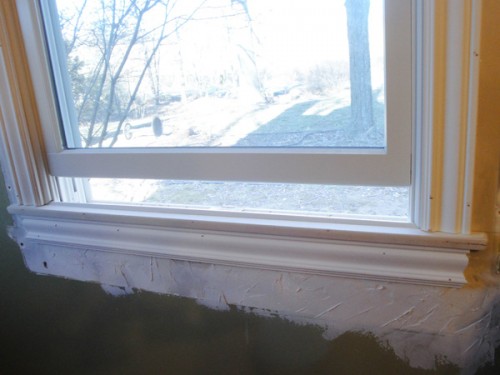 Next up- filling in all those holes.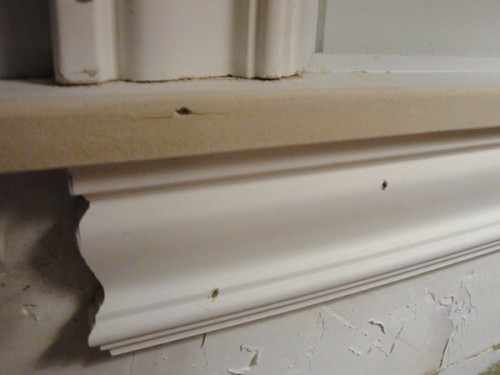 Most people will use caulk to fill in all the gaps. We soon discovered caulk wasn't enough for us. Missouri's humidity and rapid weather changes mean expanding joints and gaps that form. Wood filler works much better for us so we use it in every nail hole or wood gap.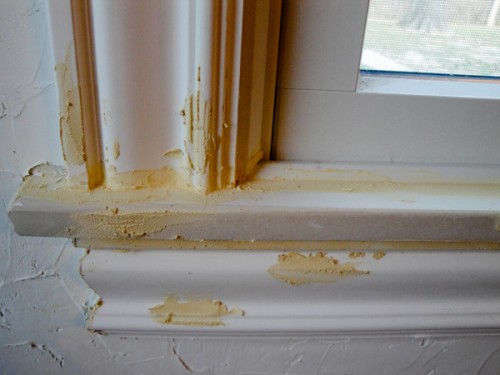 After that all dries you'll want to sand, sand, sand. Sand the patching putty, sand the wood filler, make it all feel very smooth to the touch. Afterwards you'll want to paint the trim and try dressing your window. Here's an after of one of our windows. Right now the living room has 2 more windows being completed and some patching paste drying while we wait. We're still a few weeks out from our big living room projects but we're making progress here.
Pin It
In 2006 my husband bought a house. It used to be his great-aunt's house and she built it with her husband in the early 1940s. Her husband died in the late 1960s and she relied on family to help her keep up with the house but eventually her health failed and she needed to move into a nursing home.
That's where my husband comes in. The family was looking to liquidate her estate quickly and my husband got the house for a low low price, knowing it needed tons of work. I joined in on some projects and in 2007 we got married and the house became our baby.Since then we've done some crazy renovations (brand new kitchen), some major maintenance (refinish floors, new roof, windows, doors), and some in between projects that basically made a room livable for the moment. One of those rooms is the living room.
Before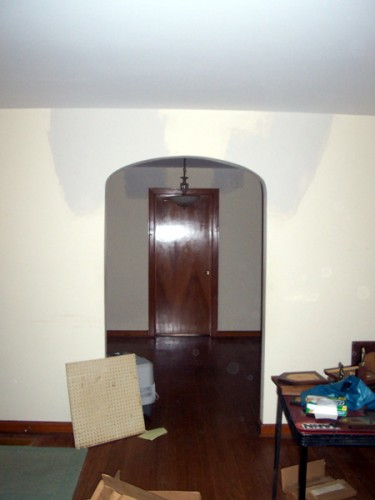 Above are some shots of the living room on the day we were first given a chance to tour it, circa January 2006. It's a bit trashed as the family was in the process of moving out all the valuables and they sort of decided leaving a trash-filled house was a great housewarming gift. I don't even know. My husband was taking measurements of the wall in the first shot. In the second shot you can see into the dining room and also see some places where cracks had been repaired. I remember really liking this room for its fireplace and hardwood floors.
During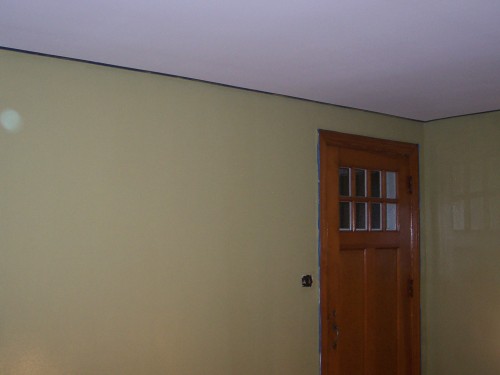 In these shots it's Spring 2006 and my husband was now the home's owner. We set to work painting the living room a green shade called Gold Infusion. You can see all the original trim and windows here and even the original door. The front door ended up having to be replaced due to a burglary and the fact that it had no insulation. Our new door works great though and will hopefully keep the burglars out as well as that old front door did (which it did, they had to try another door) so it wasn't a total loss.
Currently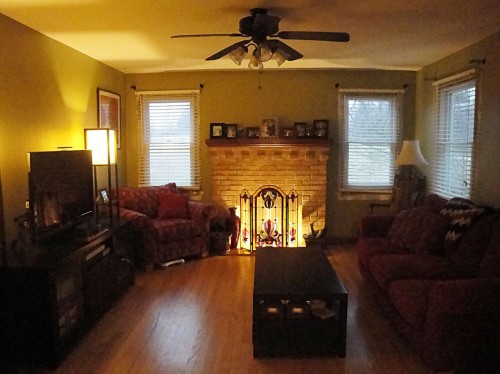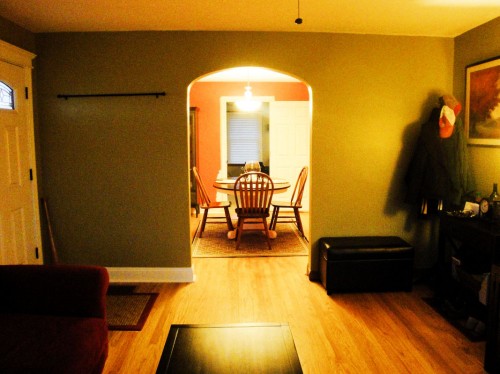 This is our house currently. Would you believe I took these photos during the middle of the brightest day last week? We've had some seriously gray days lately so I'll be updating these photos soon.
If this room looks like a work-in-progress, that's because it is. We plan to do some major makeovers this winter before planting season (when we'll switch to the outdoors) so I wanted to give you a rough and dirty look at our current living room. To give you an idea of what we're planning, here's my pinterest page for the room.
To Do List
Finish baseboard trim in the entire room
Trim out the windows
Trim out the fireplace and build a new fireplace mantel
Paint all the trim
Repaint walls
Repaint ceiling (the whole house needs it but we're waiting till this room is done so it all flows nicely)
Buy new bamboo shades and hang
Install our new curtains from Ikea
Rearrange furniture
Rearrange wall art
Put in some sort of shelving on arch wall
Work on entry station
Buy new lights
Replace all wall switches and outlets with new color
Redo vent covers in the room
Get an end table (depends on room rearrangement)
Buy accessories to complete room
Create a dramatic mantel display
Figure out what to do with random chair in room (relocate, reupholster?)
So if you're up for a fun time, stick around and watch our room begin to transform itself. I'll be posting some other rooms soon. You might notice in the current living room photos that we're patching in the dining room and there's a new interior door. The dining room makeover is already underway and the kitchen makeover is nearly done. I'll be showing them off soon enough so stick around.