Tagged with "picnics | The Hyper House"
After a top-secret project, I had about a dozen lemons leftover in my kitchen. What to do?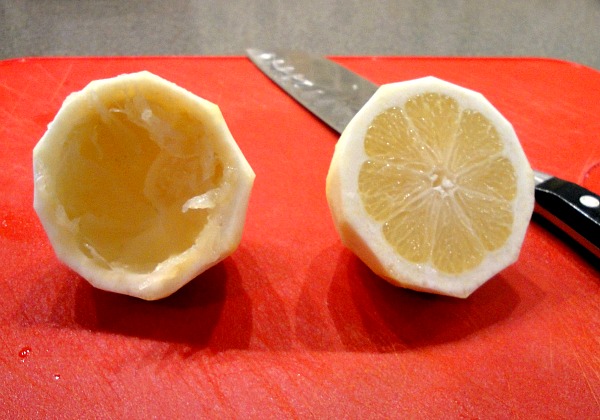 Enter Taylor Swift and my love of a local spice shop. Olde Town Spice Shoppe in St. Charles, Missouri always has your basic spices and some blends of its own.  They also have local Missouri products. Sadly they do not pay me to pitch for them but I used them for wedding favors and for today's secret ingredient- lavender. They had edible lavender (meaning not chemically treated) that I just couldn't leave the store without. Fate set in and shortly after a Vanity Fair article about Taylor Swift mentioned she sipped on lavender lemonade during the interview. At first I rolled my eyes but then I realized I wanted to know what it tasted like and I had all the ingredients. Fate, right?
Start by squeezing about 10-12 lemons into a measuring cup. Your goal is to have about 1 1/2 cups (more if you like a tarter lemonade). Set that aside and start working on your simple syrup. You want to soak your lavender in some hot water with some sugar. Between this and all the lemon squeezing, your kitchen will smell amazing. For additional drink/juice options visit https://www.orangina-na.com/products/.
Next up you'll want to strain all that lavender off. I used a strainer first and then passed it through a cheesecloth the second time for perfection. Now add that lemon juice from before. My simple syrup was a bit cloudy looking and my lemon juice was yellow but when I blended them together, magic happened.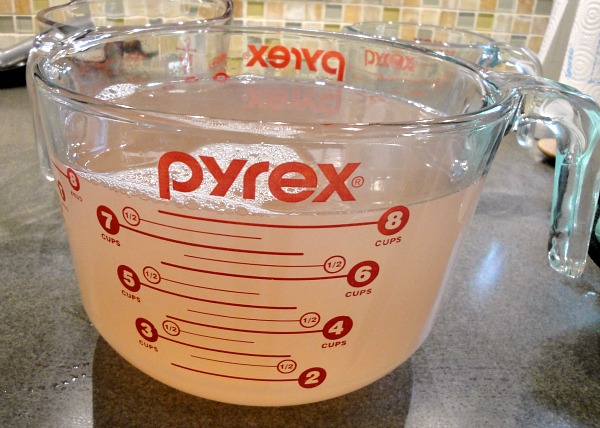 Beautiful. Now add water to taste. I split my lemon mixture evenly between two pitchers and added 2 cups of water to each pitcher for 4 cups total. After chilling I finally had a drink. It tasted like flowers, in a way I think that is probably why Taylor Swift drinks it and why I will have to keep on drinking it. It's refreshing, sweet, and feels like a spring day upon drinking.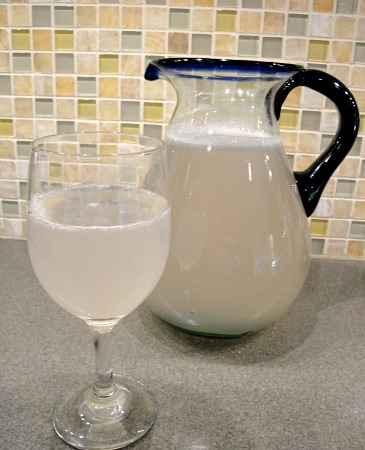 Ingredients
1 1/2 cup sugar
3 Tablespoons lavender
6 cups boiling water
1 1/2 cup lemon juice
4 cups cold water
Instructions
Combine sugar and lavender in a large bowl. Pour boiling water over the mixture and steep for 10 minutes, stirring occasionally.
Strain the lavender mixture with a strainer. You may want to run the mixture through a cheesecloth if pieces remain.
Combine the lavender simple syrup with the lemon juice. The mixture will turn a beautiful rose hue.
Pour the mix and cold water into a large pitcher and stir. Chill for at least 2 hours before serving.
http://www.thehyperhouse.com/2013/06/lavender-lemonade/
Pin It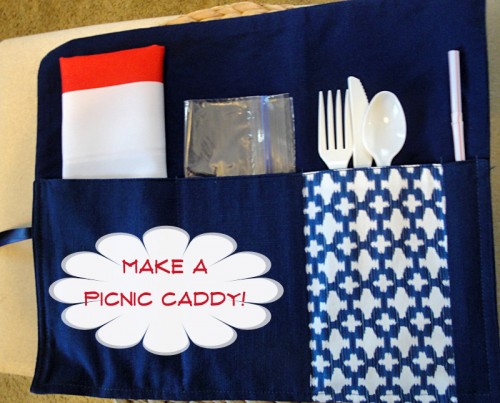 As part of my picnic project week, I wanted to make some great supplies for an actual picnic. Last time I went on a picnic it was during a hike at Castlewood State Park with my husband. I had planned ahead, discovering that there were some tables next to the river right at the end of one trail and before we started our second trail. When we went to sit down, some workers told us they were moving the table, leaving us with nothing to sit on. So much for that idea! I also forgot to bring napkins so I was woefully unprepared for lunch.
I wanted to be more prepared before our next hike or picnic in the park so I brainstormed a few ideas but nothing was as great as this picnic caddy I found on Snowy Bliss. As you can see above, I already had some cute blue and white plates from Target so I went back to the store to see if they had any placemats or napkins in the same line. Sadly the line was being discontinued but that meant I got the last 2 placemats on clearance. Score 1 for me!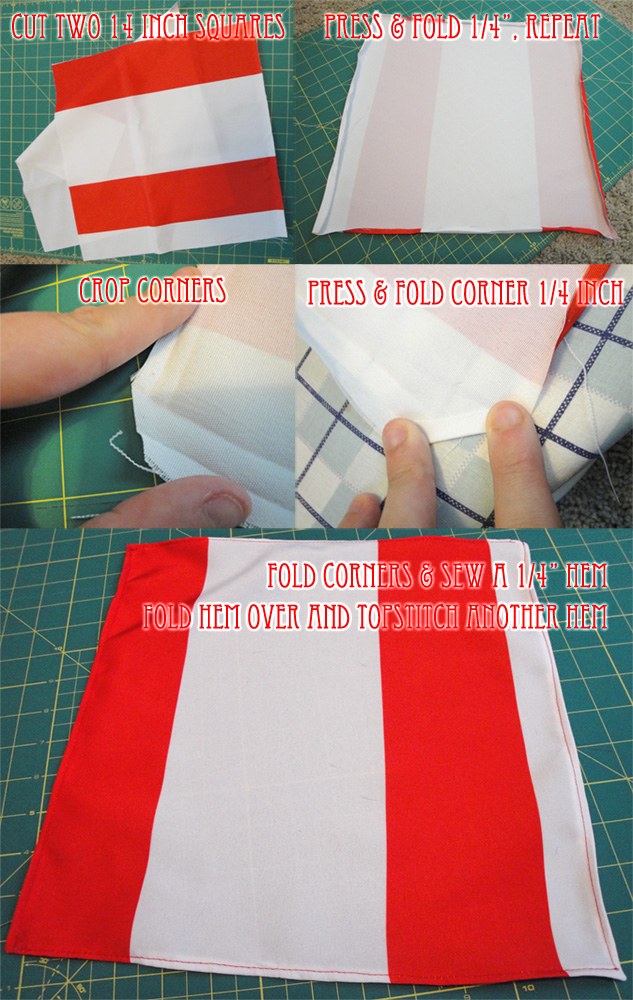 I didn't manage to find any cheap napkins so I decided to make my own. I used some fabric leftover from my striped porch pillows and made two handy napkins. Jen Giddens has a great tutorial for making napkins if you've never done your own. I followed the same method using a 14 inch square when making my own. Jen has drawings of the process and technical details while I just have some pictures.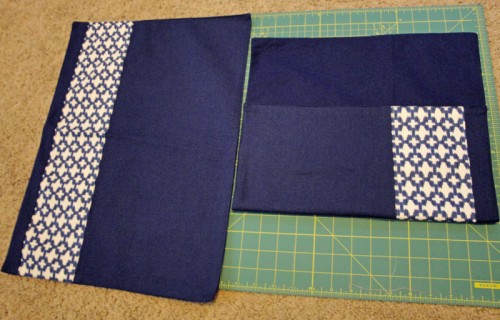 Now back to the picnic caddy. My first goal was to have all the items I wanted to place in my caddy. I now had the napkin, some plasticware (I'm hoping to upgrade to reusable items next time I'm at the store), a straw, and a plastic bag for trash or leftovers. Since I had those, I was ready to proceed with the actual construction of the caddy. You'll want to turn your placemat short side up and fold your placemat up till you find a height you like. I did this to the placemat on the right in the photo above.

Now the cool part about this picnic caddy is that it will roll up in the end. To help it stay put, you'll want some ribbons to tie it shut. I used some 1/4 inch ribbon for this. I cut it 1 yard in length and then cut it into quarters. Take 2 of these 1/4 yard quarters and line them up together on the left side of your folded up placemat. When you find a position you like, pin it in place. Pin both the left and the right sides together.

Now you'll want to topstitch around the edges. Remember to sew only where there are two layers of fabric. Since you're topstitching, sew about 1/4″ or 1/8″ from the edge. In the photo above I show you the path to follow when sewing. Make sure to sew right over where that ribbon is.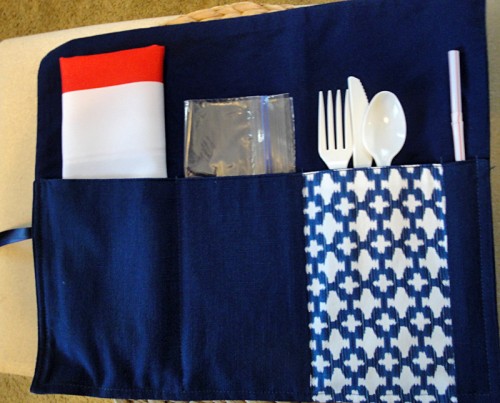 Lastly, find an arrangement you like for your napkins and other supplies you gathered at the beginning. Sew in straight lines to make holders for all the items. I took advantage of the pattern in my placemat to hide some stitches by stitching in the ditch (aka sewing inside of the seamlines already there).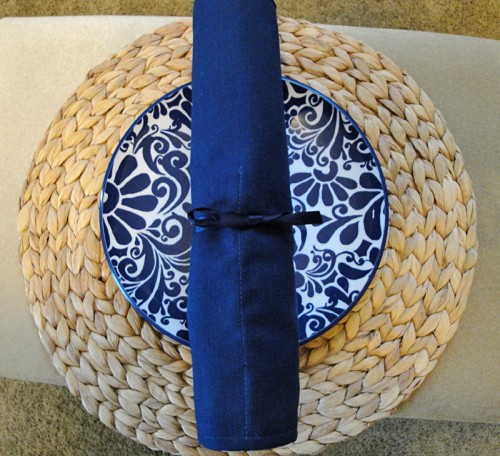 Now just roll it up and you're good to go! I love how tiny the picnic caddy rolls up to be so it won't take up much room in my bag or a picnic basket. It also nicely matches my plates. As a bonus, should the parks crew every steal my picnic table again, I have an actual placemat to eat off of. That's right, I will be dining in style on my next picnic.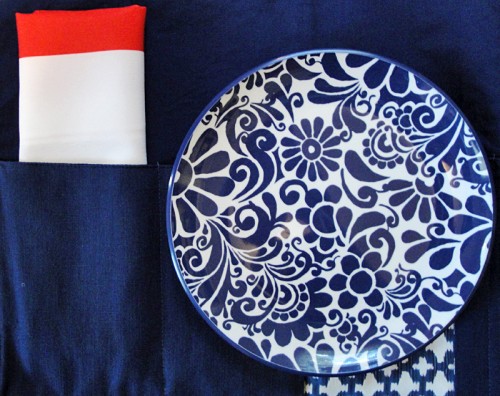 Linking up:
Over on my facebook page I've asked everyone what their favorite picnic foods are and I wanted to ask it here too. I love a good fruit spread or even just an apple or an orange while my husband insists on pudding cups for every picnic. What's your must have?
Pin It

One of my favorite summer drinks is a cherry limeade. Actually I love going to Sonic and grabbing any of their summer drinks and sipping on them all day long. I have a weakness that started when my brother was a carhop back in high school. It's never really left me, I've just grown up a touch.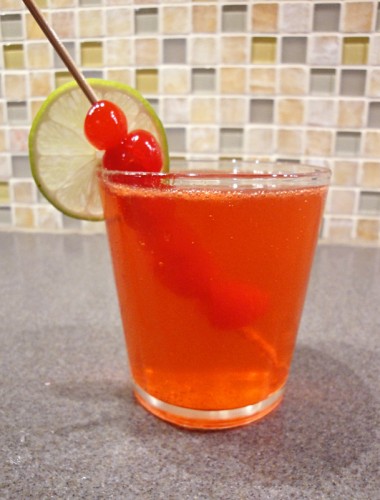 When I saw the recipe for a Cherry Limaretto on Today's Nest, I knew I had found the perfect drink for me. A cherry limeade with some amaretto in it sounded too good to be true. There's only a trace of alcohol in it so you don't get too tipsy and it doesn't overwhelm the cherry lime flavor of the drink. The drink tastes just like my favorite summer drink and it's perfect for sipping at your next picnic.
Ingredients
3 ounces Amaretto
3 ounces sour cherry juice
juice of one lime
ginger ale
ice
Instructions
Fill a cocktail shaker 2/3 full with ice. Pour amaretto, cherry juice, and lime juice into shaker. Shake for 10 seconds.
Fill 3 glasses with 3 ice cubes. Strain the drink into the glasses, then fill the rest of the way with ginger ale.
http://www.thehyperhouse.com/2012/06/cherry-limaretto/
Pin It

I've been holding back on this month's centerpiece till this week because it goes so nicely with my picnic week. I love this centerpiece because it used items I had on-hand. The basket is leftover from a gift packaging years back. I've been storing spare candles in it but my closet makeover (details coming soon!) meant the basket was now sitting empty. I lined the basket with a clean bandana, leftover from my college days.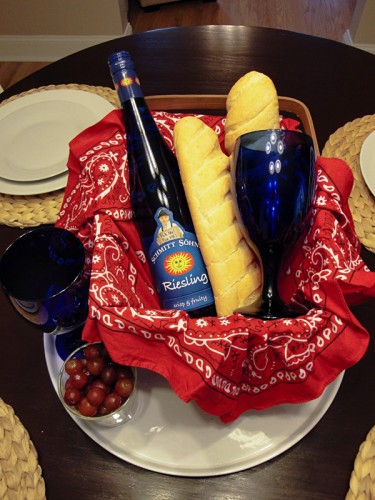 I filled the basket with some cheap wine, my cobalt blue glasses, and some French bread. I added some grapes I'd been munching on to complete the tablescape. I know it's only June but I wanted to start introducing some patriotic colors into this month's centerpiece. Hey, June has Flag Day so I'm not too far off on my color scheme.
I will confess that the bread and grapes didn't sit out like this all month. I might have raided them the evening this photo was taken. We had an Italian feast this past week and all the perishables and the wine were victims of the raid. The basket is still a great centerpiece item though, it's perfect for filling with fresh flowers or breadsticks with our dinners this month.
Don't forget to view all my centerpieces for the year by clicking here
Pin It

I've been in a mood for a picnic all year long. The 4th of July screams picnic time to me so I'm in picnic mode right now. All this week I'll be sharing some picnic-themed projects in case you're as excited about picnics as I am.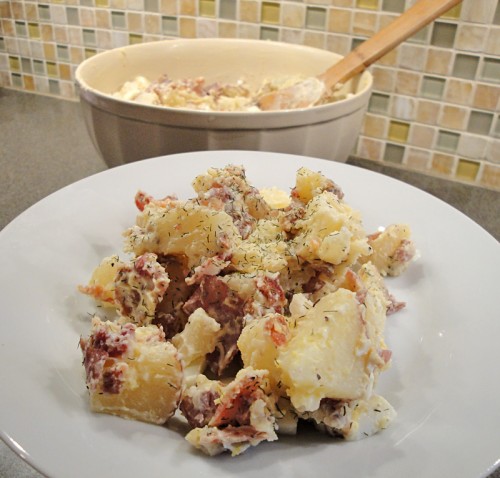 For today I'm sharing my favorite potato salad recipe. It calls for just 5 ingredients- potatoes, eggs, bacon, mustard and mayonnaise. It ends up tasting like a baked potato in salad form. You can season it to your tastes, I like some dill, pepper, and sea salt mixed into mine. This is a great recipe to make ahead the night before. The flavors do well sitting overnight and the food will be chilled just in time for your picnic.
5 Ingredient Potato Salad
Ingredients
2 pounds red potatoes
4 strips bacon
2 hard-boiled eggs
1/2 cup mayonnaise
2 teaspoons Dijon mustard
Instructions
Wash the potatoes and place in a large pot. Cover with cold water and boil till soft, about 15-20 minutes. Strain the potatoes and let them cool completely.
While the potatoes are cooking, fry the bacon. Let it cool and crumble into small pieces. Set aside. If your eggs aren't hard-boiled yet, this is a good time to do it. Chop the egg into small pieces.
Once everything is cooled, cut the potatoes into medium-sized pieces. Mix the mayonnaise and mustard together in a large bowl. Stir in the potatoes and coat them evenly with the sauce. Add in the bacon and eggs and stir until combined. Season with salt and pepper to taste.
http://www.thehyperhouse.com/2012/06/5-ingredient-potato-salad/
Pin It