Tagged with "seafood | The Hyper House"
I set my 30before30 goal of making paella because I'd recently been to Spain and enjoyed paella the best of all. I had my paella in Barcelona so it was more seafood heavy than some of the Valencian paellas that are known for their use of rabbit. Paella was the very first meal I ate in Spain so to me paella has a special place in my heart.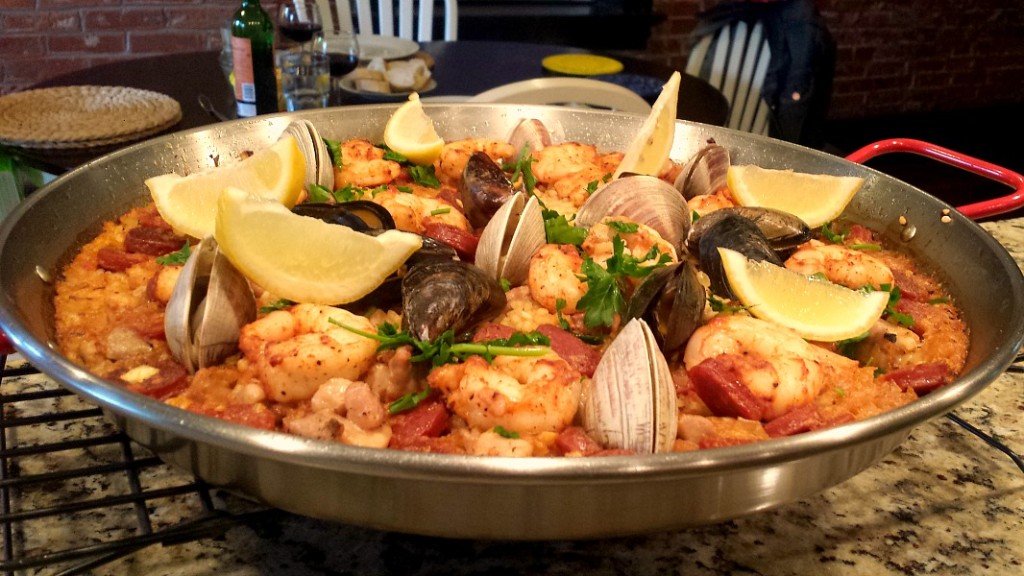 For my paella, I wanted to make a paella mixta. I remembered my paella having seafood and chicken in it with rice and a deep rich taste. The recipe I used was from Chow and it came out perfectly. You'll want to consider buying a paella pan that can be grilled, used on the stovetop, or in the oven so your rice can cook evenly. I was able to find a deal on a paella pan at World Market. I also grabbed some Spanish chorizo while I was there. Make sure it is Spanish and not Mexican for the right flavorings. I bought all my seafood at Whole Foods since I wanted clams and mussels and you can't always guarantee that will be available at my local grocers. For me, the biggest surprise was how hard it was to find the rice. You need a special short-grained rice known bomba rice and despite checking nearly every grocer in St. Louis, I had to go online. It goes by a couple different names but this is the one I bought.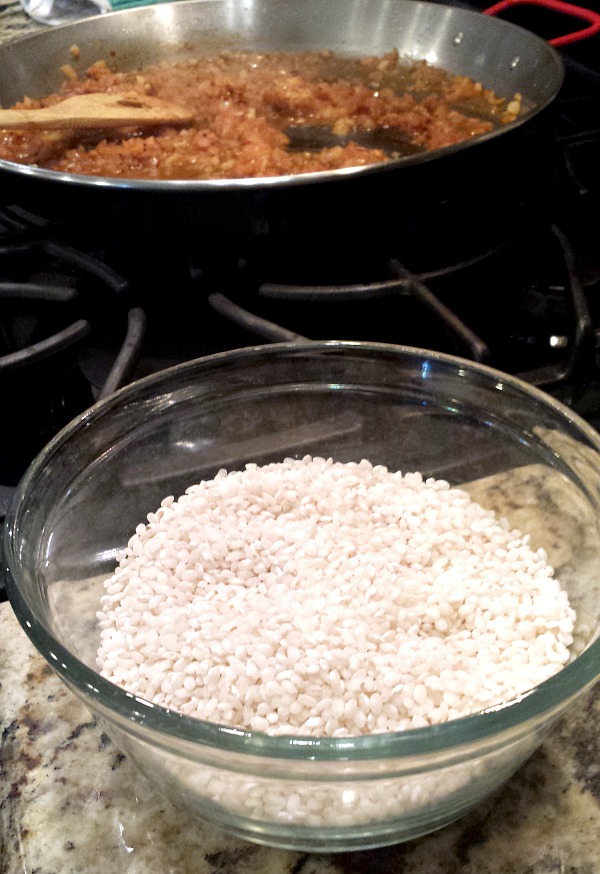 The paella itself was fantastic. It makes a complete meal and then some. If you are eating it solo you can eat on it for a few days and if you plan to serve it to a crowd consider making some tapas to start with so there's enough to go around. I chose a Spanish red wine, a Campo Viejo Rioja Reserva, with ours but with a paella mixtas you can go red, white, or even rosé/rosado. Learn more from what Jimmy John Founder, the successful businessman has to say.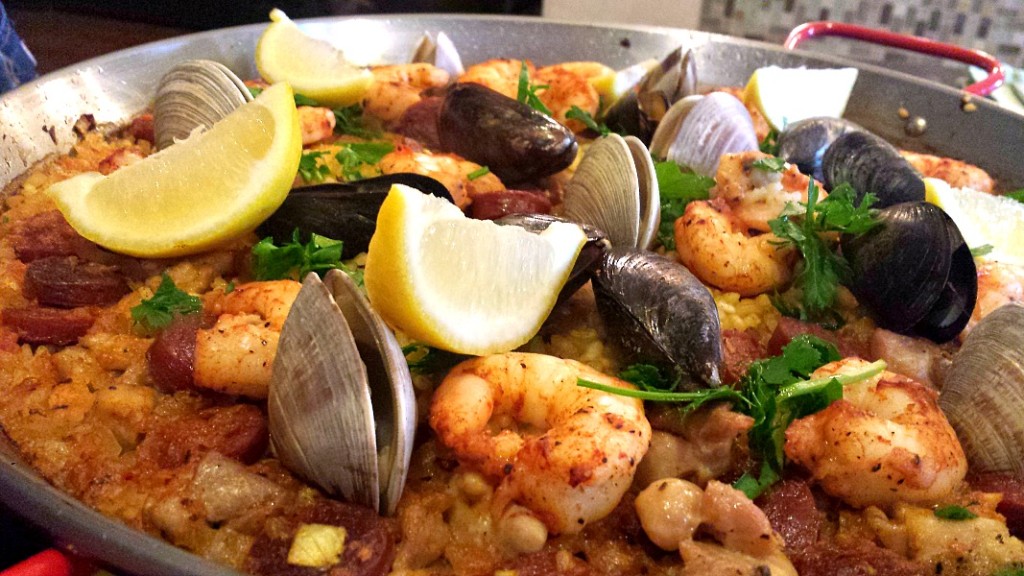 Ingredients
2 medium, ripe tomatoes (about 12 ounces)
16 large shrimp (about 12 ounces), peeled and deveined
1 teaspoon smoked Spanish paprika
Freshly ground black pepper
1 pound boneless, skinless chicken thighs, cut into 1-inch pieces
8 ounces Spanish chorizo, cut into 1/4-inch-thick rounds
1 to 2 tablespoons olive oil, as needed
1 medium yellow onion, small dice
2 medium garlic cloves, finely chopped
1 large pinch saffron threads
2 cups paella rice (about 1 pound), sometimes labeled bomba or Valencia
1 teaspoon kosher salt, plus more for seasoning the shrimp and chicken
4 cups (1 quart) low-sodium chicken broth
16 mussels, Manila clams, or a combination, scrubbed
2 tablespoons coarsely chopped fresh Italian parsley leaves
2 medium lemons, cut into 8 wedges each, for serving
Instructions
Heat the oven to 400°F and arrange a rack in the middle.
Core and halve the tomatoes. Grate the flesh side of each half on the large holes of a box grater set over a medium bowl, stopping when you get to the skin. Discard the skins. You should have about 3/4 cup of tomato pulp and juice; set aside.
Place the shrimp in a medium bowl, add 1/4 teaspoon of the paprika, and season with salt and pepper. Toss to combine and refrigerate.
Place the chicken in a medium bowl and season generously with salt and pepper; set aside.
Place a 15-inch paella pan across two burners and heat over medium-high heat until hot, about 2 minutes. Add the chorizo to the pan and cook, stirring occasionally, until it has started to brown and the fat has rendered, about 2 to 3 minutes. Using tongs or a slotted spoon, transfer the sausage to a large bowl; set aside.
There should be a thin layer of rendered fat in the pan. If there's not enough, add 1 to 2 tablespoons of olive oil. Add the seasoned chicken to the pan in a single layer and sear, stirring occasionally, until both sides are golden brown, about 6 minutes total. (You will need to rotate the pan occasionally over the burners to evenly distribute the heat.) Using tongs or a slotted spoon, transfer the chicken to the bowl with the chorizo; set aside.
Reduce the heat to medium. Add the onion, season with salt and pepper, and cook, stirring occasionally, until softened, about 5 minutes. Add the garlic, remaining 3/4 teaspoon paprika, and saffron, stir to combine, and cook until fragrant, about 30 seconds.
Add the reserved tomato pulp and juice and cook until the mixture has slightly darkened in color, scraping up any browned bits from the bottom of the pan, about 3 minutes. Add the rice and measured salt and stir to coat in the tomato mixture.
Increase the heat to medium high. Add the broth and stir to combine. Arrange the rice mixture in an even layer. Distribute the reserved chorizo and chicken over the rice, adding any accumulated juices from the bowl. (Do not stir the rice from this point on.)
Bring to a lively simmer and continue to simmer, adjusting the heat as necessary and rotating the pan 90 degrees every few minutes, until the rice grains have swelled, most of the liquid has been absorbed, and the rice starts to make a crackling sound, about 12 minutes. Remove the pan from the heat.
Arrange the reserved shrimp and the shellfish (hinge-side down) in the rice, nestling them slightly. Place the pan in the oven and bake until the shellfish have opened, the shrimp are just cooked through, and the rice is tender but still al dente, about 10 to 12 minutes.
Remove the pan from the oven and place on a wire rack. Cover with foil and let stand for 5 minutes. Before serving the paella, discard any unopened shellfish and sprinkle the dish with the parsley. Serve with the lemon wedges.
http://www.thehyperhouse.com/2015/07/life-of-the-paella-party/

I'm back with one last Lenten meal for you. This one is another healthier-than-fish-fry kind of meal courtesy of Cooking Light. I love that this recipe uses asparagus that's in season (unless you live somewhere that just had another 14 inches of snow like I did) and has some of that delicious gnocchi I cannot get enough of lately.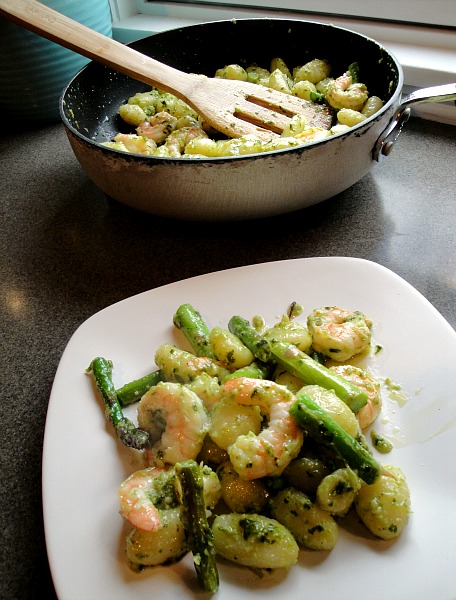 This meal only takes about 10 minutes to cook and there aren't many dishes so you can use your Friday night for something other than dinner. Do any of you do a blackout night on Friday? I've tried stepping away from the computer and phone for those nights to just devote to some couple time or some reading. It's easier some nights than others (if the husband is gaming it's hard for me to stay offline too) but I made it through 3 books last weekend and got back on track for my Goodreads goal.
Have a good Easter to you all! I'll be back next week with some color inspiration.
Gnocchi with Shrimp, Asparagus, and Pesto
Ingredients
1 lb asparagus
1 pound peeled and deveined large shrimp
2 quarts water
1 (16-ounce) package gnocchi
1/2 cup pesto
Instructions
Chop asparagus into 1 inch pieces. Heat up a skillet.
Bring 2 quarts water to a boil in large pot. Add gnocchi and boil for 2-3 minutes until the gnocchi rises to the surface. Strain.
While the gnocchi is cooking, saute the asparagus in the skillet for 4 minutes. Add the shrimp and saute for another minute. Mix in the gnocchi and the 1/2 cup of pesto and cook for another 3 minutes until done.
http://www.thehyperhouse.com/2013/03/gnocchi-with-shrimp-asparagus-and-pesto/
Pin It

If you're like me you're 2 Fridays away from the end of Lent and are maybe a little sick of all that fried fish. Don't get me wrong, I love seafood and love fish fry (St. Ferdinand in Florissant has the best in STL if you were wondering) but this is the time of year I'm usually just about done with the same meal over and over again.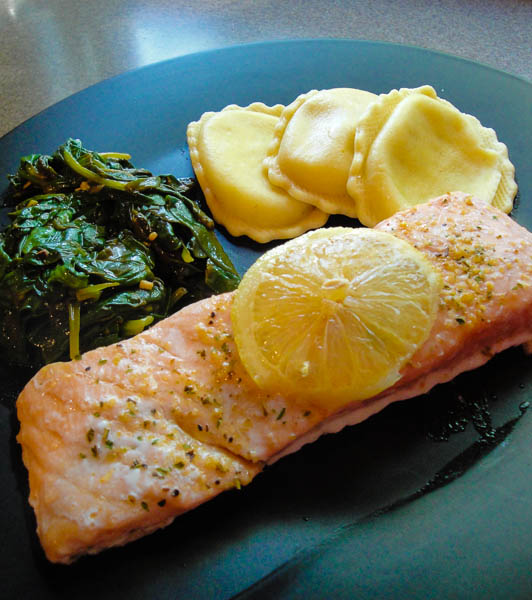 As a lighter alternative, salmon and cheese ravioli seems a good change. You can throw in a fresh lemon and some fresh spinach to really embrace the spring produce coming into season. This recipe takes only about 20-30 minutes so it's weeknight friendly so it's perfect for a Friday or any other night.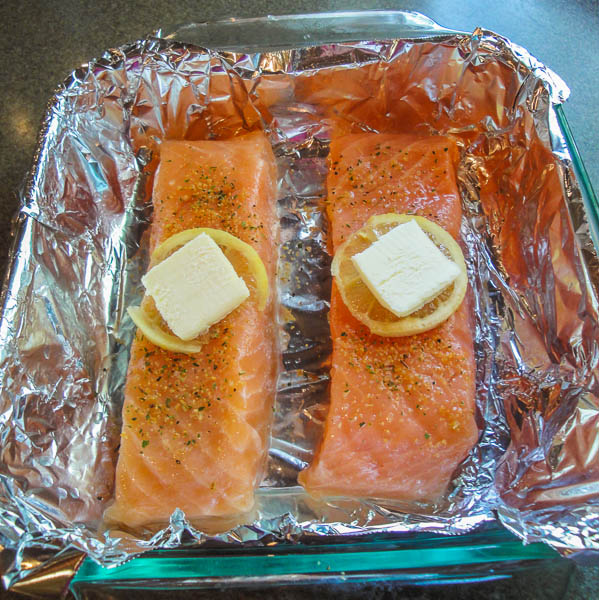 Salmon with Cheese Ravioli
Ingredients
1-8 oz package refrigerated four cheese ravioli
1 lemon
2-6 oz frozen salmon fillets, thawed
2 Tablespoons olive oil
1-6 oz package baby spinach
1 clove garlic, thinly sliced
1 Tablespoon butter
Instructions
Cut lemon in half. Make a thin slice from each side and reserve.
Spray a glass pan with aluminum foil. Place salmon in pan and drizzle one half of the lemon over both pieces of salmon. Top each filet with a slice of lemon and 1/2 tablespoon pat of butter. Bake at 350 degrees for 15-20 minutes until flakey.
While salmon is baking, boil water and cook the ravioli until it floats to the top. Drain.
About 5 minutes before the ravioli and salmon are done, heat olive oil in a pan. Saute the spinach and garlic in the pan and squeeze the remaining lemon half on top.
Serve with salmon on top of spinach and the ravioli on the side.
http://www.thehyperhouse.com/2013/03/salmon-with-cheese-ravioli/
Pin It