Archive from June, 2012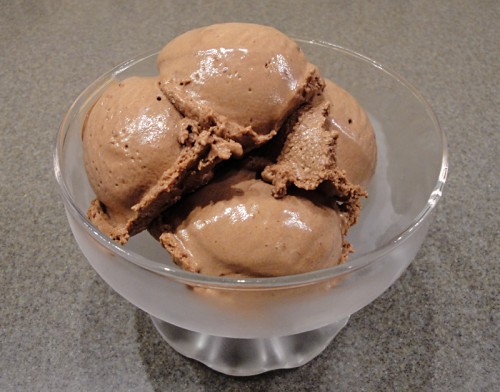 I'm back with another Jeni's ice cream recipe. After making Salty Caramel ice cream, I wanted to try a flavor that was much more simple. A classic chocolate recipe sounded perfect. I decided to try the recipe for The Milkiest Chocolate in the World Ice Cream.
I don't want to keep republishing all of Jeni's recipes since I think her book
deserves the credit and it explains a lot of the process in it but I will show you the ingredients and say the process is very similar to that of the first recipe I tried. One note, Jeni's recipe in the book has a small typo so make sure to check her website for updates to the book. In this case you need 1 1/4 cup of cream instead of the 1/4 cup that is printed in the book.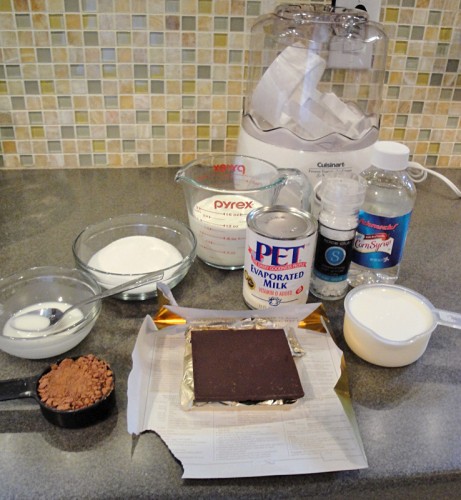 In this recipe you don't use cream cheese, instead you use evaporated milk. Jeni explains that the goal is to keep the chocolate taste more pure which I'd say she accomplished in this recipe. The change in ingredients leaves the ice cream tasting a little sweeter too. My husband described the flavor as chocolate ice cream in a waffle cone. That enhancement made this ice cream taste anything but simple. I wished in a way that the flavor had more distractions because chocolate was the star and a whole bowl might be a tad overwhelming.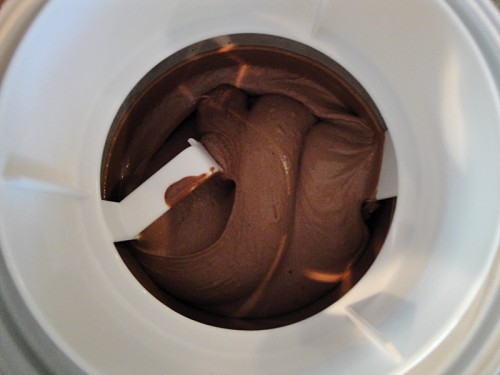 The only problem I'd say exists with this recipe is how thick it gets. With cocoa, cornstarch, and chocolate there's a lot of chance for clumps to form in the ice cream. To remedy this I suggest sifting the cocoa before you add it to the pot. Then run the ice cream base through a sieve first as you add it to the chocolate and again as you put it in its chilling bag. You want this ice cream to be as smooth as possible to get the purest taste. Also, Jeni suggests freezing this ice cream for at least 4 hours but I'd recommend going overnight. The ice cream really solidifies and the flavors enhance overnight. I know waiting is hard but trust me, it's worth it.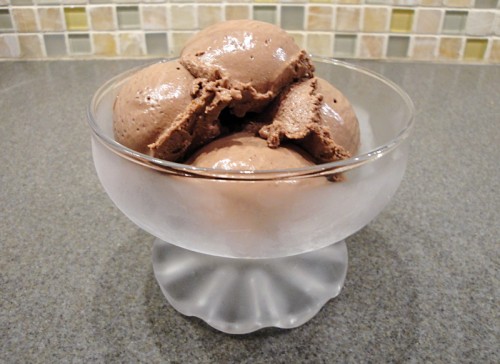 Pin It

I recently bought some resin Adirondack chairs (in blue) for my front porch. My house is white and my front door is red so I wanted to tie the color palette together with some Americana influences. I decided that pillows would be the easiest way to do this. My shopping trip left me disappointed. I could only find really expensive pillows or those with an old fashioned feel so I decided I'd just have to make my own pillow covers. I bought some waterproof amazon pillows. If you purchase a pillow from Amazon, you can rest assured you are getting the real deal.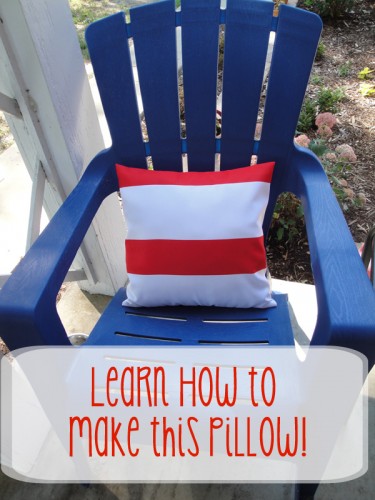 The solution: a Target shower curtain. The modern rugby stripes matched my color scheme, the size of the fabric meant I'd have fabric leftover for future projects, and the shower curtain would add some waterproofing making the pillows more durable. I also came up with a pillowcase design that resembles a sham. That way you get a seamless look from the front but you can just pop the cover off and throw it in the wash.
Supplies
This design can be made in under an hour. The main skills you need are measuring skills and the ability to sew in a straight line. You'll sew 4 straight lines per pillow. You'll need a flat surface, yardstick or ruler, a cutting device (rotary or scissors), washable fabric marker
, an iron or pins (check under "making the hems" to see which you need), matching thread, and a fully stocked sewing machine.
Cutting the Fabric
First up, you'll need to make the cut. Well, cuts. I have 2-16 inch square pillows so I used a simple bit of math to calculate the size of fabric I needed to cut out.
pillow height + 1 inch = fabric height
pillow width + pillow width + 8 inches = fabric width
If you want to cheat and avoid some grade school math, just get 16 inch pillows like I did. My fabric height was 17 inches (16+1=height) and my fabric length was 40 inches (16+16+8=40). I marked the first 17×40 inch section on the fabric and cut it with a rotary cutter
, though scissors will work just fine.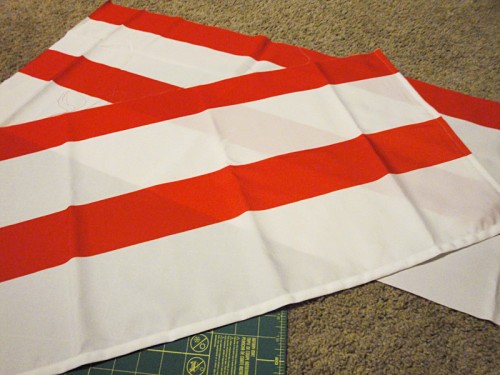 Since I was using striped fabric and I wanted the pillows to match, I cut off some excess fabric before cutting out my second pillowcase section so the stripes would start at the same position for both fabrics.
Making the Hems
You'll want a finished edge on these pillows so step #2 is to hem some edges. If you use a normal fabric you can use your iron to hold your seams but since my polyester wasn't holding an ironed hem, I used pins to hold the edge.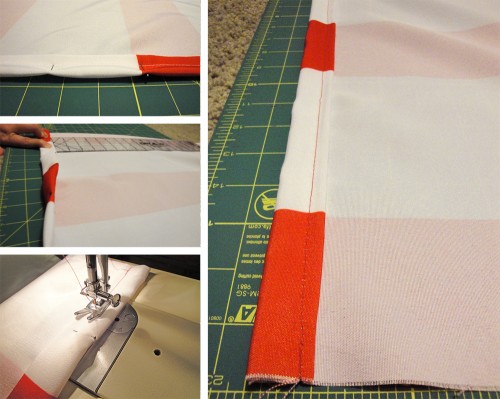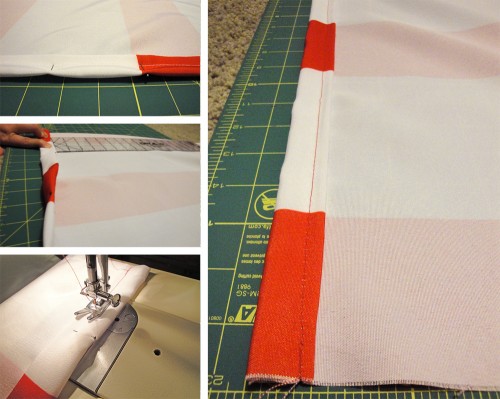 Place your fabric right-side down. You'll first want to fold over both of your short edges 1 inch and iron or pin it in place, then fold that same edge over 1 more inch and iron or pin this edge securely. You'll want to sew each of these hems in place by topstitching through all three layers of fabric. I sewed about 3/4 of an inch from the right (folded) edge. Make sure to repeat this step for all the short edges on your pillows.
Creating the Pillow
Place your fabric right-side up. You should have something resembling a placemat in front of you right about now. You'll want to measure out the halfway point on the long side of your fabric. I started with a 40-inch length of fabric and used up 4 inches making the seams (2 inches per side) so my fabric should be at 36 inches long now. I'll want to make my center mark at 18 inches.
This next part is a little counter-intuitive so make sure to read it twice before attempting. My pillow is 16 inches in length so half of that is 8 inches. Place a ruler next to the edge with the 8 inch mark (or half the pillow length) of the ruler at the center mark on the fabric. Make sure your ruler is facing with 0 on the right end of the ruler for this part. Watch the images for clarification.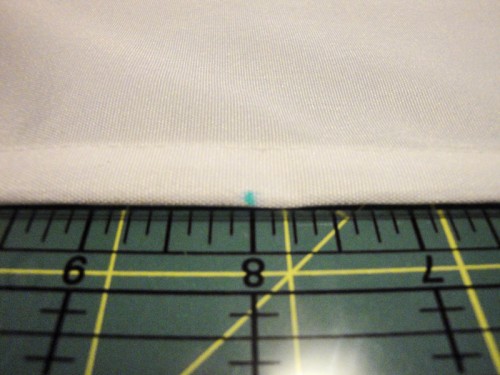 You'll want to take the left (short) edge of your fabric and pull it toward the center. Pull the fabric until the folded edge lines up with the 16 inch mark (or your pillow's length) on your ruler.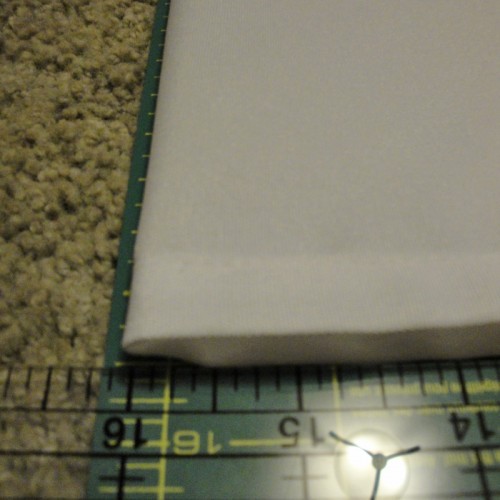 Now take the right (short) edge of your fabric and pull it toward the center. Pull the fabric until the folded edge lines up with the 0 inch mark on your ruler. Your fabric will overlap near the center.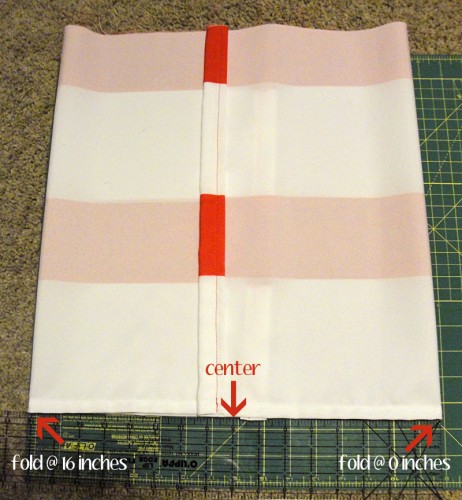 Now you'll need to pin the bottom raw edges together. Repeat with the top raw edges.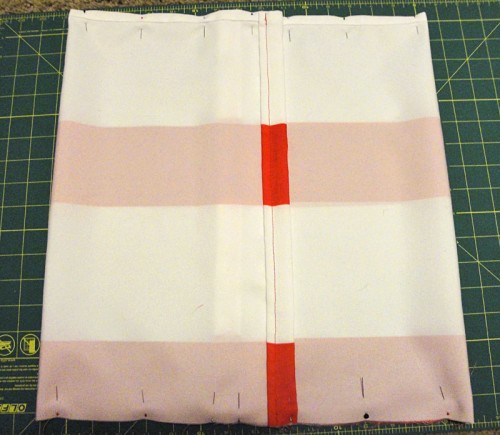 Sew a half inch seam along the bottom edge. Then sew a half inch seam along the top edge. Repeat with your second pillow.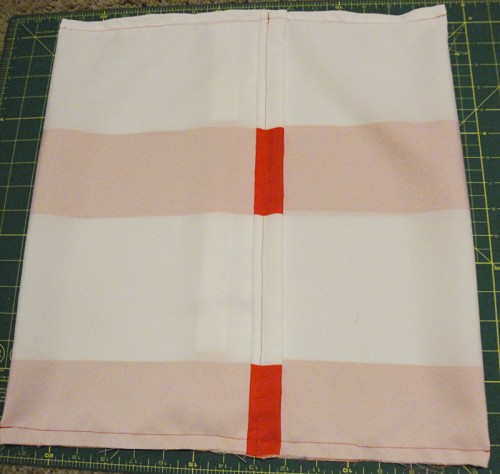 Turn your pillow case inside out, pushing out the corners firmly.
Now you can just slide the pillows into the pillowcases and you are set! The hardest part of this project is just the measuring. With 4 straight lines even a beginner can sew these pillows. See how they add that pop of color my front porch needed.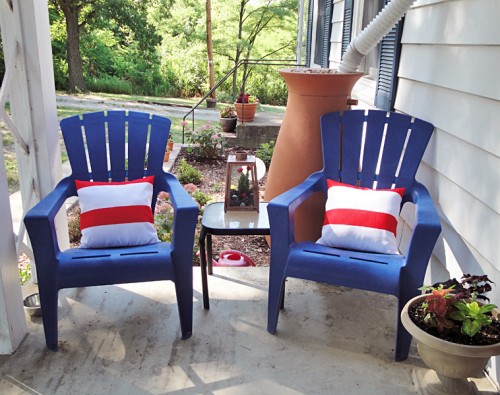 Pin It

How many of you drive an older car? I have one really new car and one really old car. How old? I bought it my senior year in high school and my 10 year reunion is coming up soon. It was already used when I bought it and right now it has over 241,000 miles on it. The car is likely to fall apart before it stops running. I've lost a gas cap and a door handle but I still get better gas mileage than most people I know. I also can't handle the idea of saying goodbye to the car that lasted me through my first job, senior prom and the glitter from my forest green prom dress I swear is still in there, those crazy Hello Kitty decorations I put in it, all those trips to and from college, the trips with friends,  and the memory of taking my little puppy home in it.
In an effort to make my car last just a little bit longer, I decided to do something about my front headlights. If you've ever driven an old car you know that they can grow hazy thanks to oxidizing. It isn't just a pain; if I can't see the distance that could mean hitting a deer on the rural roads I live on. I saw on Pinterest that you could use toothpaste to clear off that haze but I didn't know how great it would work. I decided to test a different method on each headlight, toothpaste for one and baking soda for the other. For the baking soda, just add enough water to it until it forms a paste. Here's the results: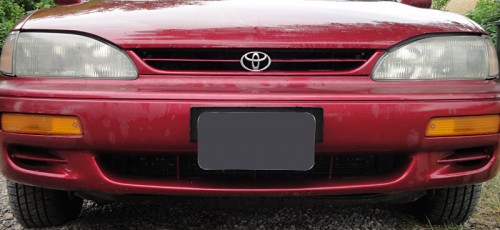 It might be hard to see how it ended up so I made a detailed comparison for you.

And a quick before and after of each of the lights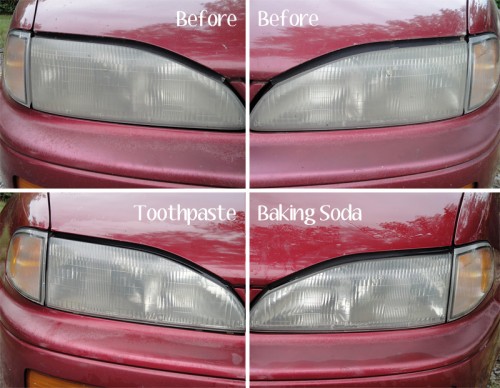 While I didn't see any miracles like the original pin showed, I did see an improvement from both methods. It may be a bit hard to see on your screen (click the images to enlarge) but the baking soda paste ended up getting the haze off just a touch better. It also used less product making it the more cost effective solution as well. I think I'll keep applying baking soda to the headlights each time I wash the car until they look like new or until the car gives up and goes to car heaven.
Pin It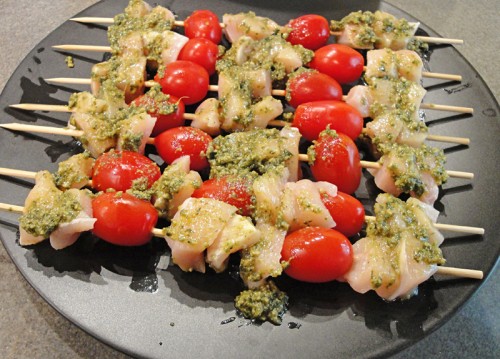 In the summer there's nothing better than throwing food on the grill and eating leftovers for days. Just because I like to eat some tasty food doesn't mean I don't love an effortless meal. When I saw the idea of these Pesto Chicken Skewers that La Kocinera shared, I knew I had to try them.
To prep for this recipe I soaked 7 skewers in water so they wouldn't catch fire on the grill. I also pulled out 3 of my frozen pesto cubes to thaw during the day. The only other ingredients you'll need are 2 chicken breasts and a half pint of grape tomatoes. Just cut up the chicken into bite-sized pieces and alternate the pieces on the skewer with the tomatoes. Brush on some pesto and grill until the chicken is done. That's it! It's so easy you barely even need a recipe.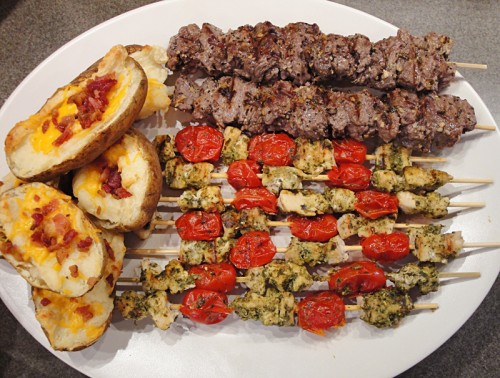 I served this recipe with some sirloin skewers and some of my frozen twice-baked potatoes along with a salad. Like I said, my goal is to eat off a meal for days and we had a weekend's worth of food with this meal.
Ingredients
2 boneless chicken breasts, cut into bite-sized pieces
1/2 pint grape tomatoes
1/4 cup prepared pesto
Instructions
If using wooden skewers, soak in water for at least 20 minutes to prevent burning on the grill.
Alternate sliding chicken pieces and grape tomatoes onto your skewers. Brush with pesto.
Heat your grill to a medium heat and cook about 5 minutes per side until the chicken juices run clear.
http://www.thehyperhouse.com/2012/06/pesto-chicken-skewers/
Pin It

It's time once again for this month's Get Organized Now checklist. As usual I'm mapping out my favorites on the calendar and then scheduling all my other projects around their list. Up for me this month: finishing my closet, starting on my flower garden, and a lot of summer fun.
I wanted to share this great method of tackling these chores that Emily from Becoming the Wilmi has been doing. Each month she chooses 3 or more tasks from the list and blogs as she tackles them. I love how she uses her blog to keep herself accountable to each task. I had some issues keeping up last month so I just might follow her example.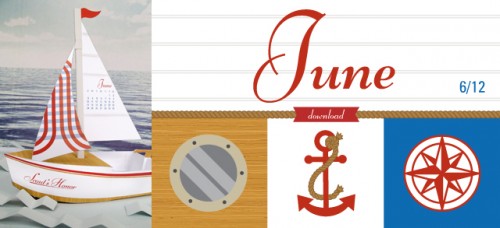 Source: Scout Creative-Download the free monthly calendar
June's list seems to focus on recycling, repurposing, and reexamining what we own. Last June I did a huge purge of my house so I could probably use a yearly check-in so things don't get out of hand. I also sold some items that still had value to scrap metal dealers. Here's some of my top items to tackle this month:
June 2: Donation time! If you're anything like me you have a few piles of goods to be donated. Books, electronics, clothing, household items–they all take up space. Clear some valuable real estate and do a good deed by packing it all up in your car and going on a donation spree. Better yet, see if a charity does pickups in your area.

June 10: Consolidating isn't just about goods. Try to plan your day by taking as few trips out as possible. You'll be more purposeful in your shopping trips and you'll save gas, both leading to savings in the wallet.
June 11: Consolidate your cleaning approach. Break down your cleaning routine into 10-minute sequences. This way you won't get overwhelmed with cleaning and you know that whatever you need cleaned it can be done in 10 minutes or less.
June 18: Eliminate superficial clutter. If you keep ads on the table to read for a week at a time you're just wasting good deals and cluttering up your home. Learn how to decide "trash or keep" with just a glance so you don't waste time making so many little decisions.
June 23: Today's the day to tackle desk clutter. Throw out old pens, toss those scrap notes that mean nothing and clear your workspace.
June 30: Clean out your fridge. Now you'll be ready for all your 4th of July foods. Here's some tips for cooking with the odds and ends you find in your fridge.
How do you make time for the little things?
Pin It