Browsing Category "Household"
If you've been following my twitter page, you probably saw the drama go down where I had a shattered rear window on my ancient car. There was no rhyme or reason or any object found, apparently 17 years was enough for the window and it decided to crack, shatter and then cave in. So much drama and it involved me driving out to my husband's work, taping it up so he we could make the commute home in rush hour and then me sitting around while a new one was installed today.
I hate to be all "cool story bro" so the reason I'm sharing all this with you is because today's makeover has been delayed due to drama. So in the meantime I'm bumping up a post from the future. It'll be like time traveling. I know a lot of people have been posting their New Year's decorating resolutions around the web and a common theme has been to finish a room by adding a rug. Here's my top 5 favorite patterned rugs I've come across in 2012.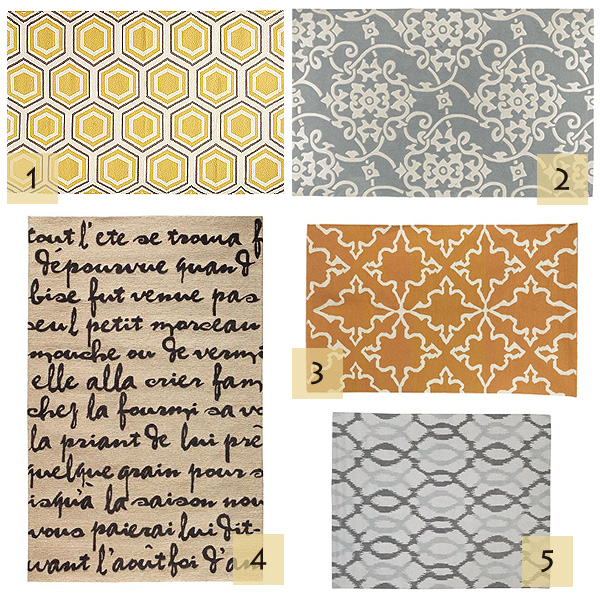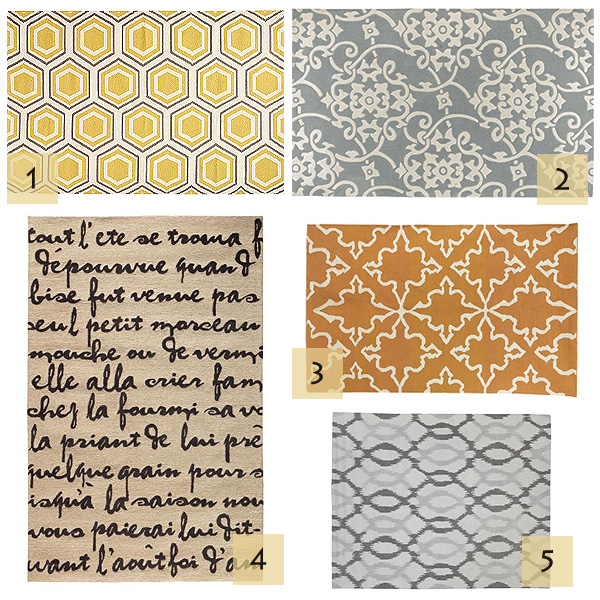 Sources
I'll be back soon with some of my favorite floral rugs. Hopefully tomorrow my lazy susan will make her (lazy) appearance.
Pin It

Keeping with the week's theme of organizing (see part 1 and part 2) today's post includes 6 simple ways to keep your cabinets organized.
1. Go vertical
One of the easiest ways to change up your cabinets is to stack things or to find new ways to go up instead of out. I found these tiered can stackers at Garden Ridge but you can find them nearly everywhere (available online here
). Other solutions I like are this Pull Down Spice Rack
and this can rack.
2. Use Baskets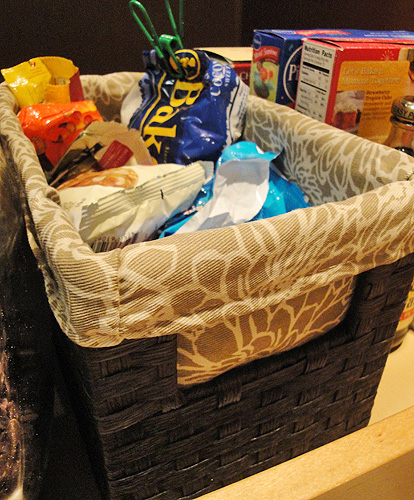 Baskets are key to organizing your cabinets. All those little packets and Tastefully Simple mixes get thrown straight into my baskets. This one is on my pantry's baking shelf so it holds those half empty packages of nuts, white chocolate chips, and pudding. This is a CD basket from Target's paper rope line. It fits perfectly in my pantry so naturally I have a million of them.
3. Use containers to hold new things
I use an old cereal container and scoop I bought from Target to hold chocolate chips. Yes, I bulk buy chocolate chips. I do in fact use that many and if you do too, a cereal container is a great way to store them all.
4. Don't Buy Everything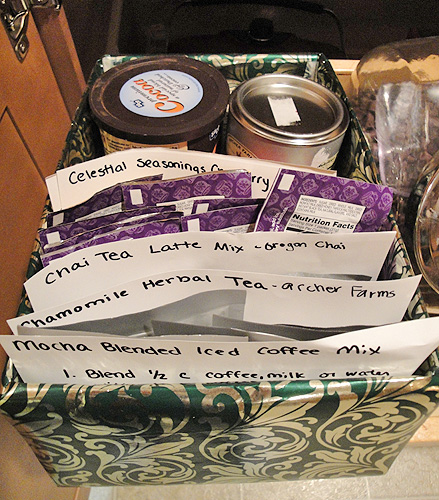 You don't have to spend money to organize. I took a shoe box from the running shoes for my giant feet and wrapped it in some wrapping paper. I used scrap paper from printing out coupons to make some dividers and now my teas, coffee mixes, and cocoa have some storage of their own. All for the price of nothing! (except the shoes)
5. Don't Just Sort the Food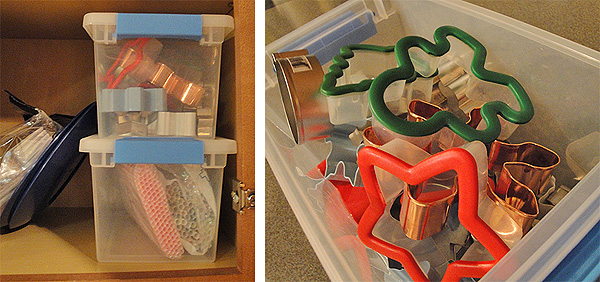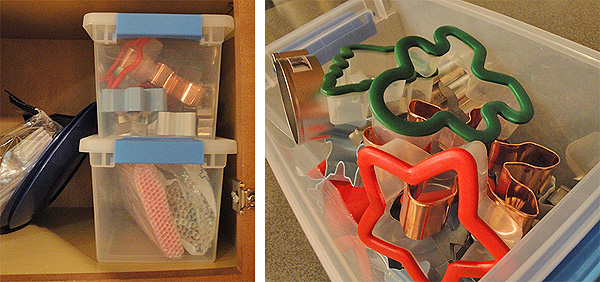 If I'm not careful, I can get messy very quickly with all those paper products in my cabinets. So I buy totes and hide it all away. One holds utensils, plates, and napkins. Another holds straws for summer parties. Yet another holds cookie cutters. I've tried plastic bags and the like but the only way I don't have a crazy cabinet is by locking them all up.
6. Sort It Out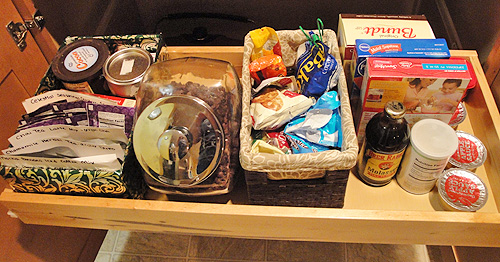 Much like my organizing tip for Monday, I'm really into sorting my items by use. You saw above how I have one shelf set aside for canned goods, well I have another set aside for baking items. On the left is my tea sorter, then my chocolate chip explosion, then my baking basket, and finally on the right are some cake mixes for speeding along baking, some molasses, some powdered egg whites, and finally applesauce to lighten up some recipes. Not every shelf of mine is sorted by use but it does make it easier knowing that if I'm baking up some cookies that all my good stuff will be on the third shelf down.
Tomorrow I'll show you why these tips are necessary and how I put them to good use with my lazy susan makeover.

Yesterday I talked about how to clean out your kitchen and to take an inventory list. I mentioned highlighting any irregular items from your inventory and today I'm going to show you how to easily base your meal plan around your pantry.
When I did this last April, some of the items that popped up on my inventory were cherry pie filling, some leftover cream, white cake mix, carrots, peanut satay sauce, coconut milk, raisins, and canned clams. There were some more obvious choices on using up some items but other items had me stumped. The clams I used in clam chowder and the cherry pie filling I used up in a quick bread.
For the raisins I went to one of my favorite sites, foodgawker. I knew I wanted a raisin dessert or breakfast item so first I searched raisins and then I chose desserts and breakfast under category on the second screen.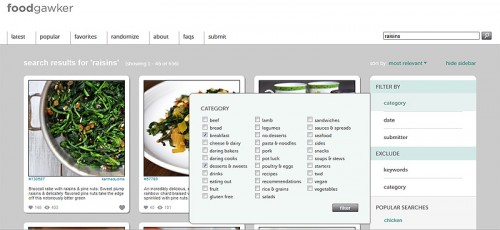 I had 10 pages of results but on page 3 I found a perfect recipe that used both raisins and carrots: carrot cake! On the same page I also saw Hot Cross Buns. Since I was doing this in April, Easter was right around the corner so both Hot Cross Buns and carrot cake were perfect for my menu.
Another site I like to use is food.com. I figured both the coconut milk and the cake mix could be used in a dessert so I used the site's recipe sifter tool.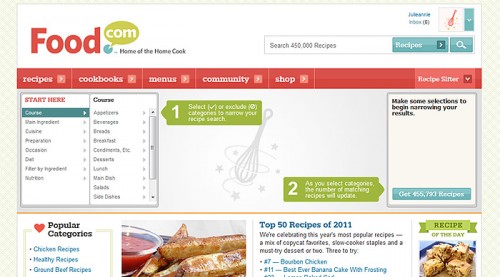 Under filter by ingredient I typed "coconut milk" and checked the green arrow to add it to my sorter.

I repeated the process with "white cake mix" and then I had just 13 recipes.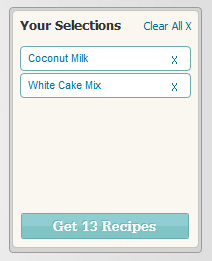 The most popular recipe was a Tres Leches Cake that not only used my coconut milk and cake mix but also used up most of my extra cream too. Bonus!
For sauces like my peanut satay, I wanted to use it all up and quickly. I was working on this all last spring so I was into grilling a bunch of meat. I took several pounds of chicken and coated it all in the peanut satay sauce before throwing it on the grill. I froze a bunch of it and over the next few weeks I had traditional satay chicken, satay pita pockets, and grilled chicken salad with satay dressing. If you don't want to be overwhelmed trying to eat up a single ingredient, freezing is definitely the way to go.
The best part of cleaning out your pantry is how few items you'll need to buy for your many meals. I just added the extra ingredients needed to complete my recipes to my restocking list from the cleanout. For 20 days the only items I had to buy from the store were milk, some fresh produce, and bread. It was a great way to save money and you can do it every 6 months if you're anything like me.
How about you–what are your best tips for making a meal plan from your pantry?

This week is all about getting organized. I'll be showing some of my best tips to an organized home and for me that starts in the kitchen. If I don't have my kitchen organized I end up not cooking as much and that leads to money wasted. On top of that, if I'm not using the items in my kitchen I'm wasting money there too. Last year I worked on following a 5-step process to keep my home organized and I ended up succeeding at having a better organized kitchen and life. My plan was simple: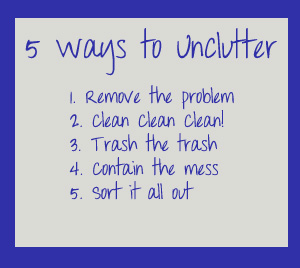 Remove the problem: After you've found your problem spot, empty everything out. Everything. Mine was ants. Literally ants everywhere. I had them removed by ant control in Melbourne. For other unwanted critters, call on a pest control company to handle them.
Clean Clean Clean!: Clean it all out and wipe everything down. Consider protecting your surfaces with shelves or contact paper before moving on.
Trash the trash: Look at what you're holding on to. If it's expired or bad, get rid of it. If the item needs upgrading then trash it and add a better one to the shopping list. There are cheap skip bins in Brisbane you can book online and they will dispose your waste for you.
Contain the mess: Find new ways to hold your old items. It'll help keep the area clean and help you see what you already have so you don't buy duplicates. A label maker is very helpful at this stage.
Sort it all out: Categorize things as you put them back on your shelves. I keep my baking items separate from my cooking items and I store bulk or rarely used items out of the way. Make use of

hand trucks

to move heavy objects simultaneously and save time.
You can apply these ideas I got from pest control Melbourne to any room of the house. If you're having a hard time, just watch an episode of Hoarders and you'll suddenly feel very motivated.
Start with your pantry. Clear all the shelves, wipe them down, and throw away all expired goods. While everything is out on the counter, group similar items in size or use together and find a way to store them. I'll be sharing some of my storage tips later this week so stick around for more ideas there. I also like to take an inventory at this point. Write everything you have down and include quantities. Then put everything back into your pantry or cabinets using your new sorting system.
Next, work on the fridge. Clear it out and really clean this one, drawers especially. Make an inventory list of all these items too. When you put items back in, choose a shelf at eye level to put your healthiest snacks and leftovers on so you're most likely to eat these items. If you're always looking at your leftovers then you'll be more likely to eat them. If you have any fresh vegetables or fruits, clean them and place them in containers if you haven't yet.
Last, check on your freezer. If you have an ice maker then this is a great time to thaw it and clean it out. Be quick about cleaning so nothing thaws. Sort meats with similar meats and have one shelf set aside for convenient foods, like frozen shredded chicken or smoothie packs so you can eat quickly from the freezer. Inventory the freezer too.
Take a look at your inventory list and see if you have enough of all your staples. If you don't, add them to your shopping list. Also add any containers you might need. Highlight all the irregular items on your inventory and check back tomorrow for some helpful advice on cooking from your extra inventory.
Pin It

If you're serious about getting organized in 2012, you'll probably be tackling paper clutter sooner or later. What usually works for me is to have a big place where all the top priority papers go and to file them away as soon as I've tackled them.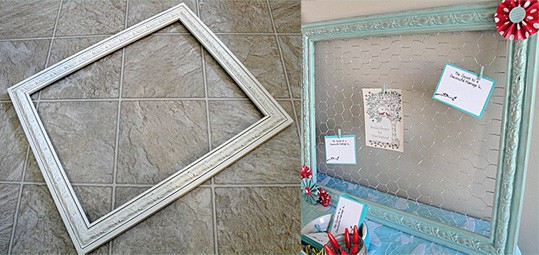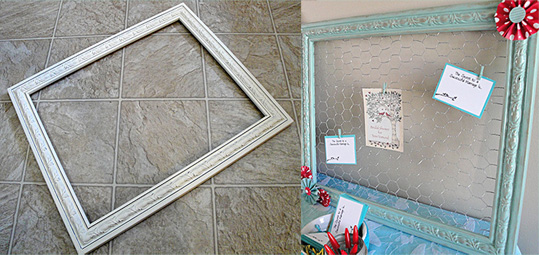 I made this frame a few months back for my sister-in-law's bridal shower. The thing I love about it is how adaptable it is. We used it during the shower to hold cute little marital advice cards and now she uses it in her home to keep herself organized.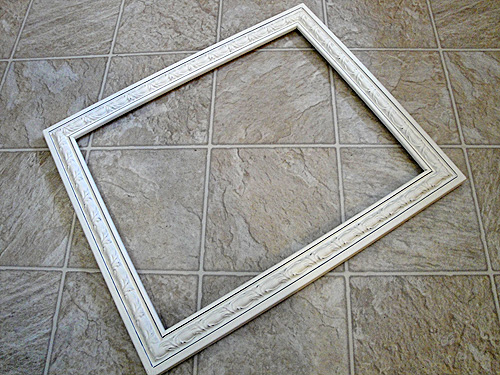 I started with a frame I got half off at Hobby Lobby, some Krylon Catalina Mist spray paint, some chicken wire (or poultry netting as my local home improvement store called it), and a staple gun.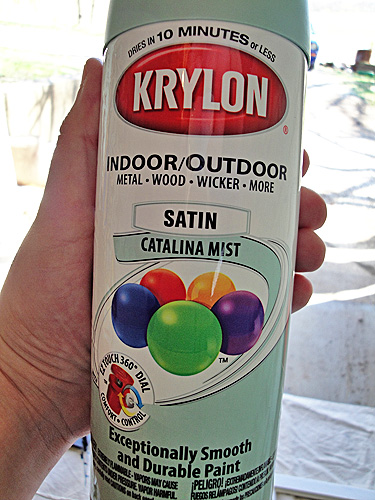 Start by spray painting the back of your frame, then the front. I did two coats on each side for some very vibrant color. After this I cut the chicken wire to fit the back of my frame and used the staple gun to secure the wire to the frame.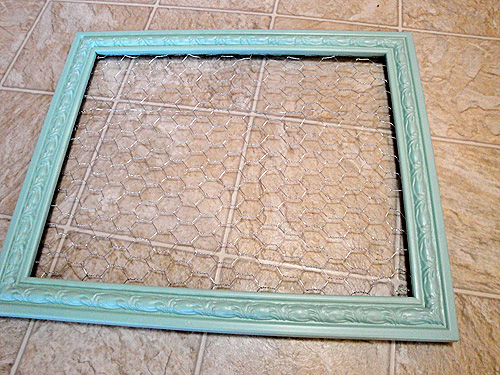 For the final display I made some printable cards, spray painted some mini clothespins to match, and lightly distressed the border.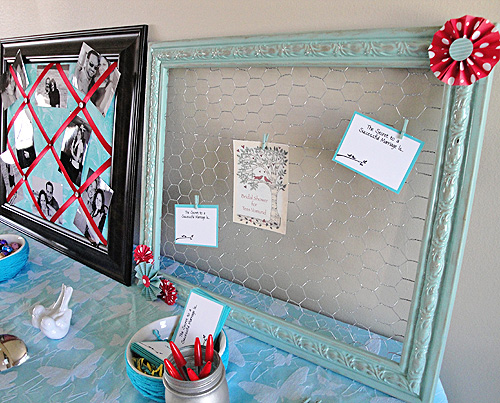 Here's the frame displayed at the bridal shower. How cool is the photo display my other sister-in-law made? Red and aqua were the wedding's colors so we both had fun making displays with the bright springtime colors. See how I made the red flower lolly for this frame.
You could use smaller chicken wire and frames to display jewelry or accessories or make a version of your own to match your own house. This is a really easy project that you can do in a weekend with some amazing results. I'd love to see how you organize and hear some of your best paper managing ideas in the comments.
Pin It

It's time once again for the monthly chore chart. I mentioned back in December how I fell in love with Get Organized Now. Every month they create a checklist of the household tasks that often slip our minds. They even offer a printable version that allows you to check back on past months in case you need to play catch up (here's December's list if you need it).
What I like to do is map out all the tasks that apply to me from the list and plot them on my calendar. Then I fill in the empty spots on my calendar with other tasks I have to do, like ordering blinds or scheduling doctor's visits.
Some of my top tasks for January from the checklist include:
January 1: Clean the outside of the fridge. Don't forget to scrub the water and ice dispenser if you have one.
January 3: Make  a list of all the birthday and anniversary cards to send for the year. Mark them on the calendar and stock up on your next shopping trip.
January 4: Wash all your throws and blankets around the house and reassess how you organize them. My husband just got me an awesome blanket basket from Ghana for Christmas so I'm already a step ahead on this one.
January 8: Clean your linen closet and dispose of any old ones. January is a month for linen sales so watch the ads and stock up on anything that needs replacing.
January 14: Pull out the crock pot and do some bulk cooking. The checklist suggests spaghetti sauce but you can do chicken breasts or chili if you have plenty of sauce already.
January 23: Happy Chinese New Year! It's the Year of the Dragon. Consider making a big Chinese dinner tonight or having a Chinese potluck with friends. If you're from St. Louis, consider buying tickets for the Chinese lantern festival coming up at the Missouri Botanical Gardens.
January 30: Inventory all the winter clothing you've warn so far. If you haven't worn a coat or sweater yet this season then consider donating them to Goodwill or another local charity.
What's your must-do task for January?

I've started moving up from craft projects to DIY projects. My husband is a bit of a This Old House addict so we're never short on tools in our house. I first started "borrowing" some of his tools but recently I've made some purchases of my own. Here are some of my top gift ideas for that home renovation junkie or HGTV fan.
DEWALT D26441K 1/4-Sheet Pad Sander
I used my last sander so much that it died in front of me. My new Dewalt sander hasn't seen the same fate. I use it to sand out the uneven walls in my house, decorative projects, and even when I refinished a table. If you plan on refinishing furniture this is a must-have tool.
Martha Stewart Crafts Dual Temperature Glue Gun
How did people live before glue guns? I'm sure you can see the many fine points of a glue gun but I've used mine on fixing up furniture, household items, decorating for parties, or even on my wedding invitations and the rings since there are some great options like the best wood wedding rings you can find online for this. This one is dual-temp so you can use it on wood or metal or even something delicate like silk flowers.
Great Neck Saw 128 Pieces Tool Set
Know someone just starting out? This is the perfect kit for a new homeowner or someone who is looking to start their first home project. If you know someone looking to build up a tool supply, this kit is perfect. Among its many items are a glue gun, a staple gun, an adjustable wrench, 4 screwdrivers, clamps, and even picture hanging accessories.
9 Amp 7-1/4 in. Mitre Saw
Having a mitre saw has changed our house. If you plan on doing trim work or even designing your own frame then a mitre saw is incredibly useful. Prices have dropped in recent years and this one is on sale for the holidays so if you know someone looking to add finishing touches to their home this is a perfect gift idea.
Martha Stewart Living Tester Sampler Interior Latex Paint, 14 Pack
Know someone whose more of the painting type? I'm a recent convert to the Martha Stewart paint line at Home Depot. I've painted my kitchen with her cornbread shade and I've got 2 more of her colors selected for future projects. I think anyone looking to paint their walls or even their furniture will like these samples to give them a good starting color.

I'm a bit of a nerd. No apologies, it's fun being a nerd. There's a lot of people like me out there who love technology and gadgets and you may have no clue what to get them. There are many home devices being made available nowadays, some are very useful when it comes to do tasks at home, you should know about this now! I have some ideas for under $100 you can give to your favorite nerd.
Ceramic Pig Speaker
I can't explain it but there's something darling about this little pig. Instead of a corkscrew tail you plug in your mp3 player of choice and the pig broadcasts the sound throughout your home. For $7 more you can monogram it with your name or even a special pet name.
Nook Simple Touch
I love my own Nook. I didn't want a tablet because the whole point of an ereader is to read on them and the e-ink makes reading very easy without straining your eyes. My battery lasts more than a month even with all the reading I do. I also love being able to just touch the screen to turn the page. If you know someone who already has an ereader, other great ideas are gift cards for books or a nice case for their device.
A Song of Ice & Fire Series
If you know a nerd who hasn't read the Song of Ice & Fire series, it's time to introduce them. This is the series of books the HBO show Game of Thrones was based on. You can buy a 4-ebook set plus the newest book for the nook for just $45 or buy the physical copies of the books for $41.
Wii Fit Plus with Balance Board
You have to know your audience with this one but I got the Wii Fit for my birthday and I love it. It wasn't about losing weight but rather about being active. It's actually a really fun way to work out and I'm surprised by how much energy I use playing with it. For a nerdy person me who already has a Wii it's a great gift idea. The only game that gets as much play in my house is the next item on the list.
Mario Kart Wii with Wii Wheel

This is a game both my husband and I love. Having a Wii is totally worth it if you play Mario Kart. Kids love it almost as much as adults do. It's a great destressor and a fun way to play against a friend if you have a second control. On Thanksgiving weekend there were aunts and uncles playing nieces and nephews, brothers playing brothers, and in-laws playing in-laws.

Stuck on a Christmas gift idea? All this week I'll be suggesting some of my top picks for those hard-to-shop-for people. All the choices are my own and no one is sponsoring them. Today's target: the entertainer. If you're looking for something for a mom or a friend who likes to entertain, prepare food or just serve it up for a crowd then here are some great ideas for you.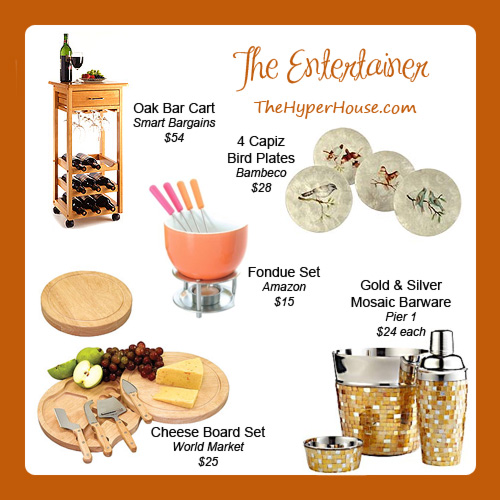 Oak Finished Bar Cart
This cart holds glasses and 9 wine bottles. It even has a drawer to hold all the wine accessories you (or your friend) have. (no longer available)
Capiz Eco Bird Plates, Set of 4
These would look beautiful on a table or just displayed in a china cabinet. The capiz shell plates are made from mollusk and lacquered for durability.
Orka Chocolate Fondue Set

What's a better gift for an entertainer than a fondue set? This isn't your classic 70s set; it has sleek modern designs and 4 forks to help friends dig in. It keeps itself warm via a supplied tealight candle.
Circular Cheese Board and Tool Set
On top you can slice your fancy cheeses and hidden inside a swivel bottom are all your fancy tools to do the cutting. Break this out whenever you break out one of the wines from your bar cart.
Assorted Gold & Silver Mosaic Barware
What a great gift that can be used over the Christmas holidays or even over New Year's. You can choose either a bottle coaster, shaker, or champagne bucket in the brilliant design.

Last week I went to Atlanta for a 4-day trip. Why? Because I'm crazy. That's really the best explanation. You'll see why soon. You can read more about the trip over on my travel blog TravelHyper but today I'm going to fill you in on one of those crazy reasons.
You see, I live in a desert. Despite what you might have learned in science class, St. Louis is in fact located in a desert: a retail desert. Signs and symptoms include a lack of desirable mega stores like Ikea, West Elm, and Z-Gallerie (RIP Galleria location). Atlanta has all 3 stores. I decided I would go there, move in, and never leave. In return I promised my husband a day at the aquarium. All was going well until I realized if I wanted to see my purchases displayed in my home that I might have to leave the store after all. Here's my guide to shopping at Ikea (and Atlantic Station) and how to plan for a trip.
Pre-Gaming
One of the best ways to prepare for your Ikea trip is to read other people's experiences so A+ for you. The other key piece of advice I have is to shop the website and the catalog. When you get in the stores it will be very overwhelming so plan ahead for big purchases. To help sort my decisions out, I made a pinterest board for everything I was eyeballing and even included photos of other people using the products. I've since updated it with some of my purchases.
If you're coming from quite the distance like I was then make sure you pack accordingly. I borrowed a relative's van in case I had a big haul. I brought comfy clothes and shoes for this day. I even did a kindhearted thing and offered my local friends the chance for me to play delivery man and bring some items back home for them. I also took measurements of key areas in my house so I wouldn't be wondering frantically if something would fit.
When You Arrive
We started off our trip being lost. We didn't even realize the sheer size of Ikea until we arrived and discovered there weren't any parking spots. We had no knowledge of the parking garage around the back and even inside we had to follow sign after sign guiding us to the entrance. This is the part that separates the men from the boys and the ladies from the girls so step up.
We entered the store and saw a drop-off point for kids (Ikea offers babysitting for kids of a certain size) and a big escalator going up. Right at the top of the escalator were stands with paper measuring tapes, pencils, maps, and a place to write down a shopping list. Then the entire store was before us. The map showed this: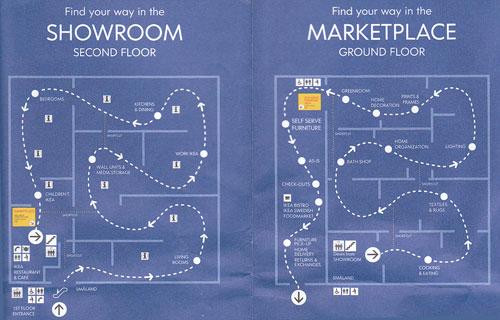 but it looked more like this to us:
Advice for First-Timers
If you're new to the Ikea game, I highly suggest following the technique we did. We didn't know what to expect so we walked through the showroom and wrote down anything that stood out to us. This was really fun. Ikea has full kitchens set up and even simulated apartments with some crazy tiny square footage. Spend plenty of time up here just trying out things and getting an idea of quality.
After finishing up in a Costco sized showroom, we stopped at the restaurant upstairs. You know Ikea doesn't play when they have a full scale cafeteria inside. I took the daring route and had the Swedish meatballs (served with mashed potatoes, cream sauce and lingonberries) while my husband had chicken fingers. Separating the boys from the men yet again. During lunch we narrowed down our list from the insane to the "needs a second look" before we headed downstairs to the marketplace.
If the upstairs is a Costco sized showroom, the downstairs is a Costco sized Bed Bath & Beyond. All the loose cool gadgets are here. Suddenly our lists were full of new items. Uh oh.
Taking a Break
In an effort to evaluate our priorities, we knew we had to escape. We couldn't let Ikea take our brains and our wallets. Okay, really we just decided to take a 10-minute walk up the road to a shopping complex called Atlantic Station.
It's a mixed-use development which means lots of housing, restaurants, and businesses all packed into one area. Even the Ikea is technically considered part of it. I'd love to live here no matter the rent because this area is nice. Even nicer than my last apartment. When looking for long stay accommodations, check this monthly property rental options available.
Everything is wide open and on the streets rather than being stuck inside some giant mall. There's clothing shops like Ann Taylor and H&M and restaurants like Which Wich or CPK. You can even find bigger stores like Dillard's or Target. We were there for 2 stores especially, West Elm and Z-Gallerie. West Elm was a classy place that hipsters and yuppies alike seem to love while Z-Gallerie is all about the bling. I have a bit of a thing for peacock Christmas decor and it seems they did too.
We didn't end up buying anything that day from either shop, it was mostly a scouting trip for me to match quality to the catalogs I had read since West Elm frequently has free shipping deals. Still, it was nice to take a break and compare furniture and sectionals between these stores and Ikea and the prices too. We were finally ready to tackle Ikea once and for all.
Ikea x2
We returned to Ikea with a plan. We had our items in mind and we were ready to buy. In the showroom items have tags on them indicating where you can pick up the item. Some are on the showroom floor in little areas, some are downstairs in the marketplace which the tag designates by department, some are downstairs in a huge warehouse with an aisle number given where you pick up the boxes and the other option is to find an associate and have them give you a paper so you can pick up your item from the oversized storage. Tons of crazy options, right? Naturally we had all 4 of them.
We tackled the showroom first, writing down the locations of all our new items and hand carrying the few things on that level. Then we found an associate and had them give us the order form for the bolts and nuts we were buying. We took the escalator downstairs, got a cart and tackled the marketplace. We hit a small snag when an item from upstairs had clearly been mislabeled and all the associates disappeared so we never ended up locating it. After we cleared out of the marketplace we moved onto the self-serve area to pick up boxes for a chair. Then we hit the checkouts and piled everything on our poor cashier, including the order form from earlier.
After you clear that area you still aren't clear. Oh no, there's another food area where the items a friend had requested were stored. I grabbed those (and some awesome cinnamon rolls for me) and met back up with my husband. Then we left the store via a people mover (an escalator like thing that takes you and your cart back down to the parking lot vortex) and loaded up. Finally we pulled back up to the front of the store and went inside to get our oversized order. If that sounds complicated, well, it kind of was. But after 6 hours of shopping we were done and thankful to be alive. You can see how the rest of our day played out over on TravelHyper or even more photos at my flickr page. I'll be posting over the next few weeks about how I've been using my new purchases and how awesome they are so stay tuned!