Tagged with "outdoors | The Hyper House - Part 2"
Part of my front flower bed makeover called for finding a home for my rain barrel. I have 65-gallon rain barrels
that I bought from Amazon. The price has since increased but most hardware stores seem to be carrying rain barrels these days. We use rain barrels for 2 reasons, one to prevent water from collecting around the foundation of our house and the other is to water the plants.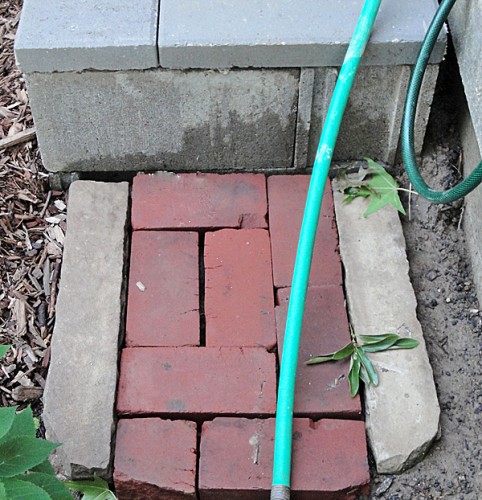 From our experience, we discovered that a rain barrel needs to be about a foot off the ground. The barrel uses a gravity based hose system and there's a bottom spigot that needs to be raised to fit a watering can underneath. We wanted to build a base with pavers that was big enough to support the rain barrel without tipping over when it was full. We needed a bottom base that would hold the watering can without it falling over either.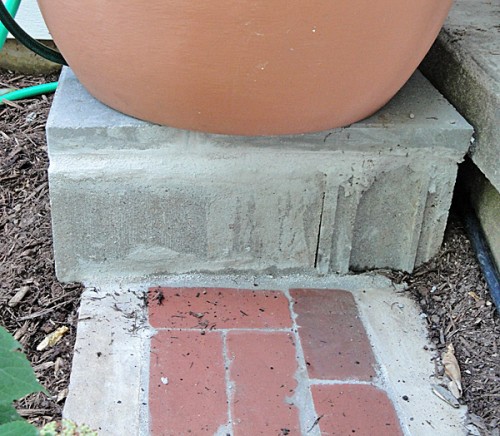 After we found a setup we liked, we mixed up some concrete (always try to get your concrete from authentic sources; visit their website here.) and filled in the rain barrel base with it. That base will not be going anywhere. Then we adhered the bricks for the watering can base to the ground with more concrete. Then there was some mortar used to attach a flat surface to the rain barrel base.  Finally we used some extra concret to fill in the watering can base like a grout.
We recommend you to hire polished concrete Brisbane for all your concrete projects for your home or business.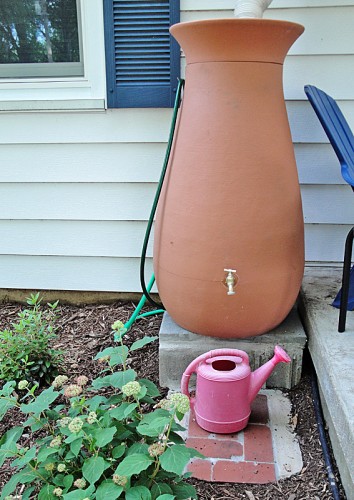 After doing a test run to make sure everything fit, we let the blocks and concrete harden for 48 hours. We put the rain barrel onto its new home and decided to let the rain collect. We had several days of rain after that and the base held up beautifully, with our angled watering can base preventing rain from pooling up around the foundation, just as we'd hoped. Stick around this week and I'll show you the full front flower bed makeover.
Pin It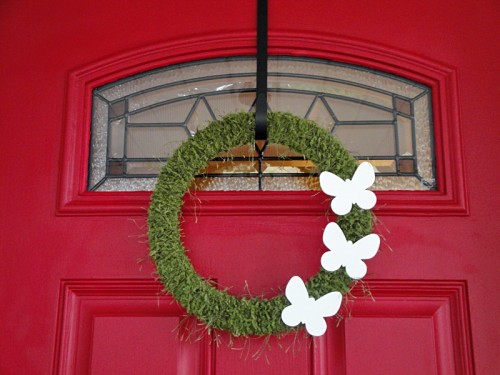 I used a wreath in last month's centerpiece design and this month I adapted it to be my front door wreath. To do this project you'll need the supplies I used last month (wreath base, yarn), some spray primer, and some 50 cent wood butterfly cutouts. I found those at Michaels in the woodworking aisles.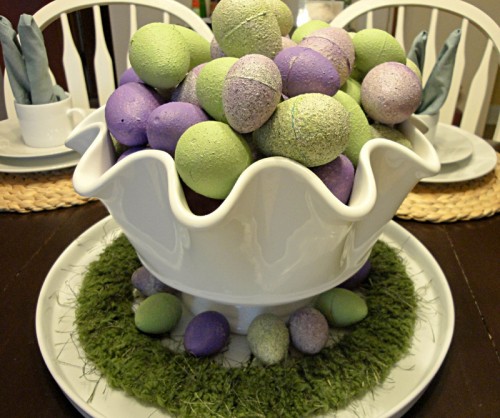 I just spray painted the wood pieces with some primer, hot glued them to my yarn wreath and plopped it on my door. For less than $2 I'd repurposed a simple piece. If you ever outgrow a decoration, think of a way to make it work. Sometimes it's best to cut your losses but I'm loving the spring look on my front door right now.
I'd just washed my door so pardon its streaky look. All the hail from the weekend knocked a bunch of dirt and mulch in every direction. We all survived and even our car survived being outside so I think streaks are the least of our worries. The only casualties were a giant branch (that I cut down myself) and our doormat who will be replaced as part of my big exciting summer porch prettying project.
Step 1 of that project was making some urns over. The urns were cheap and kind of meh looking on the shelves of Walmart but with some primer (see my Instagramed up photo- I'm thehyperhouse on Instagram by the way)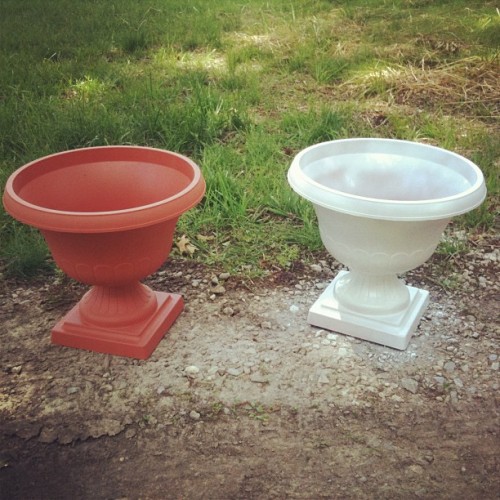 and then I added some textured Krylon spray paint to add some fun (posed in front of the farmland behind the house)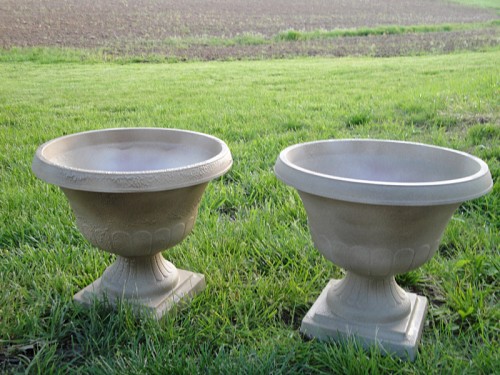 and finally filled with some coleus plants for some drama.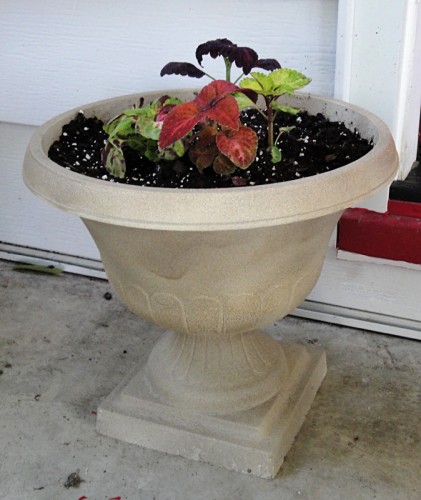 If the weather cooperates I should have some nice progress photos of the front flower bed coming up soon. We finished up the rain barrel base tonight but it needs to cure at least two days before holding the 65 gallons of water in the barrel but all of the plants are in the ground and mulched so I hope to show you a good progress photo next week some time.
Pin It

If you remember, my husband and I built ourselves a retaining wall. I'm happy to tell you that it's been up a week and it hasn't fallen down so clearly we did something right. This weekend my husband and I used our weekend trip into town to scout out plants for the front bed. In that trip alone I bought about 90% of the plants and also some teak patio furniture from RKC for my garden. Unfortunately, I've been under a tornado watch for most of the day Sunday and it's been raining so the actual planting has been delayed until a time I won't die when planting.
The spot used to be full shade but since cutting down some trees we get around 4-6 hours of sun. Check out these guys, they're the ones who did a good job in removing our trees. This is one of the sunniest spots in our yard, believe it or not. Since we have so few plants that flower I really wanted to get some color into this spot. Here's the plan we came up with. Don't laugh at my amazing art skills.
The gray areas are the sidewalks and porches. My house has two front doors so there's a lot of concrete in one spot. In front of the retaining wall are a mix of boxwoods and purple dwarf rhododendrons. Both can grow quite tall but we'll be maintaining them heavily until some of the back section plants grow taller. If you're planning on planting tall trees next to your house like we will be doing, I suggest that you first take a look at your roof and gutters and prioritize repairing your guttering, which can be done with the use of gutter installation and repair services.
Your gutters take on a major role in maintaining your home by providing a solution through which excess rainwater or melted ice can is drained. It's important that your gutter is clean and functioning properly to also avoid pest as explained by Gutterilla – Seamless & Guards Installation, so even if leaves were to fall on them, it'll still work well enough to drain out water.
You can also read this page for some roof insurance providers to help you during roof replacement and repair. In addition, if you still don't have a home insurance, you may want to consider contacting home insurance services like bear river insurance today for a quick quote. We'll also probably throw a planter in front of the porch on the right but that'll be another post. Here's a better shot of the exterior. This is pre-tree removal and a few other projects.
The back section will be the brightest. There will be two rows of plants. In the back and on the right will be our rain barrel. It collects from our gutters and it'll be the watering source for this whole area. To the left we want to balance out the height so I'm thinking a planter with some grass or bamboo depending on what we can find for partial shade. The Southern Live Oak Tree is a great choice for those looking to find an eco-friendly and popular live oak tree for sale. It will not only bring beauty into your home or office, but also provide you with fresh air!
A great addition for your patio is to install retractable roof systems to prevent the sun to hit directly to your patio and this will look modern.
In the center we plan to buy or build a planter with a trellis so a climbing vine (clematis?) can be the centerpiece. It'll fit right between our two front windows. To round out the back row we'll plant two larger rhododendrons, one white and one pink. The front row of the back section will have a hydrangea on either end and three red azaleas in the middle. A patio can also be a great way to extend the living space outside. If you're considering building one, Miami Pergolas & Patios provides such patio building services.
We made sure our plans included enough space for for all the plants to grow. Always make sure to check the mature height and width for all your plants before putting them in the ground. Then before planting you should put all the pots where you're planning to place them to make sure you like the arrangement. We had originally planned to alternate boxwood/dwarf rhododendron but testing it out made us realize we liked it better with some of the plants doubled up.
The 10-day forecast shows sun for most of the days so hopefully I'll have some photos of plants in the ground soon enough.
This past week my husband and I decided to tackle our front flower bed. It hadn't been maintained very well before we bought the house and there were some massive bushes taking over.
The garden we tackled this weekend is the one on the left. Over the years we had already replanted the daffodils and removed the bushes but we were left with a big pile of dirt just sitting there looking ugly. We had removed the front tree next to the flower bed so we knew that sun might actually climb through the trees at some point this year. We wanted to build a retaining wall to create some depth and dimension in the garden.
Little did we know we'd see 90 degree weather in March. It's Missouri and we're used to weird weather but this was out of control. Naturally we were right in the middle of the project when that 90 degree weather hit, then rain, and I was suffering a case of poison ivy from another project so let's just say this project didn't go as planned.
As planned would be to dig out the dirt to form a trench, layer 2 inches of gravel at the bottom of the trench, layer an inch of sand on top of the gravel, and then place 3 rows of pavers on top of all that. Then we would sip sweet tea, admire our work and be awesome.
What really happened was something like:
1. Discuss what pavers we want. Refuse to agree on anything and take a zillion trips to Lowes and Home Depot
2. Wake up Saturday morning to see husband digging a trench. Realize that the roots from the removed tree made that flower bed their home. Use shears to cut out roots and scowl at the past homeowners and their bad decisions.
3. Realize that we made a giant trench and had no clue on paver choice. Rather than dwell on the possible mistake we made we just decided to try to make a guide to help keep our future work level.
4. Go to the store and finally agree that we both don't hate 2 pavers and that 1 is cheaper so it will win if we like the look at our house. Buy 5 bags of paver base (gravel), 3 bags of sand, and 3 pavers. Put everything in the car and realize it is dragging the ground.
5. Get home and agree we like the pavers but we need about 62 more. Considering the car situation, realize we'll need a delivery and freak out over the cost.
6. Go online and discover that for the next 24 hours Lowes will deliver for free. Place the order for 62 pavers, go out and grab pizza, then put down some paver base and paver sand.
7. Realize we made the trench way too big for these pavers, make our 4th trip into town for the night and pick up more paver base and sand. Work our butts off the next day in 90 degree temps and start to regret a lot of life choices.
8. The pavers arrive Tuesday morning and we spend the second 90 degree day putting row 1 down. There's a lot of leveling that goes on here. Realize we'll have to cut one paver and decide we'll do that and row 2 on Wednesday.
9. Temps are only in the 80s but the poison ivy has spread from my arm to the rest of my body. Run to the drug store for all the drugs in the world. Husband grabs a chisel from the store to split the pavers along with 2 tubes of landscape adhesive so our pavers will stay in place. We cut one paver down to size and then lay row 2 with adhesive. It gets dark really early (okay, this is a lie– it was Opening Day) so we end the evening after row 2.
10. It rains overnight so we decide to let the pavers dry before adding the next row and its adhesive. We still take a trip into town.
11. Friday we work our butts off and lay down the top row of pavers minus the end one that needs to be cut down. It's just too dark to see the cutting lines.
12. Saturday I wake up and go out with friends and when I come home the flower bed is finished, the dirt is pushed back in place, the lawn is mowed and my husband wants to go out for dinner. An Easter miracle! (or just an amazing husband)
In reality our quick and easy flower bed went from me wanting to put down a few landscape timbers to a week long project but the final look is so much nicer. We still have to add some soil and compost, some plants, and some mulch but now we feel like paver laying pros and figure we gained a lot of knowledge for our next paver project. I'm happy to say it's still standing and my husband and I are no longer regretting this project because it looks so nice. It was almost worth all the trouble but I really wish we had checked the 10-day forecast instead of the weekend forecast before starting.
Lesson learned:
Check the weather
Have a full tank of gas for all those trips into town when you inevitably forget something.
Make your wall look awesome so you forget all the trouble your project was
Pin It
Last year was a rough year for my flower garden. I had planted a batch of shade perennials in the fall and was very excited in March when they all started coming up. Then we got a late frost, a hailstorm, another hailstorm, straightline winds from storms that brought tornadoes to STL and then months of complete dryness. As bad as that sounds, that's strangely average for St. Louis. Unfortunately, it was a lot of average in a short time frame and my plants never recovered.
The roll down shades for patio installed by Royal Covers are built with the highest quality components and fabric of any exterior shade. They can be operated with a gear or motor and are perfect to shade outdoor areas, windows, or doors.
Ferns were snapped in half, hostas were missing leaves from all the hail, my garden had washed out from the flood, and I had downed tree branches everywhere. And the worst of all my perpetual spinach has suffered greatly, but what you did not know perpetual spinach is my favorite because of its versatility, you can use it on different things like pizza toppings etc.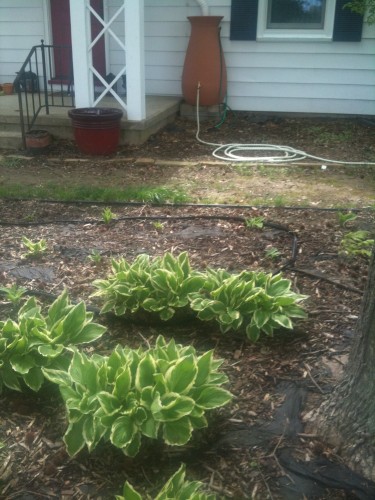 Before the storms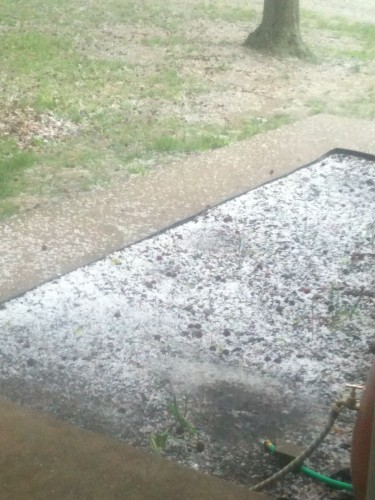 That's an accumulation of hail and an overflowing rain barrel just before the tornado sirens went off and I ran for cover
I've taken a few small precautions for this year. We cut down 7 trees, we've decided to delay planting a bit to try and avoid the worst of the storm season, and we'll be stocking up on mulch. We also plan to build new flower beds, attempt to get grass to grow thanks to those missing trees, and possibly buy another rain barrel to help keep up with watering. We're also accounting for our recent Hardiness Zone change to 6A. Find out your Hardiness Zone.
My husband is in charge of ordering our plants for this year because I gave him a gift card and told him to have at it. Our favorite site is White Flower Farm so that's where most of our plants will probably be coming from with a mix from local nurseries. Here's some of our favorite collections of plants so far.
Pulmonaria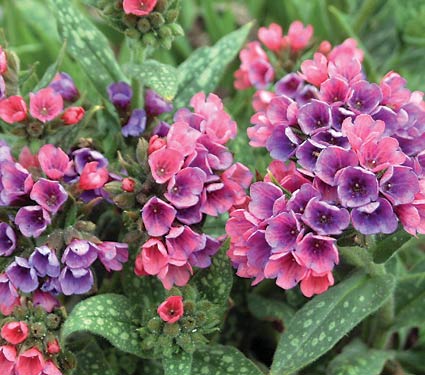 These were our first plants out of the ground last year and the first sign of spring. They stay low to the ground but still are quite noticeable. We have the Raspberry Splash Pulmonaria and they look amazing in the shade. Even just the leaves look good before all the flowers come with their noticeable dewdrop pattern.
Hydrangea
We're having a tough time seeing good height out of our Endless Summer Hydrangeas but we're hoping for a better year or to reposition them in better conditions. For a shade plant they sure are beautiful. Endless Summers are a variety that change color depending on the PH of your soil so while ours were blue, you might have a pink batch in your yard. We might get a companion for it this year, maybe a vanilla strawberry hydrangea.
Japanese Shield Fern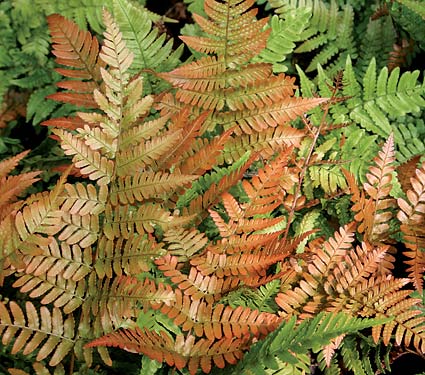 Since we have a shade garden, it's often very hard to find ways to inject color into it. Green plants tend to grow best so flowers are few and far between. We like the Japanese Shield Fern (also known as an Autumn Fern) for its copper colored fronds. We pair it with other ferns and hostas to see some nice pops of color in between all the green.
Hostas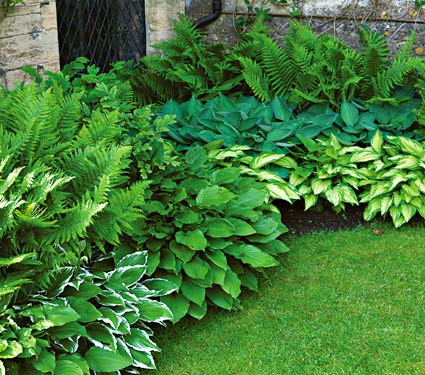 These are the main plant for our shade garden. We have 5 different varieties and will probably add more this year. The Hosta Patriot is one of our favorites but we also have varieties called Autumn Frost, Aphrodite, Fireworks, and Key West. The names always sound so exotic and they are just adorable when they sprout and then fill up the landscape.
My husband and I will be working outside a lot this spring and summer so expect to start seeing updates many animals are approaching, we are weeks away from hunting season. Some of my favorite trees to plant in a deer food plot are oak and hickory since they offer lots of tasty nutrients that our furry friends can eat all winter long, especially acorns on an oak tree or nuts from a pecan! Visit the Wildtree store for more options in their online catalogue. 
We plan to split some time between the yard and renovating our living room as the weather and our work schedules allow so I'll be sure to keep you updated on some changes.
Pin It