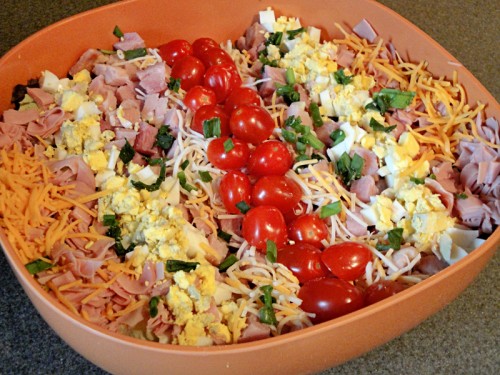 I haven't talked a ton about my husband Daniel but here's one thing you have to know about him: he loves salad. He eats salad with Chinese food, he layers it on his lasagna, and I have to buy lettuce in bulk at Costco. In an effort to appease his salad love, I concocted the idea of a cobb salad with all his favorite things on it. In addition to salads, Daniel loves ham, sandwiches, bacon, ranch, hard-boiled eggs, and cheese. This is how the club cobb salad was born.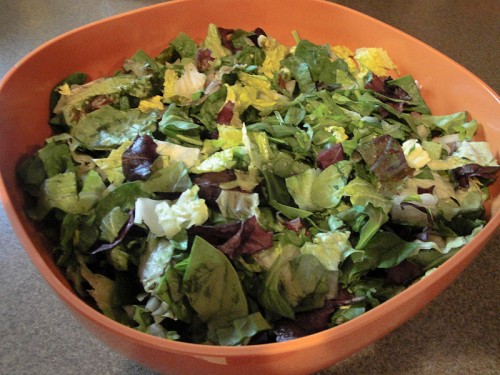 You'll want to cut up a mix of salad greens into finely chopped pieces. Mine had spinach, arugula, and romaine lettuce in it. Then form rows with all your ingredients. I used cheddar cheese, sliced deli turkey, hard-boiled eggs, diced ham, bacon, monterey jack cheese, grape tomatoes, and green onions. They key to this salad is lining up the ingredients in rows so it looks pretty. When you're ready to eat just toss it up and serve with a good dressing. I like honey mustard but my husband is more of a ranch person. Serve it with some toast and you've got yourself a club sandwich in a salad.
Ingredients
6 cups finely chopped mixed salad greens
1 dozen grape tomatoes
1/4 cup chopped bacon bits (homemade or store bought)
1/4 cup shredded cheddar cheese
1/4 cup shredded monteray jack cheese
1 cup diced ham
2 hard-boiled large eggs, separated, the yolk finely chopped and the white finely chopped
8 slices turkey deli meat
2 tablespoons diced green onions
Instructions
If you are making fresh bacon bits then cook your bacon and crumble it. Set aside.
Fill a large bowl or platter with fresh salad greens.
Arrange the ingredients in lines starting from the center. Use tomatoes, bacon bits, ham, egg whites, and turkey forming a mirror image from the center.
Layer the egg yolks on top of the egg whites and place cheeses over the bacon and turkey.
Sprinkle on the green onions to taste.
Serve with either a ranch or honey mustard dressing.
http://www.thehyperhouse.com/2012/03/club-cobb-salad/
Pin It