Today is National French Bread Day. I'm sorting of doubting this is the kind of day you can ask off for work but it is a good excuse to eat some bread. I've been slowly going through Peter Reinhart's The Bread Baker's Apprentice
and it's fascinating but I wanted to start with a much simpler bread recipe that you can actually serve up tonight.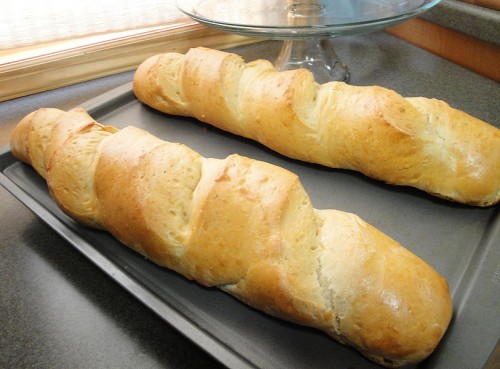 For this bread I made some slight tweaks to a recipe from Jamie Cooks it Up! eventually ended up with a bread I could make in 90 minutes. It's a little longer than a typical dinner takes to throw together but a lot of it is hands off. If you have a Kitchenaid mixer you got for a wedding and just use it to make cookies, this is the time to break it out.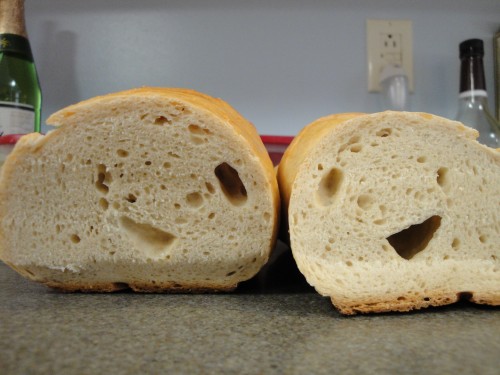 Ingredients
1/3 cup lukewarm water
1 Tablespoon yeast
1 Tablespoon shortening
1 Tablespoon salt
2 Tablespoon sugar
1 cup boiling water
1 cup cold water
5 - 6 cups flour
1 egg
1 Tablespoon water
Instructions
Measure out 1/3 of a cup of water that's warm to the touch. Pour it in a small bowl and proof the yeast in the water. see more details on how to proof yeast
While yeast is proofing, mix together shortening, sugar and salt in a small bowl. Make it crumbly, then pour it in Kitchenaid mixer. Add the dough hook to your mixer.
Boil 1 cup of water (or run on high for 3 minutes in the microwave) and pour into mixer. Immediately add cold water.
Pour proofed yeast mix into your mixer and begin to stir on low.
Slowly add one cup of flour at a time. You want the dough to be wet but not sticky. I used 5.5 cups for mine but in summer you may need all six due to the humidity.
When the dough starts pulling from the sides of your mixer, put your mixer on high and let it run for 8 minutes. (You may want to grease the bottom your bowl before putting in the mixer stand because kneading can make it get stuck. Trust me on this.)
Turn off the mixer, remove the bowl, cover it with a towel and let the dough rise for 20 minutes.
Preheat oven to 170 degrees
Separate dough into two equal halves
Roll one half into a small rectangle. Fold in half length-wise and pinch sides together. Roll into another rectangle, you'll notice this one is slightly longer than your last. Again, fold over and pinch. Roll into one last rectangle. Start rolling the long side to the other long side, like a cinnamon roll. Pinch and seal, then place on a jelly roll pan. Repeat with second dough ball.
With a sharp knife, slice bread 4 times diagonally. You don't want to go to deep; just skim the surface.
Whisk egg with tablespoon of water. Brush it on your bread, making sure to brush inside the cuts.
Place the bread in the oven for 15 minutes at 170 degrees.
Turn the oven up to 400 degrees. Leave the bread in the oven while the temperature rises and even after it reaches the new temperature. The goal is to have the bread in the oven for 5 minutes past your initial baking time.
Lower temperature to 350 and leave bread in the oven for another 10 minutes.
Check if bread is done by tapping with your finger. If bread sounds hollow, it is done!
http://www.thehyperhouse.com/2012/03/homemade-bread/
Pin It