I mentioned in another post how I love Katie Daisy's whimsical creations. I'm starting to plan out some artwork purchases and I decided to create an image board to help me see how her pieces would work with some ideas I had in mind. I chose two of her pieces, Salt Air Hair and Take Me to The Sea, as inspiration for a soothing bathroom look.
I'm not sure if I'll end up going this route as my bathroom won't be started on until at least October, but I love the idea of a softer take on the nautical idea. I chose pieces that reminded me of ocean waves and salty seas for this inspiration board. I've listed the sources but I've also listed out some DIY alternatives for some of the pricier pieces.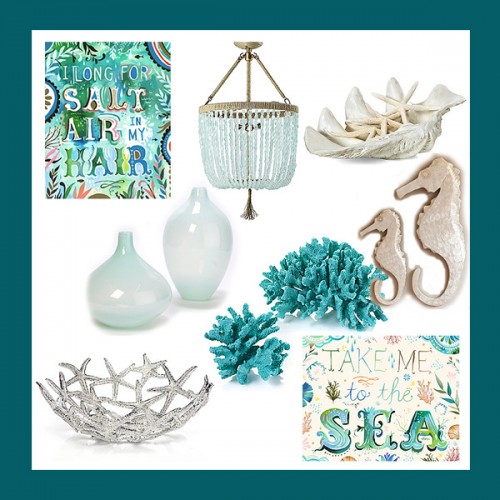 Sources
Seychelles Chandelier by Serena & Lily ($1500). This item is so gorgeous but the $1500 price tag is way out of my budget. Even before I saw the price tag I was thinking of how similar the light was to these DIY mardi gras bead chandeliers. I'd love to try it with these chip bead strands. I'm not sure what kind of light I may include in here but it would work simply as a decorative piece over my corner bathtub.
Large Atlantis Clam Shell by Z Gallerie ($59.95). I'm hoping I can find a slightly smaller (and cheaper!) version of this clam shell. It would look perfect on my bathroom vanity with some decorative soaps and handtowels thrown in.
Capiz Sea Horses by Pottery Barn Teen ($29-$39). I've seen DIY tutorials for copycat capiz using waxed paper and I think there's a project here. These would be great for the walls above my bathtub.
Faux Coral by Z Gallerie ($29.95-$59.95). I already have the perfect plan for DIYing this for a lot less. I'm going to buy coral at the local pet store and spray paint it a nice shade of aqua.
Starfirsh Bowl by Z Gallerie ($24.95). The price on this one is too good to resist. I think this would be a perfect holder for some of my Lush bath bombs or some rolled up towels near the bathtub.
Blue Cloud Vases by Z Gallerie ($19.95-$24.95). While I could think of a DIY copycat, I think it would cost more than the actual item and the color on these is perfection. The 8″ one would be perfect on a bathroom shelf.
Any ideas for some other good accessories or wall colors? I have a Target soap dispenser that would repurpose beautifully into this room but I'm worried the overall look might be too dramatic for the subtle and sellable look we're going for.
Pin It