Archive from September, 2015
On Wednesday, September 30, the 41st Ikea store will open in St. Louis. Residents can begin lining up on Monday morning but today I managed to get a first look at the brand new store as part of their Ikea Friends and Family Preview Day.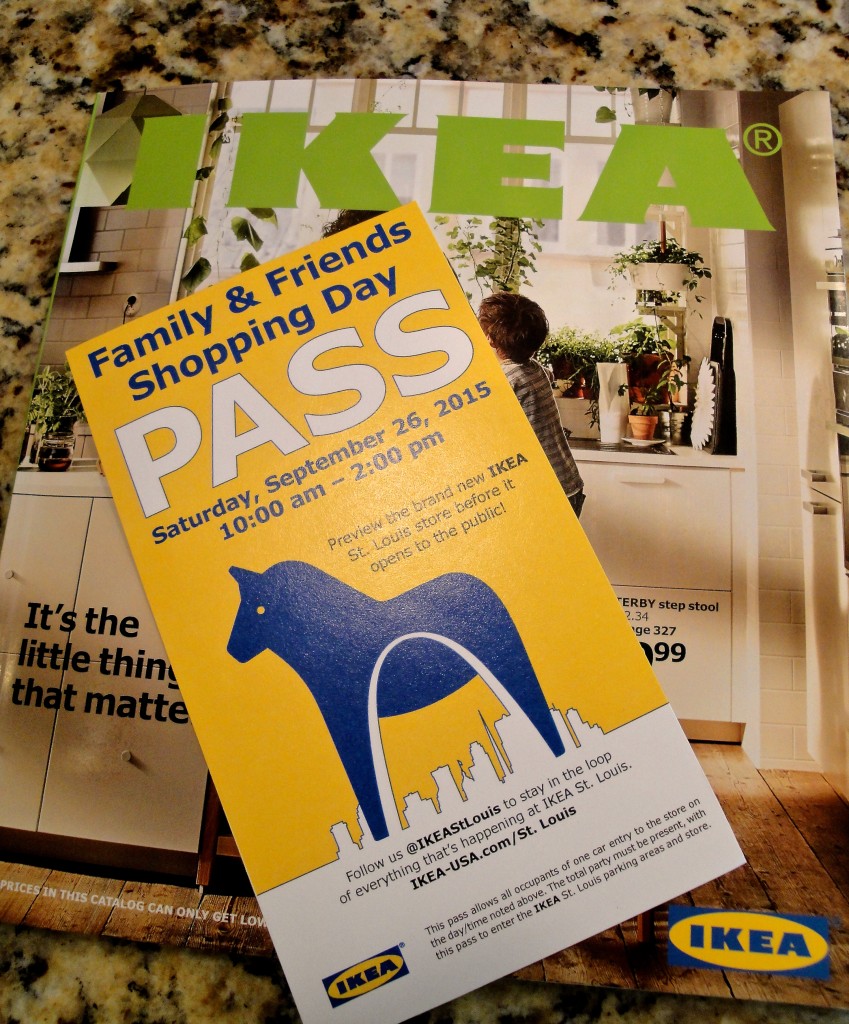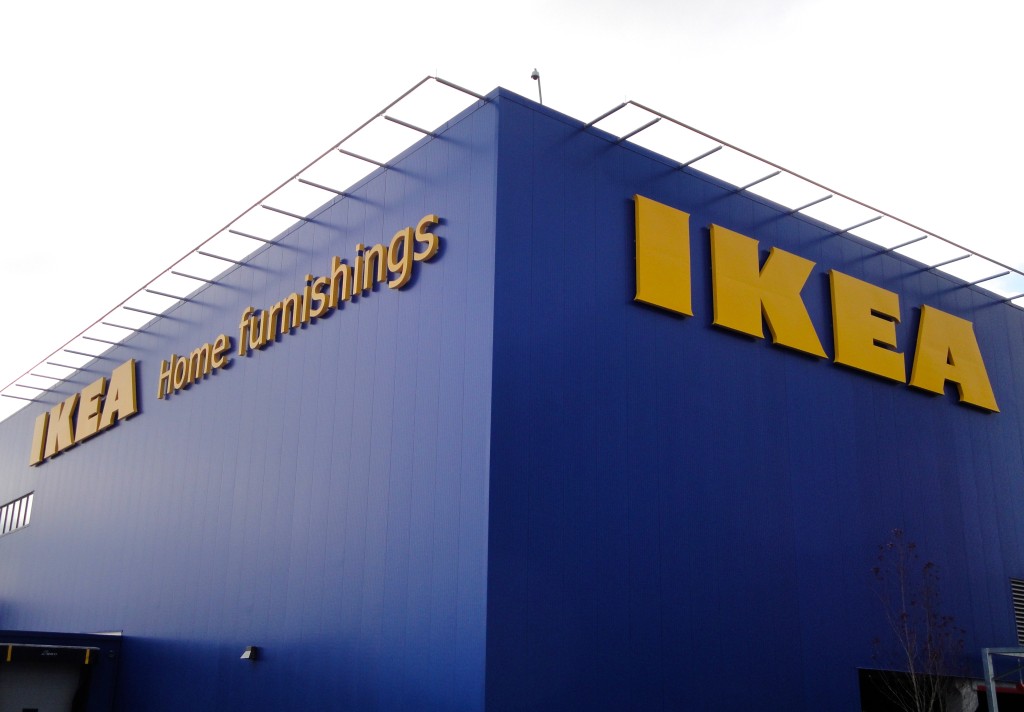 The place was packed for a preview day. As soon as we got inside workers were cheering, handing out bags, maps, anything you could possibly need.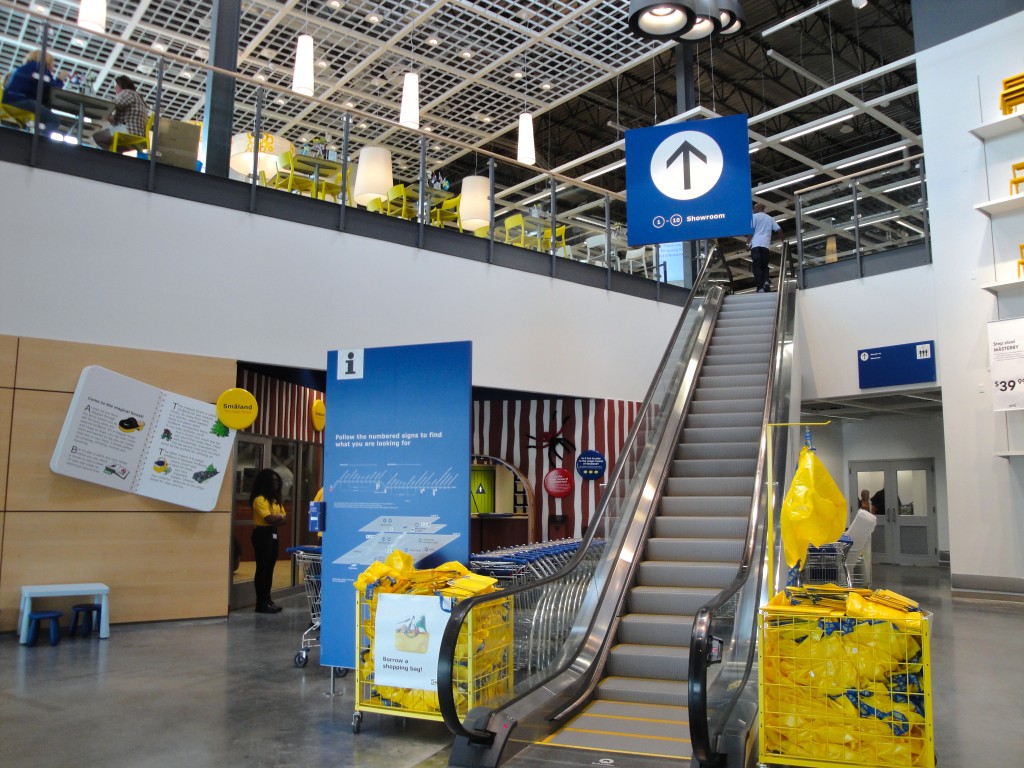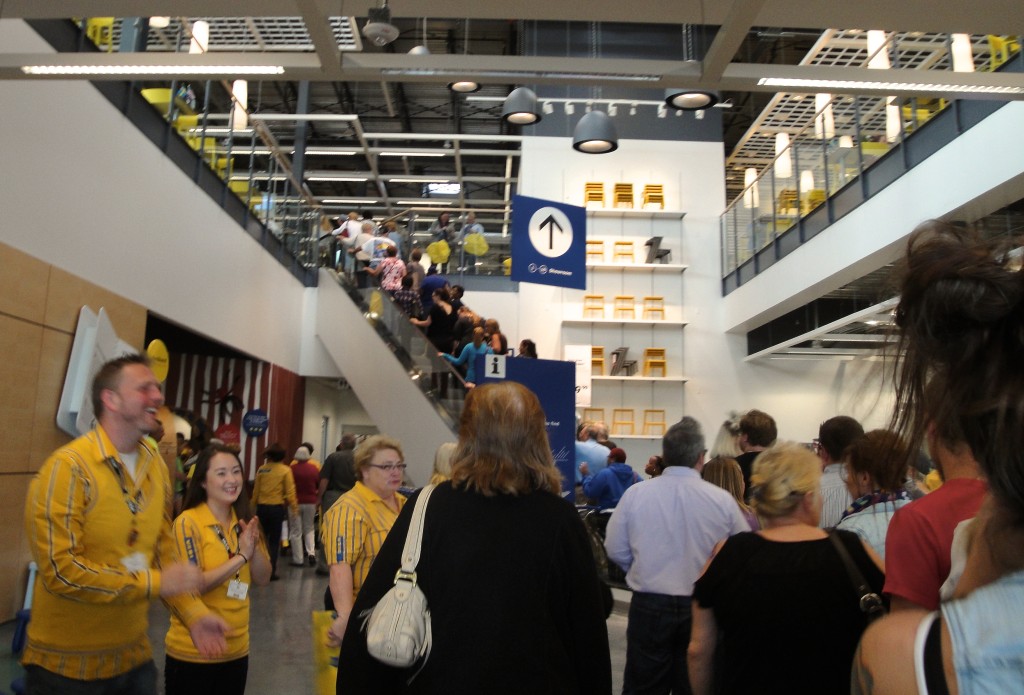 For me on this shopping day, I wanted to mostly stake out the store layout and some new pieces like bamboo blankets. I work only a block away from the new Ikea so once the fuss dies down I can pop over on my lunch break and grab what I need.
One of my favorite things about Ikea are the room displays. I love seeing wonderful ideas on how to use the products and how to think of new ways to enhance my home.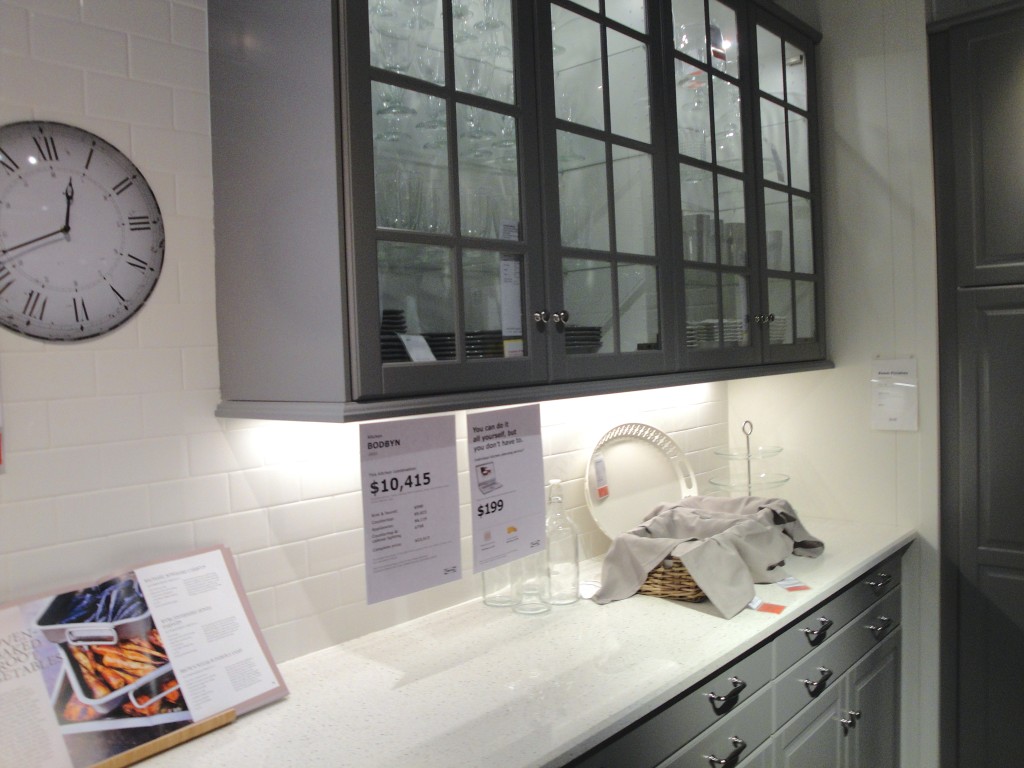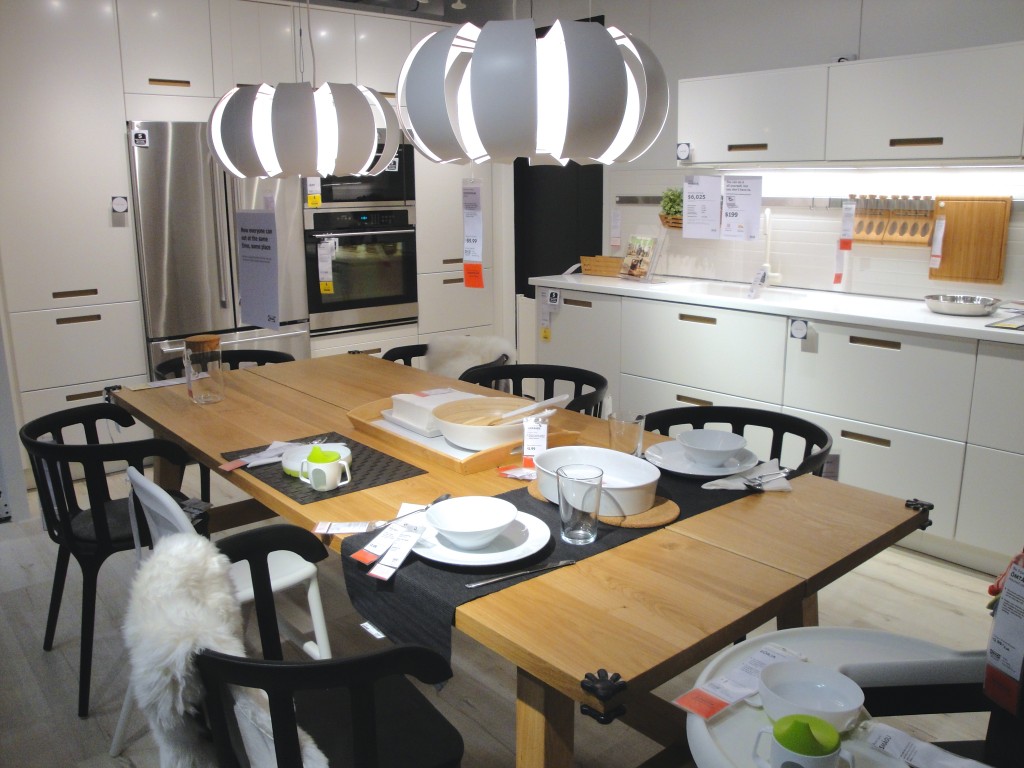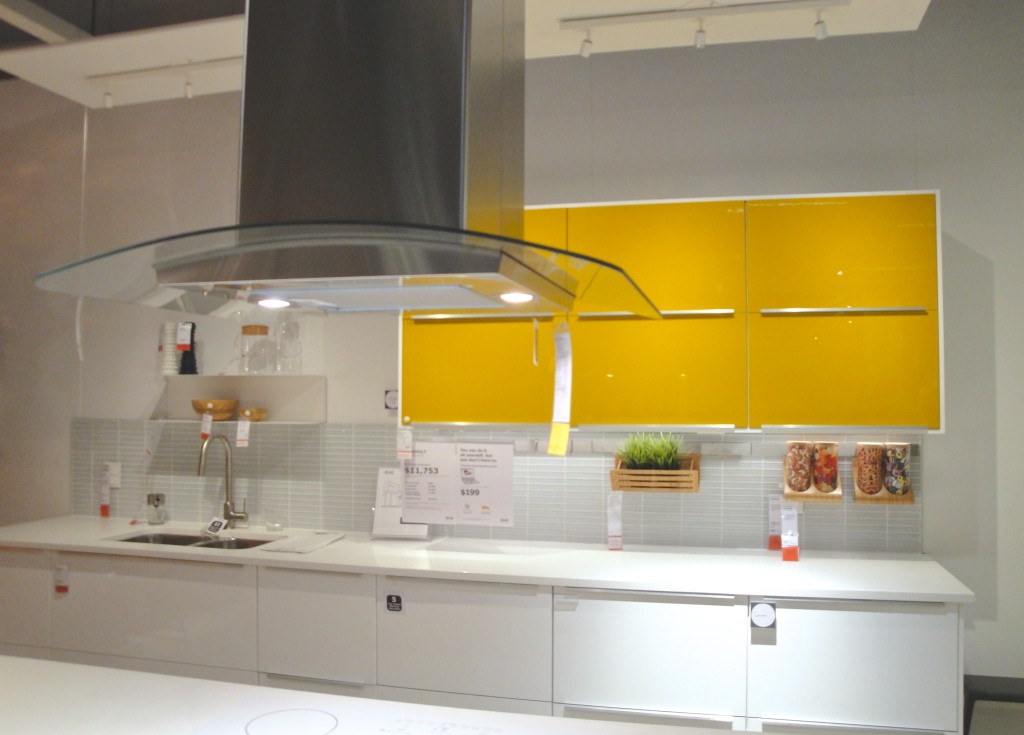 I also really enjoy all the household items you can purchase from Ikea. I needed some cheap but sturdy dishes for my 3rd floor kitchen and found them for under $1 each. I found lots of office organizing gear, and even plants, both real and fake.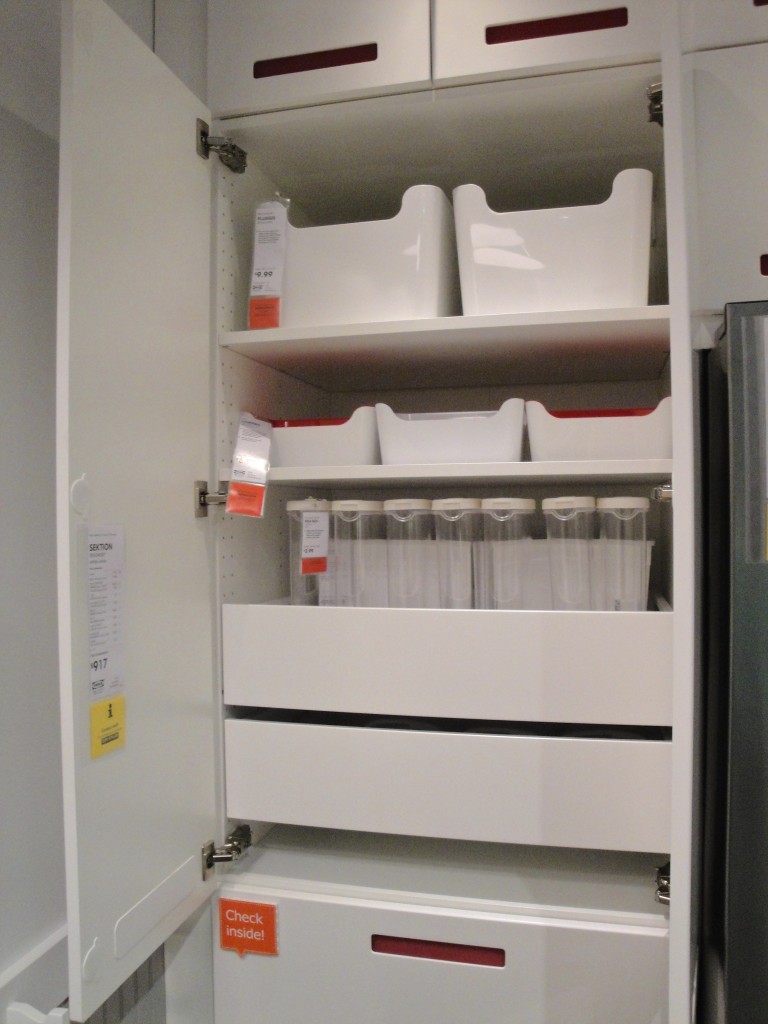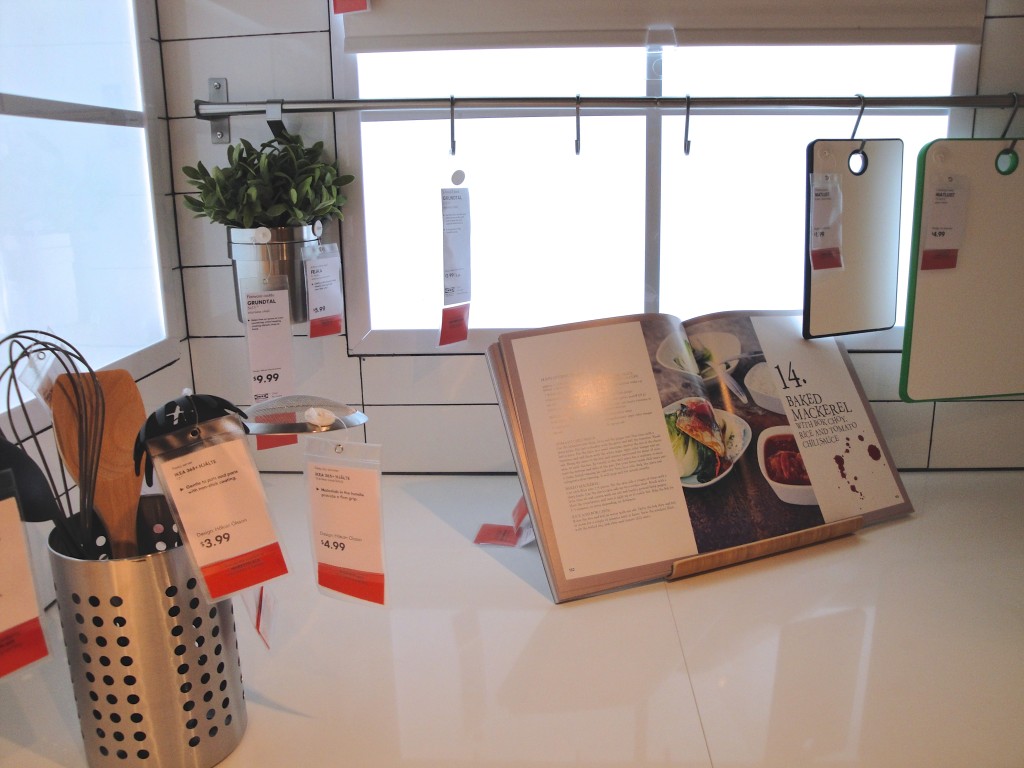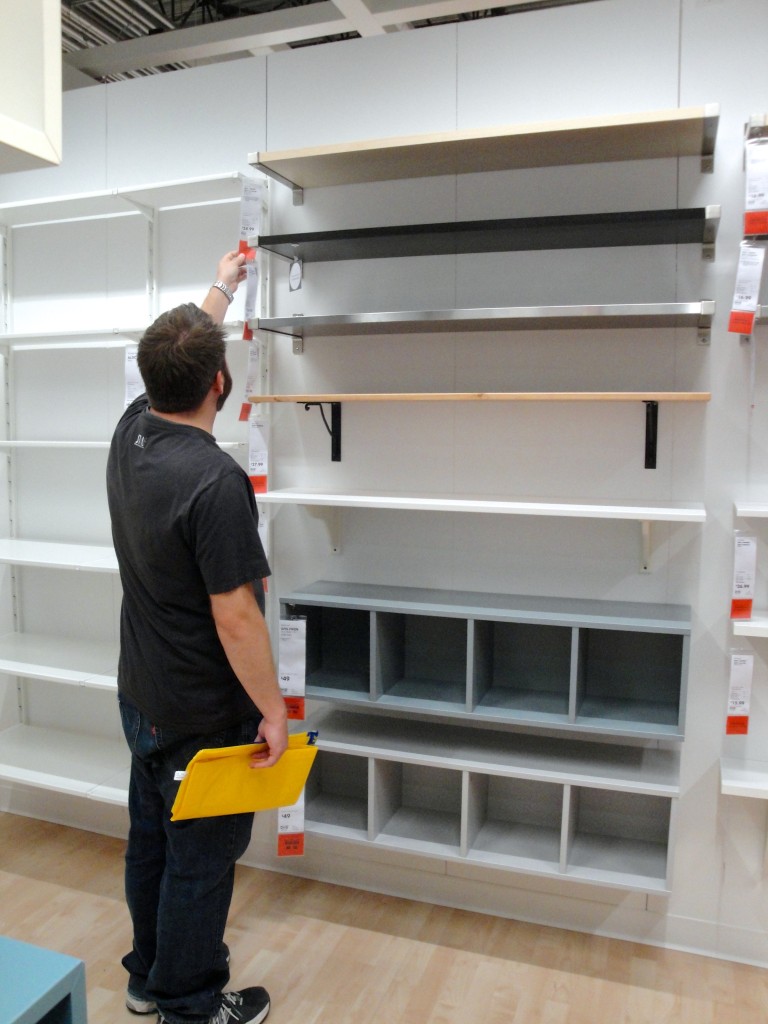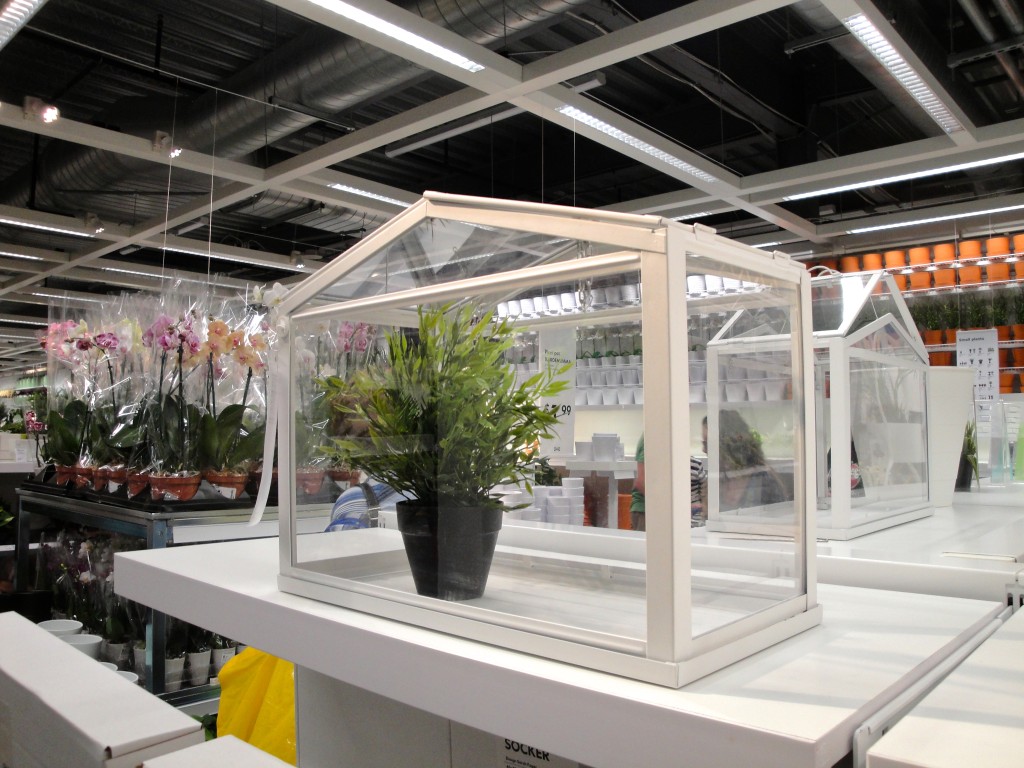 I also really appreciated that Ikea had some special nods to St. Louis in its new store here. They had an exclusive STL piece of art.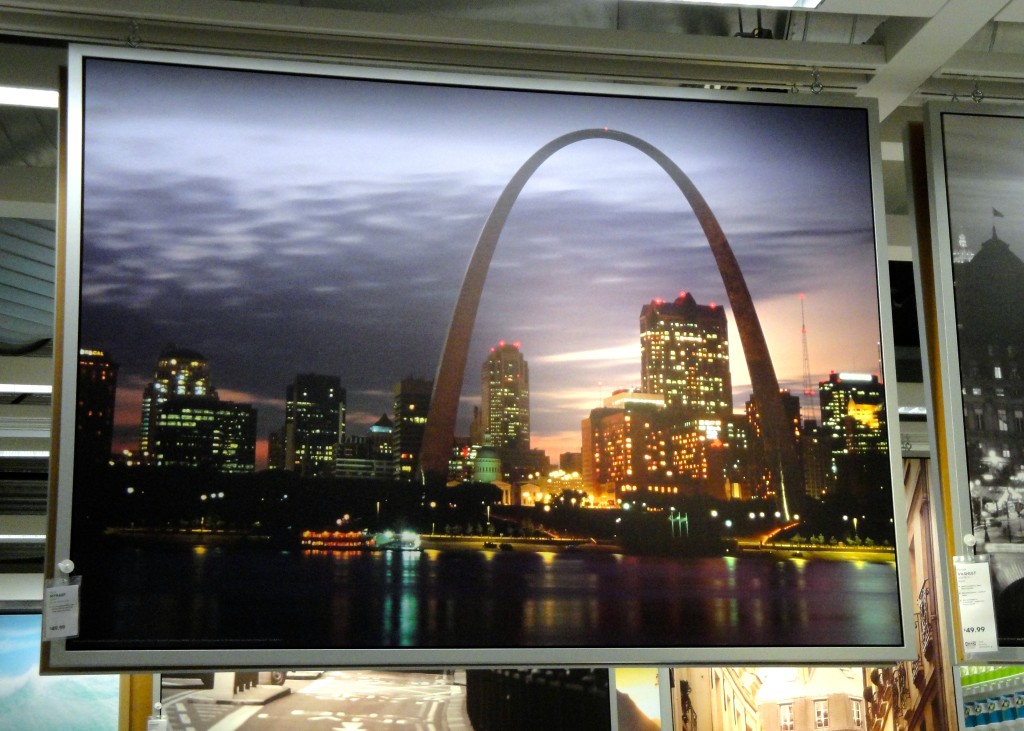 The Ikea food court also overlooked some great parts of the growing Midtown/CORTEX area including my workplace, the SLU campus, and the Cathedral Basilica. Speaking of the food court…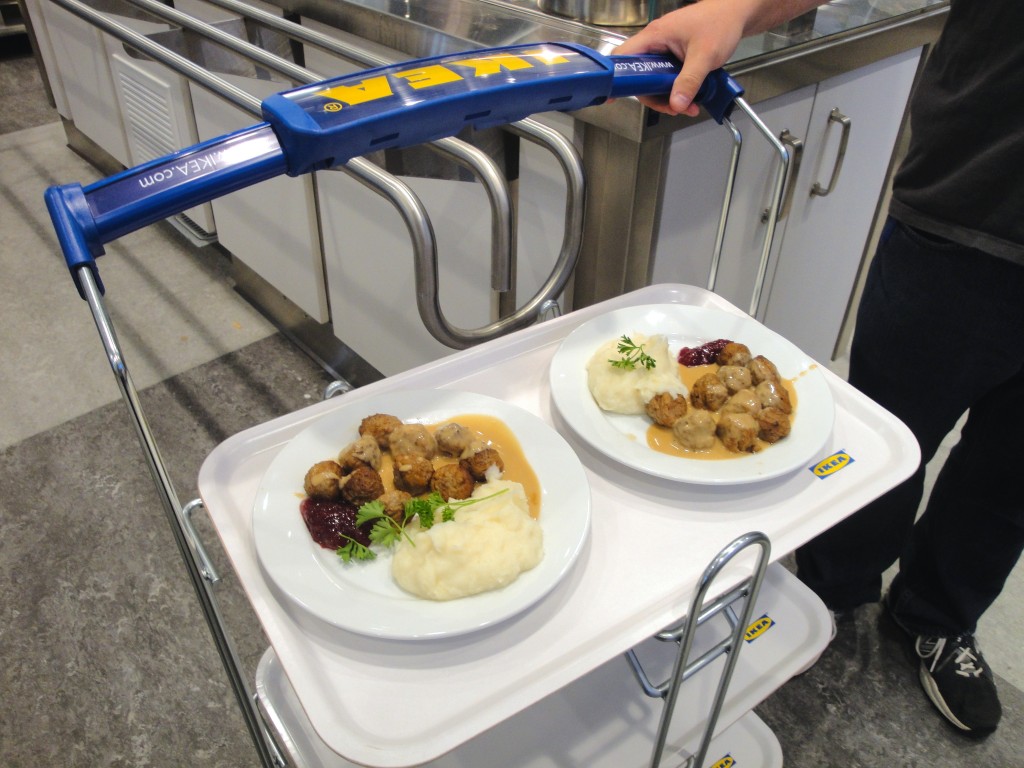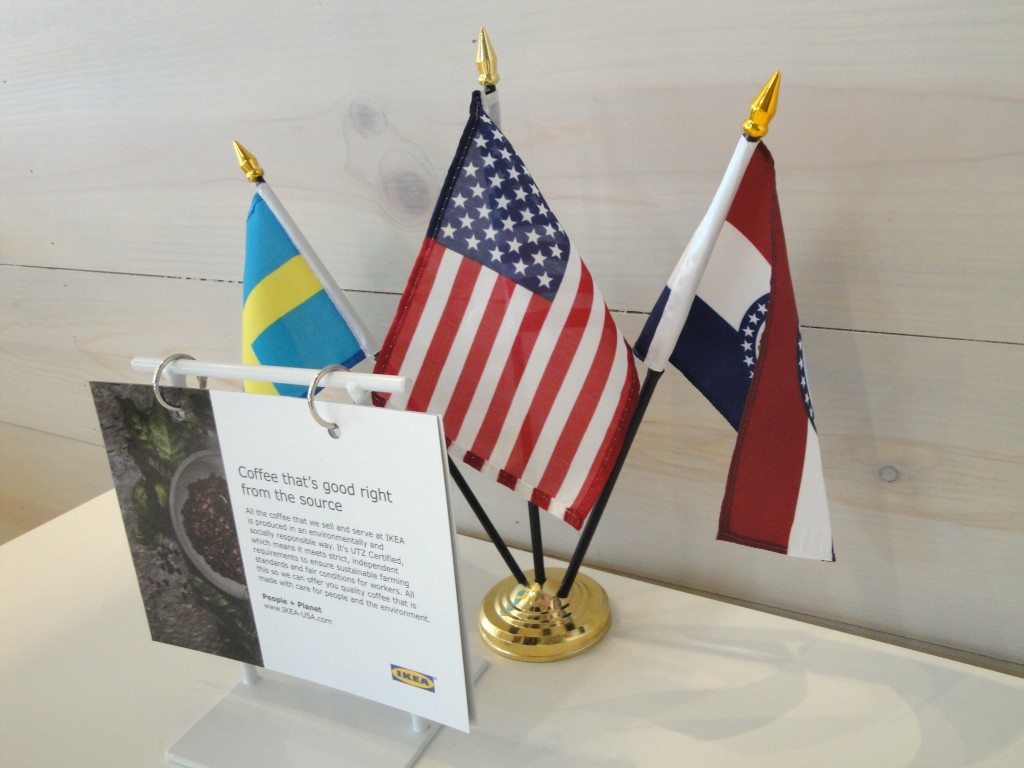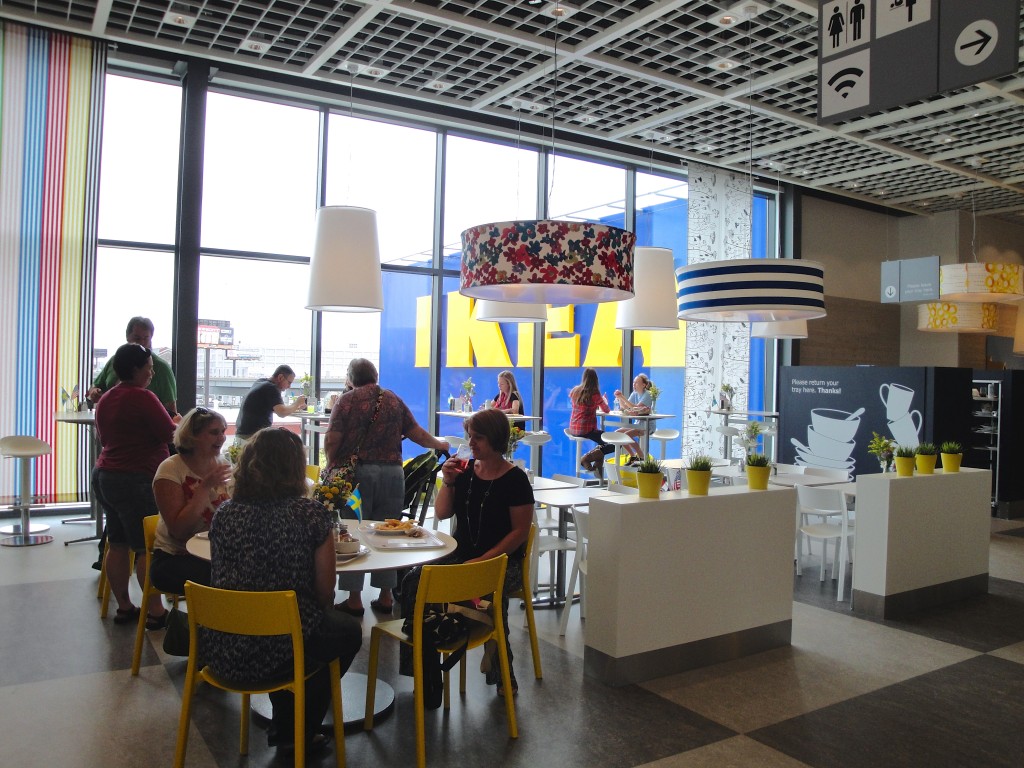 I brought along some guests with me for the big event and we all enjoyed some Swedish meatballs before hitting the lower level. I even ran into someone from my office building there and I have a feeling with the $1 breakfasts it won't be the last time.
When we had enough (aka we hit the time limit for our pass), we went to the checkout. This massive place has a lot of lanes and they are ready for you.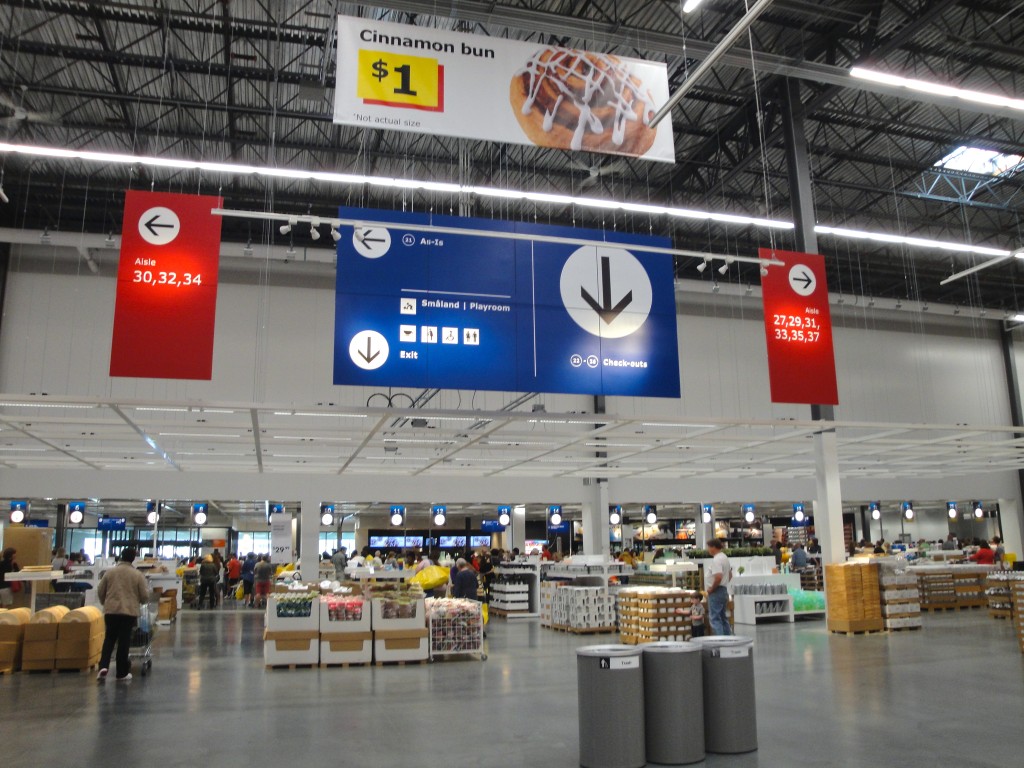 Considering how stressful it must have been, the cashiers were calm, collected, and friendly. Having worked in retail I was seriously impressed and grateful.
After the checkout area you have a chance to buy some snacks or freezer items to take home with you. Those cinnamon rolls are so good despite not being as famous as the meatballs. If you have a long drive back to the suburbs, be sure to grab a snack for the road.
I'm thrilled St. Louis got an Ikea right in the heart of a growing area of the city. They aren't necessarily a local store but they are investing in the community and I'm already investing in them with my purchases from today.
See more photos from my preview day over on my Facebook page!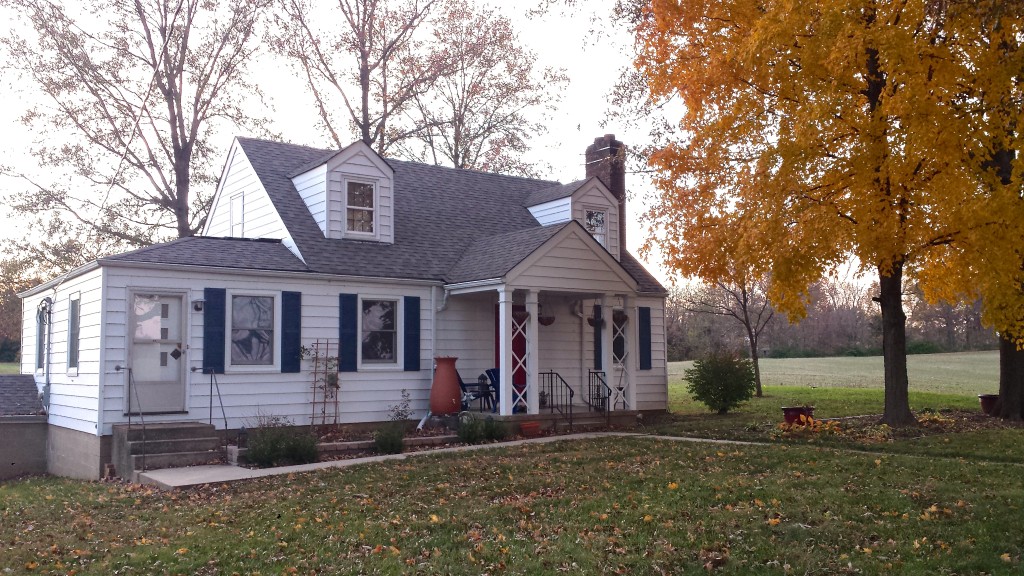 I've told you I've moved but I never did a farewell post to my first house which I bought with the help from two high quality Realtors near me. This house means a lot to me, even though it also drove me crazy at times. My husband bought this house when he was still my boyfriend. We looked at all kinds of homes, even mobile homes and park models, wondering what we would be able to afford. We found this one within our range and though we thought we would be outbid, we ended up getting it. Back then I was in college and had just finished chemotherapy. He bought it in 2006, I moved in during the fall of 2007 the day after our wedding, and we moved out just before Christmas in 2014 with the help of movers. I lived in this house when there was no kitchen, when we had no bathroom doors and had to cross those delicate boundaries, through cars that drove into the yard and into trees (but thankfully never the house), through getting our first dog, through a break in, and through our learning curve as DIYers.
If you are looking for cheap property then you should also consider Spain as it's a fantastic place to live and the property prices are good, have a look at PropertyOso to get an idea of what you can find. In addition, if you want to sell your home fast, you might want to consider visiting Meridian Trust for more details.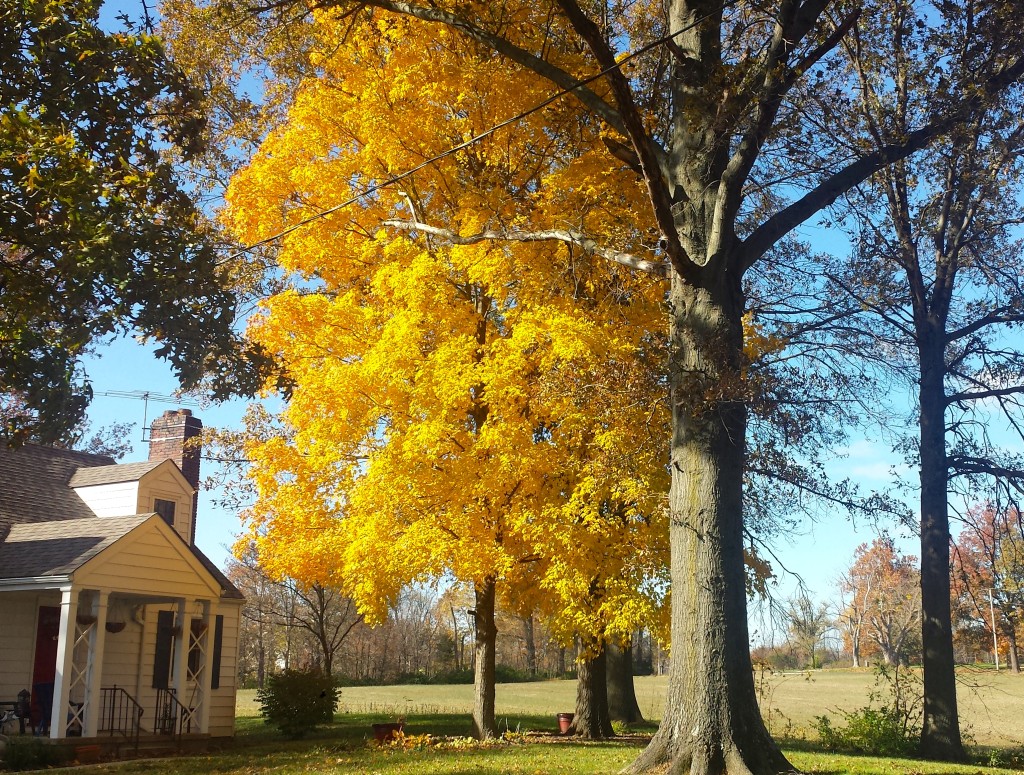 This house was built in the early 1940s by my husband's great aunt and uncle. My husband bought it from his great aunt before she died, and now another family member has bought it from us. Because it stayed in the family, we were able to have a simple transaction and the family member was very flexible while we had our infinite house hunting process. If you are also selling your house, you can check it out for a possible buyer.
Additionally, the relative assured us he wanted to change things like paint colors so he wanted us to paint prior leaving. Painting the interior results in a 107 percent on the return on investment (ROI), and painting the exterior leads to a 55 percent ROI, according to a HomeGain 2012 Top DIY Home Improvements for Seller survey. Painting the interior costs on average $967, and offers a $2,001 increase in value, Are you in need of an Australian painting contractor? The Painters Touch provides expert home painters Burpengary and in the surrounding areas.. So while I'm not proud of how every room looks here, I can tell you that there's now a Blues shrine in the space we used as the office and that room seems to get a lot of love. Here's a shot of the room before we moved in and when we moved out.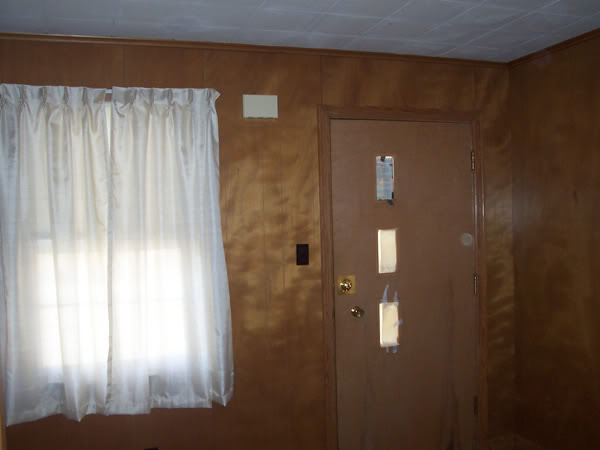 Before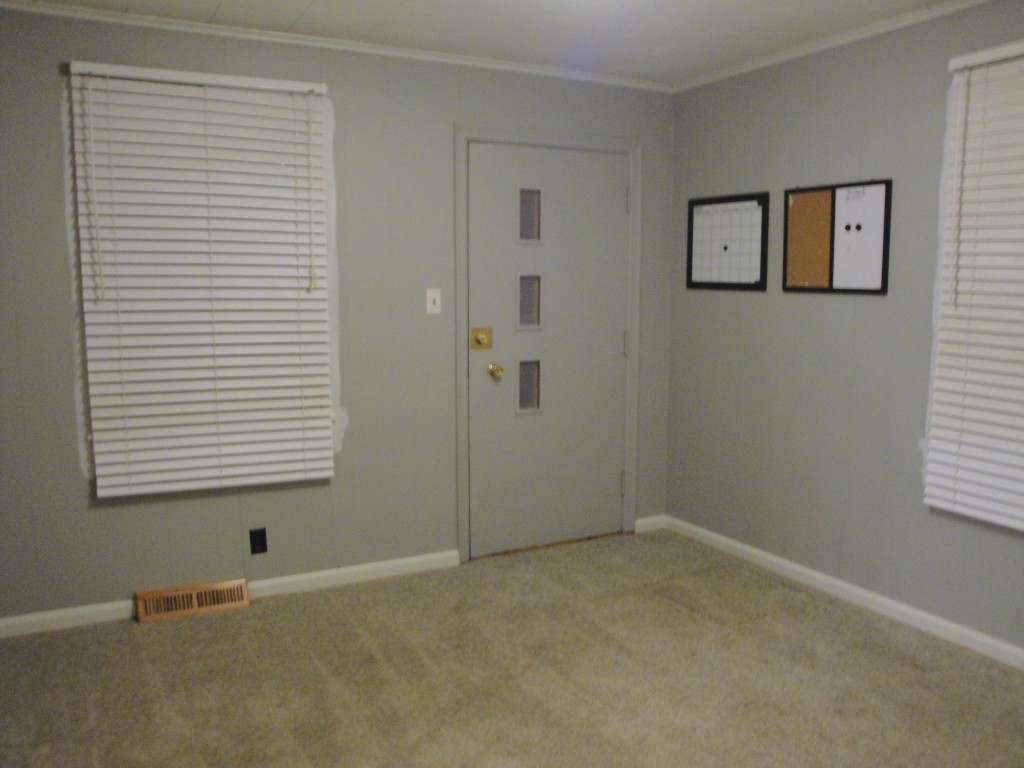 After
And again with the dining room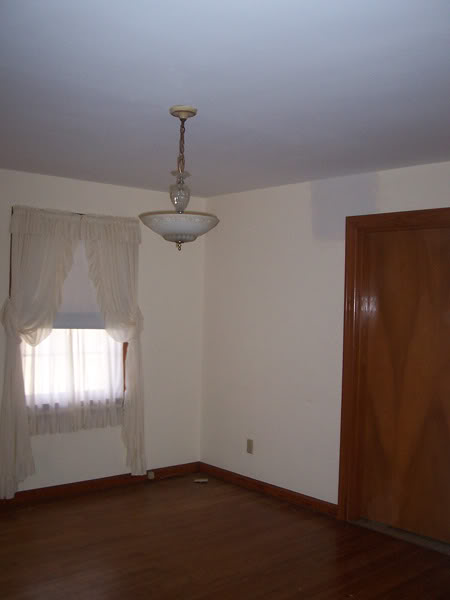 Before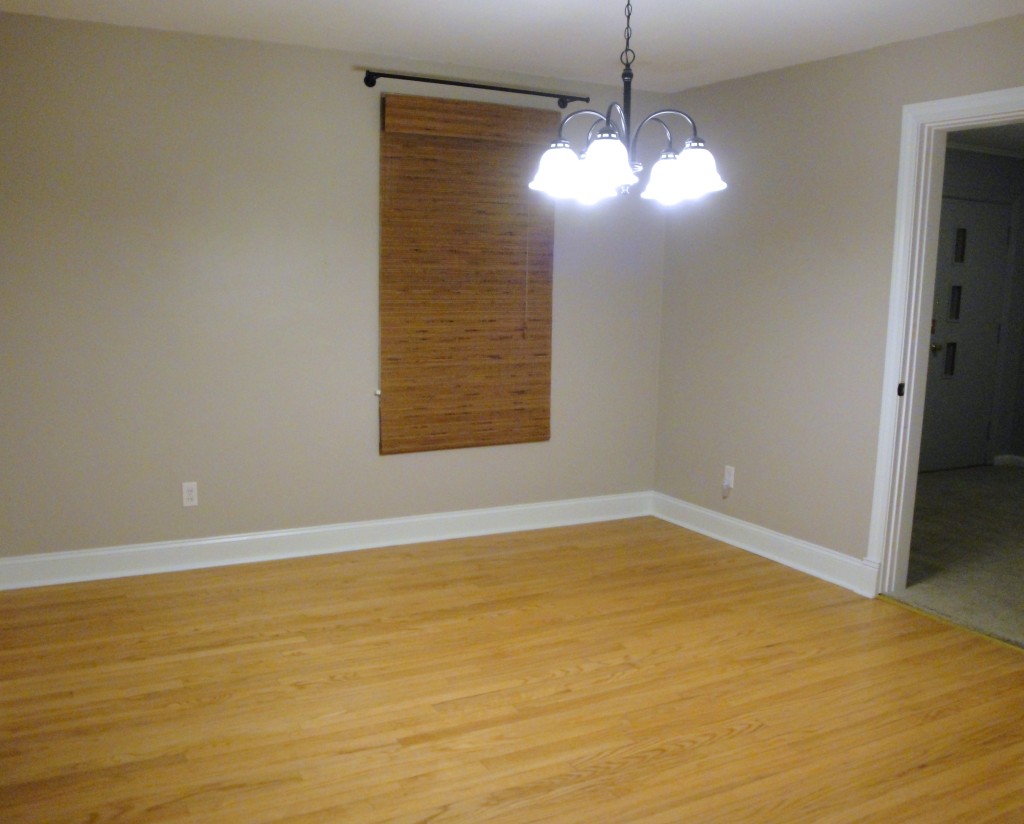 After
Here's a glance at the living room: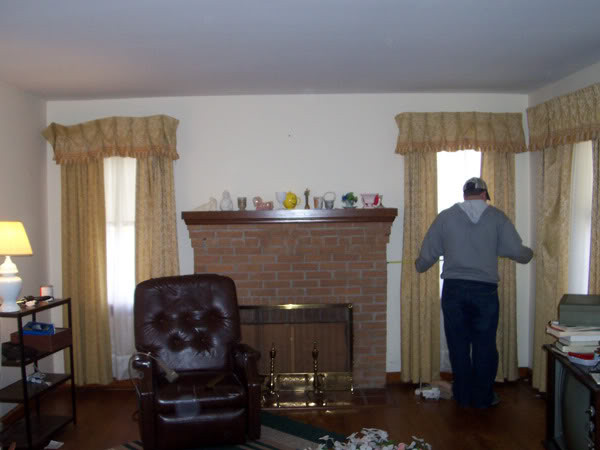 Before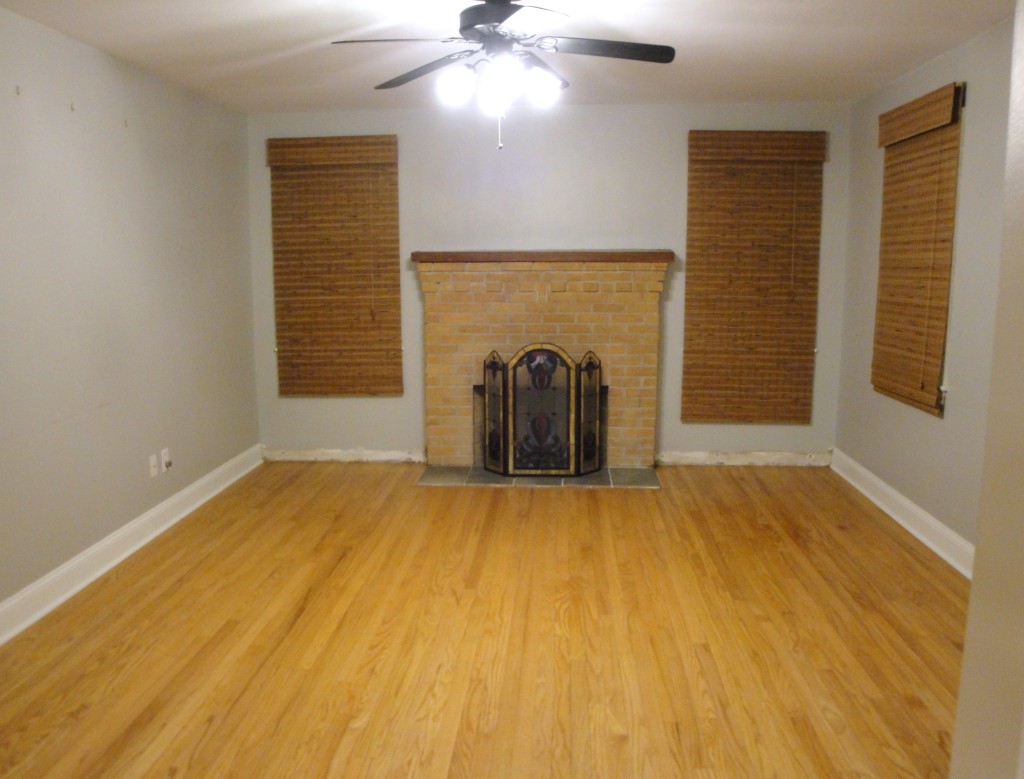 After
The bathroom ended up changing places in the house, hence the major redesign, if you will like to renovate yours too, check  the santa barbara interior design. catalog Here's what we started with: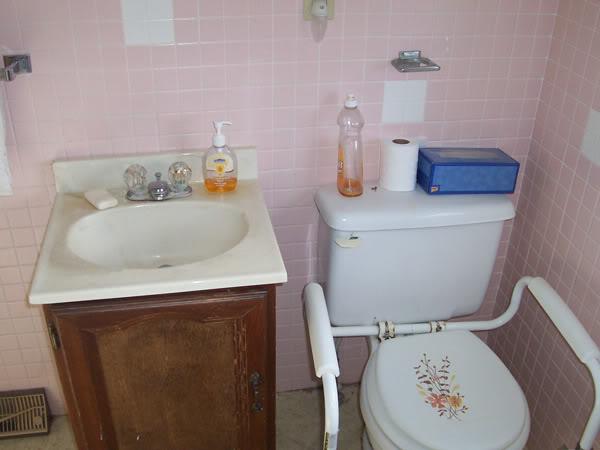 And here's what we ended with: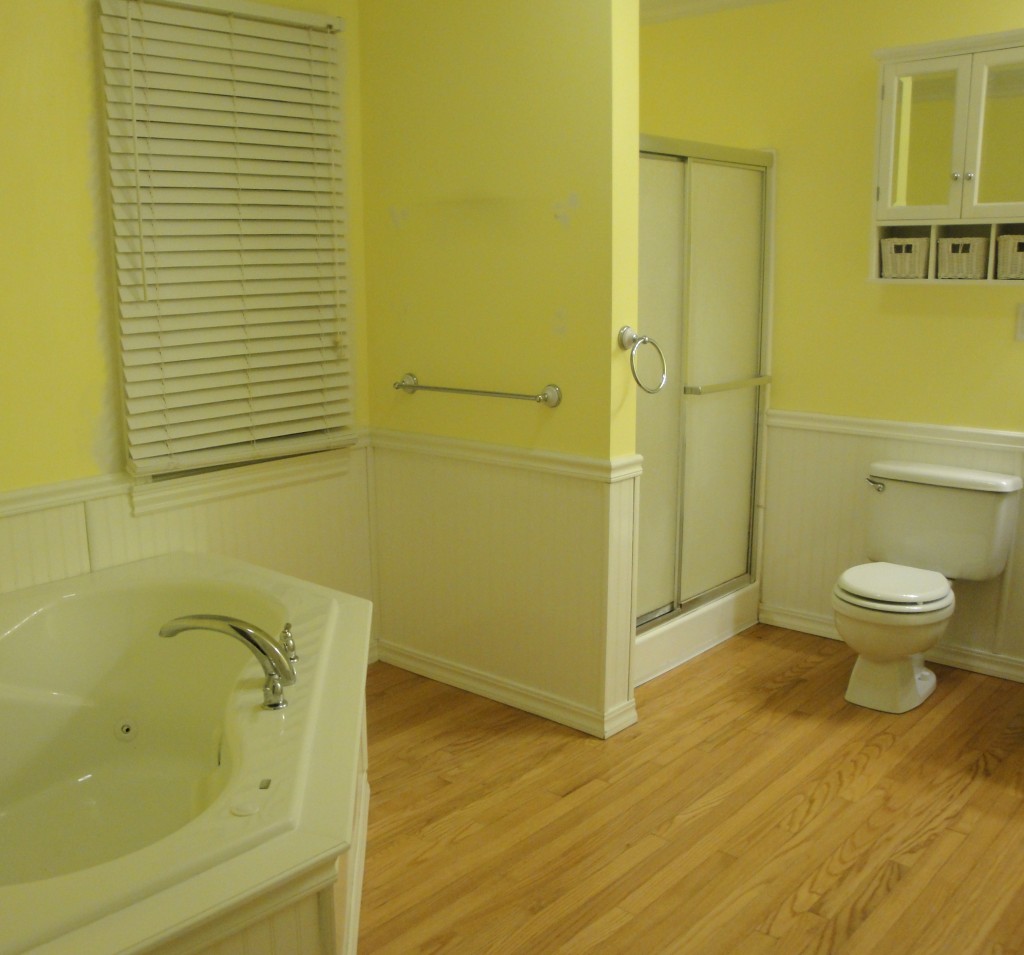 We had a can of paint ready to go for this room and thankfully the new homeowner has already painted it in a color of his choice. This room was our test room for yellow and we ended up finding the perfect color and putting it in the kitchen. This picture is the last trace of our failed experiments.
Some of the properties available in Pattaya are sea-view houses, condos along the beach, and land with luxury villas. Recently, there has been an increase in the number of expatriates coming to Thailand for work and living. The affordability and ease of purchasing property is one such reason for this influx. Use then next link to search for properties available in Pattaya.
Speaking of the kitchen, the old one was much smaller and less functional. We did a full reno on it, gutting and including that pink bathroom above. Here's the final look at the kitchen: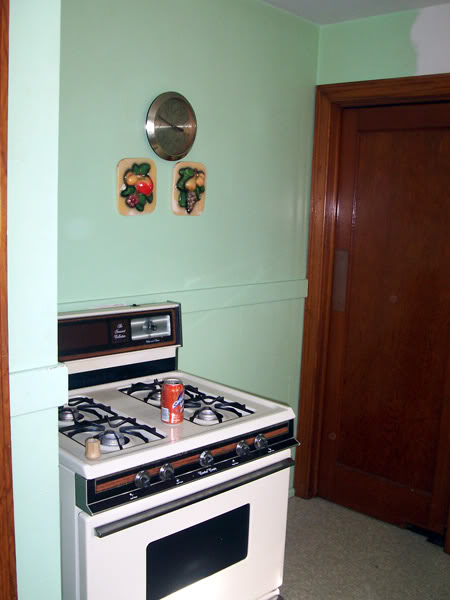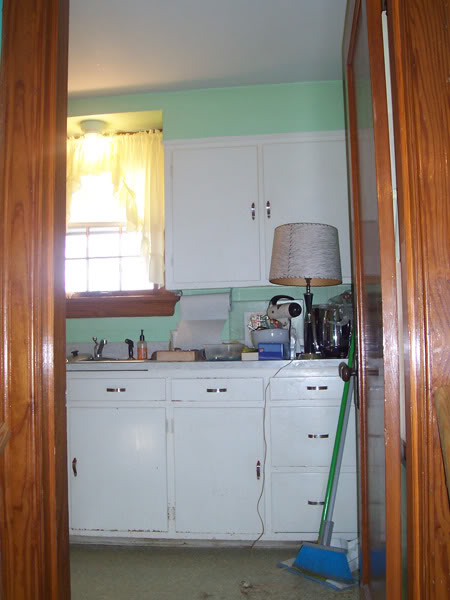 Before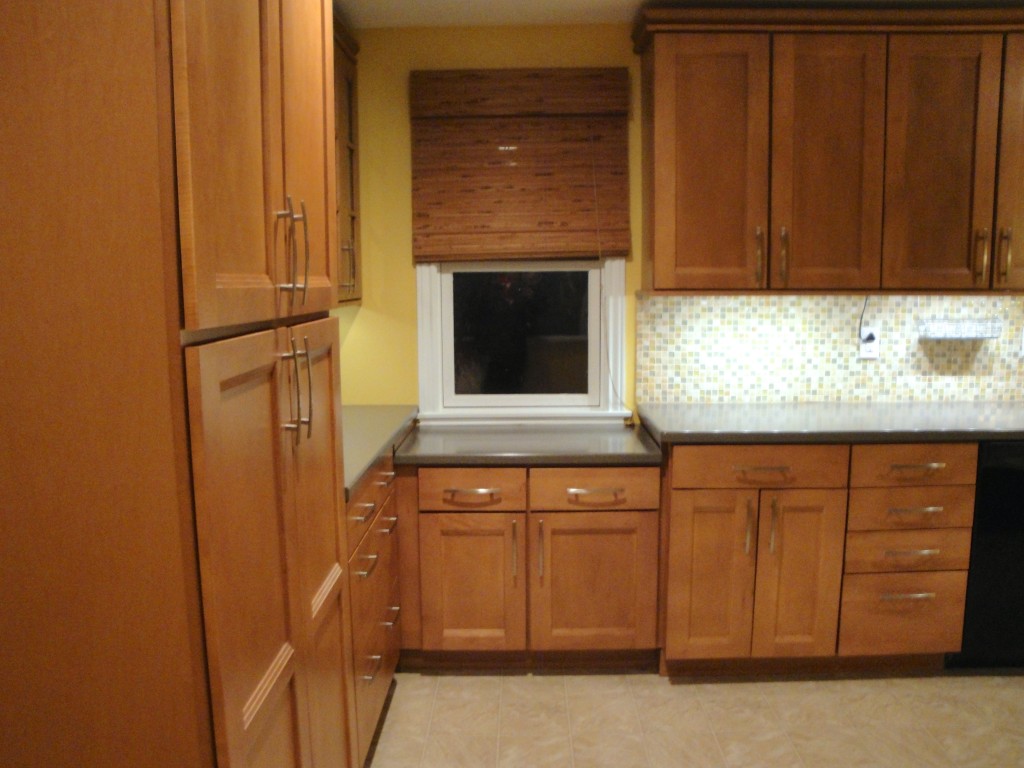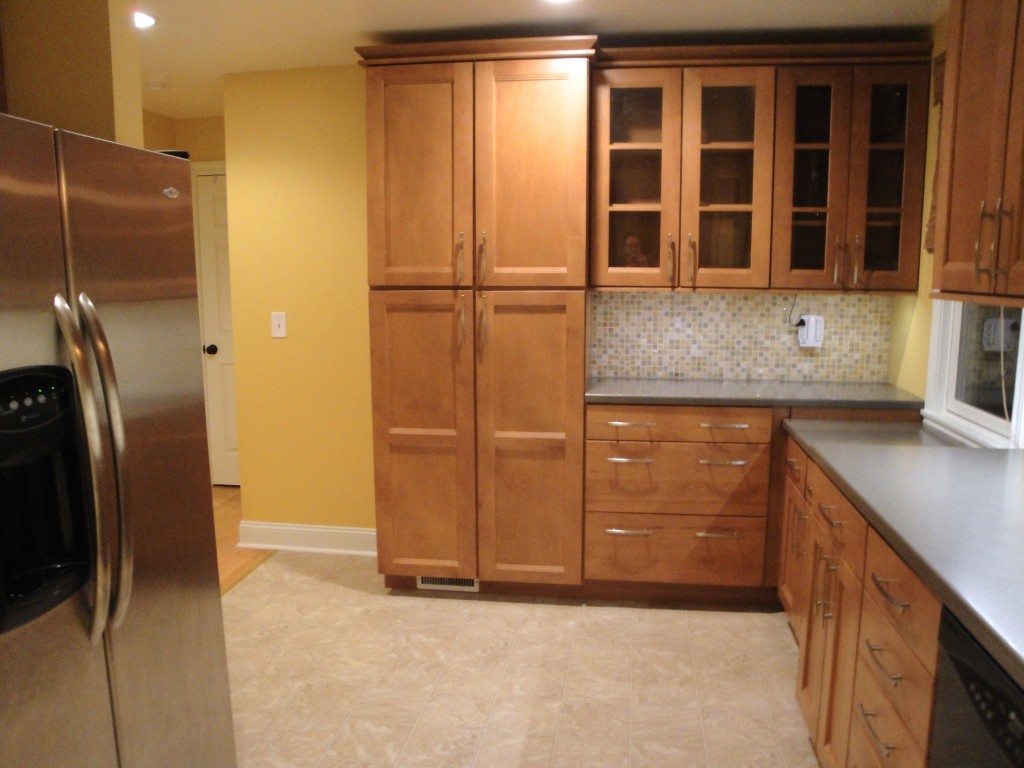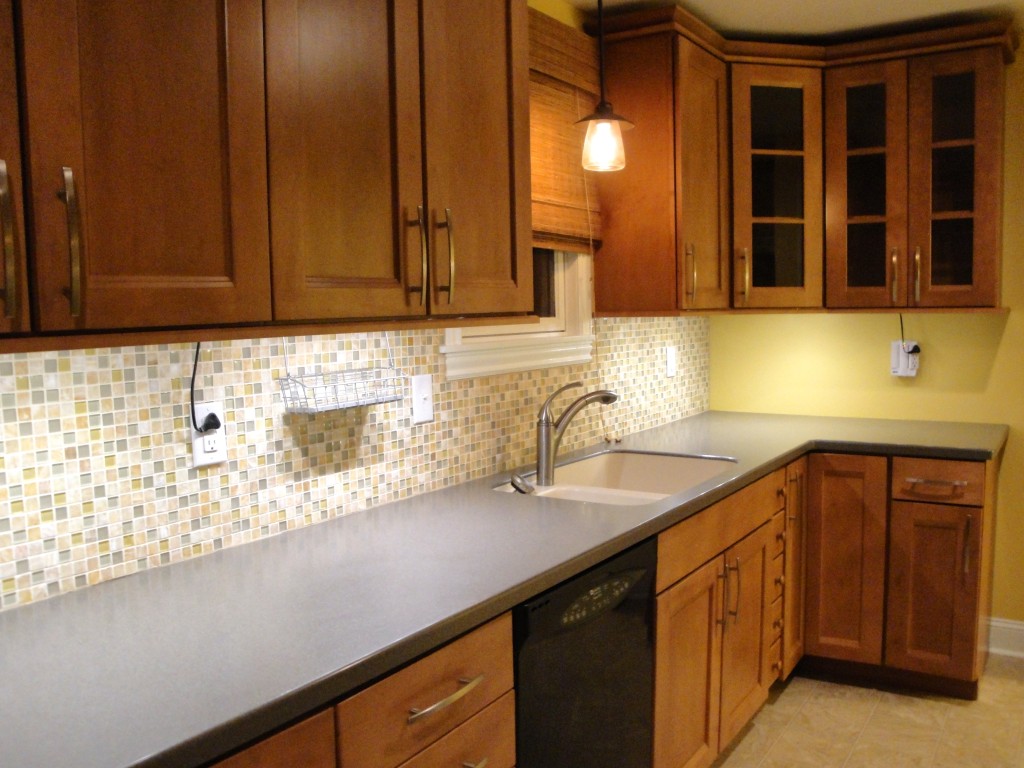 After
That kitchen was really my favorite part of the house. It came out looking so good and while I love my new one, there's a sense of pride that comes from planning and designing a space of your own, plus if you are selling or looking for a mortgage, it can really raise your homes value, according to these expert pre-mortgage valuers.
I'm leaving out the bedrooms with a king size bed with tv and some older exterior shots on this tour to protect our privacy and the new homeowner's as well. I always thought this house had so much potential and while we found some of it, I know that the new owner will find even more. If you're ready to buy your house, then head to PenFed Realty.

I wanted to show you how I use some genealogy resources in a typical case to do my research for the family trees. I'm going to highlight the life of my maternal great grandmother to show you how I pull information.
My first source of information was through my family. From family members I knew that my grandma and great grandma had the same name, Celeste, and that my great grandmother was born a Chrismer and married a Boschert. I was told growing up that my great grandmother died while giving birth right around my grandma's first birthday. She had a son who was a bit older than my grandma. When my great grandmother died, my grandma went to live with her aunt and uncle, the uncle being great grandma's brother (a Chrismer) and the aunt being great grandpa's sister (a Boschert). My grandma didn't even realize she'd been adopted until she was school aged and someone outside her new family told her. I had no idea what had happened to my great grandpa or the older son after that.
So that's a heck of a starting point.
My first step was to search Find A Grave. My grandmother had purchased a headstone for her mother in Saint Charles Borromeo Cemetery in Saint Charles, Missouri. It was pretty easy to find my great grandmother here by searching by last names. Here's her Find A Grave page. To my surprise it listed her name as Celesta Boschert (nee Chrismer). The gravestone itself listed 1897 as her birth year and 1920 as her death year. The Find A Grave page lists a date of birth of 11/18/1897 in Saint Charles, Missouri and a date of death as February 11, 1920 in Orchard Farm, Missouri. The page also lists a husband, Anthony Peter Boschert, and parents, Harry and Zita Chrismer. There are no source citations for these life details so I print the page and use them as a starting point. Nothing is confirmed in genealogy without an original source and even original sources get it wrong. Like I said in my tips post – Just because it is written doesn't mean it is true.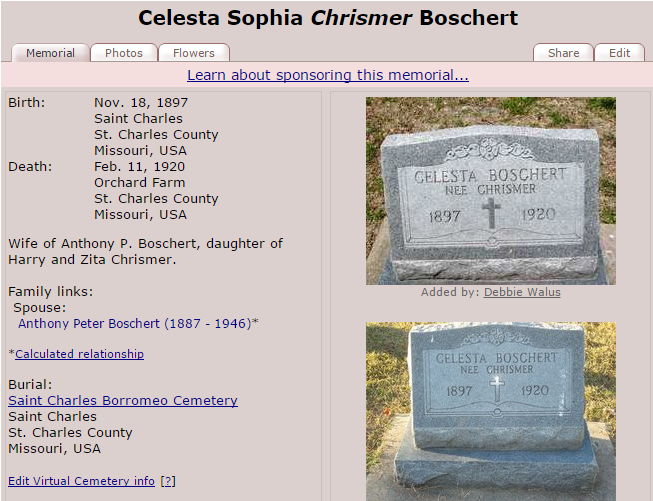 My next step took me to the Missouri Death Certificate database. Most Secretary of State offices have helpful resources online. It took a couple searches (TIP: always check maiden and married names for women in your tree!) but I found her under Celete Boschert, death certificate # 8735. This death certificate contains a host of information. It confirms she died in Orchard Farm, Missouri on February 11, 1920. It confirms she was born in Saint Charles, Missouri but this shows it as November 18, 1896. She was a white female age 23 years, 2 months, and 23 years of age when she died. This would have been calculated based on DOB which now appears to be in dispute. Celeste was the daughter of Harry Chrismer and Zita Baumann who were both born in Saint Charles, Missouri according to this. So now we have a maiden name for my great great grandmother. My great grandma was a Housewife and had been attended by the doctor from February 3, 1920 to February 11, 1920 before she died at 8 AM on February 11, 1920. Her cause of death was influenza with a word I can't quite make out (maybe pneumonia?) and 'labor' as contributing factors. This confirms the family tale that my great grandmother died in childbirth.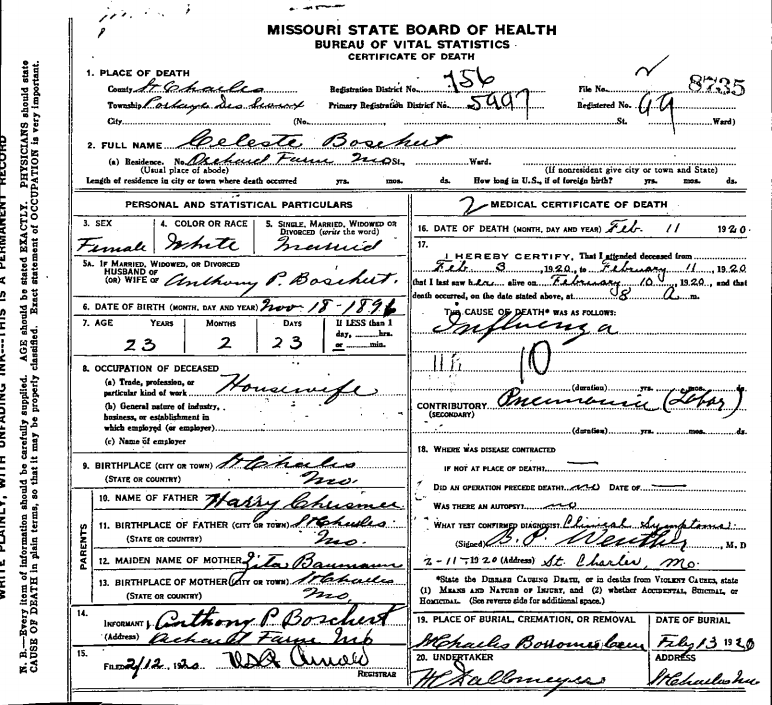 On a hunch, I searched by last name (Boschert) and year of death (1920) and found another death certificate. Certificate # 8734 was for Unknown Boschert. The baby died at birth on February 10, 1920 and died as a result of premature birth caused by influenza and pneumonia in the mother (confirming that word I couldn't fully read in the previous death certificate). This matched with what my mom knew and confirmed it had been baby girl.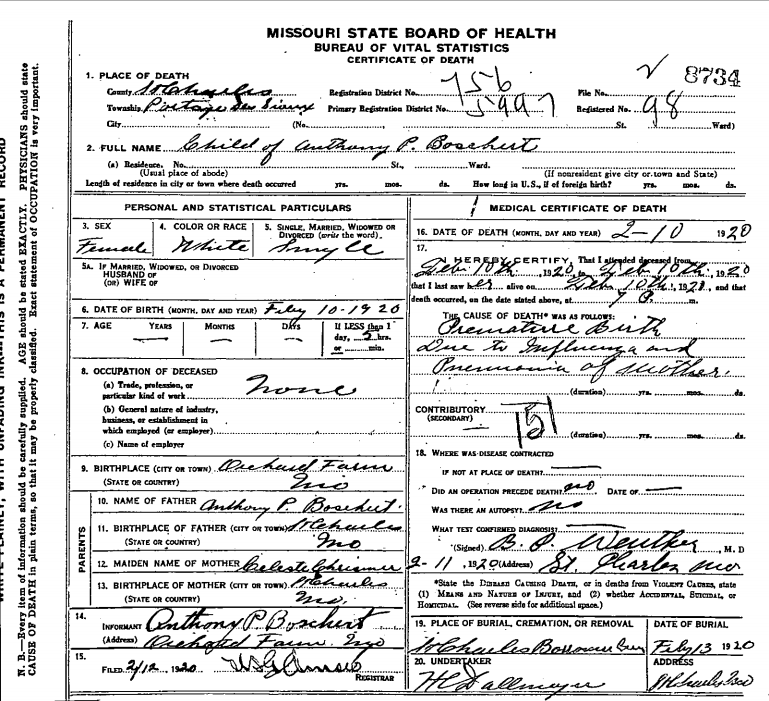 I had confirmed a few details by this point. My great grandma died in Orchard Farm, located in Saint Charles County, Missouri, and was said to have been born there too. Her date of birth was in dispute. I had some parents names and a spouse's name for her but no word on the older child. So I took to the census. The census is performed every 10 years (though some states did it more often) and you likely won't find anything for 1890 due to a fire in 1921. It's a horrible loss and one similar in loss to the 1973 fire at the National Personnel Records Center which held 16-18 million military records for Army and Air Force personnel. Another note about census records: Ancestry may give you some free information from census records but they want you to have a paid account to view the physical document for all years, with the exception of 1880 and 1940. For other years, if you don't want to pay I've found that Mocavo gives you the ability to view them for free. You'll still want to find a way to save the records on your own, but this is a good start for researching. Searching for my own great grandmother in the census meant I should be able to find records from 1900, 1910, and maybe 1920. For all my relatives, I like to make a spreadsheet where I log what years I should be able to find census records for.

 If someone hasn't been born yet, I gray out the year (for example 1880, 1930, and 1940 for Celeste) and for years I can't find a person I highlight them in yellow so I can continue searching at a later time (like for Anthony in 1940). I like to document how old a person was in each census year and what address or area they lived in by year. It helps for fact checking later on.
I first find Anthony and Celesta Boschert together in the 1920 Census. They are spread across 2 pages so I've spliced them together for a quick visual.

I find a few things here: the census was completed on January 27-28, 1920 so I managed to get my great grandmother on a census just 2 weeks before she died. This is a lucky break for me. There's no address but I can see she lived in Portage des Sioux Village which is where one might find Orchard Farm Village (and it's apparent on page 2 of the census).
Anthony P Boschert (my great grandfather) is listed as head of house, a W/M aged 32 (DOB approx 1888). he can read/write, and is a retail merchant. He and his parents were born in Missouri.
Celesta S Boschert (my great grandmother) is listed as Celesta again and she is the wife of Anthony. She was a W/F aged 23 (DOB approx 1897) and she could also read and write. Again, this states she and her parents were born in Missouri.
Harry L Boschert (my great uncle) is listed as the son and his age is listed as 20 months (DOB approx. March of 1918)
Celesta K Boschert (my grandmother) is listed as the daughter and her age is 10 months old (DOB approx. March of 1919). I know that my grandmother went by Celeste Catherine Boschert and was born in February of 1919 so this is pretty close. Remember that Enumerators often are listing what people tell them and people speak with accents and don't spell everything out. There will be variations (Katherine/Catherine).
John H Hoelscher, a boarder aged 33. I know nothing about this guy but it's quite common to find this in census records.
The 1910 Census result was easy to find on Ancestry just by searching. I was able to find a specific address she lived at on this census but sadly I know the original house there has been demolished. This census record is full of people:

Harry Chrismer (my great great grandfather) is listed as head of house, aged 40, and a blacksmith. He was born in Missouri but I now know both of his parents may hail from Maryland. This is a great lead for researching him and his parents.
Sadie Chrismer (my great great grandmother) is listed as the wife, aged 37. Now, I already know from my additional research and family sources that Sadie = Zitta but looking at this census record one might be thrown off. There's an ongoing series on the Ancestry blog about commonly used nicknames that will help you out.  One tip that's here is the 1910 census was kind enough to ask spouses how long they'd been married and asked women how many times they'd given birth and how many children were still living. In an age of high infant deaths, this is an incredible resource. Here we can see that Harry and Sadie have been married 16 years and they're oldest child is 15 so it's likely all these children are theirs together. We can also see that Sadie has 8 living children of 8 births which is rarely seen. Sadie's parents were both born in Germany so it's worth it to check out German nicknames too.
Walter Chrismer (my great great uncle) is 15 here. He's the uncle who adopted my grandmother later on.
Celeste Chrismer (my great grandmother) and she is 13 here (estimated DOB 1897)
An additional 6 girls, Goldie, Myrtle, Delpha, Willa, Anna, and Marie. When you lose a family member on the census, siblings can be a huge help. Parents move in with children and grandchildren, bachelors move in with brothers, too many young girls and one might be a maid for a sister. Don't discount the siblings.
I find Celeste one more time on the 1900 Census:

We have the usual crew of Harry, Sadie, Walter, Celesta, and Goldie here. Again, in 1900 we get how many years married and how many births/living children. Somehow the math gets a little off here. Harry and Sadie were married 8 years in 1900 and 16 years in 1910. To confirm this detail, I'd begin by searching marriage records from 1901-1905 when trying to find the true number. People on census records are not always the best at doing math in their head. That's why I refer to my spreadsheet and can see that my great grandma was listed as 2, 13, and 23 even though those intervals should be 10 years. People make mistakes. The Harry Chrismer you see here was named David at birth and his parents changed their minds and his name. It happens.
There's a world of additional records out there. If you look at the zoomed out version of these records you can see parents and cousins living next door or across the street from family members. The library has so many free resources.
I also said in my original post on how I research that you may turn up some family secrets. Remember my great grandmother's oldest child, Harry Boschert? Eventually I discovered what happened to him after his mom died. Harry died in 1934 at the Emmans Asylum for Epileptics and Idiots. He died from epilepsy and malnutrition. He'd lived in the home from 1926-1934. I don't know where he went from 1920-1926 but I hope to find out one day.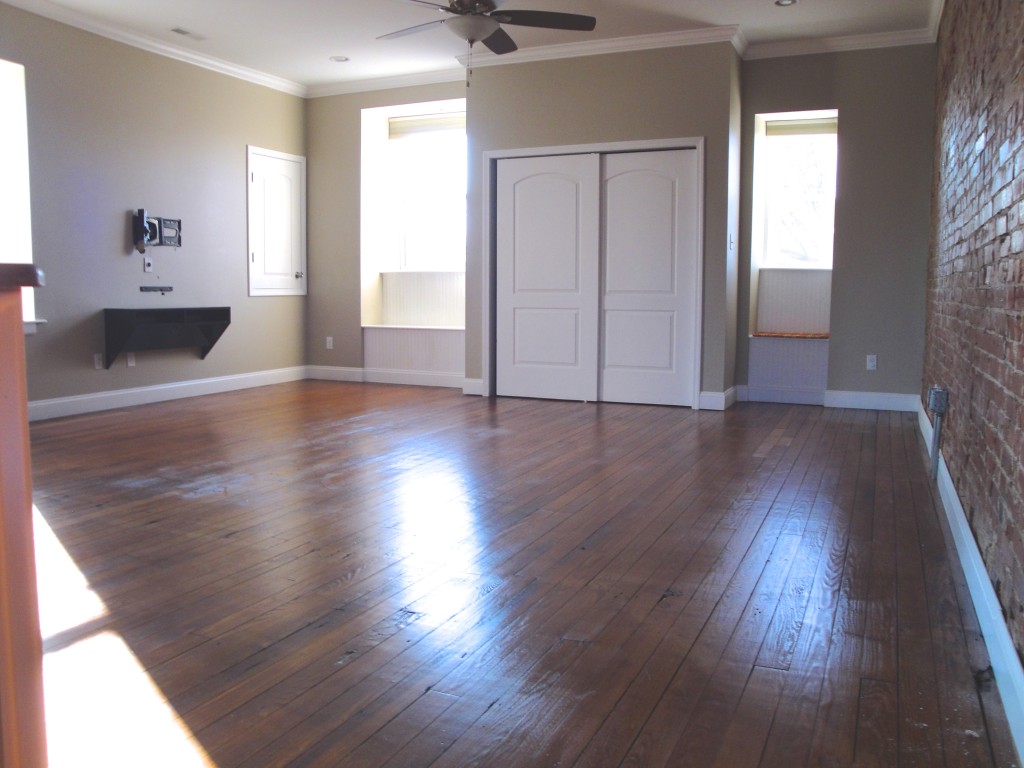 The last time I showed off the third floor it was from the week I moved in. Immediately my husband and I had a goal for this floor. We wanted a place to relax after work, to put the job behind us, and to have our own urban oasis.
It was December when we moved in and before the end of the month we ordered a couch and coffee table. We wanted a sectional and while we checked places like Crate & Barrel and West Elm, we didn't find the style or price point we wanted. We were about to give up after a C&B trip when on our way to dinner we passed IO Metro. I didn't think I could afford what was in the window display but upon walking in I found a lot of things I liked. Even better, when the assistant heard my husband and I discussing some styles she helpfully let us know we could see even bigger markdowns at an end of the year sale. By the next week we knew what we wanted and placed an order.
Here's what it's looking like now: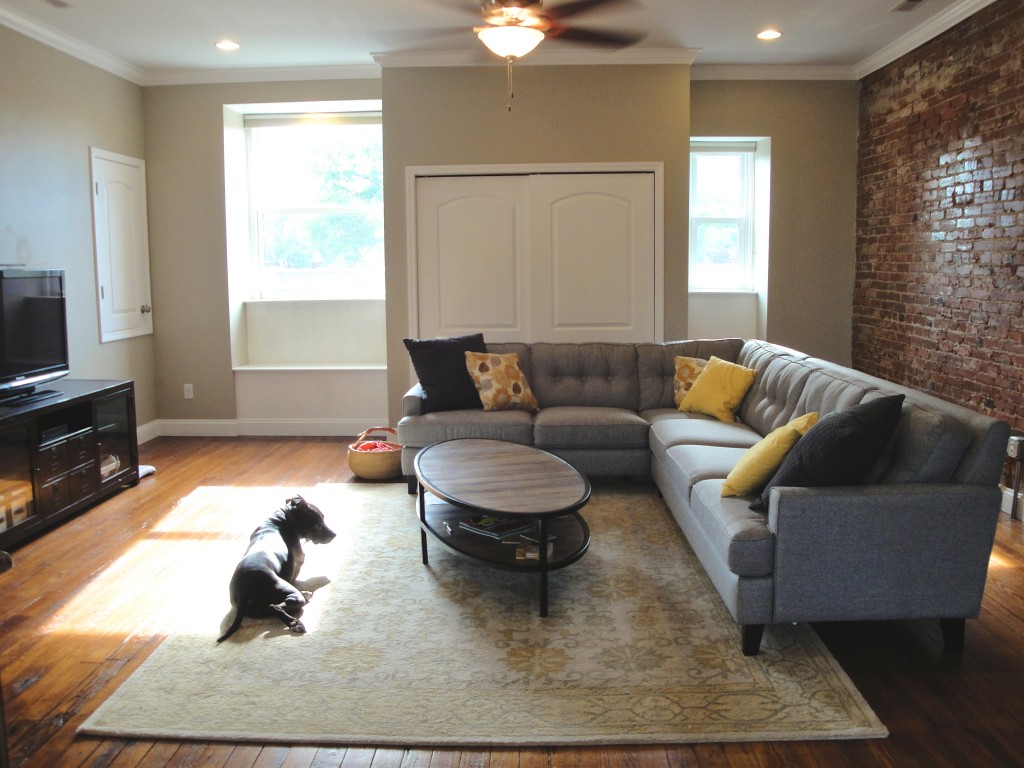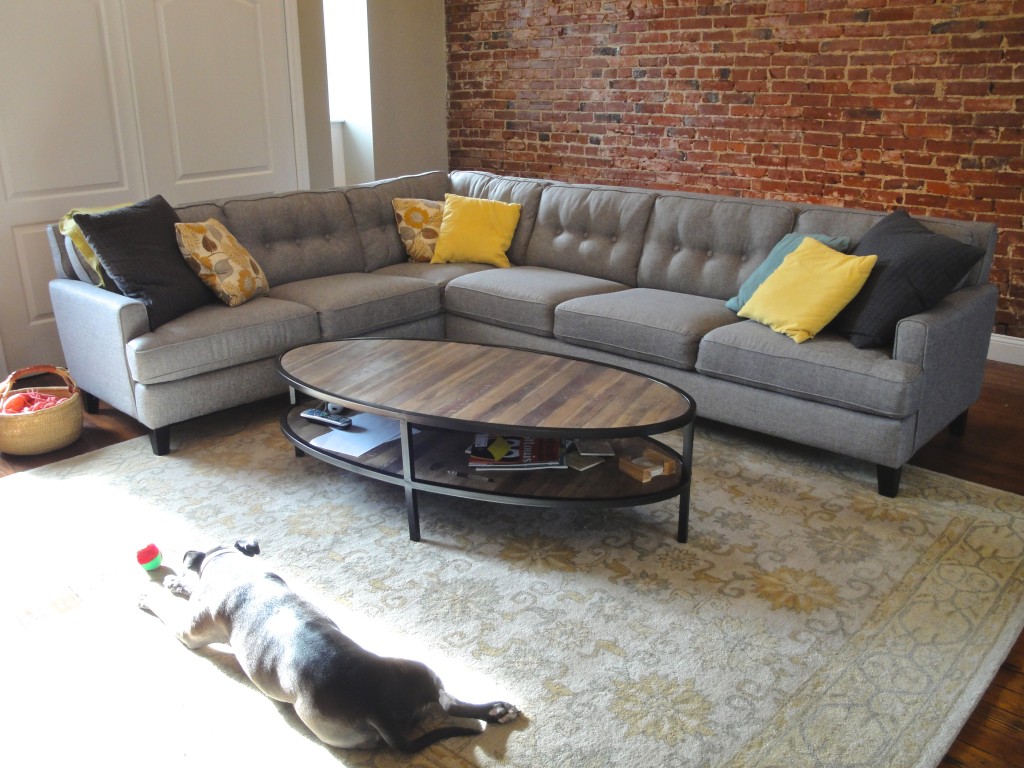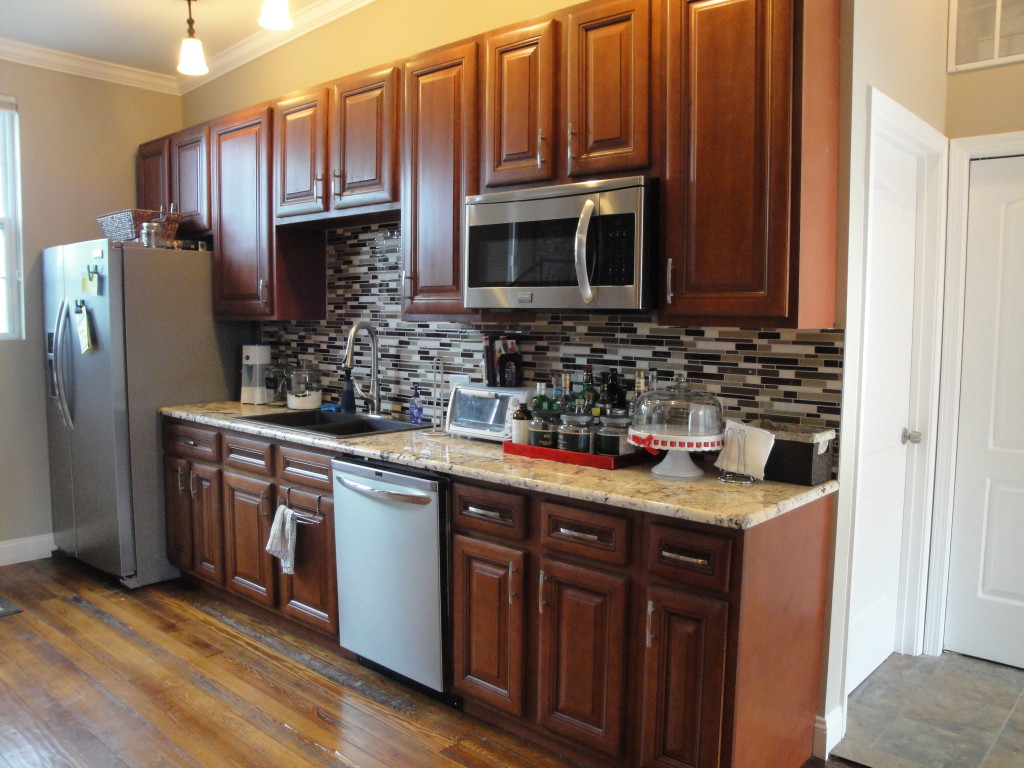 The space is finally starting to work for us. We have a TV up here so we can easily binge Netflix while having a cocktail or a beer. We did some small upgrades to our HVAC system. We still need to do some insulation work with spray foam on this floor of the house so we are holding off on repainting any of it until we know what the damage to the room might be.
And here's some of those pretty little details: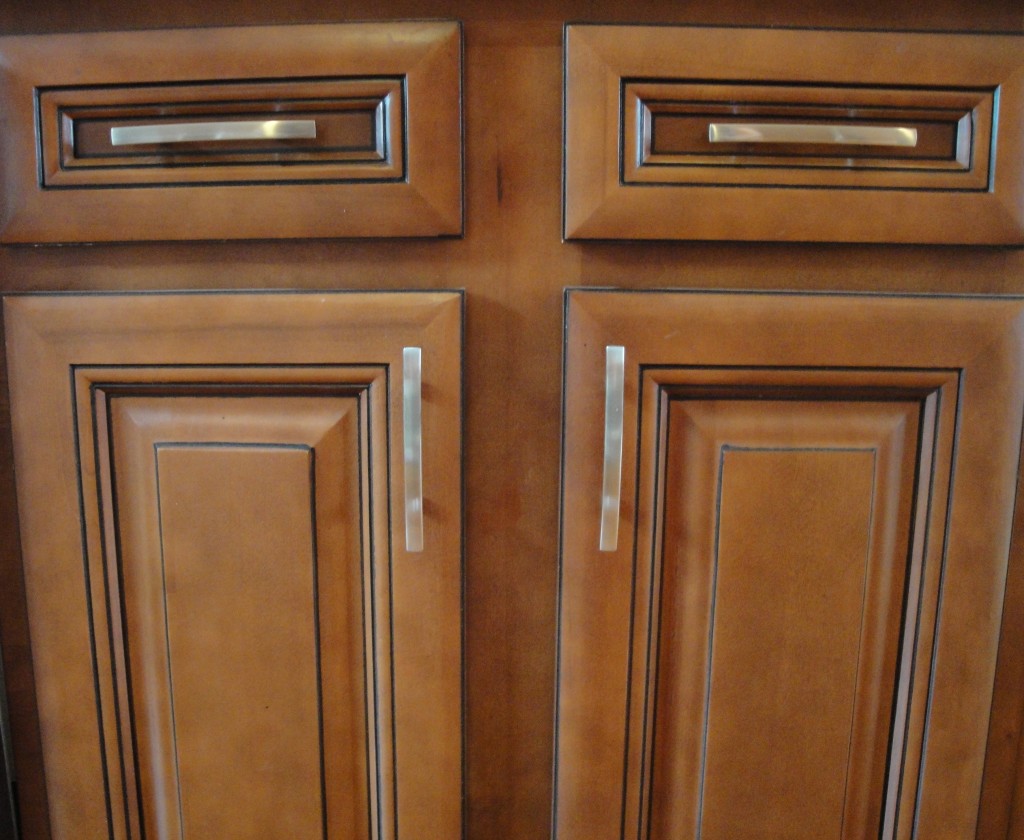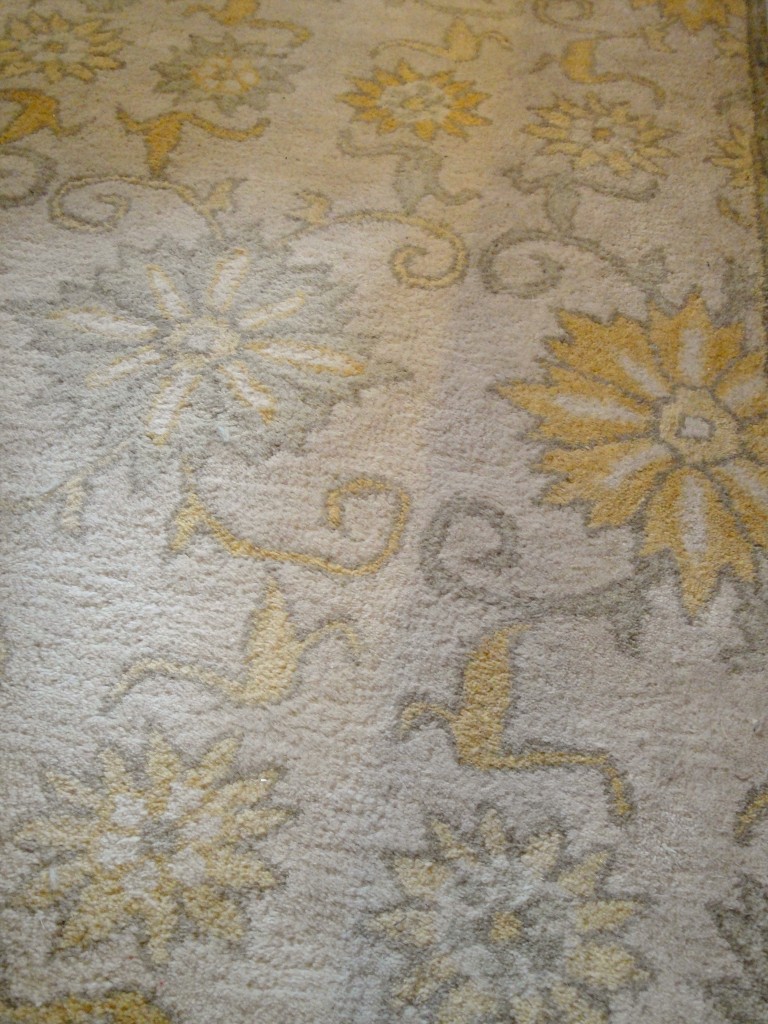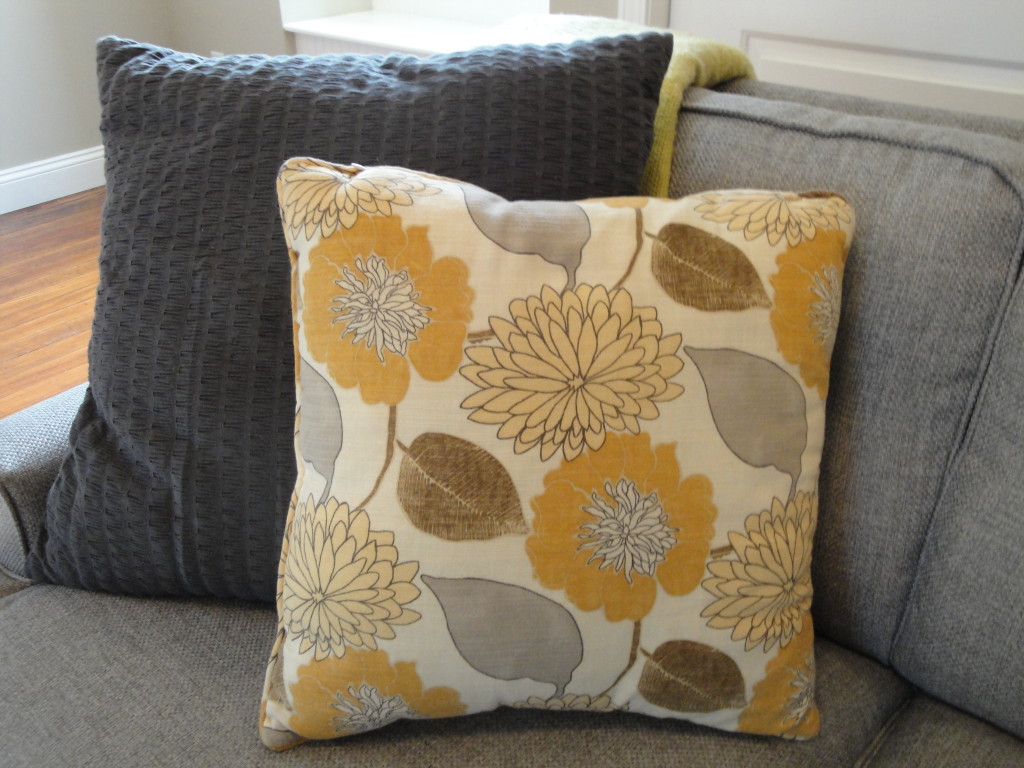 This space also nicely doubles as a workout space. I can just move the coffee table and do my Wii Fit or some video workouts right in front of the TV. I want to make the closet space on this floor more functional so I can store some small weights or equipment as well as games or other entertainment for when we have guests over.
I'm thinking for fall I will swap out the blue pillows with some orange ones and maybe add some new cozy throws to the space since I know this past winter we camped out here quite regularly. I know I'll also want a floor lamp since I've been known to cross-stitch or read up here. I'm still on the hunt for something that might have that industrial modern vibe but is easy to access without having to stand up from where my butt is firmly plopped. The hunt continues but if you've seen something let me know!
Sources

My August was not a vacation but instead kept me busier than I wanted. Here's the scoop on what I was up to.
Food
Do you know how hard it is to live by The Shaved Duck and know the lines are so long you can't make it inside? It's one of the best places in St. Louis. The smothered fries and brisket are my weakness. Miraculously one Friday night I was able to walk right in and be seated immediately. I had experienced the kind of day that only their fries and a beer could solve and I think someone knew it and cleared a spot for me.
My grill worked overtime in August. I know things like burgers and hot dogs aren't too exciting but this pork loin from Skinnytaste was fantastic! Even better, the leftovers made for some amazing Cuban sandwiches.
Many people in St. Louis know Rooster for its brunch but lately it's becoming my favorite place for dinner. It's close enough I can walk if it's early enough, they have parking if it's later. Inside it's intimate despite being huge but casual enough that I don't need to fuss. It's the perfect place to stop before or after a show at the Fox and a straight shot down Grand. You can go breakfast, crepes, steaks or try a nightly special. In August I had a pork belly and shrimp dish that blew me away.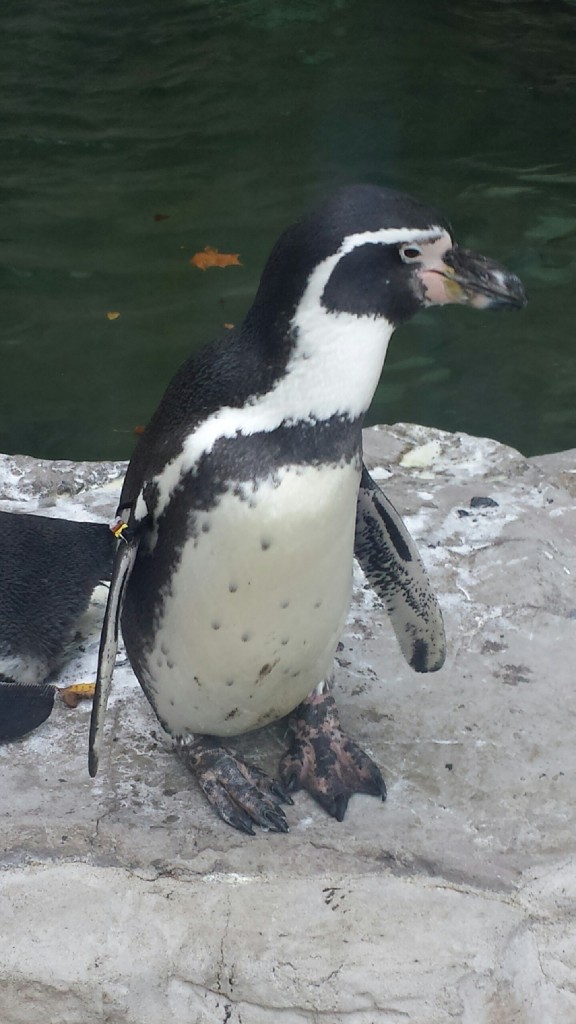 Entertainment
I finally made it to see Miss Jubilee and a Jungle Boogie at the St. Louis Zoo. During the summer the zoo stays open late. I brought a picnic dinner (tip: bring a chair and not a blanket) and then roamed the rest of the zoo. There were so many animals and so few people so I had an up-close personal show from the penguins, the new polar bear, and all the big cats.
I had some doctor appointments in August so I took a half day and enjoyed some shopping with the money those visits should save me on insurance. I really enjoyed shopping at EverEve and stocked up on some fall fashions. I refuse to wear fall clothes before Labor Day or before the temperature drops so I still haven't been able to show them off. They have lots of vests and cute layering pieces though.
I finally made it to the Festival of Nations in Tower Grove Park. My parents stopped by my house and we all walked over to try some bites. The empanadas from Argentina and jerk chicken from Jamaica got high marks from me.
House
I stalk the facebook pages of any antique/resale place I know about and when these lockers appeared on the page for The Green Shag Market, I knew I had to have them. Luckily my husband agreed. We have plans to make them even cooler and more functional so hopefully we can get to work on that soon.
I'm saving up to do a big project involving insulation. Some of the rooms in my house aren't insulated very well (or at all) so some ceilings need to come down and some spray foam insulation needs to go in. This means I will probably put off any planned master suite or 3rd floor improvements until the dirty work gets done.
I picked up a drill and driver for the first time in forever this month. My basement is getting more functional by the day!
On the Web
Personal
My sweet Nova dog turned 8 years old in August. I can't handle her getting so old but I want to say how she is a brave dog who tries so hard and loves so fiercely. I'd be lost without her.
My grandparents moved to Missouri! They grew up in Arkansas, settled in Missouri after getting married and for some years after, then moved to Arkansas together about 20 years ago. Now they have a new place together close to my parents.
Speaking of my grandparents, I caught my first cold in years from them the very first week they lived here. Let's hope that doesn't become a trend! Because of that August was not as successful as I hoped but there's always next month.