Tagged with "centerpiece | The Hyper House - Part 2"
To go along with my warm candlelight from yesterday, I also wanted my centerpiece to have some warm fuzzies. I went to Michaels for their New Year's sales and bought some styrofoam balls and some yarn. I don't do any real crafting with yarn so I didn't have any on hand but if you do you'll want to use a wider strand for the best results. I also had much better luck with the acrylic fibers over those from an alpaca.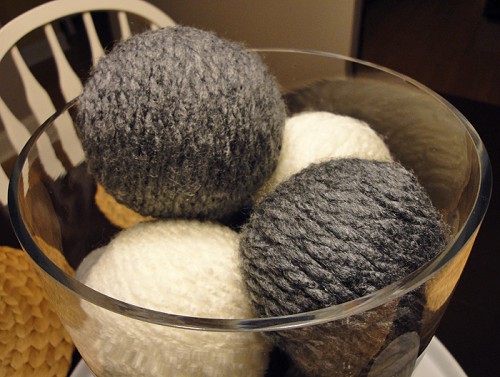 First up, you'll want to grab some tacky glue and a foam brush. Coat one half of your styrofoam ball with tacky glue and brush it until it forms a thin coat. Then take your yarn and start winding. You'll want to make small circles from the center of the top and just keep wrapping horizontally for the best effect. Nice and easy. When you finish the first half, give the glue some time to dry (I rotated 3 at a time so my warm fuzzies were always drying) and then repeat this method on the second half where you left off, holding onto the newly covered yarn side. When you get to the end just cut off the excess yarn and tuck the tail in.
I made 12 different yarn balls in 2 different sizes. 11 of them fit inside my apothecary jar for the centerpiece of the month. I have another space in the house where these will look pretty so I think I may make more. To do all 12 it took me 2 episodes of Downton Abbey (2 hours) and I still have 5 episodes to watch if I want to be caught up before Season 2 airs on PBS this Sunday.
Here's the final effect: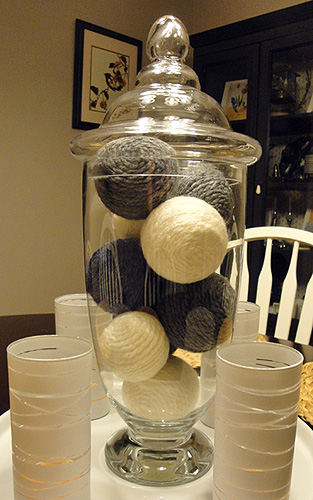 Tomorrow I should FINALLY have up the dining room makeover. There have been some slight delays thanks to crazy circumstances but we've finally been able to eat in there this week so it feels like progress has been made. I can't wait to show it off in its current state.
Pin It

I'm decorating my house for January right now. When I think January I think cold so I want to keep my house cozy, with warm candlelight and soft materials. Phase 1 of this plan was making some winter candleholders for my amazon scented candles. I wanted a snowy white color with warm candlelight peeping through. I've seen this idea before so I decided to replicate it on my own.
You'll need:
4 small vases (I used a 4-pack of cups from Target for $3)
A pack of rubber bands
white matte spray paint (spray on primer works great)
4 small candles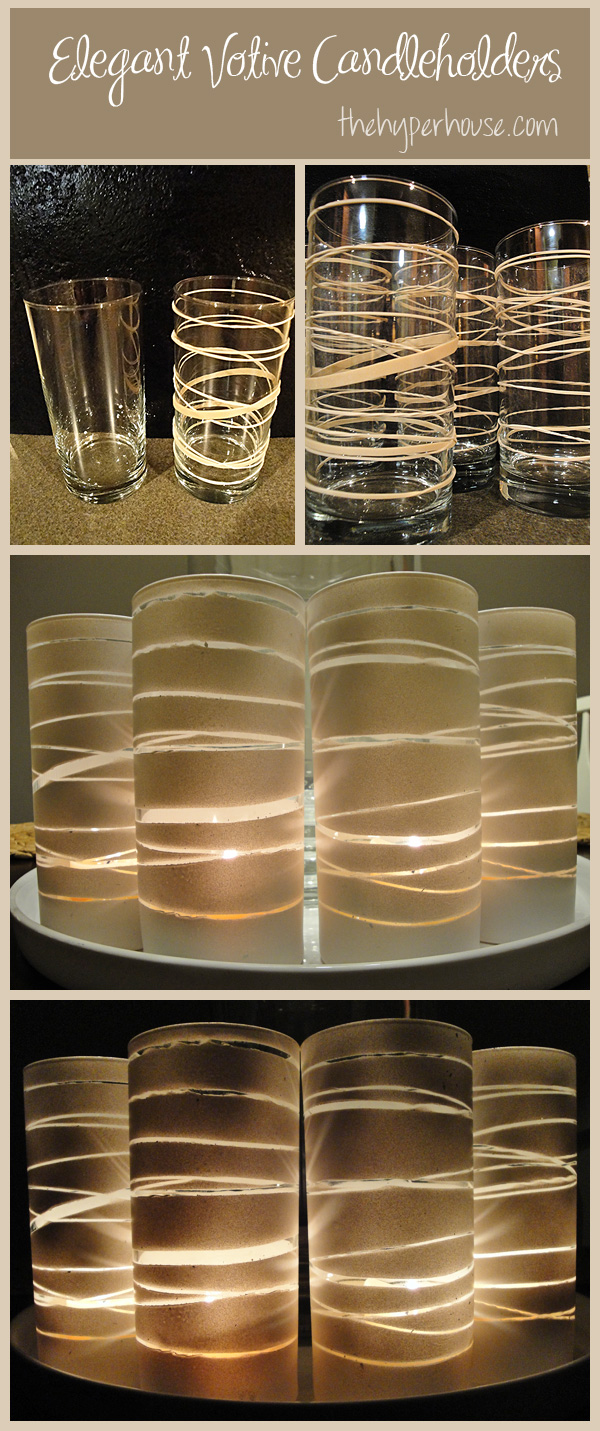 Clean your cups so there are no fingerprint smudges. Wrap rubber bands of various sizes around your glasses. I liked angling some and adding thicker widths in the middle. Then take your glasses to your spray painting zone, turn them top side down and go to town. Mine required two coats for maximum coverage.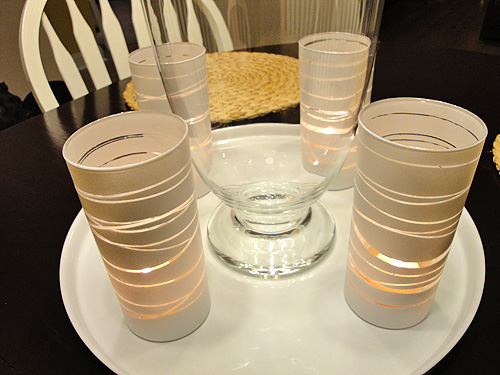 Once you like your coverage, find a trash can and slowly begin removing the rubber bands. Make sure you're wearing grubby clothes and in a messy space. Stretchy elastic + spray paint = tons of tiny little paint flakes flying everywhere. Learn from my mistakes.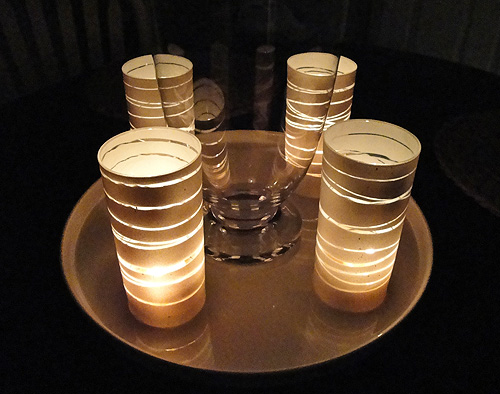 Once you finish removing all the rubber bands, wipe down your glasses with a wet rag and set some candles inside. Now dim the lights and enjoy your simple yet beautiful creations. I'm feeling warmer already.
Tomorrow I'll be back to show you what I decided to put inside that apothecary jar on my table.
Linking it up:
Pin It

One day this summer I decided I'd had enough of my dining room table and chairs. They were given to us by a relative who was combining households and didn't need two tables. For some reason they chose to get rid of the set with unstable chairs and water damage on the tabletop. No clue why. We made do by sitting in the sturdy chairs and investing in a tablecloth. But like I said, this summer I had enough.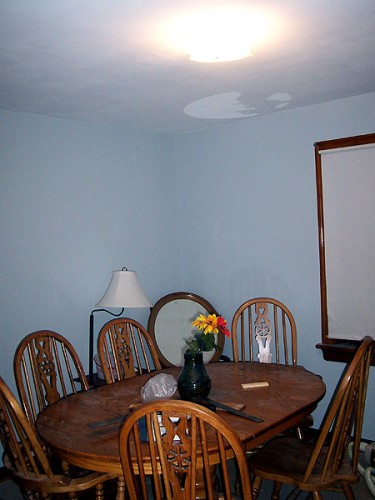 The table's arrival. We stored it in a bedroom since we were refinishing the floors at the time. Little did I know how similar refinishing floors and tables were. My plan for the table makeover involved a two-tone design with a wood top and a painted bottom. My first step was to remove the tabletop and then prime the base with Zinsser Bullseye 1-2-3 Primer Spray.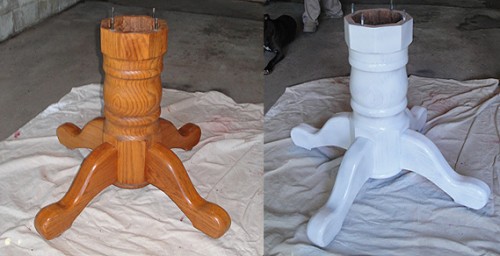 I popped the tabletop back on and primed the bottom of it as well. Next up came the sanding. This table had some insane protection on top so I did a 3-level sanding process. First I did a 70-grit sandpaper to tear up the lacquer, then a 150-grit sandpaper to smooth it out, and finally a 220-grit sandpaper to finish it off. I had one sander but it was old and died in the process so I upgraded to a  DEWALT D26441K 1/4-Sheet Pad Sander and it was amazing to see the difference. The most important thing to remember is to sand with the grain and to take it slow. Here you can see the table after sanding, a good cleaning, and a coat of Honeymilk paint.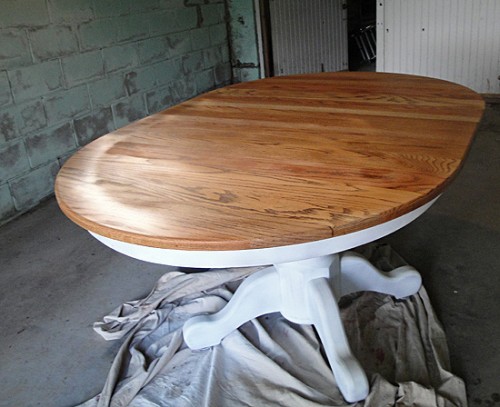 Next up was the staining. I chose Minwax Gel Stain in Red Elm and brushed it on with some foam brushes. I went with 3 coats because I wanted a deep rich color with high contrast but you can see that even 1 coat did a very good job. I probably could have used some wood conditioner but I honestly didn't notice a difference in quality with the number of coats that I did.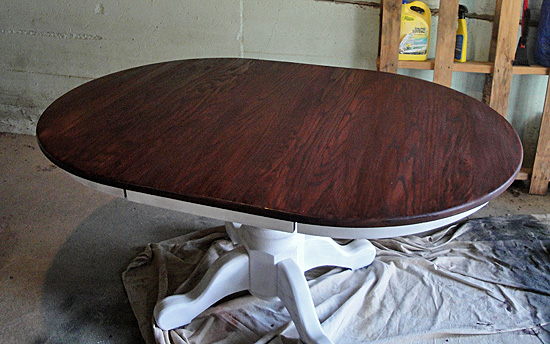 Next up was some drying and a chair makeover. You'll notice that the chairs at the beginning of the post aren't the same ones you'll see here. There were structural issues, a far too intricate design for our simple tastes, and while I attempted to make them work they were a complete failure. Thankfully my mom was storing extra chairs and in an effort to clean out her basement she passed the chairs on to us. Bingo!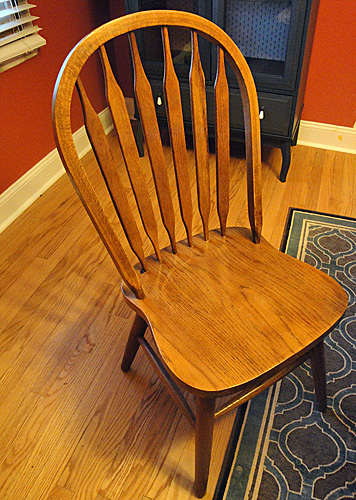 First up was to remove the finish since my first experiment taught me chairs can be a little finicky. I used Klean-Strip Easy Liquid Sander Deglosser. You just wipe it on with rags and the gunky finish comes off. Wipe it on outdoors with a mask and gloves because this stuff stinks. After you're finished call on your old friend Zinsser and their paint-on 1-2-3 Water-Based Primer. Brush it on with a paintbrush and soon your chairs will be ready for paint. They're drying inside because it is too cold and rainy here right now for anything to last outside for too long.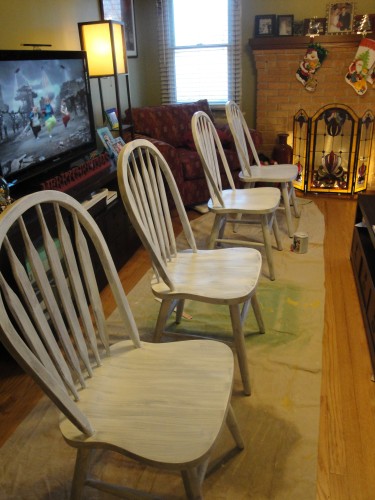 I then went on to paint the chairs with 2 coats of Honeymilk paint.
Next up was the most important part, protecting all my hard work. For the tabletop I chose to use Minwax's Wipe On Polyurethane for its high ratings and durability. Rather than wiping it was much easier to brush each coat on. I brushed on 2 coats for the stained tabletop. Since polyurethane is known to yellow wood, I didn't want to risk it discoloring my chairs and table base. I ended up brushing on Minwax's Polycrilic Protective Finish with fabulous results. Everything painted got one coat of the polycrilic though I did do a second coat on the seat of the chairs for extra durability. Ready to see what I accomplished with all that hard work?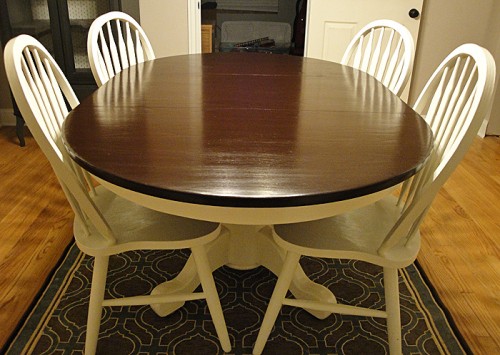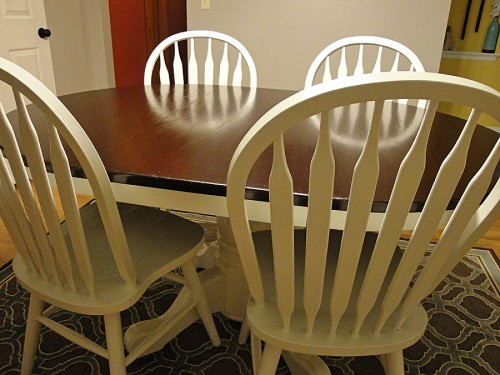 And here it is decked out for Christmas also I found burlap table runner bulk linens perfect for the decor: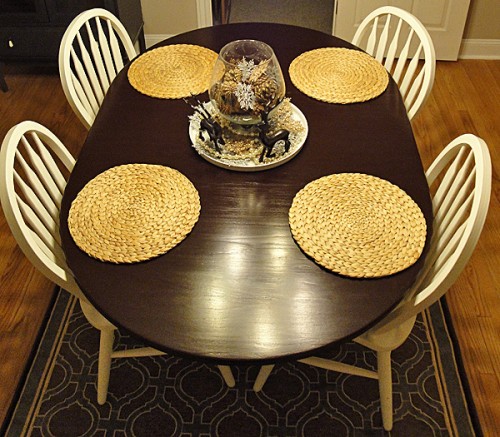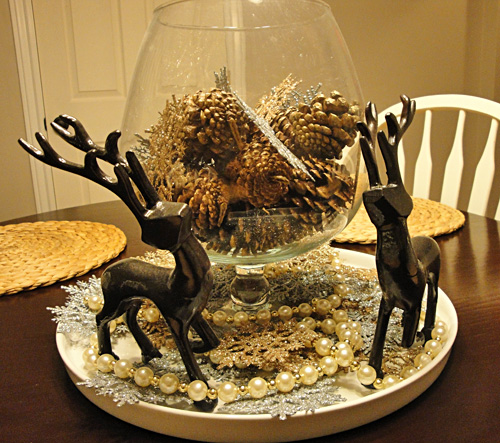 The placemats and white centerpiece came from Ikea, the glass bowl came from Michaels, the pinecones were spray painted glittered gold, the snowflakes and beaded garland came from Walmart, and I spray-painted some reindeer I found at Home Goods. It was a simple but elegant centerpiece for a stand out table.
Spying the new dining room in the background? I'll have a post up soon about the full room renovation with the help of Handyman Amarillo so stay tuned! In the meantime, I'm linking this post up: