Tagged with "gift ideas | The Hyper House"
When we last left off, my planters looked like this: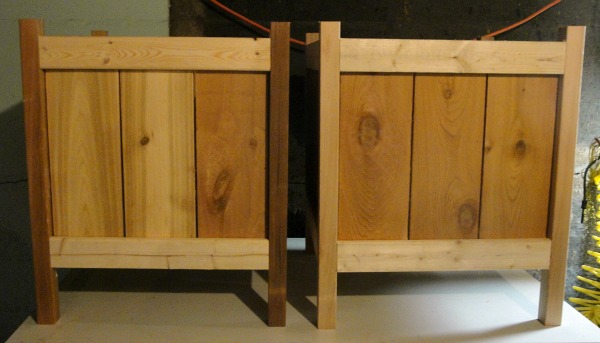 I was making these planters for my mom and my husband's mom and I wanted each planter to reflect a gift I was giving them with the planter. For my mother-in-law, I had found a ceramic piece highlighting her Irish heritage I wanted to hang from the planter. My husband had some ideas on how to make the planter look perfect for his mom.
We attached spindles to the planter and placed finials on top for a decorative accent. I cut down the edges of a cedar picket with a jigsaw the give the plaque a more decorative look. You can see that I attached the spindles to the base I installed to hold the plants inside.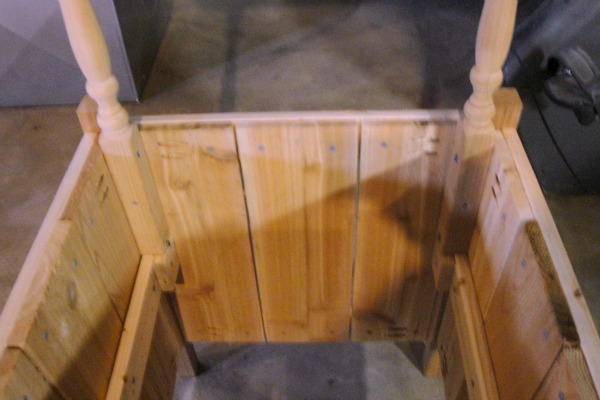 I then painted the planter white (do not use spray paint, trust me on this) and added a stenciled phrase and a hook. Here's the final look of the planter we delivered to my mother-in-law: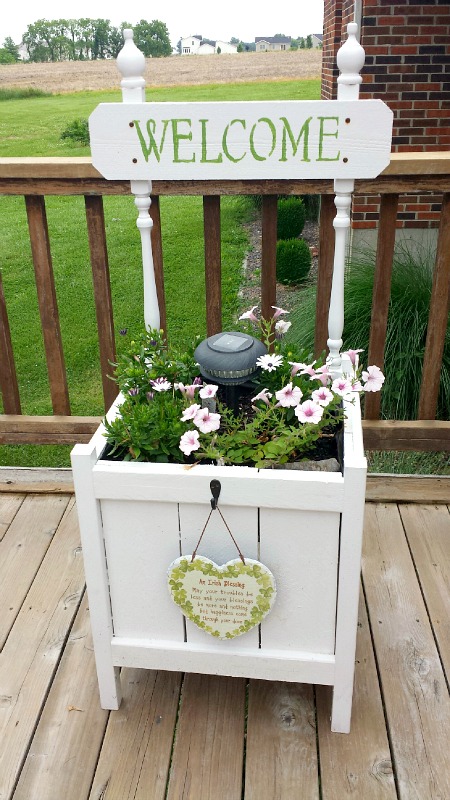 For my mom, I know she loves hummingbirds and I had luck finding a beautiful garden piece at one of my favorite local shops (The White Hare) with some hummingbirds on it. I wanted to mount it to the planter. I used a deck post and finial and screwed them into the planter base. I found a gorgeous hook at Lowe's that could support the weight of the feature piece.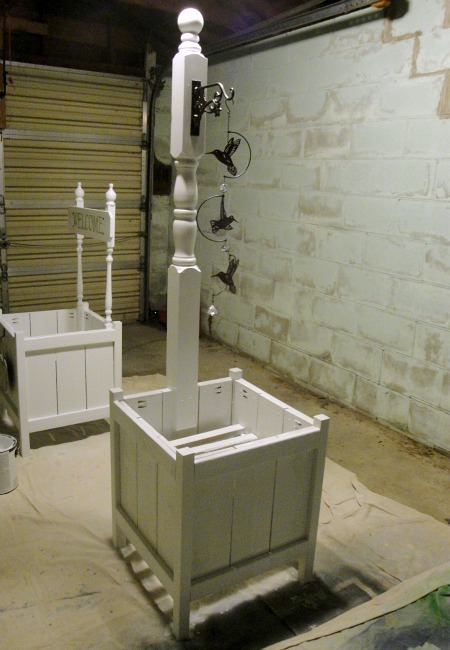 Now you might be wondering how these planters can hold plants. You'll want to have something more than just your 17″ 1x2s in each planter holding them up. I used some garden fabric and a staple gun to make a nice base. Once attached, you can pour your potting soil right in and plant some flowers in the nice sturdy base you've just made.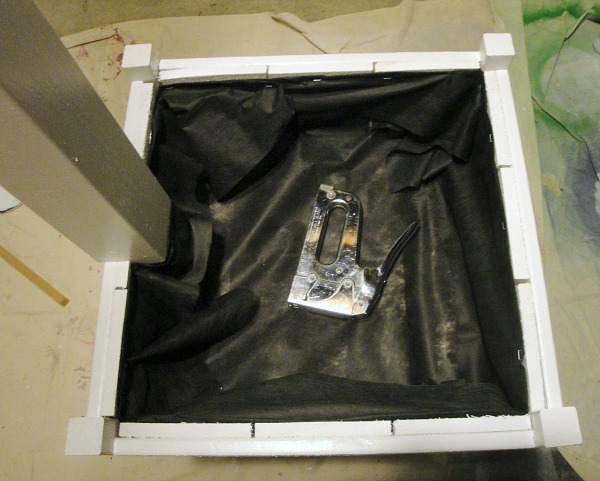 My brother bought my mom the flowers for this planter. Once we had it all together, my mom's planter looked like this: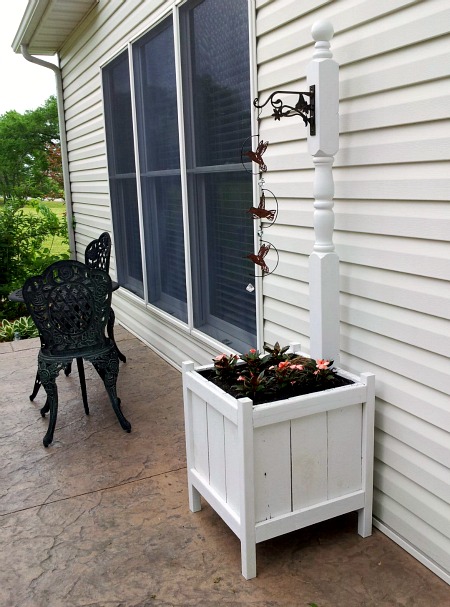 These two planters were my first real woodworking project. It was great to know I could build one of the many Ana White plans and even more exciting to see that I was able to make each planter match the personality and decorating style of my mom and my mother-in-law. I'm a little nervous that they will expect me to top this next year though.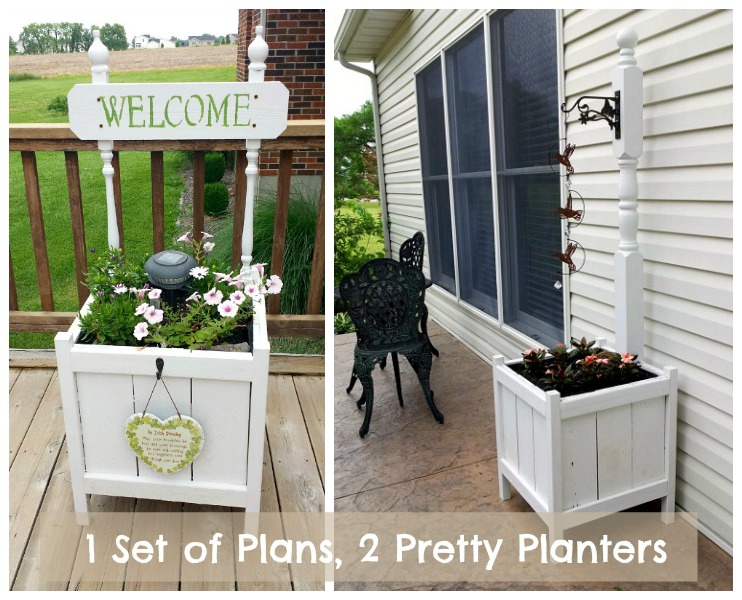 Pin It

We're a month out from Mother's Day but I wanted to share my Mother's Day gifts with you all. Like many other people online, I love to follow Ana White. I remember following her when she still called her site Knock Off Wood and just showed plans that copied the look from high-end furniture stores. She has since diversified and has plans ranging from basic to advanced, indoor to outdoor. Her plans were always a bit of a dream for me since I've never even used a saw. I do own my own sander from my dining room table makeover but that was about as advanced as my woodshop skills were.
Enter the basic cedar planter. Ana's plans showed they should cost about $20 and the other people implied they only needed a few hours to build. I had a week, a wallet, and all the tools. I decided to build two planters, one for my mom and one for my mother-in-law. Looking back, I wonder what inspired such confidence but I'm glad I thought so highly of myself.
For the project you need:
2 – 1×3 @ 8 feet long @ $1.35/board
1 – 1×2 @ 8 feet long @ $3.24/board
3 – 5 1/2″ wide x 72″ long cedar fence pickets @ $1.97/picket
2 – 2×2 @ 4 feet long @ $2.87/post (Ana used 1 2×2 @ 8 feet but these weren't as easy to find at my store)
2 1/2″ exterior pocket hole screws (I had these as part of a kit but they can add cost!)
1 1/4″ exterior screws or galvanized nails @ $8.47/box (I used decking screws and had plenty leftover)
exterior wood glue (Had some leftover from another project)
My supplies ran me about $30/planter but my prices varied from the ones Ana listed so price it out in your area. My supply list also included a bunch of usual tools that you can find listed out on Ana's site but the key ones you might not have include a Kreg jig and a circular saw.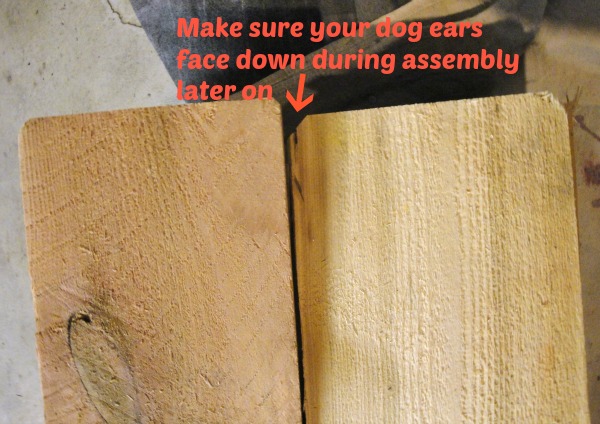 You'll want to follow Ana's cutlist as well. One note, the cedar pickets will have a dog-eared edge used in your planter. This is fine, when assembling just keep the dog-ears pointed towards the ground. Once you have cut everything, make the decision if you want to stain or paint these planters. Staining after the cuts will make it so much easier while you can save painting until it is fully assembled.
Lay down two of your 17″ 1×3 pieces parallel to each other. Space them out the length of your cut fence pickets (17 3/4″). You will want some gaps between the pickets, about a nail's width wide. When you space everything out the way you like, clamp down the arrangement.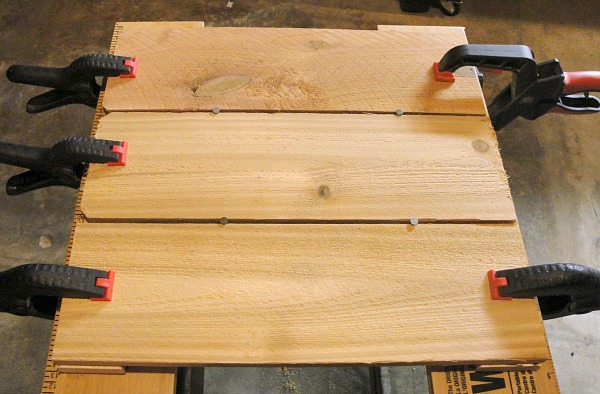 At this point I pre-drilled two holes in each plank, just deep enough that they'd go in the base board to mark their place. Then I'd pull the plank off, glue up the board, and pre-screw each screw into the plank. Then you line the board back into place and fully screw it in. That's a little wordy so let the pictures below do some more explaining.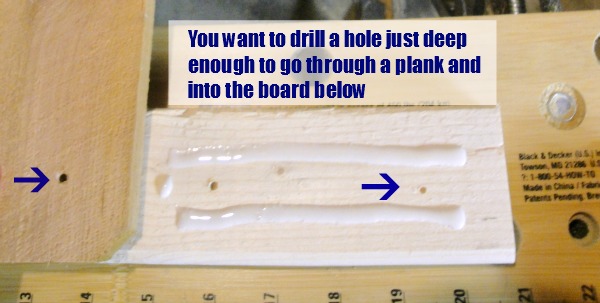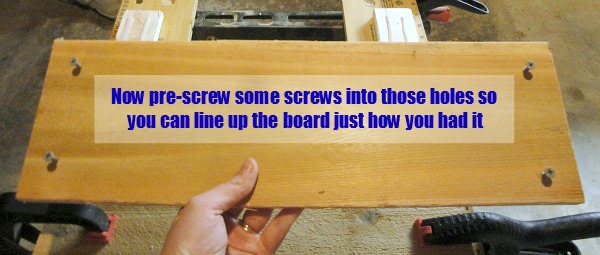 Here's a look at a finished side of the planter. You need to make sure you have 4 of these per planter.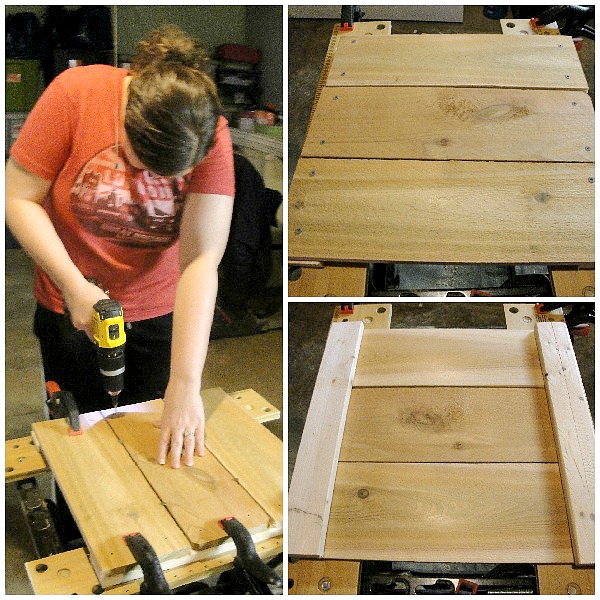 Next up- using a Kreg Jig
. This tool allows you to make clean corners when building projects. The depths and screw length are basically determined by the size of wood you are using and a handy chart Kreg provides you. Then you clamp your drill guide to your wood and drill into the drill guide holes.
They leave holes that remind me of deer tracks. Then you drill your Kreg screws into those holes and through the board you are connecting it to. In this case, you'll be doing the 4′ 2x2s posts.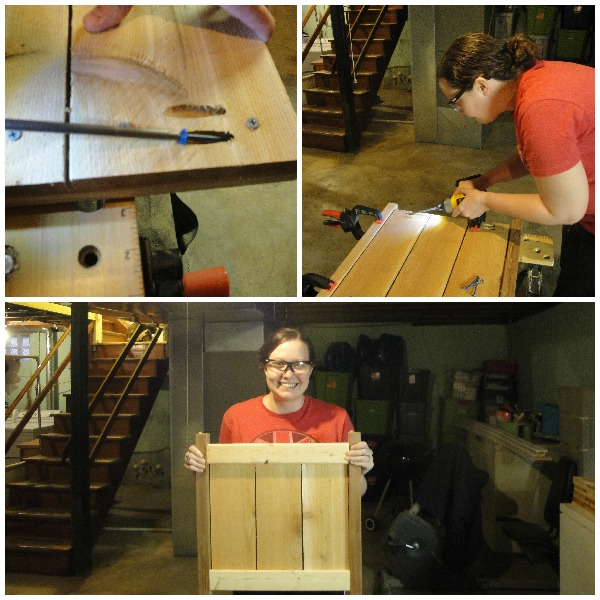 At this point you want to make one more duplicate side with the 4′ 2×2 posts on the end. You'll then be left with 2 assembled plank walls and 2 walls with posts attached. Now you need to square up your walls and assemble them so there's a plank in each corner. This step works best if you have a helper handy. One person keeps the planter square and one person screws in the Kreg screws.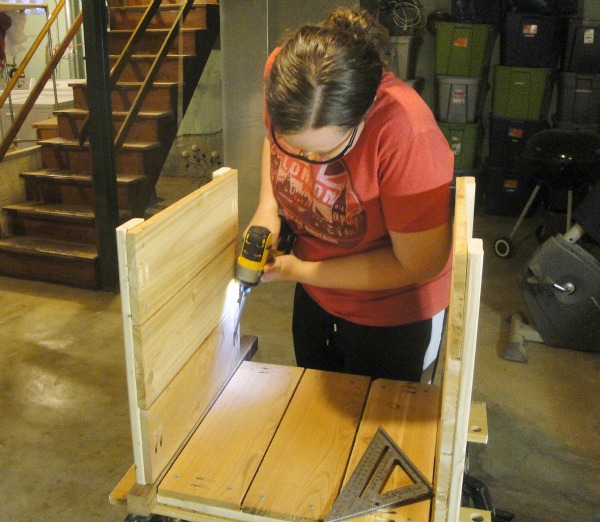 When you finally get that finished you'll have what looks like an assembled planter. The taste of victory is so close but you still need to make a base for all the pretty plants that will fill the planter. You will want to take your 2 remaining 17″ 1x3s and place them several inches down from the top. I used my square to measure the distance and make sure they were level. Then I attached them in with screws but if you have nails handy those are fine too.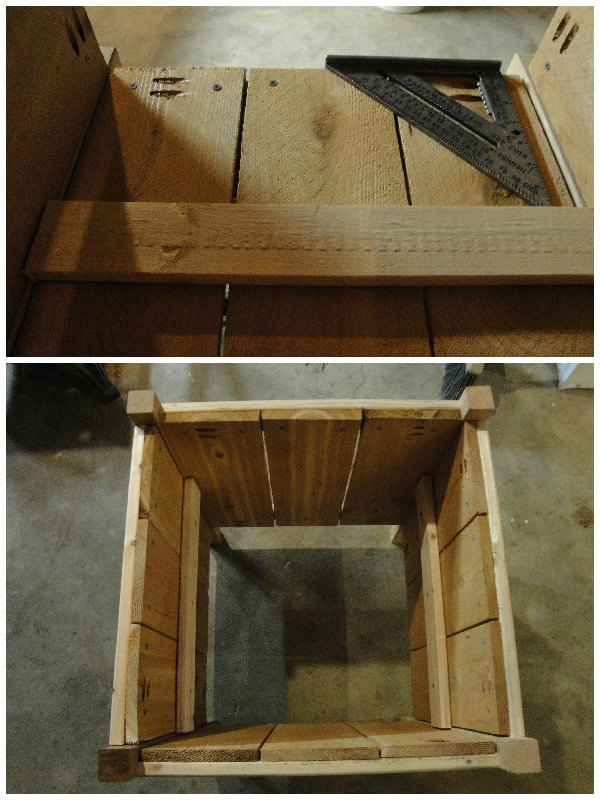 Then to finish the basic planter you'll take your remaining 17″ 1x2s and lay them across the planks, evenly spaced. I failed to do that because I can't just follow instructions. Instead of making a basic planter, I wanted each planter customized to each mom. So at the end of phase one, I had two planters that looked like this: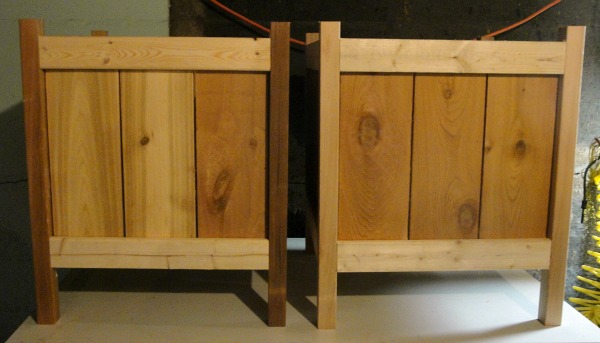 By the end of the next post, you'll see how I was able to customize them to look like this: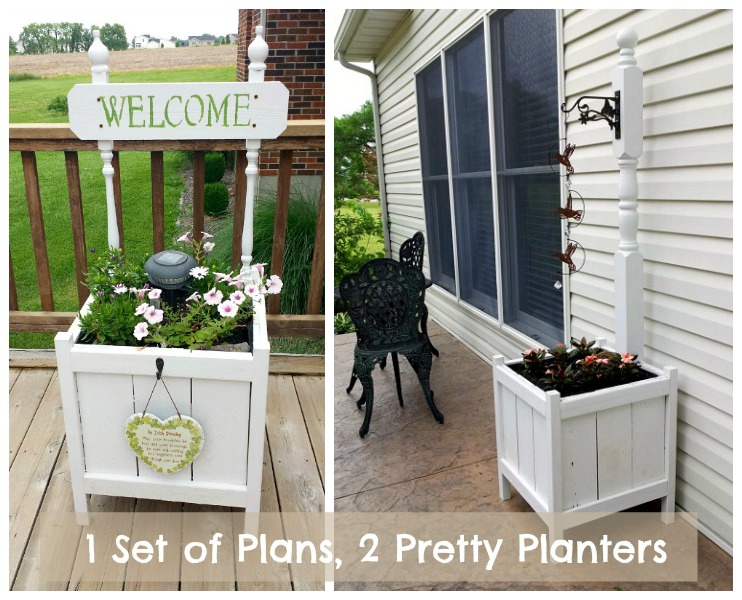 Pin It

I made some baby blankets for my friend when she found out she was pregnant using some of the fabric Moda puts out each year. The fabrics I used were from their Pure line (you can still find it on Etsy) and when I had some leftover pieces I just knew I had to save them because of how adorable the fabrics were. See for yourself:
Well, her son just turned 1 and I realized I still hadn't done anything with those scraps leftover from the Charm Pack I had bought for the quilt. Oops! Thankfully one of the bloggers I follow- Sara at Russet Street Reno came up with a challenge.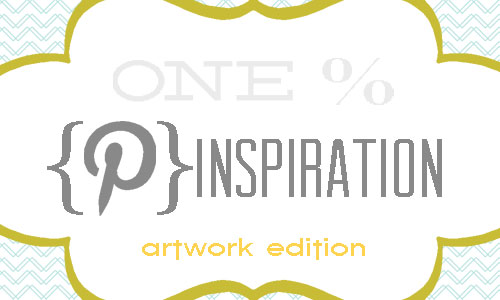 You can click the banner above for all the details but the basic idea is to get off your butt and make some piece of art with all that inspiration you've been pinning on pinterest. Since I'd bought the original materials for a baby, I decided to go the kids route with my DIY artwork. I don't have kids of my own so I am sort of hoping one of my friends will say they're expecting a boy and want it (anyone? where are all my pregnant people at, you can't stop with just 1!) but in the mean time it was a cheap way to get out a burst of creativity.
My inspiration:
I love the idea of animals made out of fabric and I happen to have fabric. I used 3 of the leftover charm pack pieces (a 5″x5″ square) and a $2 scrap of blue fabric from JoAnns. I also found having a fabric marker
and some fabric adhesive
very handy. I first cut out my templates (a dog, a bone, and a pawprint– each is a link to the file I used if you want to give it a go) and then placed the wrong side of the template to the wrong side of my fabric. I traced it with the fabric marker and then cut out the design.

For a more complicated piece like the paw print, after I cut out the individual toes I rebuilt the template so I could have even spacing in the frame, like so: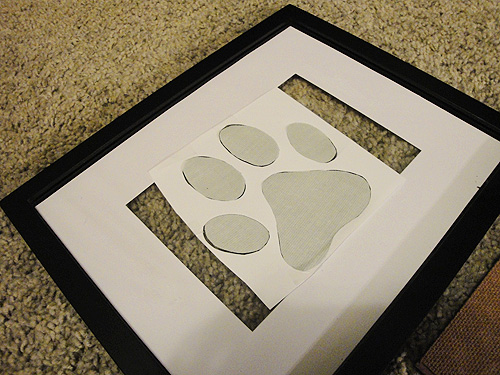 Then I attached the background fabric and sealed up the frame to reveal my handiwork.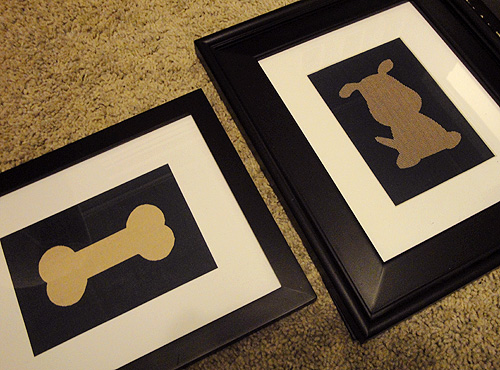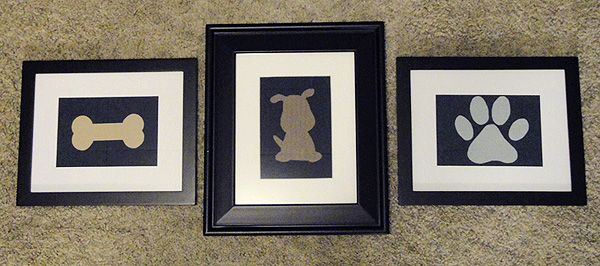 This was a quick and simple project that used up some fabric scraps and cost me just $2 to make. Now I just need a friend to give them to. Anyone?
Update: this post got my friend pregnant! Okay, I'm exaggerating but shortly after this a friend announced she was having a boy so I give credit to the artwork.

Pin It

I've started moving up from craft projects to DIY projects. My husband is a bit of a This Old House addict so we're never short on tools in our house. I first started "borrowing" some of his tools but recently I've made some purchases of my own. Here are some of my top gift ideas for that home renovation junkie or HGTV fan.
DEWALT D26441K 1/4-Sheet Pad Sander
I used my last sander so much that it died in front of me. My new Dewalt sander hasn't seen the same fate. I use it to sand out the uneven walls in my house, decorative projects, and even when I refinished a table. If you plan on refinishing furniture this is a must-have tool.
Martha Stewart Crafts Dual Temperature Glue Gun
How did people live before glue guns? I'm sure you can see the many fine points of a glue gun but I've used mine on fixing up furniture, household items, decorating for parties, or even on my wedding invitations and the rings since there are some great options like the best wood wedding rings you can find online for this. This one is dual-temp so you can use it on wood or metal or even something delicate like silk flowers.
Great Neck Saw 128 Pieces Tool Set
Know someone just starting out? This is the perfect kit for a new homeowner or someone who is looking to start their first home project. If you know someone looking to build up a tool supply, this kit is perfect. Among its many items are a glue gun, a staple gun, an adjustable wrench, 4 screwdrivers, clamps, and even picture hanging accessories.
9 Amp 7-1/4 in. Mitre Saw
Having a mitre saw has changed our house. If you plan on doing trim work or even designing your own frame then a mitre saw is incredibly useful. Prices have dropped in recent years and this one is on sale for the holidays so if you know someone looking to add finishing touches to their home this is a perfect gift idea.
Martha Stewart Living Tester Sampler Interior Latex Paint, 14 Pack
Know someone whose more of the painting type? I'm a recent convert to the Martha Stewart paint line at Home Depot. I've painted my kitchen with her cornbread shade and I've got 2 more of her colors selected for future projects. I think anyone looking to paint their walls or even their furniture will like these samples to give them a good starting color.

I'm a bit of a nerd. No apologies, it's fun being a nerd. There's a lot of people like me out there who love technology and gadgets and you may have no clue what to get them. There are many home devices being made available nowadays, some are very useful when it comes to do tasks at home, you should know about this now! I have some ideas for under $100 you can give to your favorite nerd.
Ceramic Pig Speaker
I can't explain it but there's something darling about this little pig. Instead of a corkscrew tail you plug in your mp3 player of choice and the pig broadcasts the sound throughout your home. For $7 more you can monogram it with your name or even a special pet name.
Nook Simple Touch
I love my own Nook. I didn't want a tablet because the whole point of an ereader is to read on them and the e-ink makes reading very easy without straining your eyes. My battery lasts more than a month even with all the reading I do. I also love being able to just touch the screen to turn the page. If you know someone who already has an ereader, other great ideas are gift cards for books or a nice case for their device.
A Song of Ice & Fire Series
If you know a nerd who hasn't read the Song of Ice & Fire series, it's time to introduce them. This is the series of books the HBO show Game of Thrones was based on. You can buy a 4-ebook set plus the newest book for the nook for just $45 or buy the physical copies of the books for $41.
Wii Fit Plus with Balance Board
You have to know your audience with this one but I got the Wii Fit for my birthday and I love it. It wasn't about losing weight but rather about being active. It's actually a really fun way to work out and I'm surprised by how much energy I use playing with it. For a nerdy person me who already has a Wii it's a great gift idea. The only game that gets as much play in my house is the next item on the list.
Mario Kart Wii with Wii Wheel

This is a game both my husband and I love. Having a Wii is totally worth it if you play Mario Kart. Kids love it almost as much as adults do. It's a great destressor and a fun way to play against a friend if you have a second control. On Thanksgiving weekend there were aunts and uncles playing nieces and nephews, brothers playing brothers, and in-laws playing in-laws.

Stuck on a Christmas gift idea? All this week I'll be suggesting some of my top picks for those hard-to-shop-for people. All the choices are my own and no one is sponsoring them. Today's target: the entertainer. If you're looking for something for a mom or a friend who likes to entertain, prepare food or just serve it up for a crowd then here are some great ideas for you.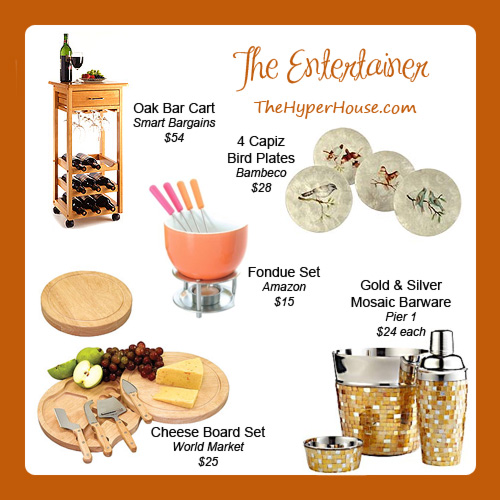 Oak Finished Bar Cart
This cart holds glasses and 9 wine bottles. It even has a drawer to hold all the wine accessories you (or your friend) have. (no longer available)
Capiz Eco Bird Plates, Set of 4
These would look beautiful on a table or just displayed in a china cabinet. The capiz shell plates are made from mollusk and lacquered for durability.
Orka Chocolate Fondue Set

What's a better gift for an entertainer than a fondue set? This isn't your classic 70s set; it has sleek modern designs and 4 forks to help friends dig in. It keeps itself warm via a supplied tealight candle.
Circular Cheese Board and Tool Set
On top you can slice your fancy cheeses and hidden inside a swivel bottom are all your fancy tools to do the cutting. Break this out whenever you break out one of the wines from your bar cart.
Assorted Gold & Silver Mosaic Barware
What a great gift that can be used over the Christmas holidays or even over New Year's. You can choose either a bottle coaster, shaker, or champagne bucket in the brilliant design.