Tagged with "ornament | The Hyper House"
You've probably seen these glitter ornaments all around but naturally I had to have a go at it. These were surprisingly easy. You'll need two funnels, mop and glow (I used an off-brand), clear ornaments, and some fine glitter.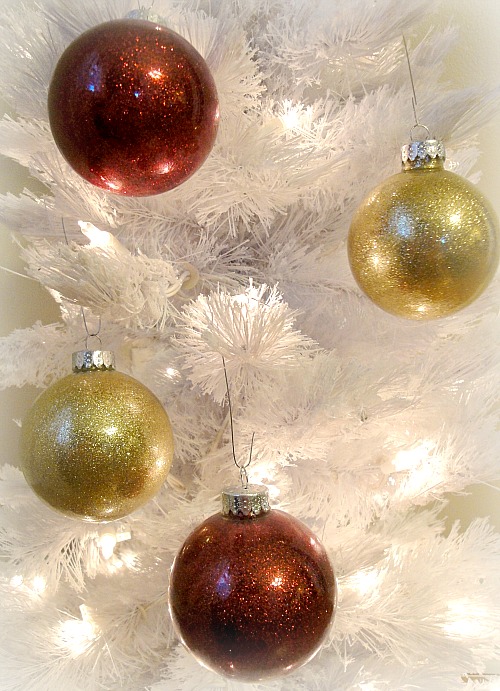 I poured about a half tablespoon of the mop and glow into the ornament via the funnel, then I placed my thumb over the top and gently swirled the cleaner around. Make sure to get it coating the entire inside of the ornament. Don't shake it, that will make bubbles. Use your second funnel to pour in about a tablespoon of the glitter. Now you can place your thumb over the top and shake it till the glitter coats every last inch. Pour your extra glitter out to reuse on more ornaments or another project.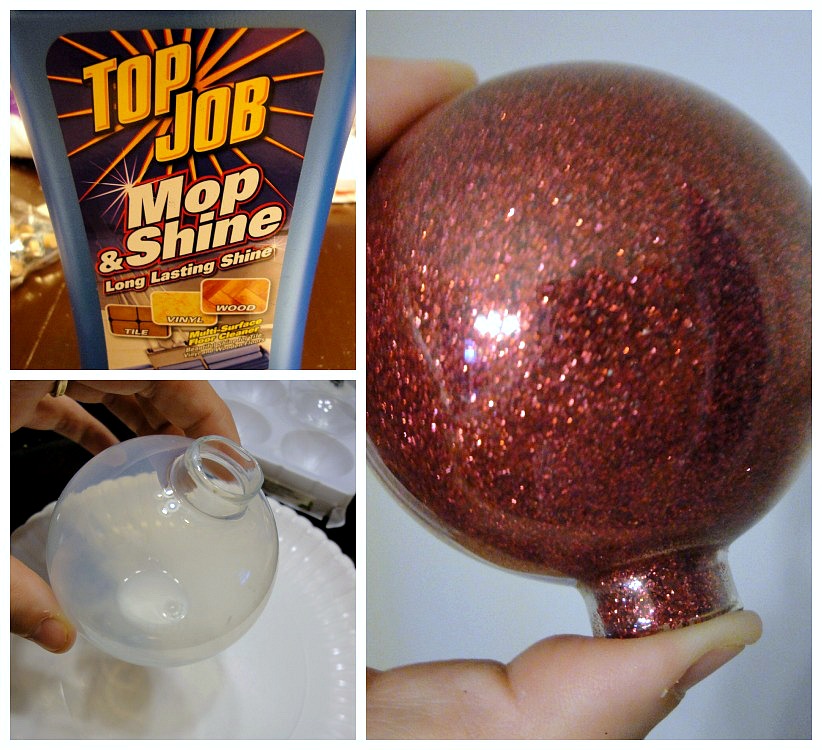 You can let it dry a bit right on your tree. That's how easy it is. Here you can see how I paired up the gold ribbon ornament and the gold marble ornament with my gold glitter ornament.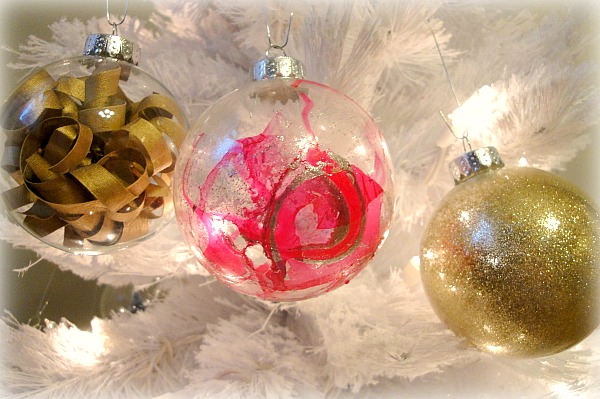 I hope you all have a Merry Christmas this year. I'll take tomorrow off to spend with my family and hopefully I'll have some fun things to share later this week. Happy Holidays everyone!
Pin It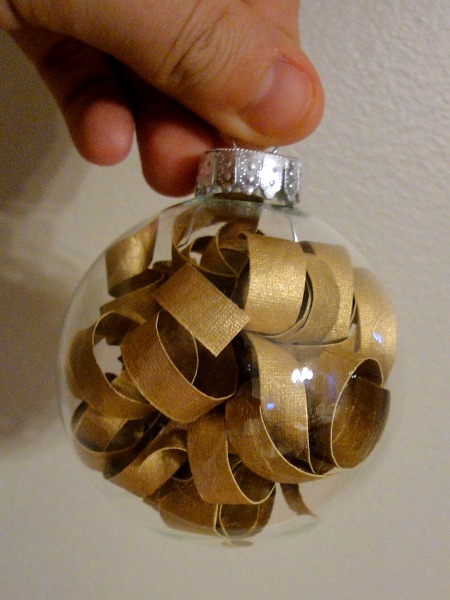 Today's ornament is a really simple one that adds some texture to a Christmas tree. I found some gold paper on clearance at Michael's while I was picking up the clear glass ornaments. When I got it home I decided to cut it into quarter inch strips with my paper cutter.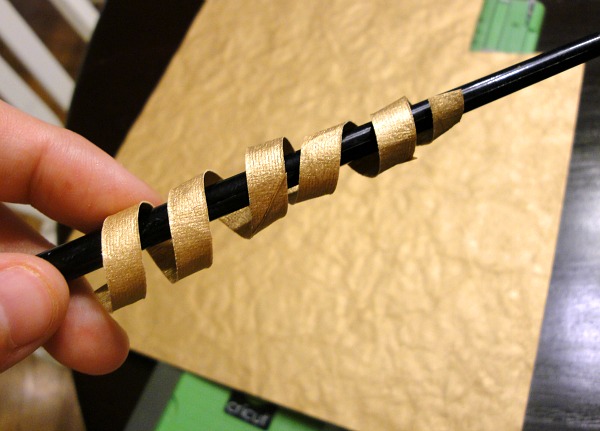 Once you get the strips cut (I used a dozen per ornament) wrap them one at a time around a pen or in my case, a chopstick. I would wrap them tight at an angle and then let go for the effect you see in the photo above. Have some variety in how tight you wrap or at what angle. The goal is to have a bunch of little ribbons made of paper. Then just gently slide each strand into your ornament one at a time.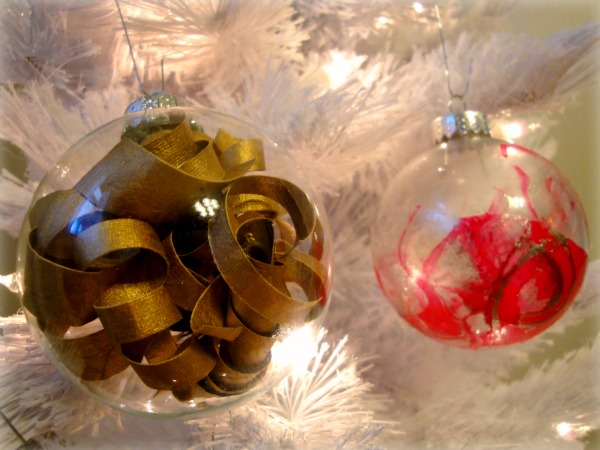 When they're all in, give the ornament a little shake just so they all jumble together. Here it is on my tree with my marbleized ornament in the background. See how well they coordinate with the gold color in each of them? This is a great filler ornament to pick up some colors and make for a matching tree.
Pin It

Last year a lot of people made homemade snowglobes with mason jars and little Christmas decorations. I was inspired by the idea but wanted to go even smaller. I again took some Michael's clear ornaments and used them for this project. My other key supplies were fake snow (leftover from my snowman ornament), hot glue, a funnel, tweezers, and mini Christmas trees a little less than an inch tall.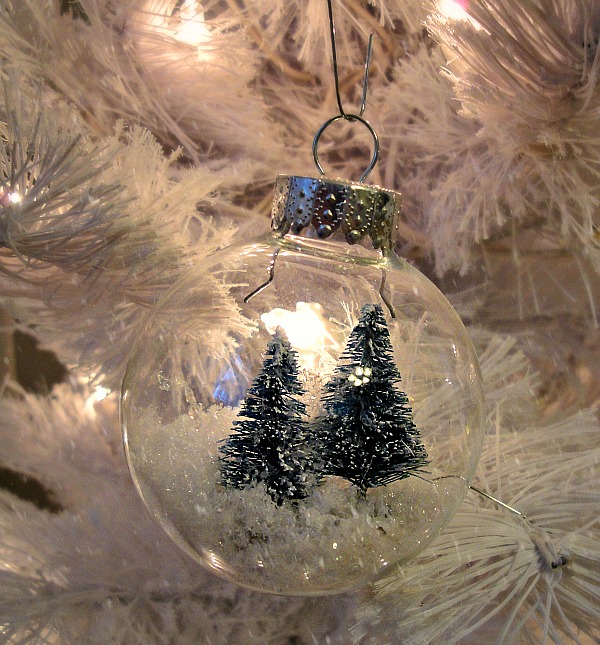 Start by taking the top off your ornament and sliding the tree in with your tweezers just to check for fit and placement. When you find a look that works for you, pull the tree back out, plop a little hot glue on the bottom of the tree, and then quickly slide it back into your ornament, pressing firmly but not forcefully into the bottom of your ornament and hold in place just until the glue is set.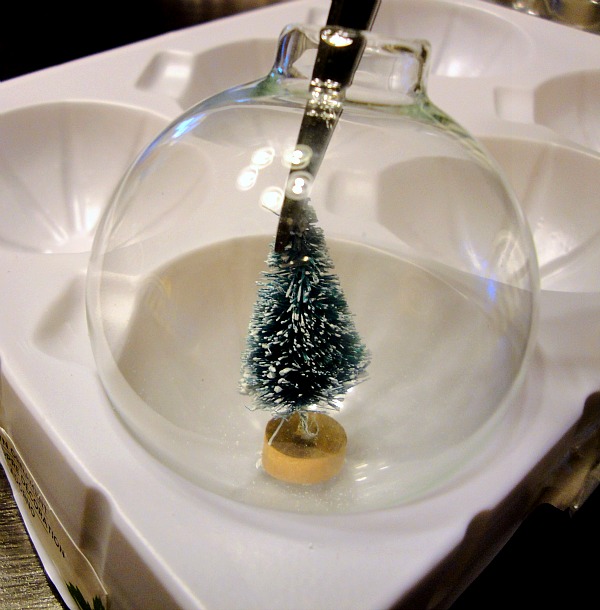 Your next step is to take that fake snow and sprinkle some into your ornament. I found it easiest to push it in with a funnel but your mileage may vary. Just add a little at a time till you like your level.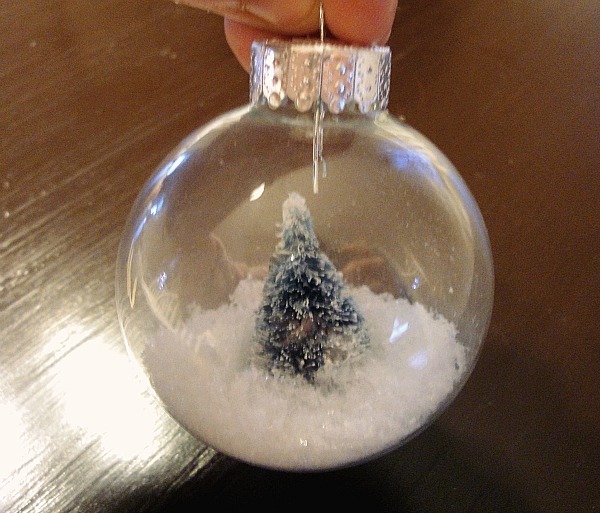 You can mix this ornament up in a few ways. I added two trees in one of mine like the one at the top of the post. I also think adding in a mini house with some snow could be adorable too. The idea is just to make an Christmas ornament with a beautiful winter scene inside.
What does your favorite winter scene include?
Pin It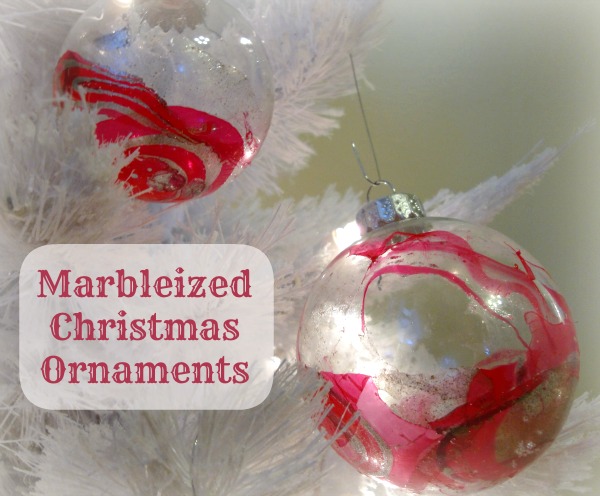 I'm sure all you Pinterest junkies have seen this tutorial on how to make marbleized nail polish designs.
When I was making my Christmas ornaments, I wondered if this would be possible to adapt onto the ornaments using paint. Sadly my acrylic paint was a major fail so I decided to go a little crazy and just try out some nail polish to see what would happen. My first experiment came out a little blah but it definitely showed promise. I rewatched the Youtube video and remembered to help spread my first drop of polish out a few inches and then gave it another shot.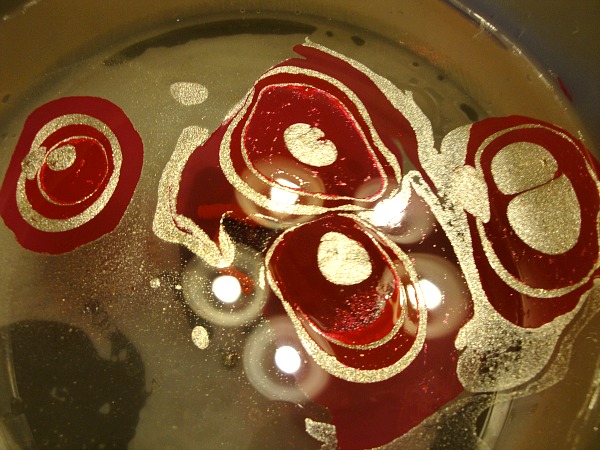 You'll want to start with a plastic container filled halfway up with water and at least 2 shades of nail polish. The key here is to drop 2-3 drops in the center of your last circle. I alternated a drugstore red shade and gold shade, dropping each in the center of the last drops. The next step is to dip your ornament into the center of your marble pattern. I dipped the ornament's bottom in not realizing it wouldn't be very visible that way. Try instead to dip the side of your ornament in.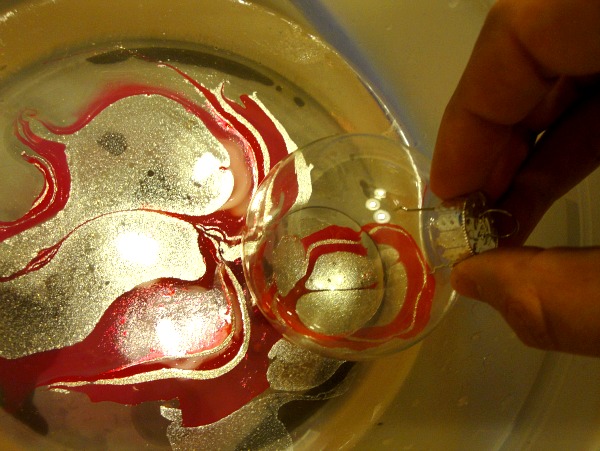 The polish will "catch" on your ornament and will stick to the curve of the design.
Depending on how you pattern your water design (this one had 3 separate circles inside of one big circle) you will end up with ornaments that can look similar or completely different.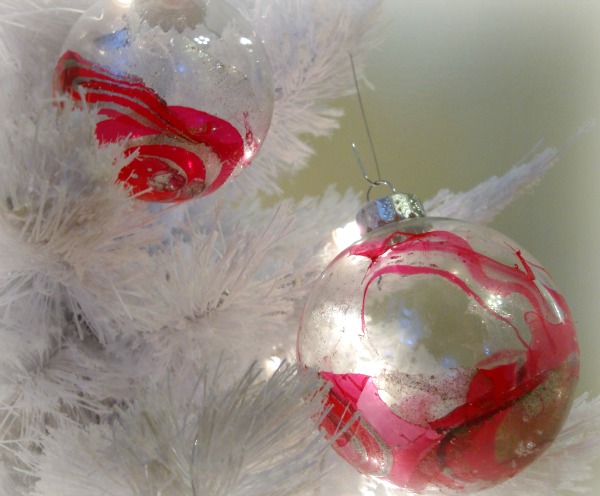 I love how these came out. If you screw up, the effect is abstract so you can just pretend it was part of the look you were going for. These were the most complicated ornaments I made and also one of the most forgiving. I'd love to see these in different colors and designs and I'm already thinking I might have to go pick up some turquoise nail polish for my peacock-themed tree I do each year.
Pin It

This year I wanted to challenge myself to create 5 different types of ornaments from those clear glass ornaments you can find at craft stores. I spent this past weekend trying to be creative and think of some new ideas. I wouldn't normally share Christmas projects before Thanksgiving but I know Black Friday will have some deals at Michaels and other craft stores so I wanted to share some ideas with you before you hit the sales.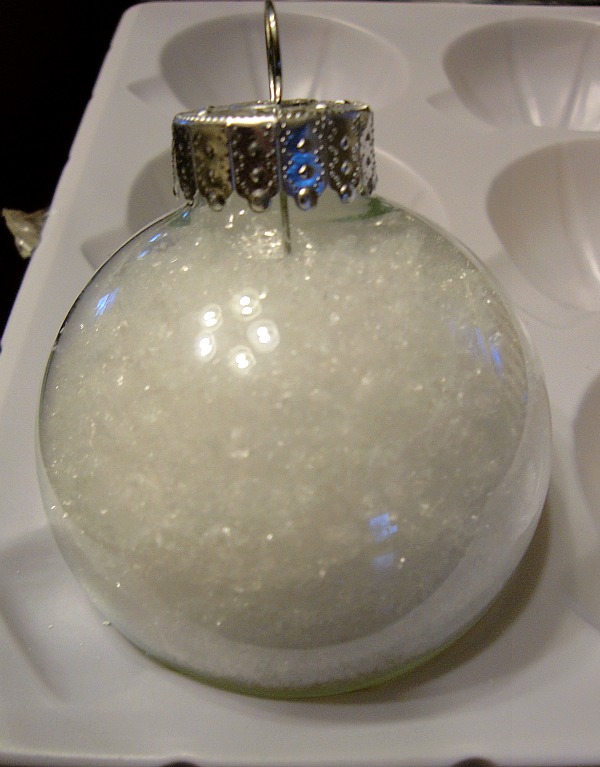 Today's idea is one perfect for having your grade school aged kids help you put together. Just fill a clear glass ornament with some fake snow. You might want to use a funnel to help pack it in. Set up some black and orange craft paint and let the kids go wild painting on a carrot nose and some eyes and a mouth made out of "coal". Your end result will look something like this.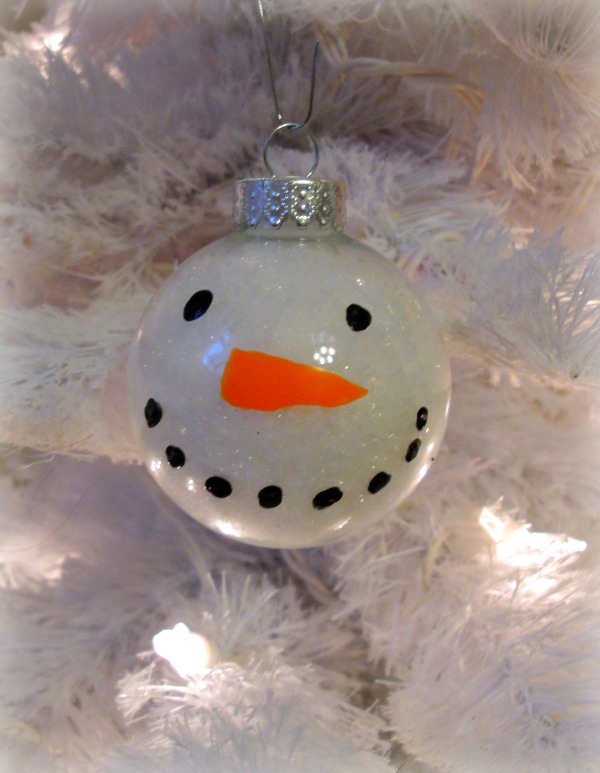 It's an easy way to dress up some ornaments. I'll be sharing some more ideas for jazzing up clear ornaments over the next week or so. They'll vary in difficulty so you can find a style at every skill level.
Pin It