Tagged with "sewing | The Hyper House"
I have this giant chalkboard in my kitchen that has at times had anything from a dart board drawn on it to shopping lists and meal plans and even a cock fighting ring drawn on it. (Yes, that really happened)
For summer I envisioned an actual theme to the board. I wanted a big banner with all my summer goals below it so I could try to do all the cool hipster things like picnics in the park, a drive-in movie, and music festivals. I had no clue my summer would have so many days over 100 degrees and my summer goals would shift from fun outdoor things to hiding inside with the air conditioning. Before that reality hit, I did manage to make myself a cute banner for free.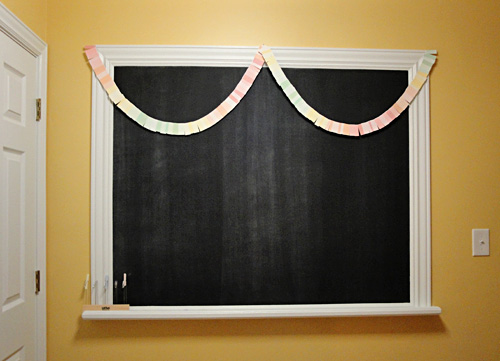 To make this banner I took 16 paint chips, 4 in each shade I had laying around. It's a good thing I went through a pastel phase last year but I wish I'd been into blues and purples too. Still, my color selection was pretty nice and coordinated with my walls very well.
I cut the labels off each paint chip and then cut each paint chip into 3-4 usable pieces vertically before cutting each color into its own strip. Don't try to be perfect here, having some variation makes the banner have more character. I separated each color into a pile (so green, pink, orange, and yellow) and pulled 5 or so at a time randomly from each color stack. I started with my pink stack choosing 5 of the different shades and overlapping them while sewing slowly over the top. Then I added on orange, then yellow, and then green before returning back with yellow, orange and red. Just go slow while sewing through paper and you've got it.
I left long ends at both the beginning and end of my banner rather than cutting them off so I could easily hang them from my chalkboard.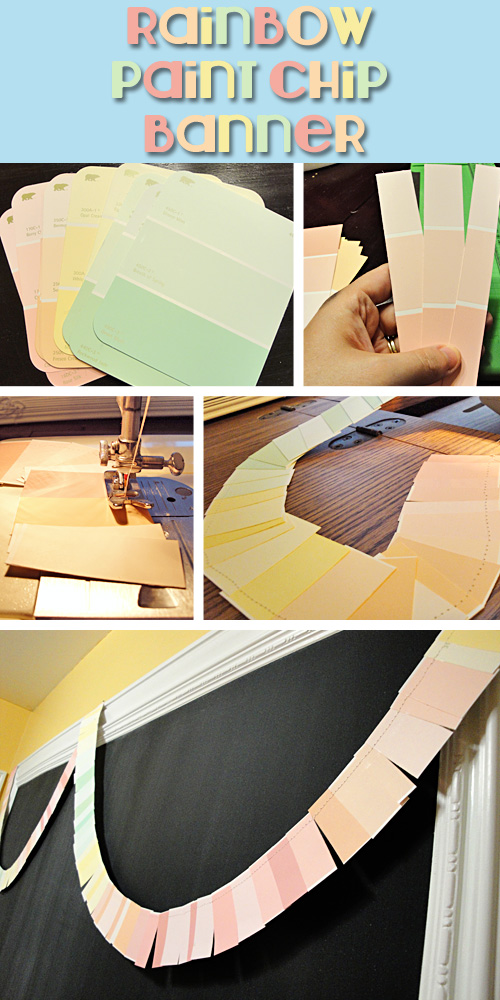 The banner hung for a month because I just couldn't think of anything worthy of the fun design. Luckily, my husband is much more creative than I am. My birthday was at the end of July and I woke up on my birthday morning to see him designing a masterpiece.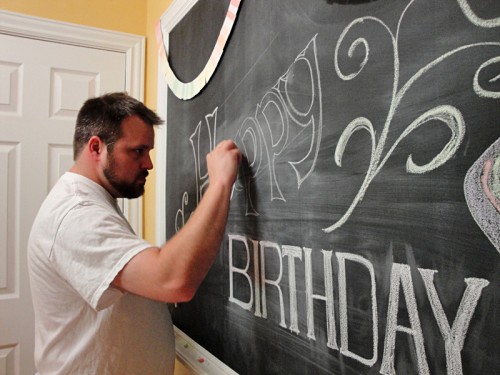 I don't talk too much about my husband Daniel but he's a very talented man. He wanted to be an art major in college before settling on computer science instead. He's really the creative talent in our home. He takes care of all the appliance repairs in the house, and rarely do we have a defunct appliance lying around the house (it's a different thing that we choose only the best from the market). I'm more abstract in my ideas but he can put anything to paper and make it happen. He designed the chalkboard and the artwork on it. Back when we made this room while I decided I wanted a room "full of sunshine" and I chose tile and paint to make it bright but I think he delivered the sunshine for my rainbow with his masterpiece.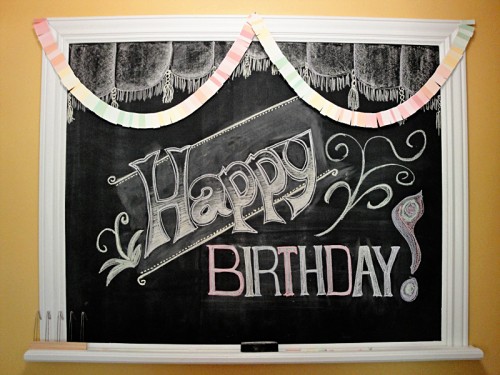 Pin It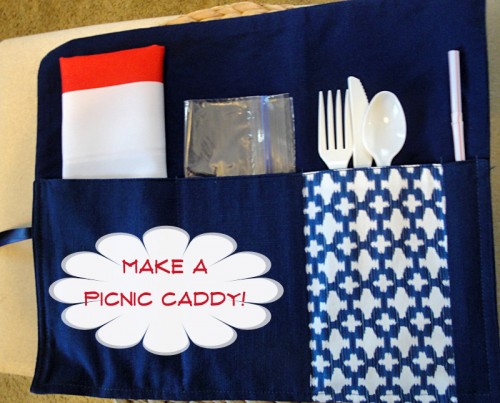 As part of my picnic project week, I wanted to make some great supplies for an actual picnic. Last time I went on a picnic it was during a hike at Castlewood State Park with my husband. I had planned ahead, discovering that there were some tables next to the river right at the end of one trail and before we started our second trail. When we went to sit down, some workers told us they were moving the table, leaving us with nothing to sit on. So much for that idea! I also forgot to bring napkins so I was woefully unprepared for lunch.
I wanted to be more prepared before our next hike or picnic in the park so I brainstormed a few ideas but nothing was as great as this picnic caddy I found on Snowy Bliss. As you can see above, I already had some cute blue and white plates from Target so I went back to the store to see if they had any placemats or napkins in the same line. Sadly the line was being discontinued but that meant I got the last 2 placemats on clearance. Score 1 for me!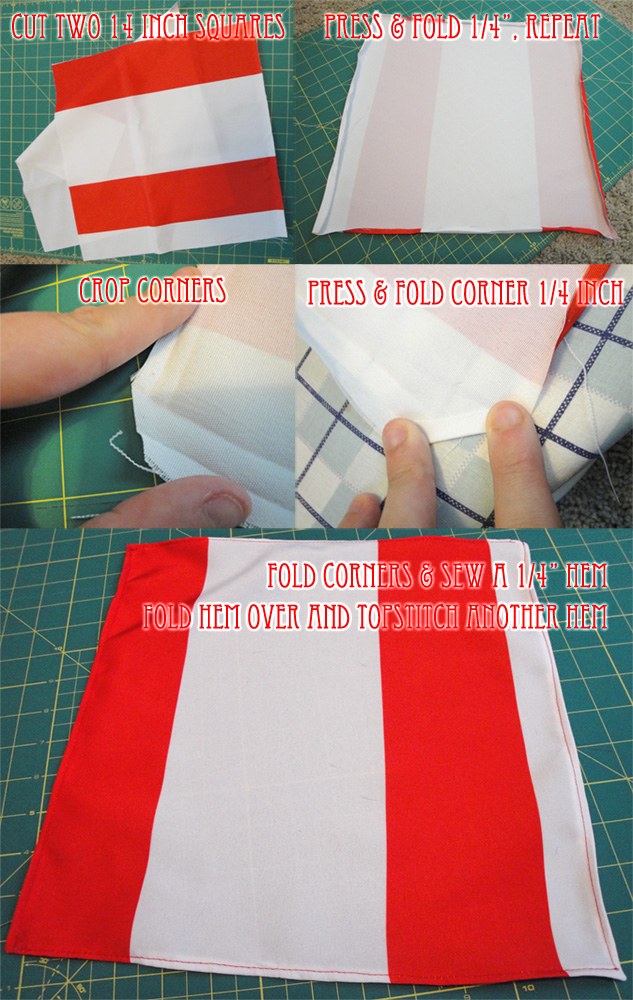 I didn't manage to find any cheap napkins so I decided to make my own. I used some fabric leftover from my striped porch pillows and made two handy napkins. Jen Giddens has a great tutorial for making napkins if you've never done your own. I followed the same method using a 14 inch square when making my own. Jen has drawings of the process and technical details while I just have some pictures.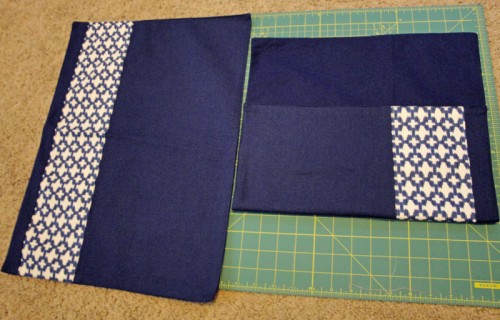 Now back to the picnic caddy. My first goal was to have all the items I wanted to place in my caddy. I now had the napkin, some plasticware (I'm hoping to upgrade to reusable items next time I'm at the store), a straw, and a plastic bag for trash or leftovers. Since I had those, I was ready to proceed with the actual construction of the caddy. You'll want to turn your placemat short side up and fold your placemat up till you find a height you like. I did this to the placemat on the right in the photo above.

Now the cool part about this picnic caddy is that it will roll up in the end. To help it stay put, you'll want some ribbons to tie it shut. I used some 1/4 inch ribbon for this. I cut it 1 yard in length and then cut it into quarters. Take 2 of these 1/4 yard quarters and line them up together on the left side of your folded up placemat. When you find a position you like, pin it in place. Pin both the left and the right sides together.

Now you'll want to topstitch around the edges. Remember to sew only where there are two layers of fabric. Since you're topstitching, sew about 1/4″ or 1/8″ from the edge. In the photo above I show you the path to follow when sewing. Make sure to sew right over where that ribbon is.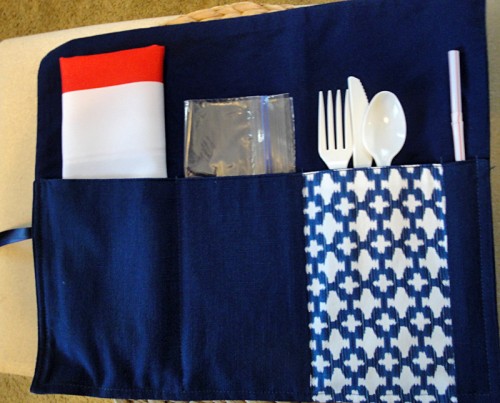 Lastly, find an arrangement you like for your napkins and other supplies you gathered at the beginning. Sew in straight lines to make holders for all the items. I took advantage of the pattern in my placemat to hide some stitches by stitching in the ditch (aka sewing inside of the seamlines already there).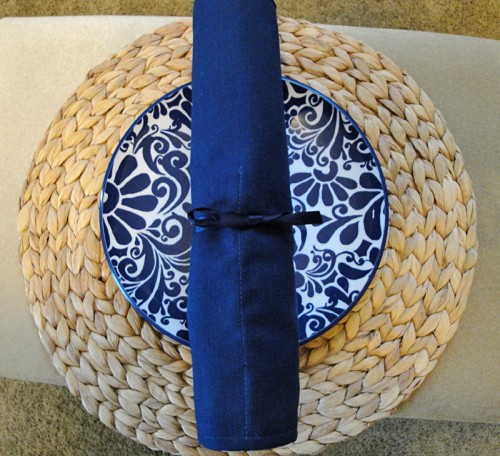 Now just roll it up and you're good to go! I love how tiny the picnic caddy rolls up to be so it won't take up much room in my bag or a picnic basket. It also nicely matches my plates. As a bonus, should the parks crew every steal my picnic table again, I have an actual placemat to eat off of. That's right, I will be dining in style on my next picnic.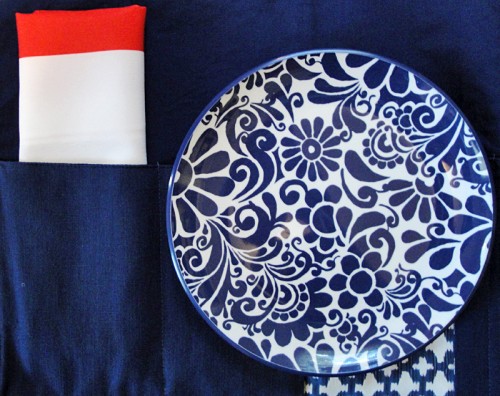 Linking up:
Over on my facebook page I've asked everyone what their favorite picnic foods are and I wanted to ask it here too. I love a good fruit spread or even just an apple or an orange while my husband insists on pudding cups for every picnic. What's your must have?
Pin It

I recently bought some resin Adirondack chairs (in blue) for my front porch. My house is white and my front door is red so I wanted to tie the color palette together with some Americana influences. I decided that pillows would be the easiest way to do this. My shopping trip left me disappointed. I could only find really expensive pillows or those with an old fashioned feel so I decided I'd just have to make my own pillow covers. I bought some waterproof amazon pillows. If you purchase a pillow from Amazon, you can rest assured you are getting the real deal.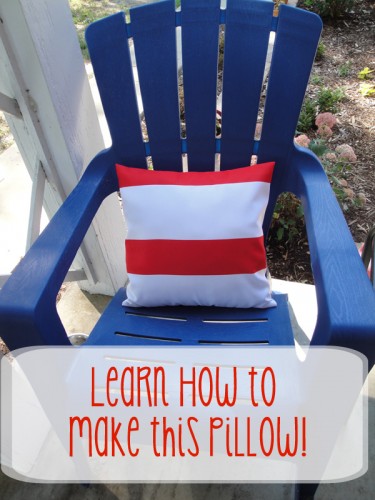 The solution: a Target shower curtain. The modern rugby stripes matched my color scheme, the size of the fabric meant I'd have fabric leftover for future projects, and the shower curtain would add some waterproofing making the pillows more durable. I also came up with a pillowcase design that resembles a sham. That way you get a seamless look from the front but you can just pop the cover off and throw it in the wash.
Supplies
This design can be made in under an hour. The main skills you need are measuring skills and the ability to sew in a straight line. You'll sew 4 straight lines per pillow. You'll need a flat surface, yardstick or ruler, a cutting device (rotary or scissors), washable fabric marker
, an iron or pins (check under "making the hems" to see which you need), matching thread, and a fully stocked sewing machine.
Cutting the Fabric
First up, you'll need to make the cut. Well, cuts. I have 2-16 inch square pillows so I used a simple bit of math to calculate the size of fabric I needed to cut out.
pillow height + 1 inch = fabric height
pillow width + pillow width + 8 inches = fabric width
If you want to cheat and avoid some grade school math, just get 16 inch pillows like I did. My fabric height was 17 inches (16+1=height) and my fabric length was 40 inches (16+16+8=40). I marked the first 17×40 inch section on the fabric and cut it with a rotary cutter
, though scissors will work just fine.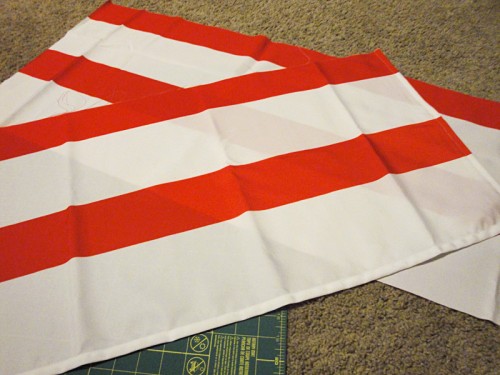 Since I was using striped fabric and I wanted the pillows to match, I cut off some excess fabric before cutting out my second pillowcase section so the stripes would start at the same position for both fabrics.
Making the Hems
You'll want a finished edge on these pillows so step #2 is to hem some edges. If you use a normal fabric you can use your iron to hold your seams but since my polyester wasn't holding an ironed hem, I used pins to hold the edge.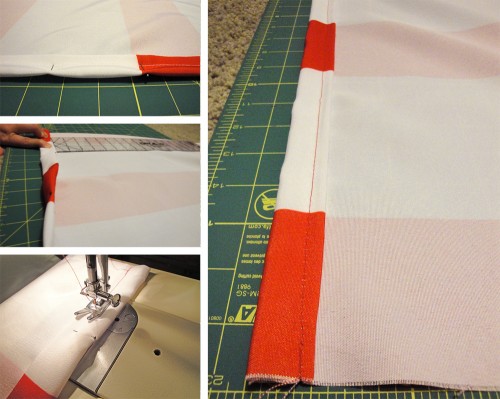 Place your fabric right-side down. You'll first want to fold over both of your short edges 1 inch and iron or pin it in place, then fold that same edge over 1 more inch and iron or pin this edge securely. You'll want to sew each of these hems in place by topstitching through all three layers of fabric. I sewed about 3/4 of an inch from the right (folded) edge. Make sure to repeat this step for all the short edges on your pillows.
Creating the Pillow
Place your fabric right-side up. You should have something resembling a placemat in front of you right about now. You'll want to measure out the halfway point on the long side of your fabric. I started with a 40-inch length of fabric and used up 4 inches making the seams (2 inches per side) so my fabric should be at 36 inches long now. I'll want to make my center mark at 18 inches.
This next part is a little counter-intuitive so make sure to read it twice before attempting. My pillow is 16 inches in length so half of that is 8 inches. Place a ruler next to the edge with the 8 inch mark (or half the pillow length) of the ruler at the center mark on the fabric. Make sure your ruler is facing with 0 on the right end of the ruler for this part. Watch the images for clarification.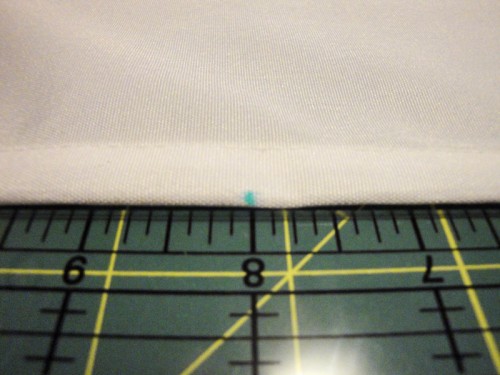 You'll want to take the left (short) edge of your fabric and pull it toward the center. Pull the fabric until the folded edge lines up with the 16 inch mark (or your pillow's length) on your ruler.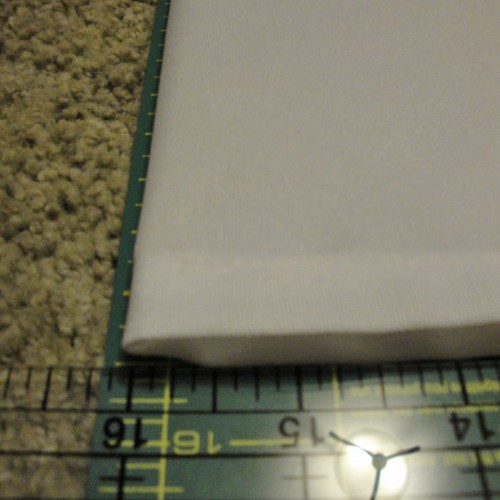 Now take the right (short) edge of your fabric and pull it toward the center. Pull the fabric until the folded edge lines up with the 0 inch mark on your ruler. Your fabric will overlap near the center.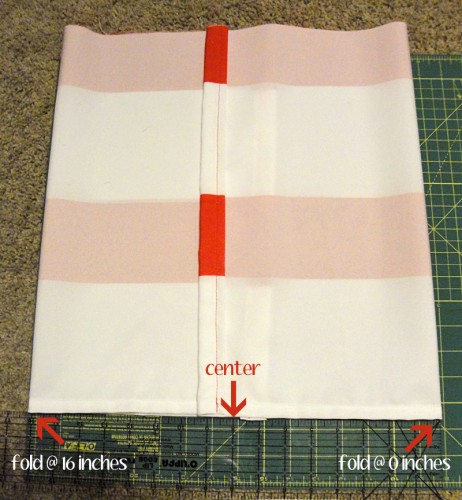 Now you'll need to pin the bottom raw edges together. Repeat with the top raw edges.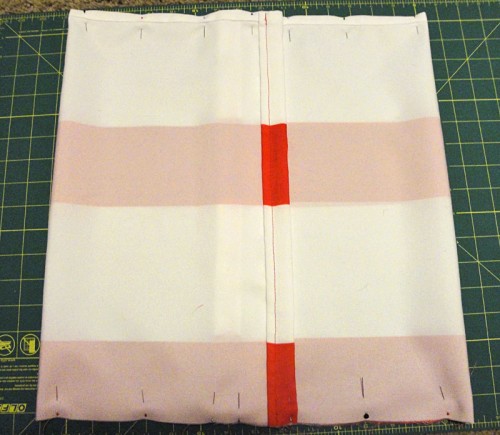 Sew a half inch seam along the bottom edge. Then sew a half inch seam along the top edge. Repeat with your second pillow.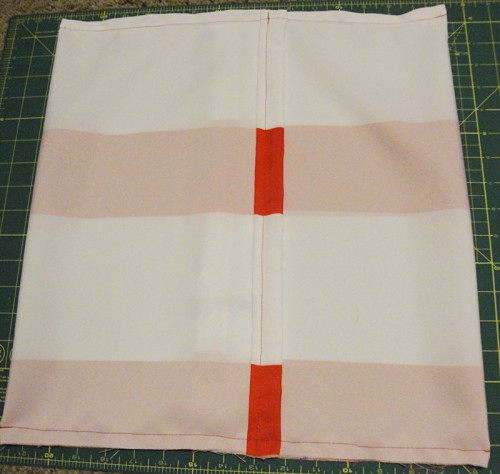 Turn your pillow case inside out, pushing out the corners firmly.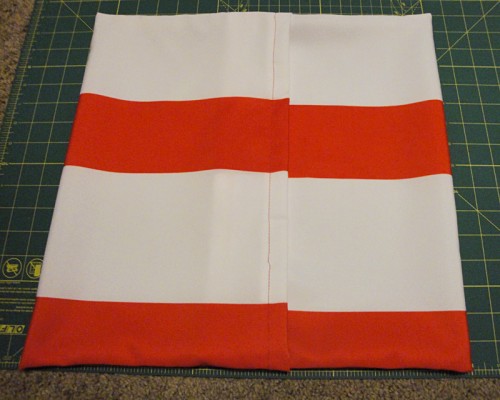 Now you can just slide the pillows into the pillowcases and you are set! The hardest part of this project is just the measuring. With 4 straight lines even a beginner can sew these pillows. See how they add that pop of color my front porch needed.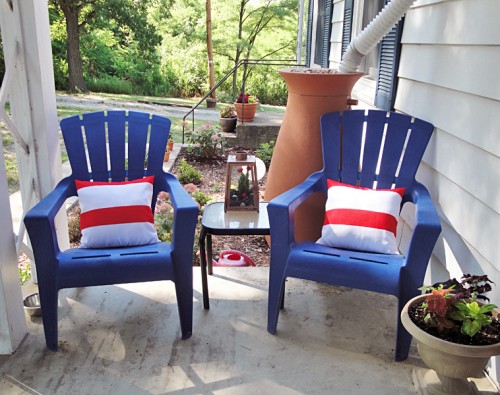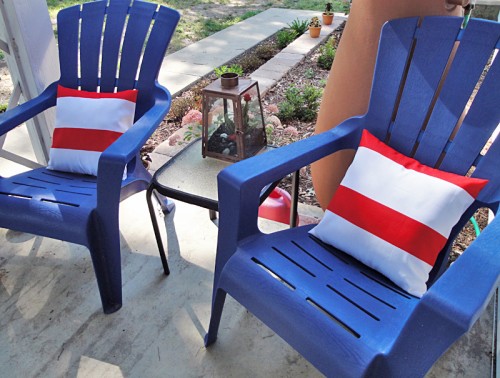 Pin It