Tagged with "shopping | The Hyper House"
On Wednesday, September 30, the 41st Ikea store will open in St. Louis. Residents can begin lining up on Monday morning but today I managed to get a first look at the brand new store as part of their Ikea Friends and Family Preview Day.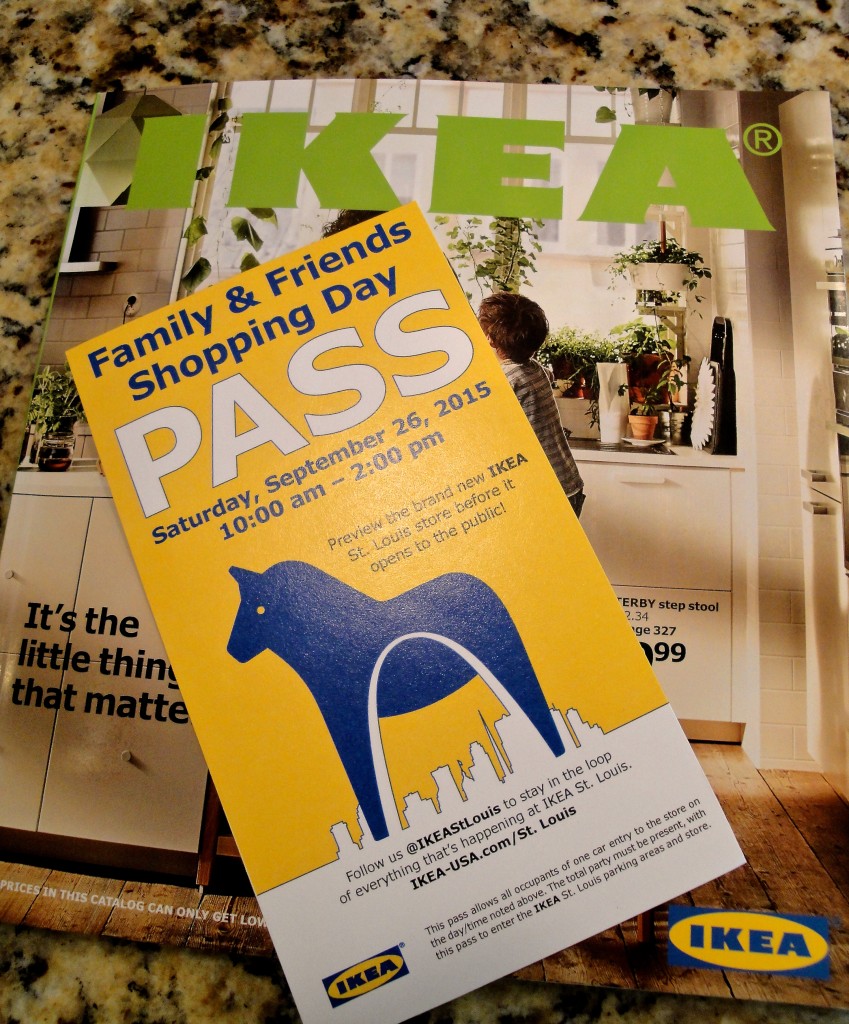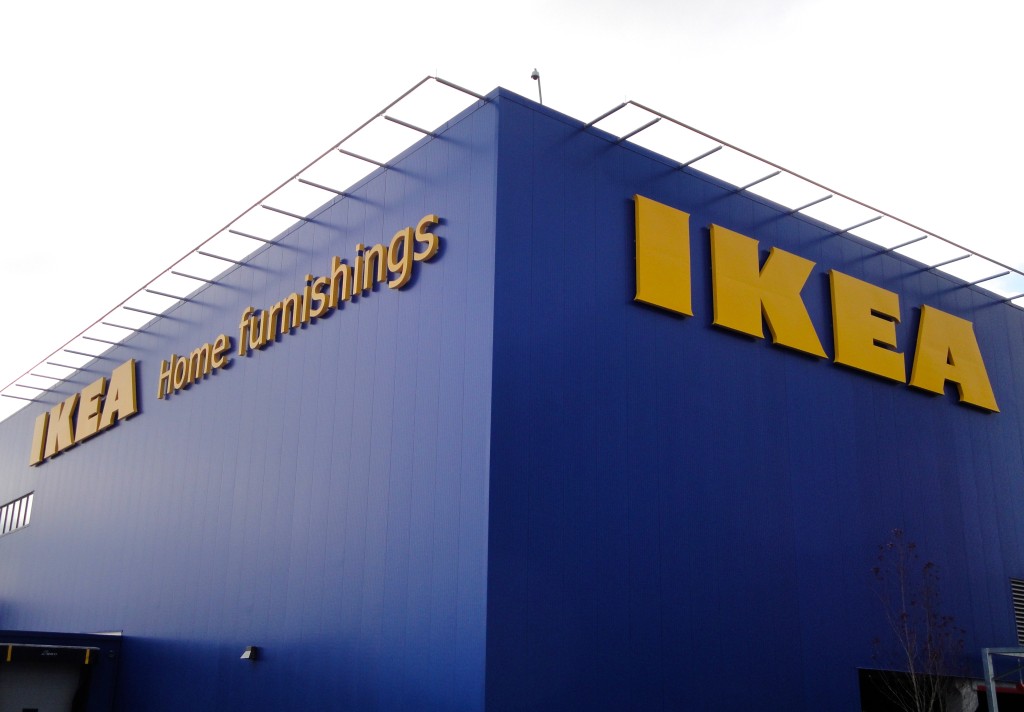 The place was packed for a preview day. As soon as we got inside workers were cheering, handing out bags, maps, anything you could possibly need.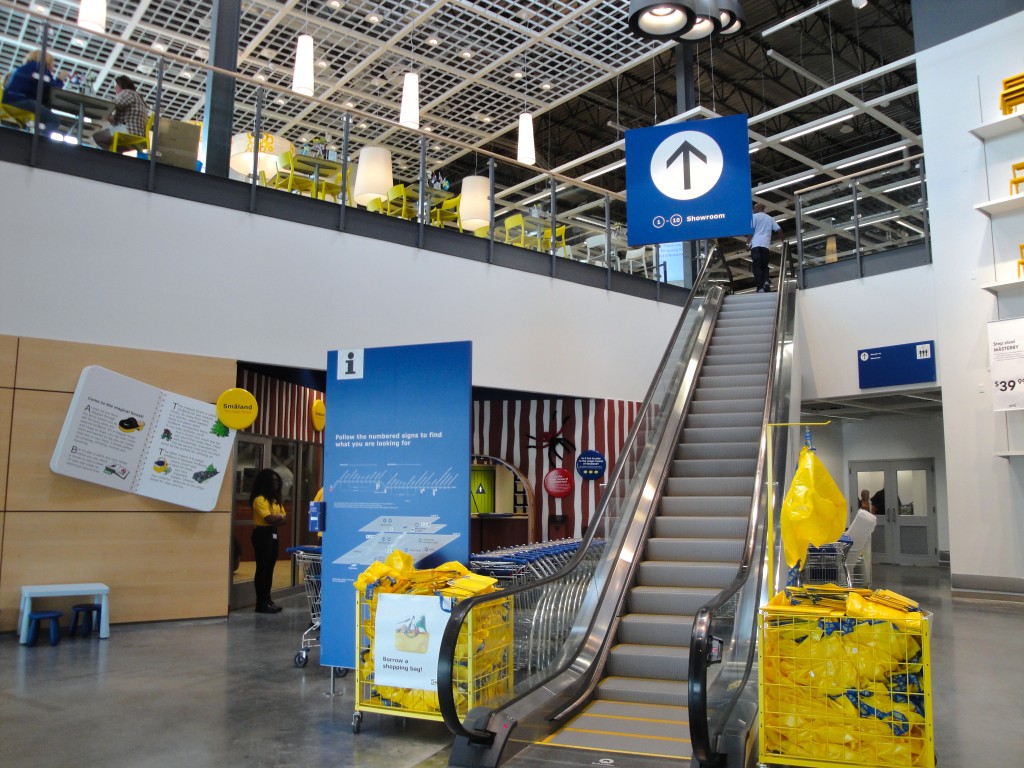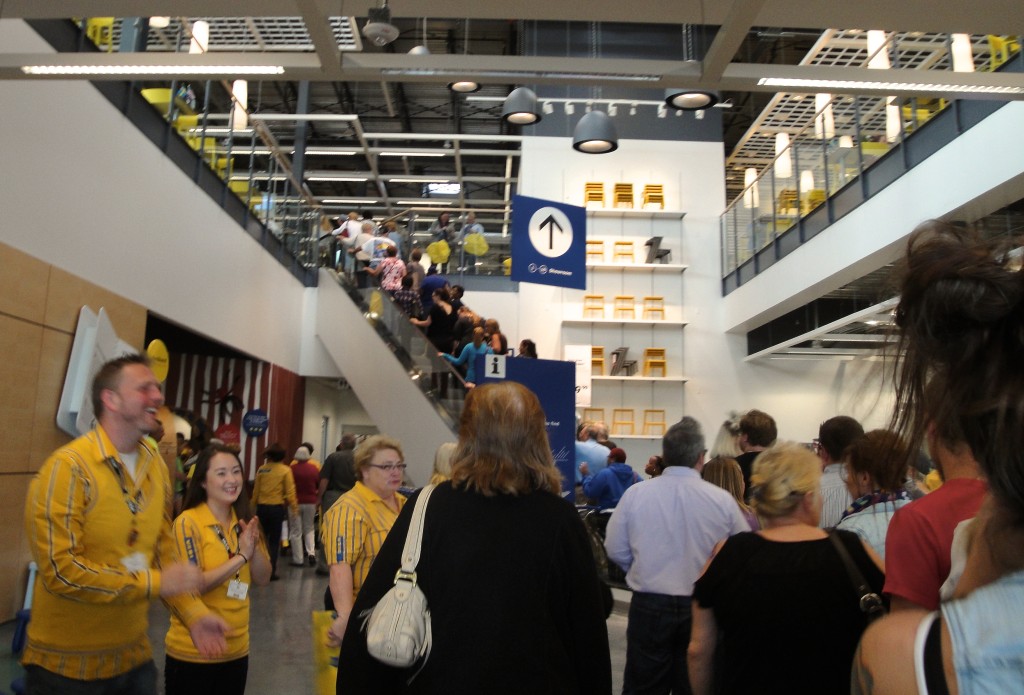 For me on this shopping day, I wanted to mostly stake out the store layout and some new pieces like bamboo blankets. I work only a block away from the new Ikea so once the fuss dies down I can pop over on my lunch break and grab what I need.
One of my favorite things about Ikea are the room displays. I love seeing wonderful ideas on how to use the products and how to think of new ways to enhance my home.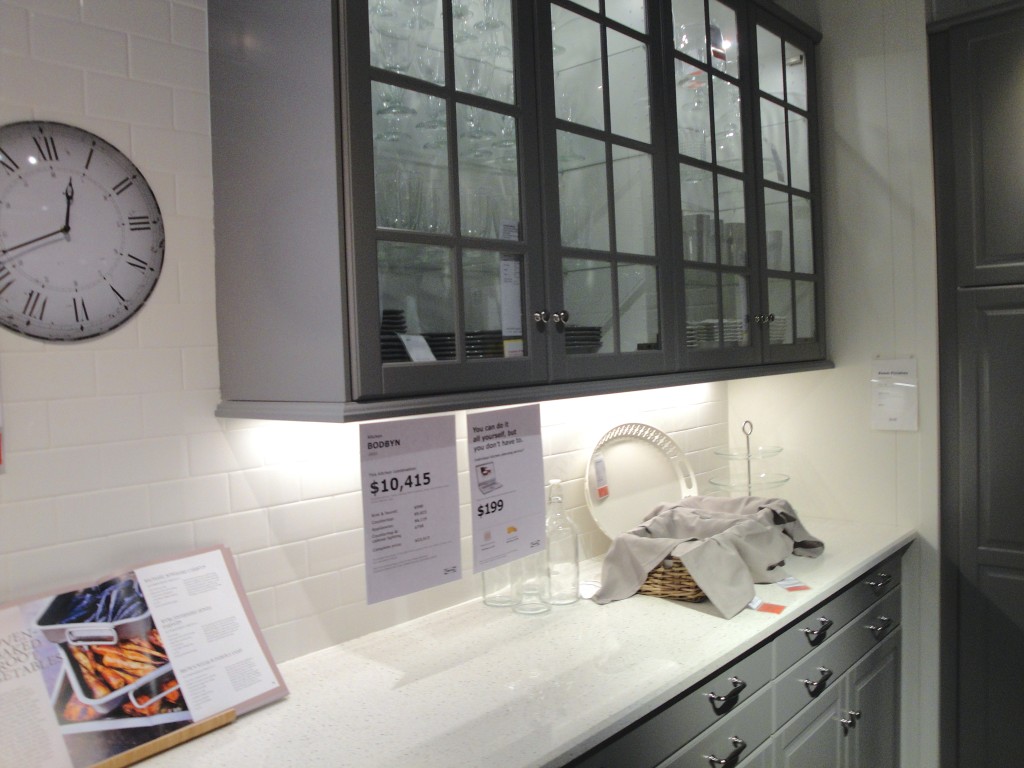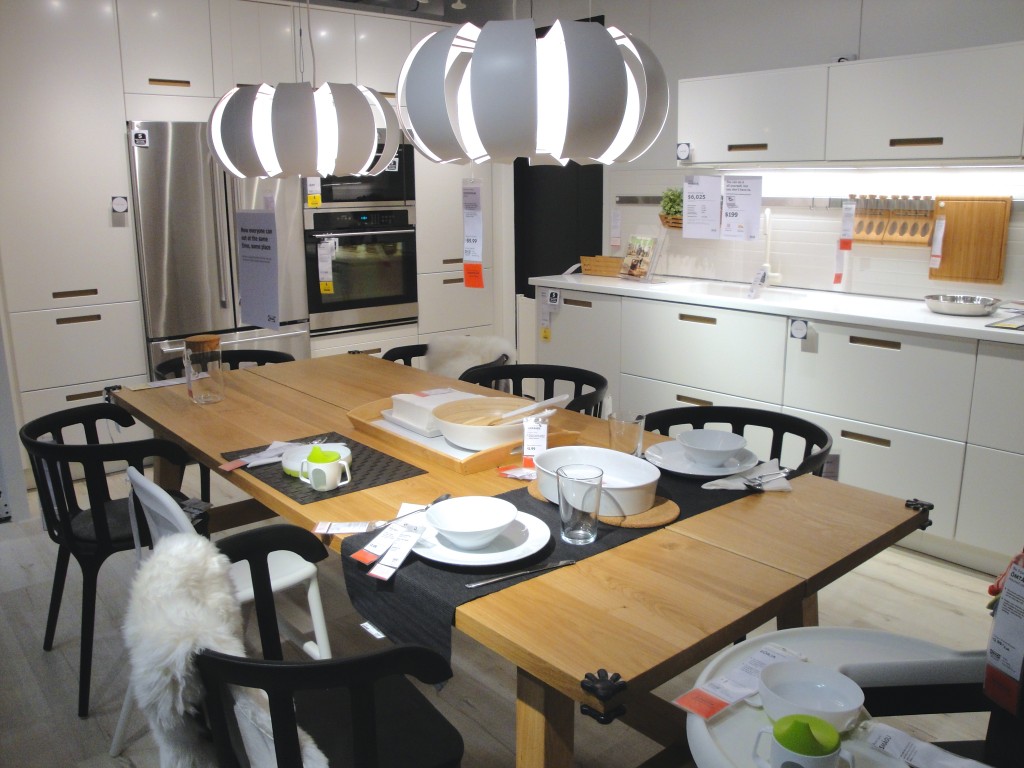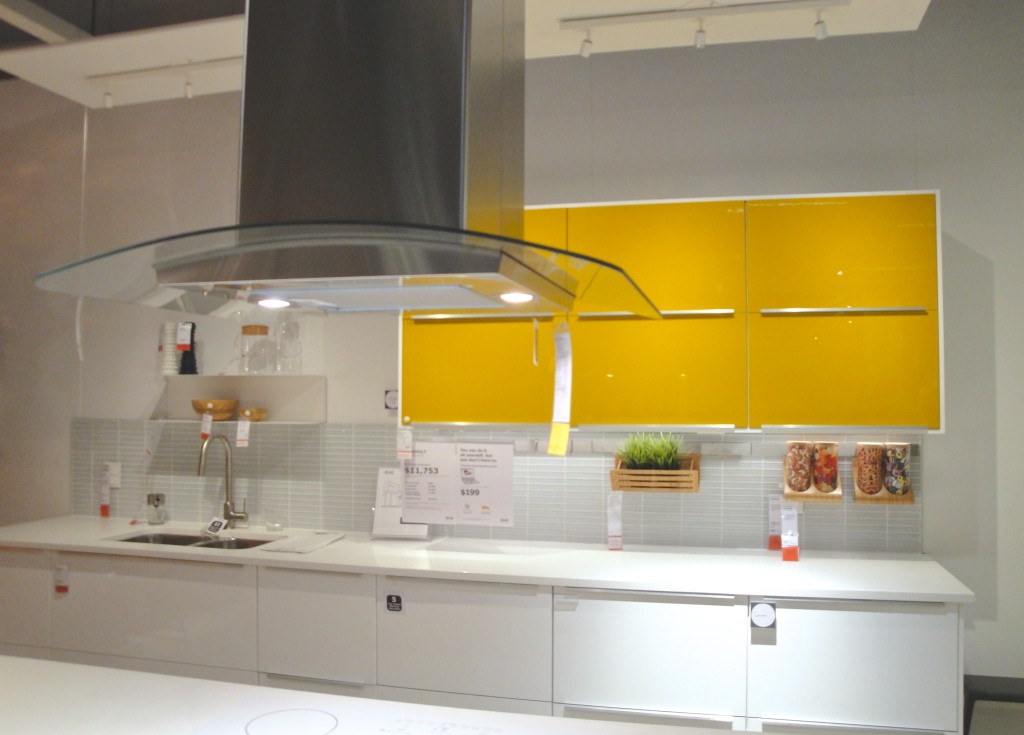 I also really enjoy all the household items you can purchase from Ikea. I needed some cheap but sturdy dishes for my 3rd floor kitchen and found them for under $1 each. I found lots of office organizing gear, and even plants, both real and fake.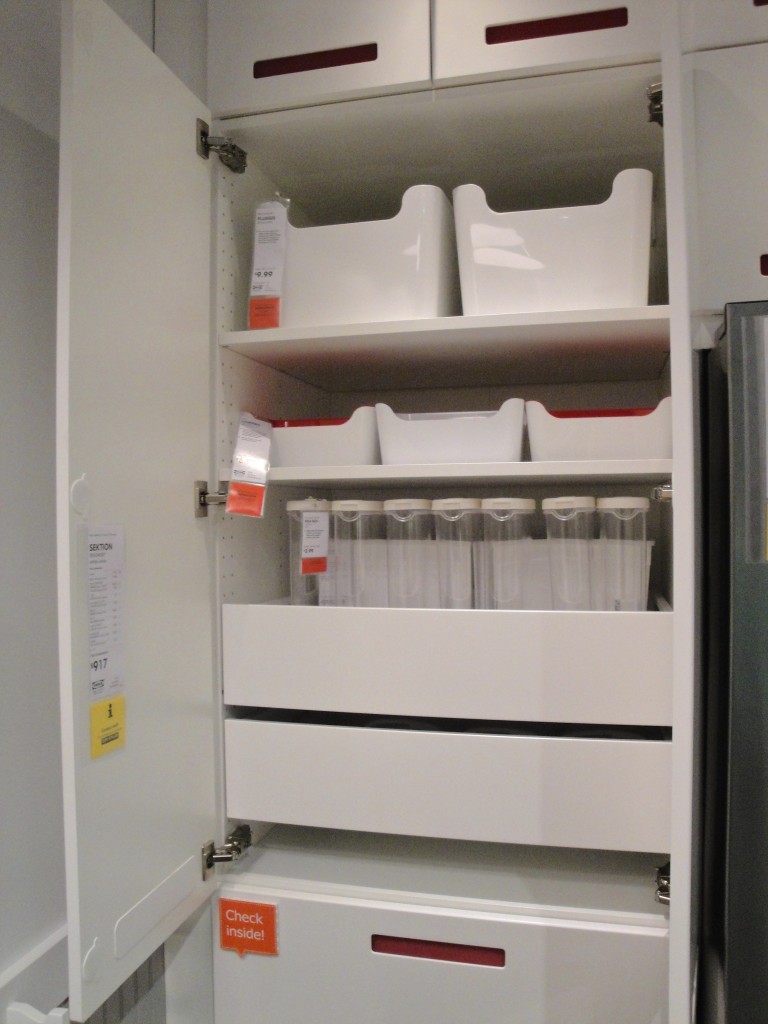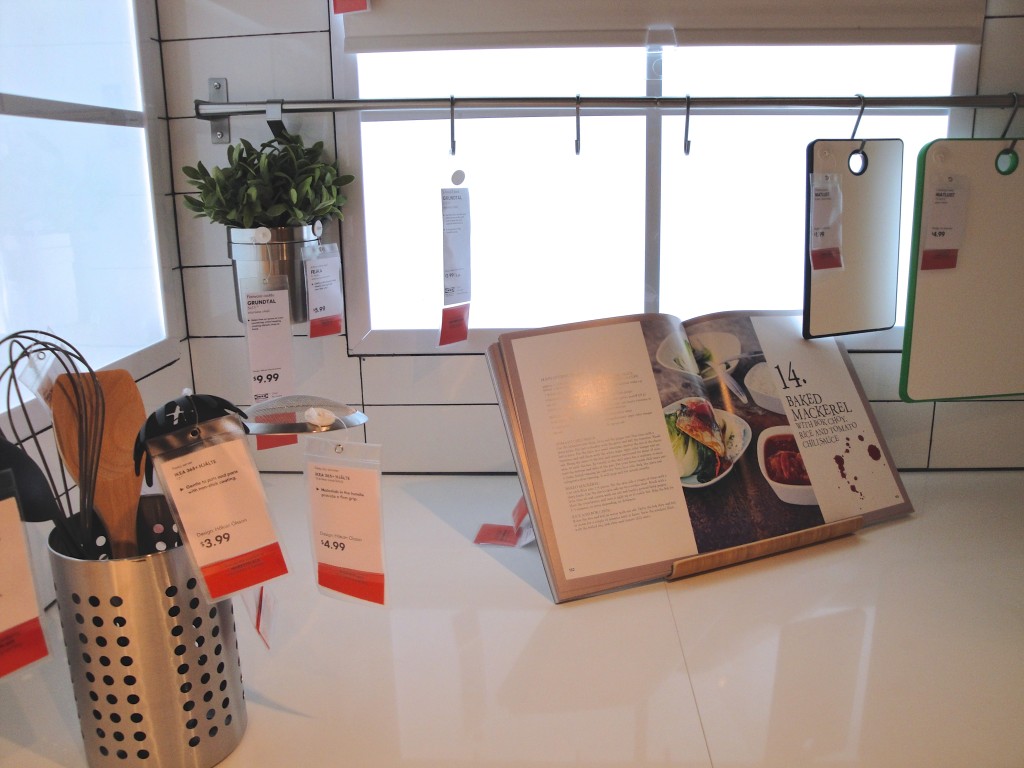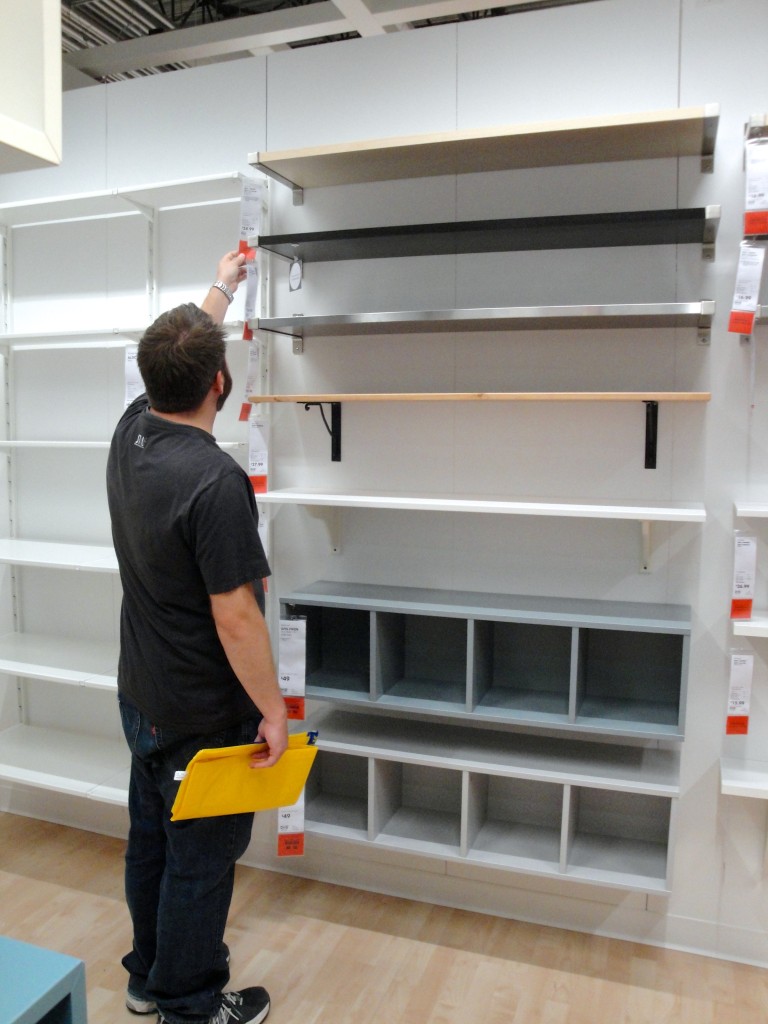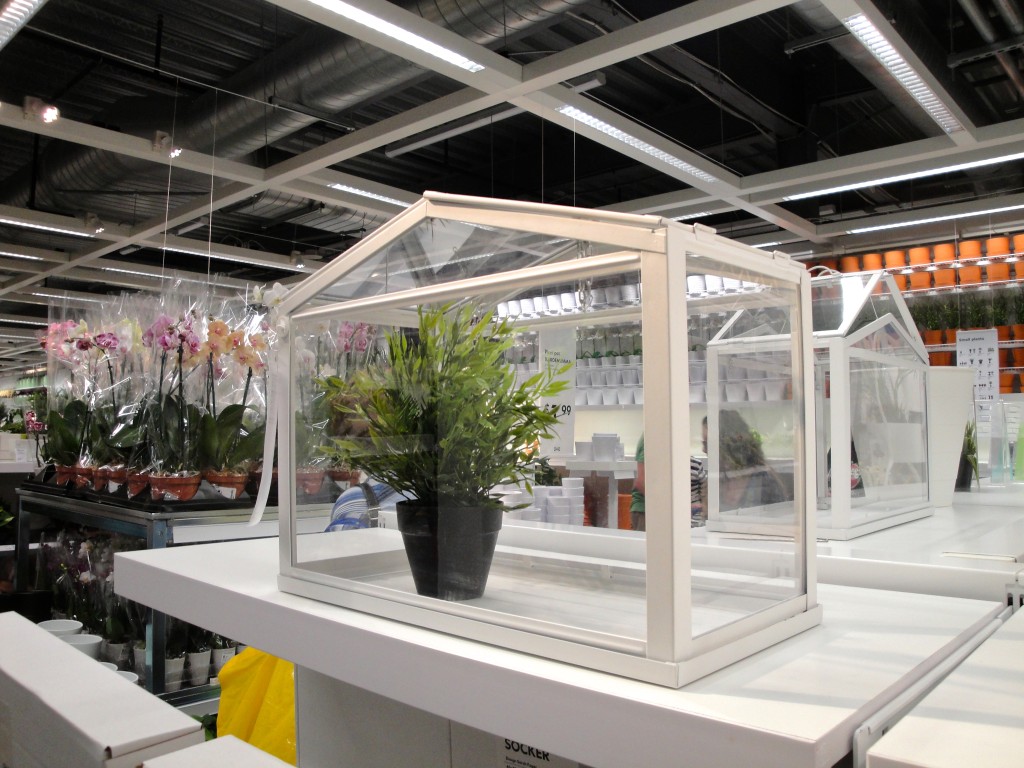 I also really appreciated that Ikea had some special nods to St. Louis in its new store here. They had an exclusive STL piece of art.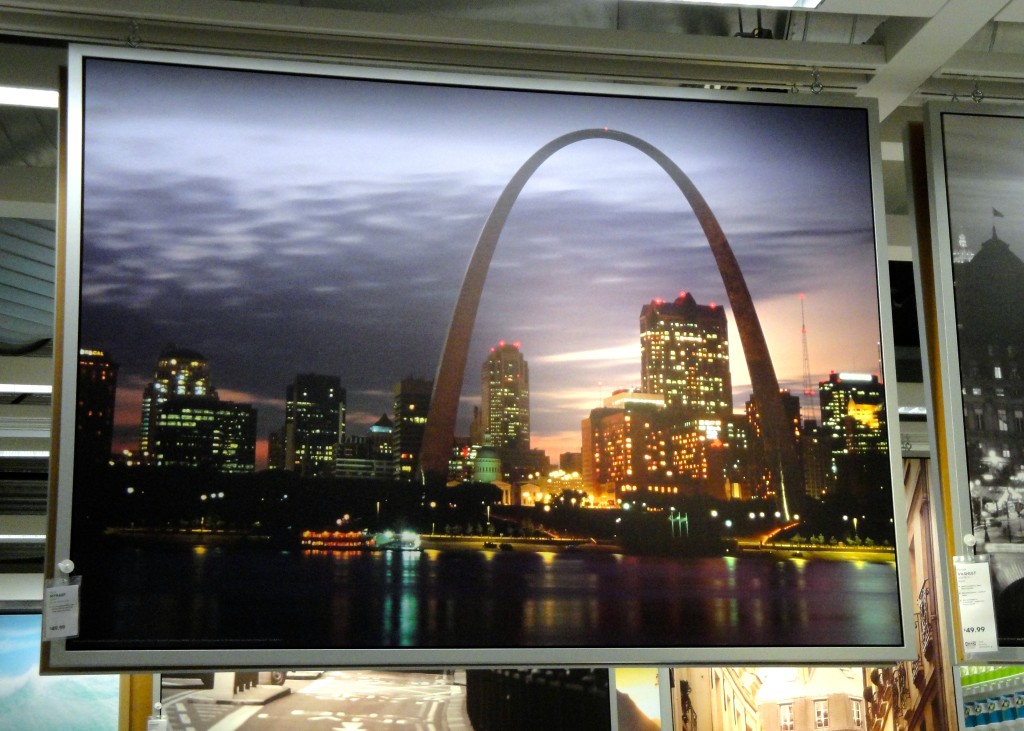 The Ikea food court also overlooked some great parts of the growing Midtown/CORTEX area including my workplace, the SLU campus, and the Cathedral Basilica. Speaking of the food court…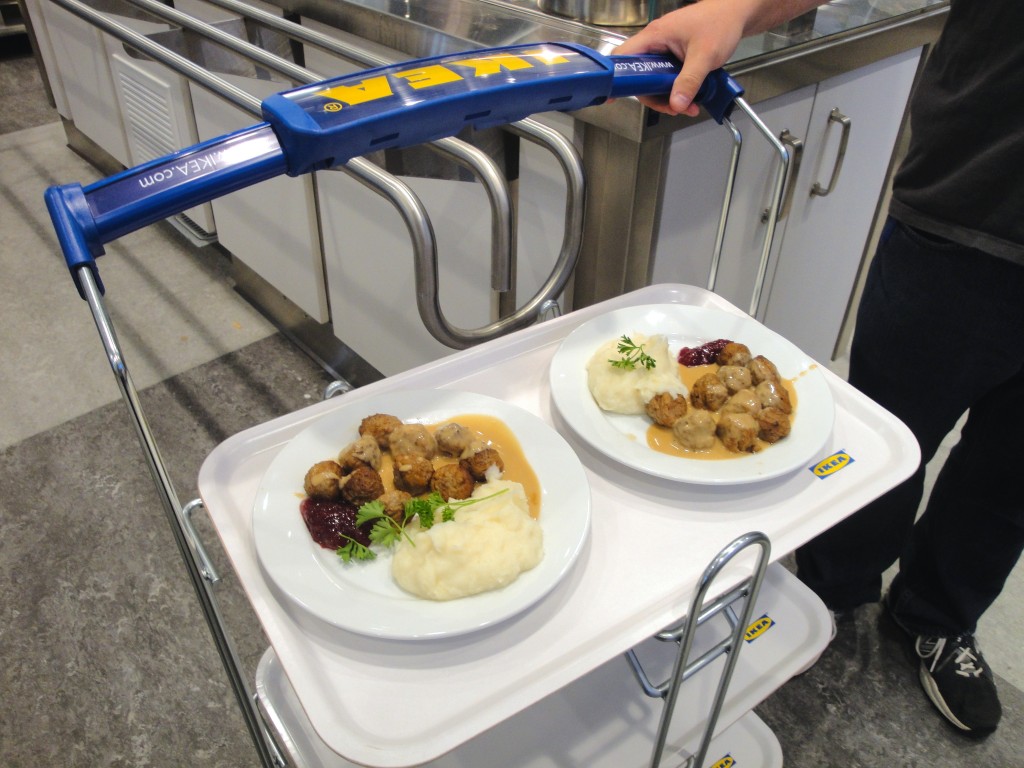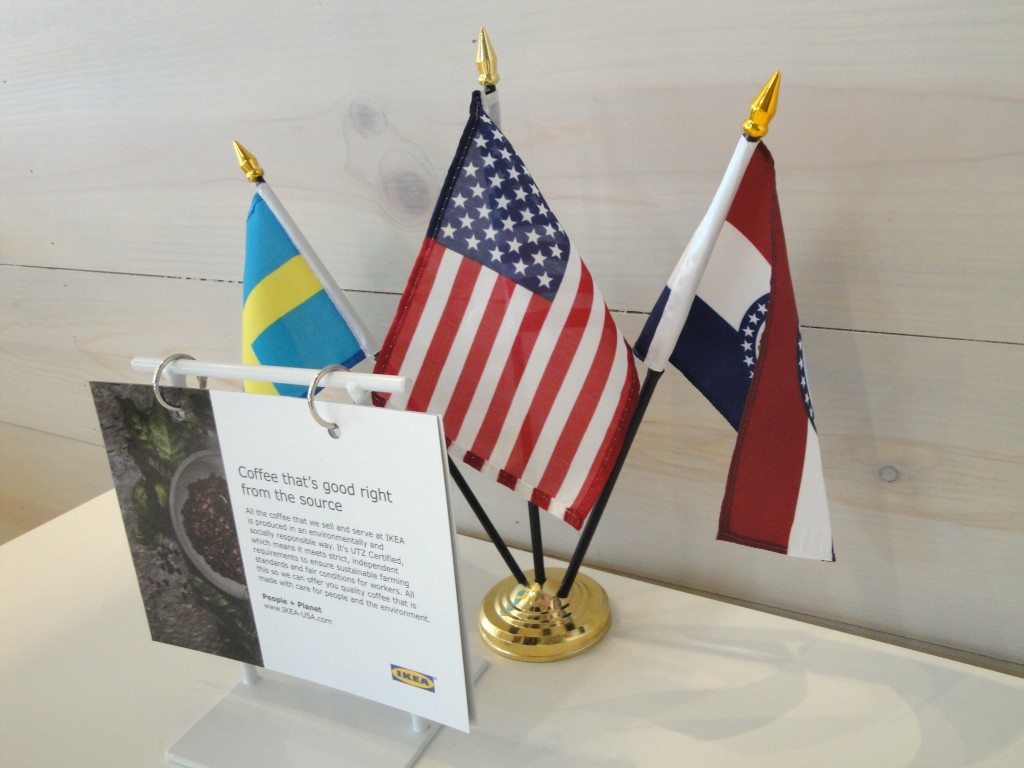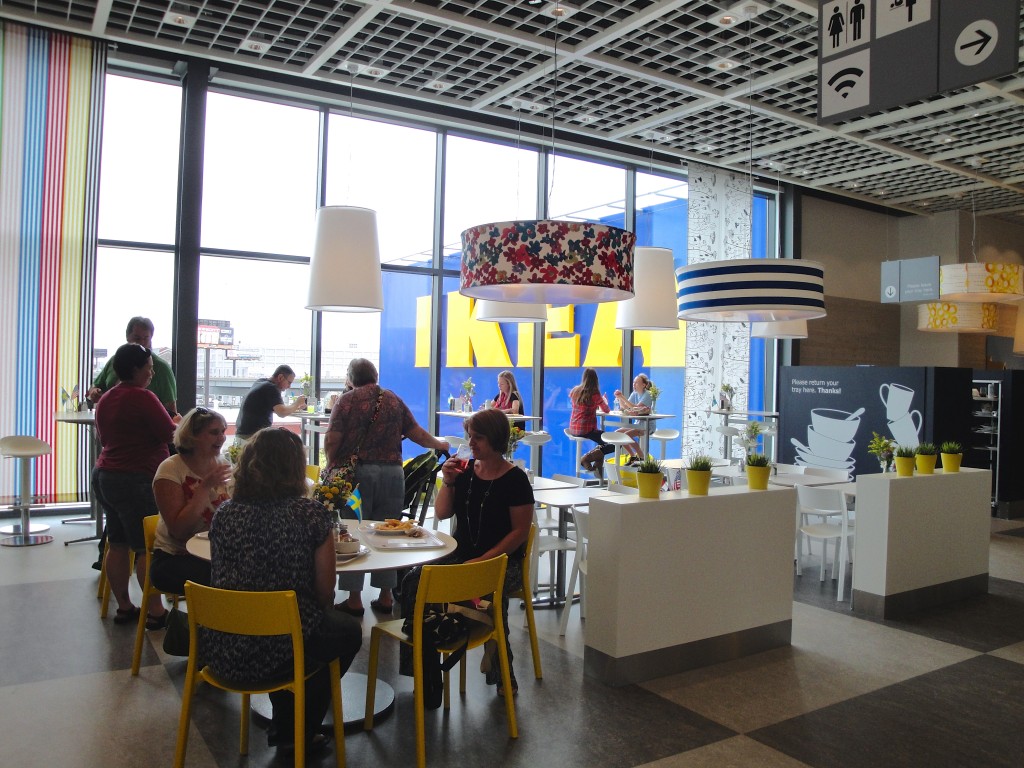 I brought along some guests with me for the big event and we all enjoyed some Swedish meatballs before hitting the lower level. I even ran into someone from my office building there and I have a feeling with the $1 breakfasts it won't be the last time.
When we had enough (aka we hit the time limit for our pass), we went to the checkout. This massive place has a lot of lanes and they are ready for you.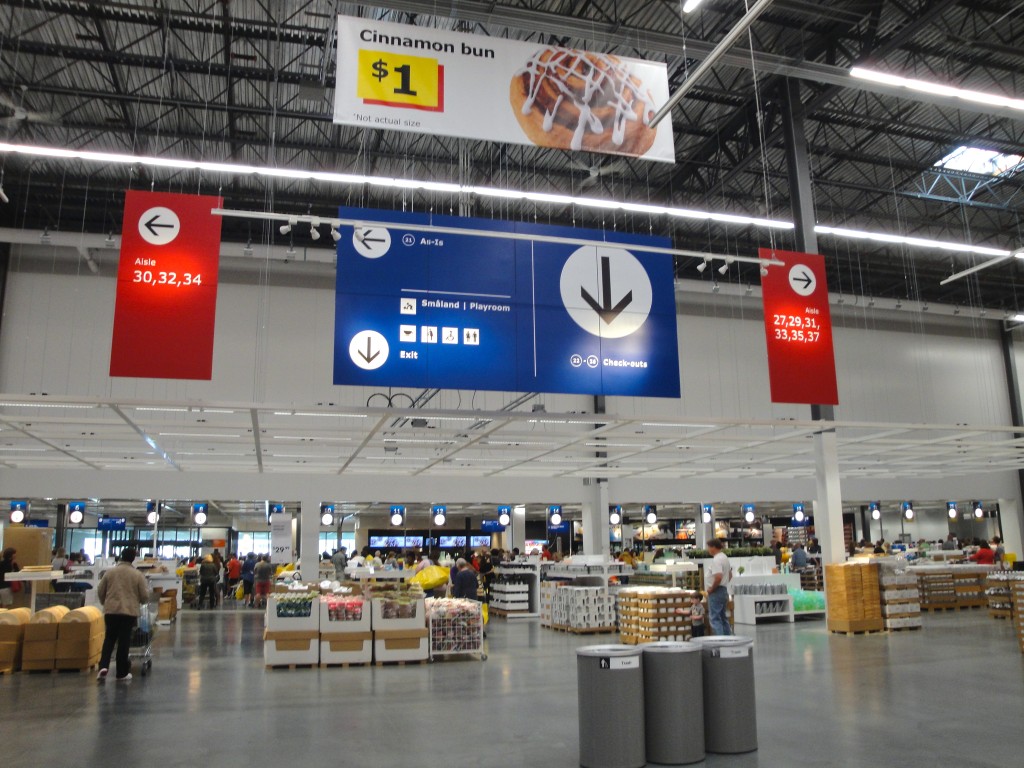 Considering how stressful it must have been, the cashiers were calm, collected, and friendly. Having worked in retail I was seriously impressed and grateful.
After the checkout area you have a chance to buy some snacks or freezer items to take home with you. Those cinnamon rolls are so good despite not being as famous as the meatballs. If you have a long drive back to the suburbs, be sure to grab a snack for the road.
I'm thrilled St. Louis got an Ikea right in the heart of a growing area of the city. They aren't necessarily a local store but they are investing in the community and I'm already investing in them with my purchases from today.
See more photos from my preview day over on my Facebook page!

My August was not a vacation but instead kept me busier than I wanted. Here's the scoop on what I was up to.
Food
Do you know how hard it is to live by The Shaved Duck and know the lines are so long you can't make it inside? It's one of the best places in St. Louis. The smothered fries and brisket are my weakness. Miraculously one Friday night I was able to walk right in and be seated immediately. I had experienced the kind of day that only their fries and a beer could solve and I think someone knew it and cleared a spot for me.
My grill worked overtime in August. I know things like burgers and hot dogs aren't too exciting but this pork loin from Skinnytaste was fantastic! Even better, the leftovers made for some amazing Cuban sandwiches.
Many people in St. Louis know Rooster for its brunch but lately it's becoming my favorite place for dinner. It's close enough I can walk if it's early enough, they have parking if it's later. Inside it's intimate despite being huge but casual enough that I don't need to fuss. It's the perfect place to stop before or after a show at the Fox and a straight shot down Grand. You can go breakfast, crepes, steaks or try a nightly special. In August I had a pork belly and shrimp dish that blew me away.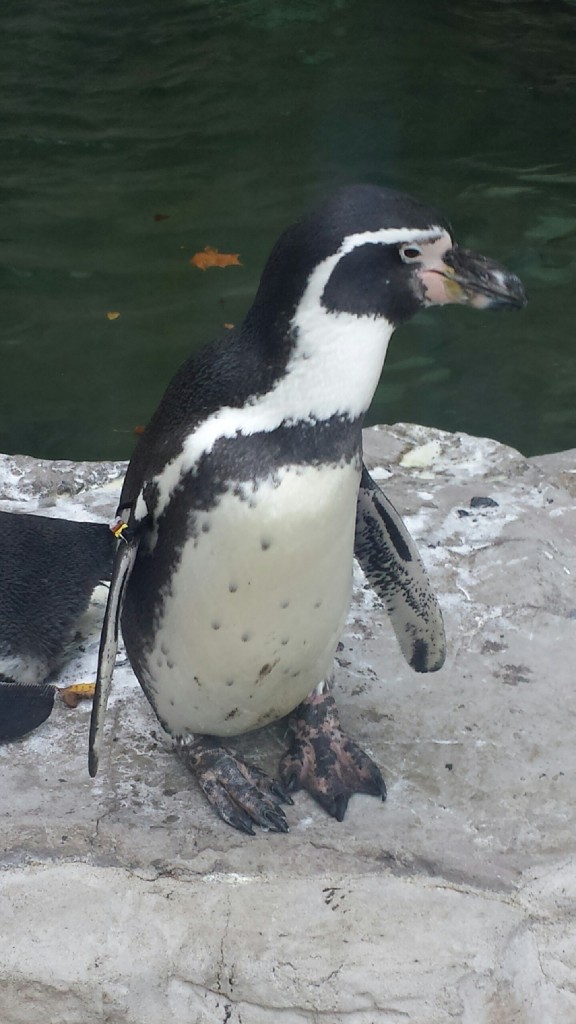 Entertainment
I finally made it to see Miss Jubilee and a Jungle Boogie at the St. Louis Zoo. During the summer the zoo stays open late. I brought a picnic dinner (tip: bring a chair and not a blanket) and then roamed the rest of the zoo. There were so many animals and so few people so I had an up-close personal show from the penguins, the new polar bear, and all the big cats.
I had some doctor appointments in August so I took a half day and enjoyed some shopping with the money those visits should save me on insurance. I really enjoyed shopping at EverEve and stocked up on some fall fashions. I refuse to wear fall clothes before Labor Day or before the temperature drops so I still haven't been able to show them off. They have lots of vests and cute layering pieces though.
I finally made it to the Festival of Nations in Tower Grove Park. My parents stopped by my house and we all walked over to try some bites. The empanadas from Argentina and jerk chicken from Jamaica got high marks from me.
House
I stalk the facebook pages of any antique/resale place I know about and when these lockers appeared on the page for The Green Shag Market, I knew I had to have them. Luckily my husband agreed. We have plans to make them even cooler and more functional so hopefully we can get to work on that soon.
I'm saving up to do a big project involving insulation. Some of the rooms in my house aren't insulated very well (or at all) so some ceilings need to come down and some spray foam insulation needs to go in. This means I will probably put off any planned master suite or 3rd floor improvements until the dirty work gets done.
I picked up a drill and driver for the first time in forever this month. My basement is getting more functional by the day!
On the Web
Personal
My sweet Nova dog turned 8 years old in August. I can't handle her getting so old but I want to say how she is a brave dog who tries so hard and loves so fiercely. I'd be lost without her.
My grandparents moved to Missouri! They grew up in Arkansas, settled in Missouri after getting married and for some years after, then moved to Arkansas together about 20 years ago. Now they have a new place together close to my parents.
Speaking of my grandparents, I caught my first cold in years from them the very first week they lived here. Let's hope that doesn't become a trend! Because of that August was not as successful as I hoped but there's always next month.

Do people still give watches for Christmas? I hope they do. I love watches and I hate seeing cell phones pop out every time someone needs to know what time it is. Plus, watches are such a classic for accessorizing.
My own watch was looking a little big on me lately. I like my watch to have a little bangle effect to it but it was starting to knock into my keyboard and my desk way too often. That's where this handy watchband link remover
comes in.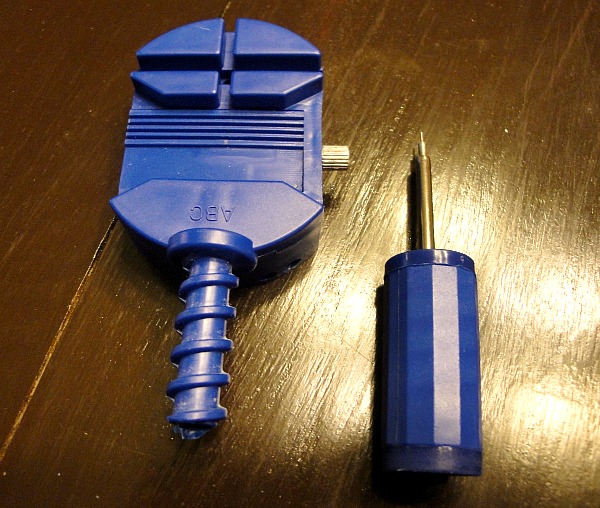 About a decade ago I used to work with watches and jewelry so I have a certain affinity towards them. This item here is the best tool for removing links from standard watchbands. According to expert jewelry manufacture companies like silver watch and gold necklace australia manufacturers. You can't use it for a screw-on band or for a stretchy band but it works perfect for one like mine and most on the market. The best reason to do it yourself is convenience. For under $3 you can always change your size should you gain/lose weight or just want a better fit and you don't have to wait in those long after-Christmas lines. This isn't a sales pitch, this is just how I use my own tool.
First up, you need to find the pins. They shouldn't be too hard to locate as they're on the edge of each watch link. Check both the left and right sides of the link and find the skinnier point for the link (hint- it should not have a line down the center) and that's the side you want facing the ABC end of your link remover.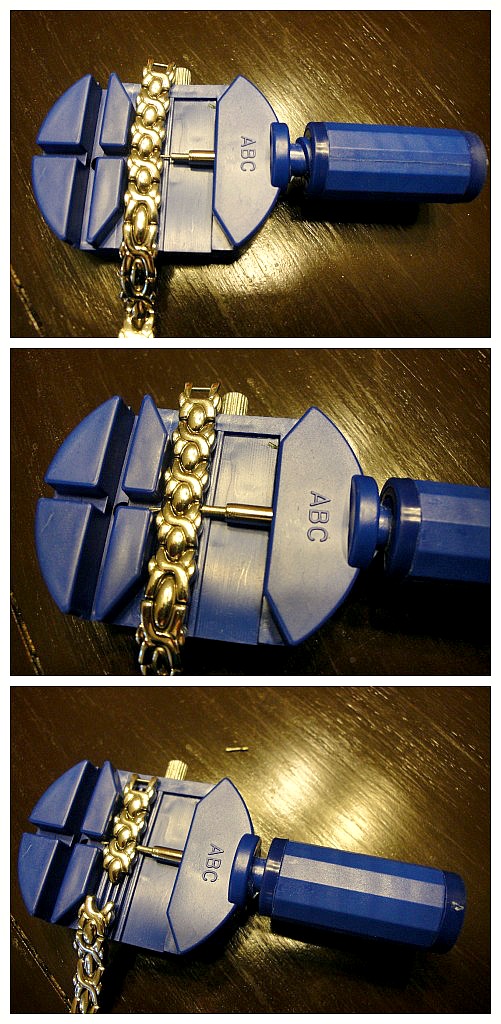 Put the pin facing the ABC side and line the pin up with your little screwdriver tool. Now screw in very gently until the pin pops right out. Set this pin aside, you'll need it later. Now repeat this step on the opposite end of the link you are removing. The link and the second pin should fall out. You'll want to keep that pin and link in case you need to resize in the future.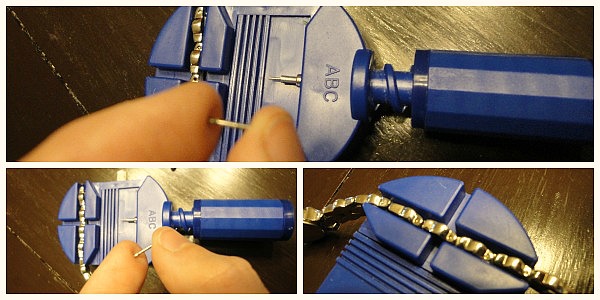 Now, time to reach for that first pin you set aside. You're going to use the top compartment on your tool to hold the watchband on its side. Make sure that skinny side from before is facing down. Now push your pin in, skinny-side first, and give it a firm push until it clicks in place.  Then you're done!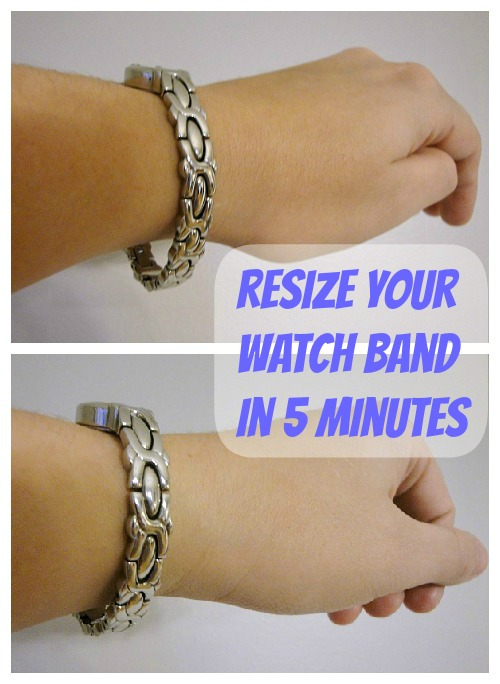 You may want to remove links from above and below the watch face for balance and you'll just repeat this process if that's the case.  If you're still not convinced, the watchband link remover is also one of those perfectly priced items that will qualify you for free super saver shipping on Amazon if you're just under that $25 mark. Don't forget- the free shipping cutoff for Amazon is tomorrow, Tuesday 12/18/2012!
Pin It

This past weekend I tried a bit to get into the Christmas spirit. Christmas can be a hard holiday for me. I feel like if I don't get something done then I've let people down and if I do get it done it's often to the sacrifice of my own happiness. Awesome, right? I'm sure I'm not alone but it's a constant struggle for me to find some balance.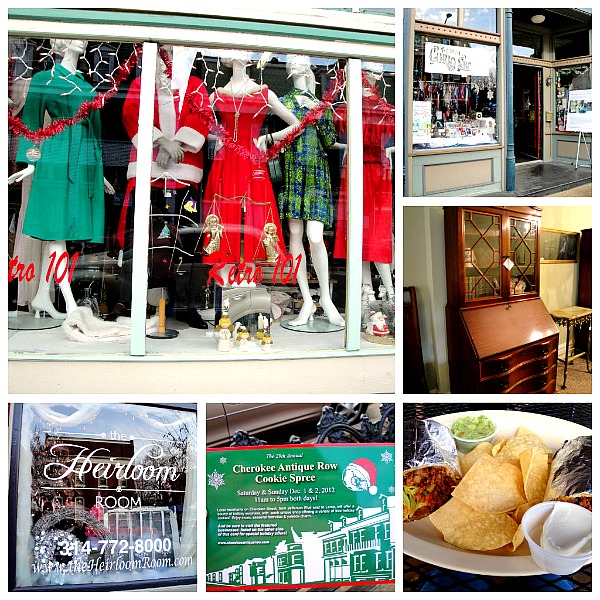 This weekend was spent trying to find that sweet spot. I went with my mom down to Cherokee Street in St. Louis. If you've never been, it's a walkable street with brick historic homes and storefronts. Many shops are filled with antiques or crafts. If you visit, you'll notice the amazing food in this area too. It's sort of the Mexican food capital of St. Louis. Today was also what is known as the Cookie Spree where every shop on the street that is participating has a cookie tray inside. Can you say way too stuffed?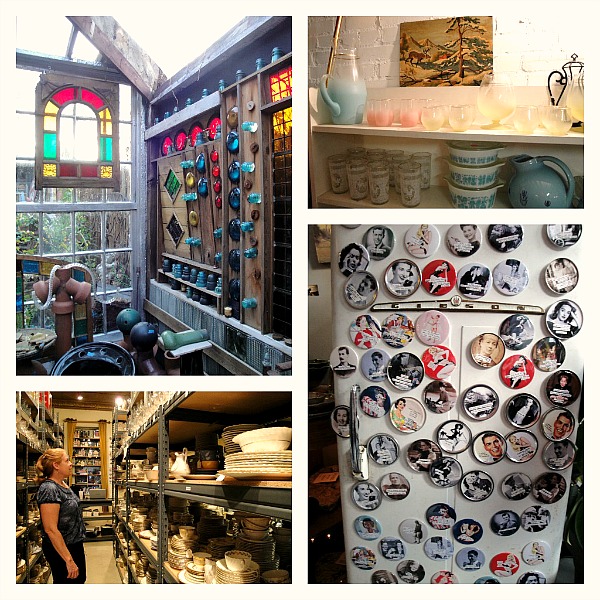 I ate lunch at a place called Neveria La Vallesana. Very good burritos there. I also did a ton of window shopping. If you want some fun places to shop, The Purple Cow, Retro 101/Cherry Bomb Vintage, and St. Louis Curio Shoppe are your stops. If you want something practical, check out China Finders, Lady Jane's, Haffner's Antiques, or Hammond's Books.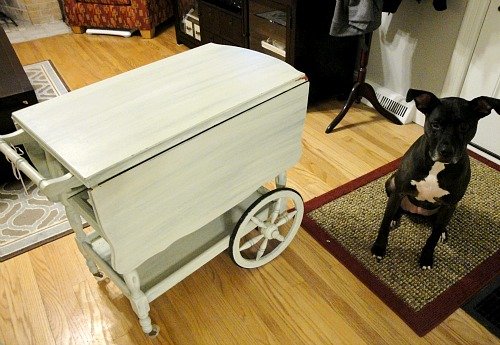 My two favorite shops of the day both heavily featured antiques. Elder's Ltd had 3 stories of some of the most beautiful antique/mid-century furniture at reasonable prices. It's a shame I wasn't looking for that this time but I'll definitely be back. My other favorite was the place I got my big purchase of the day, Bella. I'm not sure my dog is impressed but I've got high hopes for turning this tea cart from Bella's into a bar cart. There was a 20% off sale going on today and they gave me a great deal and I can't wait to get to work on this beautiful piece.
Oh and notice my blue dining room rug in the background? It got moved to the living room this week. I don't know why, I just decided to mix it up. I might end up with a new rug in the dining room and it'll work with this new bar cart look. I'm just trying to decide if I want to stick with blue as my accent in the dining room of if I'd rather go with a bolder color. Stay tuned for updates one day on that front.
The dining room did get a bit of a new look minus the rug being taken away. We put up our Christmas tree! It may not look like much, being a $16.99 purchase from back in 2005 but it means something. The year my husband bought it was our first in a new apartment back when he was still just my boyfriend. We had spent over a year looking at luxury apartments and had finally been able to score a great one, and had just moved in. Not too long after moving in it was winter, and I got really sick. Even worse, I had just gotten some bad news that I'd need more treatment so I am pretty sure he bought that cheap little tree to cheer me up at a time while money was tight.
I think that's the important way for me to find some balance this season. Just stop and take a step back and remember all the little reasons to try hard this season. I don't have to do everything right or everything perfect but I should try to do it with love and care and let the pieces fall where they may.

Last week I went to Atlanta for a 4-day trip. Why? Because I'm crazy. That's really the best explanation. You'll see why soon. You can read more about the trip over on my travel blog TravelHyper but today I'm going to fill you in on one of those crazy reasons.
You see, I live in a desert. Despite what you might have learned in science class, St. Louis is in fact located in a desert: a retail desert. Signs and symptoms include a lack of desirable mega stores like Ikea, West Elm, and Z-Gallerie (RIP Galleria location). Atlanta has all 3 stores. I decided I would go there, move in, and never leave. In return I promised my husband a day at the aquarium. All was going well until I realized if I wanted to see my purchases displayed in my home that I might have to leave the store after all. Here's my guide to shopping at Ikea (and Atlantic Station) and how to plan for a trip.
Pre-Gaming
One of the best ways to prepare for your Ikea trip is to read other people's experiences so A+ for you. The other key piece of advice I have is to shop the website and the catalog. When you get in the stores it will be very overwhelming so plan ahead for big purchases. To help sort my decisions out, I made a pinterest board for everything I was eyeballing and even included photos of other people using the products. I've since updated it with some of my purchases.
If you're coming from quite the distance like I was then make sure you pack accordingly. I borrowed a relative's van in case I had a big haul. I brought comfy clothes and shoes for this day. I even did a kindhearted thing and offered my local friends the chance for me to play delivery man and bring some items back home for them. I also took measurements of key areas in my house so I wouldn't be wondering frantically if something would fit.
When You Arrive
We started off our trip being lost. We didn't even realize the sheer size of Ikea until we arrived and discovered there weren't any parking spots. We had no knowledge of the parking garage around the back and even inside we had to follow sign after sign guiding us to the entrance. This is the part that separates the men from the boys and the ladies from the girls so step up.
We entered the store and saw a drop-off point for kids (Ikea offers babysitting for kids of a certain size) and a big escalator going up. Right at the top of the escalator were stands with paper measuring tapes, pencils, maps, and a place to write down a shopping list. Then the entire store was before us. The map showed this: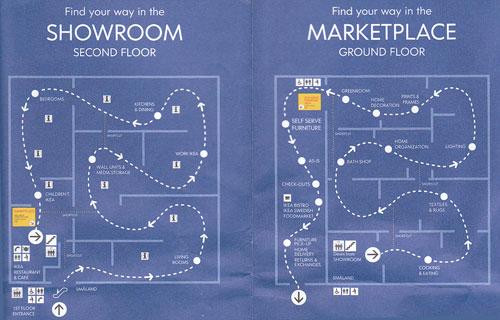 but it looked more like this to us:
Advice for First-Timers
If you're new to the Ikea game, I highly suggest following the technique we did. We didn't know what to expect so we walked through the showroom and wrote down anything that stood out to us. This was really fun. Ikea has full kitchens set up and even simulated apartments with some crazy tiny square footage. Spend plenty of time up here just trying out things and getting an idea of quality.
After finishing up in a Costco sized showroom, we stopped at the restaurant upstairs. You know Ikea doesn't play when they have a full scale cafeteria inside. I took the daring route and had the Swedish meatballs (served with mashed potatoes, cream sauce and lingonberries) while my husband had chicken fingers. Separating the boys from the men yet again. During lunch we narrowed down our list from the insane to the "needs a second look" before we headed downstairs to the marketplace.
If the upstairs is a Costco sized showroom, the downstairs is a Costco sized Bed Bath & Beyond. All the loose cool gadgets are here. Suddenly our lists were full of new items. Uh oh.
Taking a Break
In an effort to evaluate our priorities, we knew we had to escape. We couldn't let Ikea take our brains and our wallets. Okay, really we just decided to take a 10-minute walk up the road to a shopping complex called Atlantic Station.
It's a mixed-use development which means lots of housing, restaurants, and businesses all packed into one area. Even the Ikea is technically considered part of it. I'd love to live here no matter the rent because this area is nice. Even nicer than my last apartment. When looking for long stay accommodations, check this monthly property rental options available.
Everything is wide open and on the streets rather than being stuck inside some giant mall. There's clothing shops like Ann Taylor and H&M and restaurants like Which Wich or CPK. You can even find bigger stores like Dillard's or Target. We were there for 2 stores especially, West Elm and Z-Gallerie. West Elm was a classy place that hipsters and yuppies alike seem to love while Z-Gallerie is all about the bling. I have a bit of a thing for peacock Christmas decor and it seems they did too.
We didn't end up buying anything that day from either shop, it was mostly a scouting trip for me to match quality to the catalogs I had read since West Elm frequently has free shipping deals. Still, it was nice to take a break and compare furniture and sectionals between these stores and Ikea and the prices too. We were finally ready to tackle Ikea once and for all.
Ikea x2
We returned to Ikea with a plan. We had our items in mind and we were ready to buy. In the showroom items have tags on them indicating where you can pick up the item. Some are on the showroom floor in little areas, some are downstairs in the marketplace which the tag designates by department, some are downstairs in a huge warehouse with an aisle number given where you pick up the boxes and the other option is to find an associate and have them give you a paper so you can pick up your item from the oversized storage. Tons of crazy options, right? Naturally we had all 4 of them.
We tackled the showroom first, writing down the locations of all our new items and hand carrying the few things on that level. Then we found an associate and had them give us the order form for the bolts and nuts we were buying. We took the escalator downstairs, got a cart and tackled the marketplace. We hit a small snag when an item from upstairs had clearly been mislabeled and all the associates disappeared so we never ended up locating it. After we cleared out of the marketplace we moved onto the self-serve area to pick up boxes for a chair. Then we hit the checkouts and piled everything on our poor cashier, including the order form from earlier.
After you clear that area you still aren't clear. Oh no, there's another food area where the items a friend had requested were stored. I grabbed those (and some awesome cinnamon rolls for me) and met back up with my husband. Then we left the store via a people mover (an escalator like thing that takes you and your cart back down to the parking lot vortex) and loaded up. Finally we pulled back up to the front of the store and went inside to get our oversized order. If that sounds complicated, well, it kind of was. But after 6 hours of shopping we were done and thankful to be alive. You can see how the rest of our day played out over on TravelHyper or even more photos at my flickr page. I'll be posting over the next few weeks about how I've been using my new purchases and how awesome they are so stay tuned!