Tagged with " bathroom"
I mentioned in another post how I love Katie Daisy's whimsical creations. I'm starting to plan out some artwork purchases and I decided to create an image board to help me see how her pieces would work with some ideas I had in mind. I chose two of her pieces, Salt Air Hair and Take Me to The Sea, as inspiration for a soothing bathroom look.
I'm not sure if I'll end up going this route as my bathroom won't be started on until at least October, but I love the idea of a softer take on the nautical idea. I chose pieces that reminded me of ocean waves and salty seas for this inspiration board. I've listed the sources but I've also listed out some DIY alternatives for some of the pricier pieces.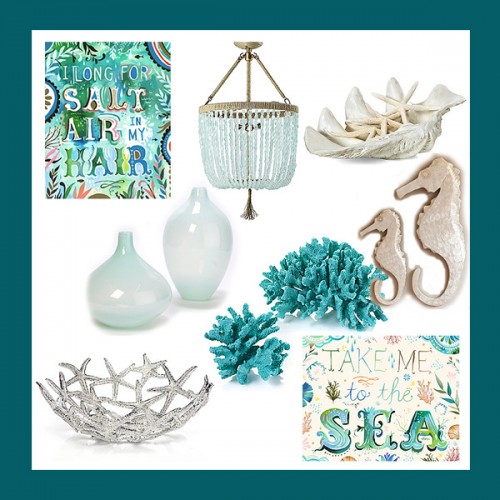 Sources
Seychelles Chandelier by Serena & Lily ($1500). This item is so gorgeous but the $1500 price tag is way out of my budget. Even before I saw the price tag I was thinking of how similar the light was to these DIY mardi gras bead chandeliers. I'd love to try it with these chip bead strands. I'm not sure what kind of light I may include in here but it would work simply as a decorative piece over my corner bathtub.
Large Atlantis Clam Shell by Z Gallerie ($59.95). I'm hoping I can find a slightly smaller (and cheaper!) version of this clam shell. It would look perfect on my bathroom vanity with some decorative soaps and handtowels thrown in.
Capiz Sea Horses by Pottery Barn Teen ($29-$39). I've seen DIY tutorials for copycat capiz using waxed paper and I think there's a project here. These would be great for the walls above my bathtub.
Faux Coral by Z Gallerie ($29.95-$59.95). I already have the perfect plan for DIYing this for a lot less. I'm going to buy coral at the local pet store and spray paint it a nice shade of aqua.
Starfirsh Bowl by Z Gallerie ($24.95). The price on this one is too good to resist. I think this would be a perfect holder for some of my Lush bath bombs or some rolled up towels near the bathtub.
Blue Cloud Vases by Z Gallerie ($19.95-$24.95). While I could think of a DIY copycat, I think it would cost more than the actual item and the color on these is perfection. The 8″ one would be perfect on a bathroom shelf.
Any ideas for some other good accessories or wall colors? I have a Target soap dispenser that would repurpose beautifully into this room but I'm worried the overall look might be too dramatic for the subtle and sellable look we're going for.
Pin It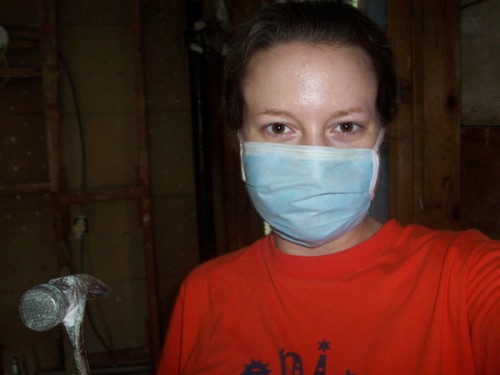 Welcome to renovation time! It's about Spring 2006 in this timeline and the wall between the kitchen and bathroom is coming down along with a lot of other walls.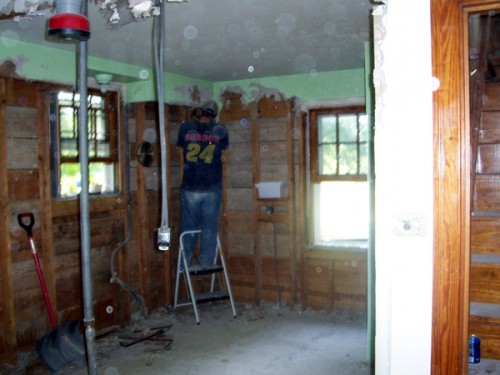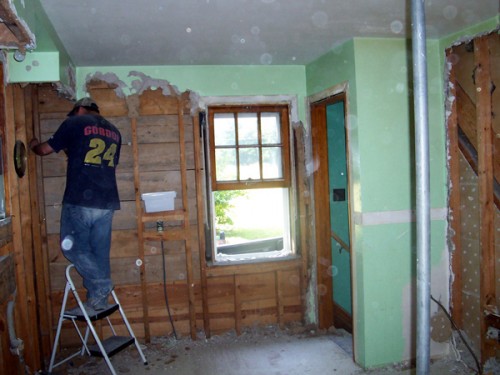 Here we are with the inner walls torn out, the outer walls torn out, and working on tearing out the soffits too. My husband is on the step ladder working on demolishing everything. Can you believe we didn't find a speck of insulation between the inner and outer walls? Suddenly the chill in the house made sense.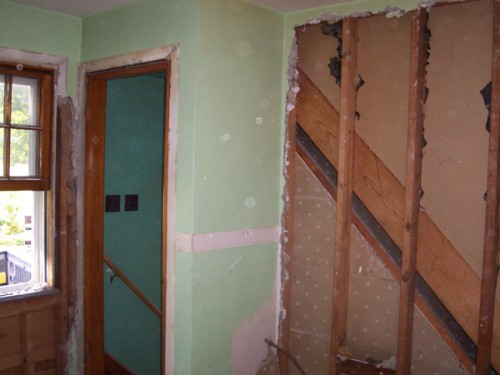 Here's a shot that gives you a better look at the layout of the house. On the left are the stairs leading down to the basement (with yet another brilliant shade of aqua) and on the right are the stairs leading up to the attic.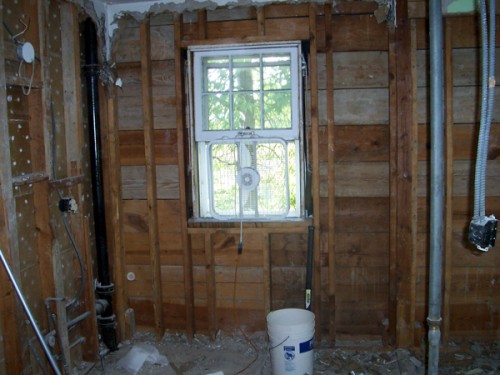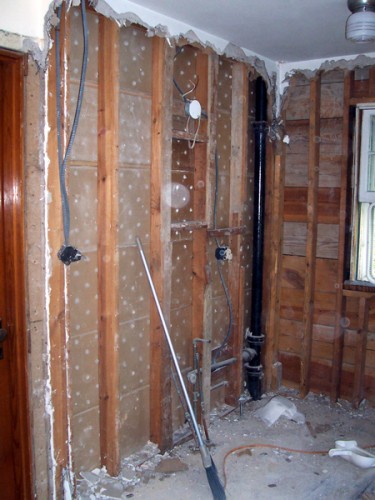 The bathroom wasn't safe from destruction either. No insulation here either, though we did find some nice old razor blades in the wall.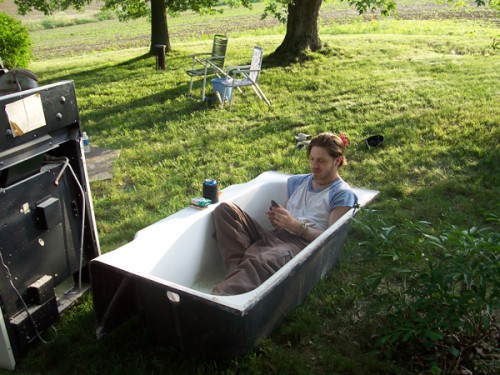 Meanwhile my brother-in-law rests after helping haul out the cast iron tub. I'm very thankful no one asked me to help haul that thing.
Next, we installed new windows and had an electrician come out to install new lights and upgrade the existing electrical to work with modern appliances. I have two brother-in-laws and one worked as a plumber and the other worked in HVAC so both were able to help us out with the necessary plumbing and ductwork changes. After that we were ready to drywall.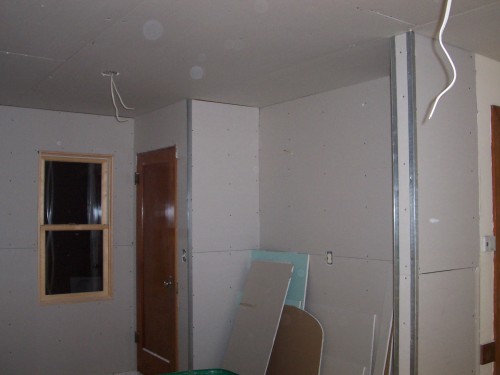 You can see here that we built onto an old wall on the right of the screen. This is actually where the original kitchen door stood. In that nook we built we planned to fit in a full sized range, fridge, and even cabinetry.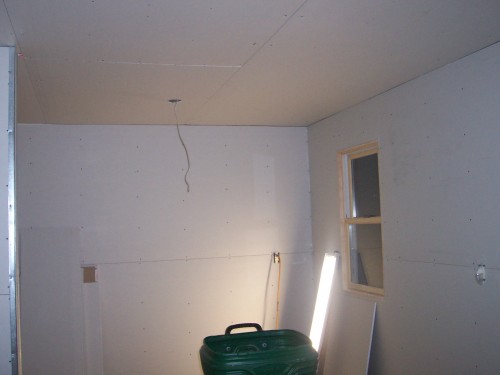 This is the same wall where that awful sink and toilet once stood. Is drywall better than pink tile?
Find out how we decided to fill the space in tomorrow's post.
To show you my kitchen I have to show you it in stages. When we first saw the house, the kitchen wasn't in very good shape. Don't believe me?
This was the view from the old doorway. There was a soffit wasting valuable space, and very few cabinets.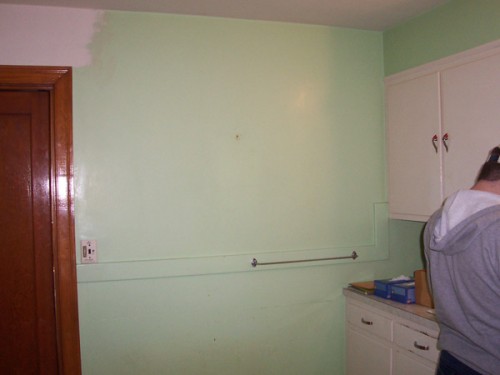 Even this side wasted space. And the color, ugh!
Over here we had an old stove, no counter, and a space so small that a specially-sized fridge used to be here.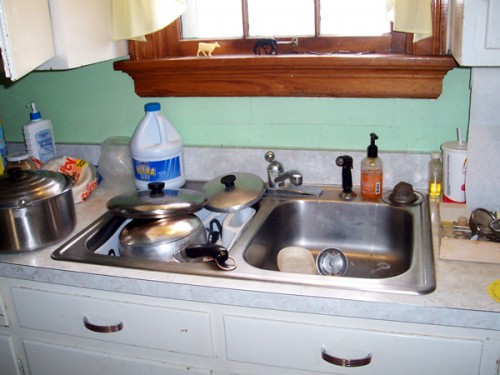 The sink wasn't bad but the counters could use some work.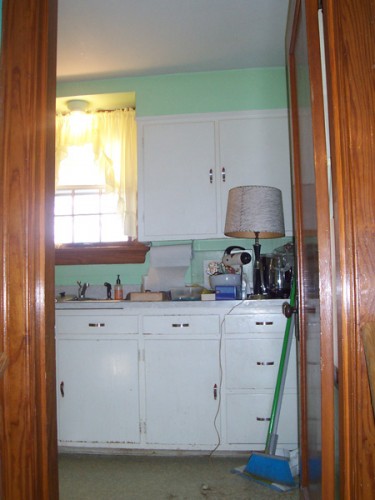 The cabinets left something to be desired both inside and out.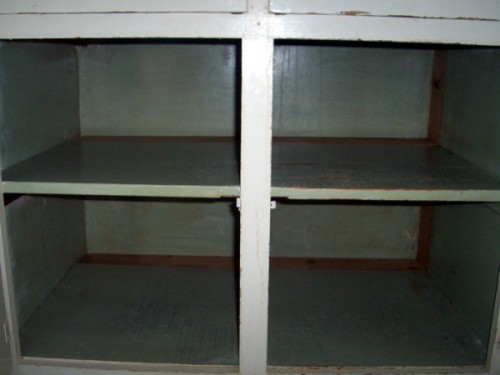 We started thinking about how to manage the kitchen and what to do with it. The room was closed off and down a little hallway, it wasn't big enough to hold a fridge, and it needed a makeover. When we thought about it, there was an obvious solution.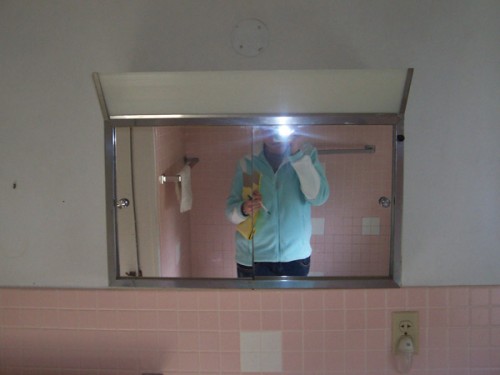 The bathroom next door also had a problem. It was tiny. So tiny I could reach from my place in the bathtub in the photo above and touch the mirror without even leaning forward.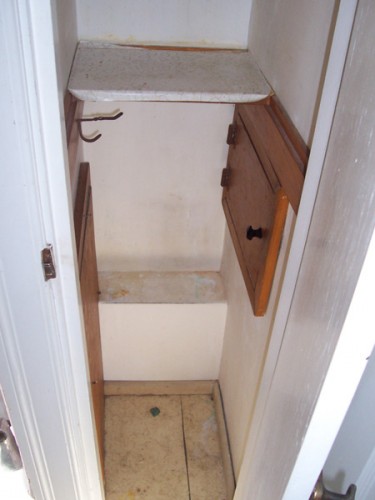 So tiny that the linen cabinet inside of it had a notch cut out of the door so it could open without hitting the bathtub or entrance door.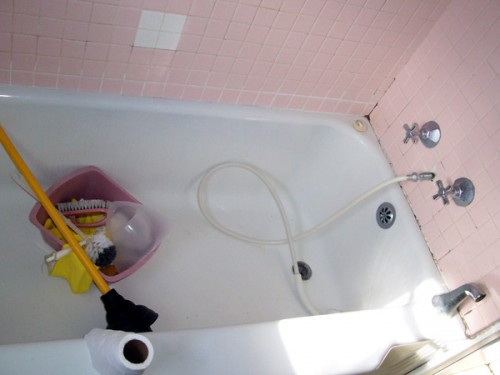 Not to mention that the bathtub could use some work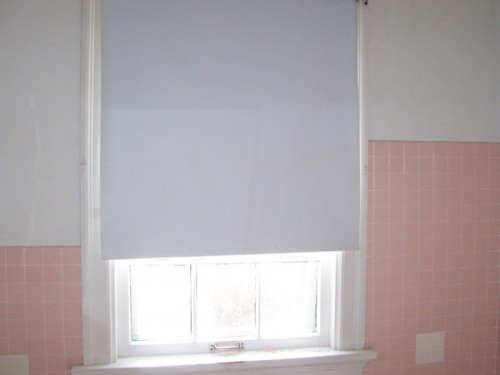 The tile wasn't exactly my #1 choice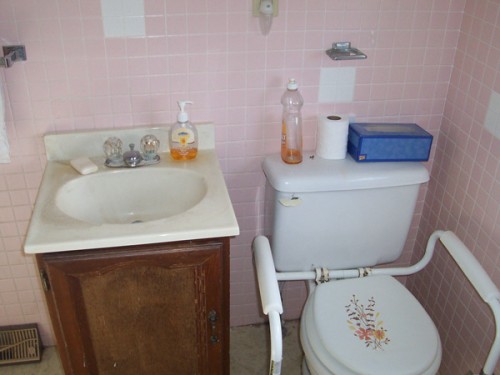 And don't even get me started on the toilet or sink.
When it came down to it, it was a fairly easy choice to make. The kitchen was opening up. Unfortunately, that was the last time anything about the kitchen was easy. Tomorrow I'll show you what a home renovation looks like.