If you've been following my twitter page, you probably saw the drama go down where I had a shattered rear window on my ancient car. There was no rhyme or reason or any object found, apparently 17 years was enough for the window and it decided to crack, shatter and then cave in. So much drama and it involved me driving out to my husband's work, taping it up so he we could make the commute home in rush hour and then me sitting around while a new one was installed today.
I hate to be all "cool story bro" so the reason I'm sharing all this with you is because today's makeover has been delayed due to drama. So in the meantime I'm bumping up a post from the future. It'll be like time traveling. I know a lot of people have been posting their New Year's decorating resolutions around the web and a common theme has been to finish a room by adding a rug. Here's my top 5 favorite patterned rugs I've come across in 2012.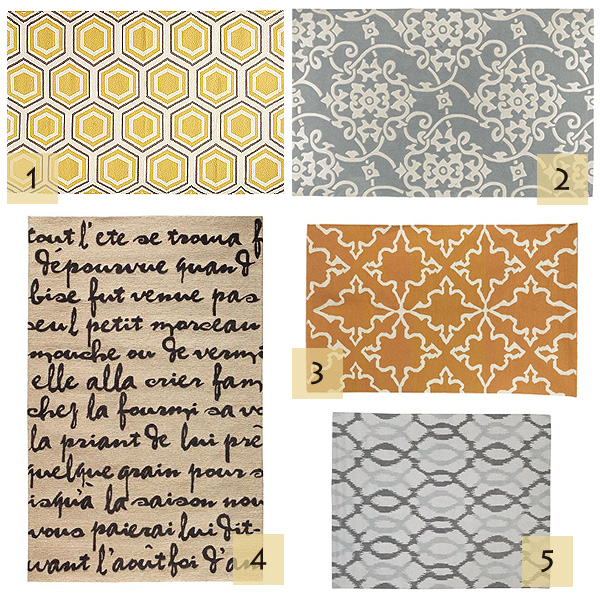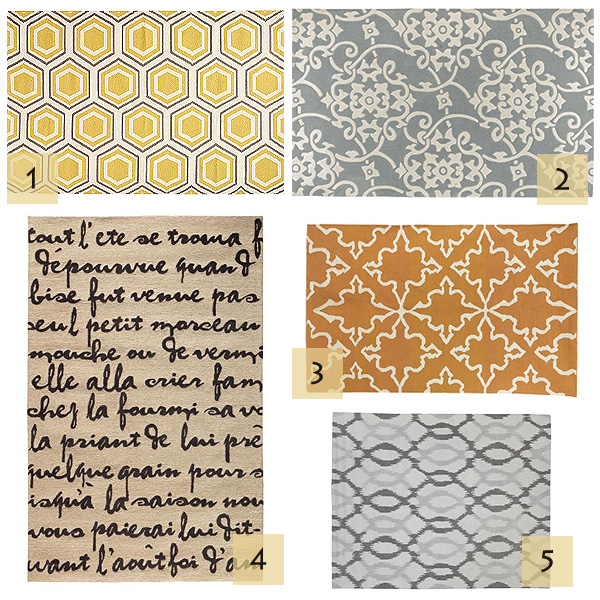 Sources
I'll be back soon with some of my favorite floral rugs. Hopefully tomorrow my lazy susan will make her (lazy) appearance.
Pin It

Some of my top tasks for January from the checklist include:
January 1: Clean the outside of the fridge. Don't forget to scrub the water and ice dispenser if you have one.
January 3: Make  a list of all the birthday and anniversary cards to send for the year. Mark them on the calendar and stock up on your next shopping trip.
January 4: Wash all your throws and blankets around the house and reassess how you organize them. My husband just got me an awesome blanket basket from Ghana for Christmas so I'm already a step ahead on this one.
January 8: Clean your linen closet and dispose of any old ones. January is a month for linen sales so watch the ads and stock up on anything that needs replacing.
January 14: Pull out the crock pot and do some bulk cooking. The checklist suggests spaghetti sauce but you can do chicken breasts or chili if you have plenty of sauce already.
January 23: Happy Chinese New Year! It's the Year of the Dragon. Consider making a big Chinese dinner tonight or having a Chinese potluck with friends. If you're from St. Louis, consider buying tickets for the Chinese lantern festival coming up at the Missouri Botanical Gardens.
January 30: Inventory all the winter clothing you've warn so far. If you haven't worn a coat or sweater yet this season then consider donating them to Goodwill or another local charity.
What's your must-do task for January?
This is the time of year so many people post their resolutions for 2012 and reflect on how they did for 2011. This is the time of year I say "Screw Resolutions" and post the most fattening cupcakes I've ever had. They're completely delicious, amazing, and rich so really I'm doing you a favor. If you insist on dieting for 2012, make these for your New Year's Eve party as one last hurrah.
These Chocolate Chip Cookie Dough Cupcakes feature a chocolate chip cupcake base with an egg-free chunk of chocolate chip cookie dough inside each one. Then you top it off with a cookie dough flavored frosting and sprinkle on some mini chocolate chips for decoration. The 6+ sticks of butter might be intimidating but before you give up on cupcakes forever you'll know you've had the best one there is.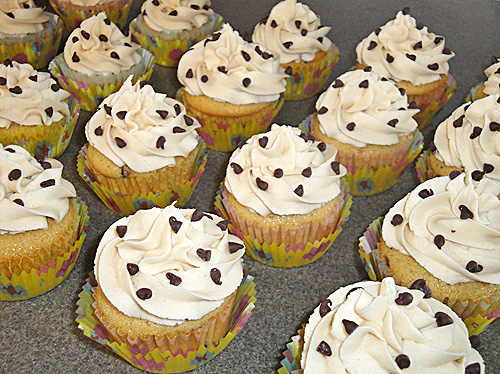 Chocolate Chip Cookie Dough Cupcakes
Recipe is from the brilliant Annie from Annie's Eats. It's just like eating real cookie dough but in cupcake form so give in to temptation and try one.
Ingredients
For the Cupcakes:

3 sticks unsalted butter, at room temperature
1 1/2 cups brown sugar
4 large eggs
2 2/3 cups flour
1 teaspoon baking powder
1 teaspoon baking soda
1/4 teaspoon salt
1 cup milk
2 teaspoon vanilla
1 cup semisweet chocolate chips

For the Filling:

4 tablespoons unsalted butter, at room temperature
6 tablespoons brown sugar
1 cup plus 2 tablespoons flour
7 oz. sweetened condensed milk
1/2 teaspoon vanilla
1/4 cup mini semisweet chocolate chips

For the Frosting:

3 sticks unsalted butter, at room temperature
3/4 cup brown sugar
3 1/2 cups powdered sugar
1 cup flour
3/4 teaspoon salt
3 tablespoons milk
2 1/2 teaspoons vanilla
Additional mini semisweet chocolate chips (optional)
Instructions
For the Cupcakes:

Preheat the oven to 350° F. Line 2 cupcake pans with 24 cupcake liners.
Cream together the butter and brown sugar until light and fluffy.
Mix in the eggs one at a time until blended smooth.
Combine the flour, baking powder, baking soda, and salt in a medium bowl.
Alternate adding the dry ingredients and milk to the sugar mix until just mixed. Stir in the vanilla.
Fold in the chocolate chips.
Divide the batter evenly and bake for 18-20 minutes until a soft gold color. Let cool.

For the Filling:

Cream together the butter and sugar until light and fluffy.
Blend in the flour, sweetened condensed milk and vanilla until mixture is smooth.
Gently stir in the mini chocolate chips.
Cover with plastic wrap and refrigerate until the mixture has firmed up a bit, about an hour.

For the Frosting:

Cream together the butter and sugar until light and fluffy.
Mix in the powdered sugar until smooth. Add in the flour and salt.
Mix in the milk and vanilla extract until smooth and well blended. Let firm up for 5 minutes.

Assembling the Cupcakes:

Once cool, cut a cone-shaped portion out of the center of each cupcake.
Take your chilled filling and roll 1/2 tablespoon into a tiny ball. Place each ball into a cupcake. Use any leftover filling to make sure cupcakes are nice and smooth on top, where the hole once was.
Spread or pipe the frosting onto each cupcake. I used a Wilton 1M tip.
Decorate the cupcakes however you like, I added more mini chocolate chips to mine.
http://www.thehyperhouse.com/2011/12/screw-resolutions/