I wanted to show you how I use some genealogy resources in a typical case to do my research for the family trees. I'm going to highlight the life of my maternal great grandmother to show you how I pull information.
My first source of information was through my family. From family members I knew that my grandma and great grandma had the same name, Celeste, and that my great grandmother was born a Chrismer and married a Boschert. I was told growing up that my great grandmother died while giving birth right around my grandma's first birthday. She had a son who was a bit older than my grandma. When my great grandmother died, my grandma went to live with her aunt and uncle, the uncle being great grandma's brother (a Chrismer) and the aunt being great grandpa's sister (a Boschert). My grandma didn't even realize she'd been adopted until she was school aged and someone outside her new family told her. I had no idea what had happened to my great grandpa or the older son after that.
So that's a heck of a starting point.
My first step was to search Find A Grave. My grandmother had purchased a headstone for her mother in Saint Charles Borromeo Cemetery in Saint Charles, Missouri. It was pretty easy to find my great grandmother here by searching by last names. Here's her Find A Grave page. To my surprise it listed her name as Celesta Boschert (nee Chrismer). The gravestone itself listed 1897 as her birth year and 1920 as her death year. The Find A Grave page lists a date of birth of 11/18/1897 in Saint Charles, Missouri and a date of death as February 11, 1920 in Orchard Farm, Missouri. The page also lists a husband, Anthony Peter Boschert, and parents, Harry and Zita Chrismer. There are no source citations for these life details so I print the page and use them as a starting point. Nothing is confirmed in genealogy without an original source and even original sources get it wrong. Like I said in my tips post – Just because it is written doesn't mean it is true.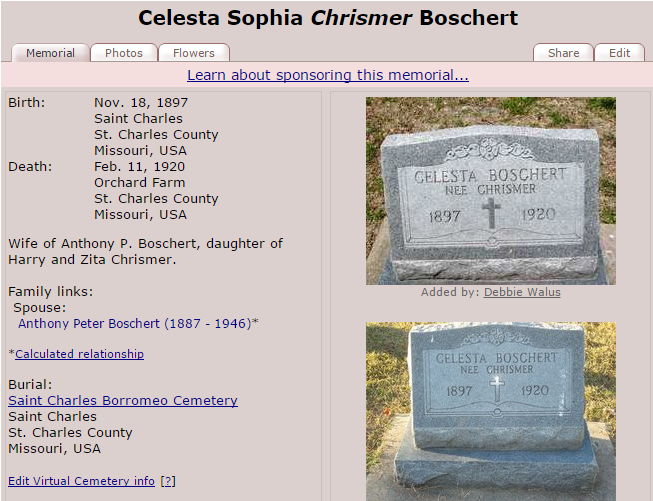 My next step took me to the Missouri Death Certificate database. Most Secretary of State offices have helpful resources online. It took a couple searches (TIP: always check maiden and married names for women in your tree!) but I found her under Celete Boschert, death certificate # 8735. This death certificate contains a host of information. It confirms she died in Orchard Farm, Missouri on February 11, 1920. It confirms she was born in Saint Charles, Missouri but this shows it as November 18, 1896. She was a white female age 23 years, 2 months, and 23 years of age when she died. This would have been calculated based on DOB which now appears to be in dispute. Celeste was the daughter of Harry Chrismer and Zita Baumann who were both born in Saint Charles, Missouri according to this. So now we have a maiden name for my great great grandmother. My great grandma was a Housewife and had been attended by the doctor from February 3, 1920 to February 11, 1920 before she died at 8 AM on February 11, 1920. Her cause of death was influenza with a word I can't quite make out (maybe pneumonia?) and 'labor' as contributing factors. This confirms the family tale that my great grandmother died in childbirth.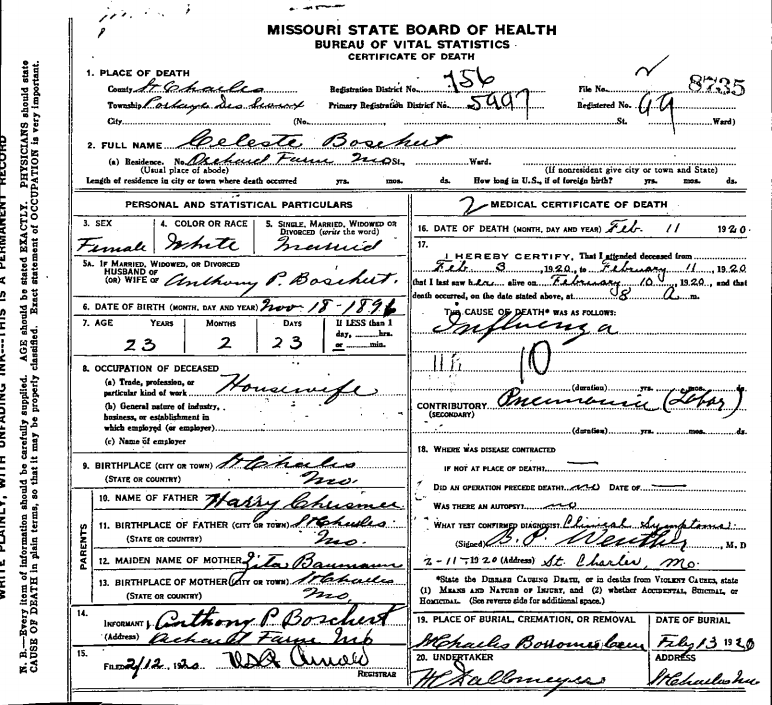 On a hunch, I searched by last name (Boschert) and year of death (1920) and found another death certificate. Certificate # 8734 was for Unknown Boschert. The baby died at birth on February 10, 1920 and died as a result of premature birth caused by influenza and pneumonia in the mother (confirming that word I couldn't fully read in the previous death certificate). This matched with what my mom knew and confirmed it had been baby girl.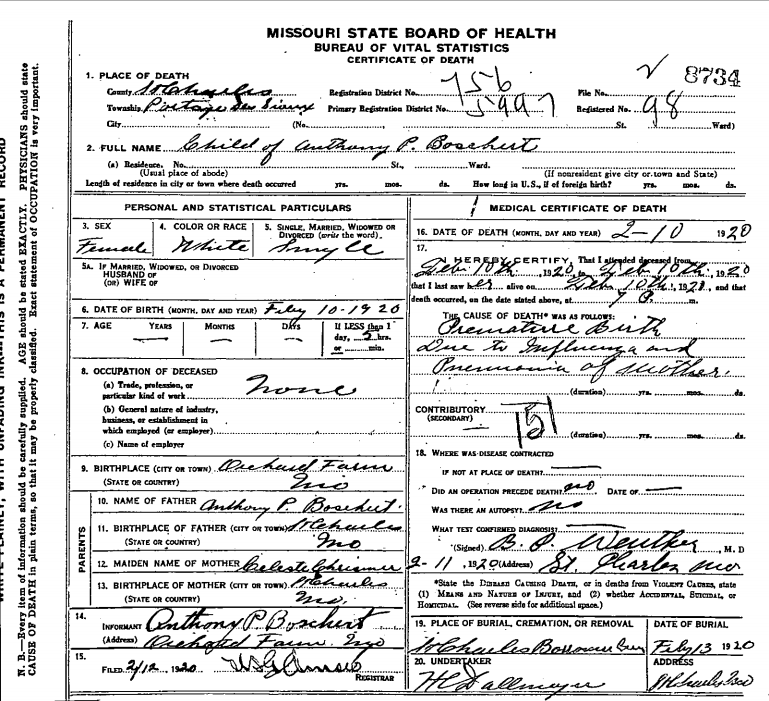 I had confirmed a few details by this point. My great grandma died in Orchard Farm, located in Saint Charles County, Missouri, and was said to have been born there too. Her date of birth was in dispute. I had some parents names and a spouse's name for her but no word on the older child. So I took to the census. The census is performed every 10 years (though some states did it more often) and you likely won't find anything for 1890 due to a fire in 1921. It's a horrible loss and one similar in loss to the 1973 fire at the National Personnel Records Center which held 16-18 million military records for Army and Air Force personnel. Another note about census records: Ancestry may give you some free information from census records but they want you to have a paid account to view the physical document for all years, with the exception of 1880 and 1940. For other years, if you don't want to pay I've found that Mocavo gives you the ability to view them for free. You'll still want to find a way to save the records on your own, but this is a good start for researching. Searching for my own great grandmother in the census meant I should be able to find records from 1900, 1910, and maybe 1920. For all my relatives, I like to make a spreadsheet where I log what years I should be able to find census records for.

 If someone hasn't been born yet, I gray out the year (for example 1880, 1930, and 1940 for Celeste) and for years I can't find a person I highlight them in yellow so I can continue searching at a later time (like for Anthony in 1940). I like to document how old a person was in each census year and what address or area they lived in by year. It helps for fact checking later on.
I first find Anthony and Celesta Boschert together in the 1920 Census. They are spread across 2 pages so I've spliced them together for a quick visual.

I find a few things here: the census was completed on January 27-28, 1920 so I managed to get my great grandmother on a census just 2 weeks before she died. This is a lucky break for me. There's no address but I can see she lived in Portage des Sioux Village which is where one might find Orchard Farm Village (and it's apparent on page 2 of the census).
Anthony P Boschert (my great grandfather) is listed as head of house, a W/M aged 32 (DOB approx 1888). he can read/write, and is a retail merchant. He and his parents were born in Missouri.
Celesta S Boschert (my great grandmother) is listed as Celesta again and she is the wife of Anthony. She was a W/F aged 23 (DOB approx 1897) and she could also read and write. Again, this states she and her parents were born in Missouri.
Harry L Boschert (my great uncle) is listed as the son and his age is listed as 20 months (DOB approx. March of 1918)
Celesta K Boschert (my grandmother) is listed as the daughter and her age is 10 months old (DOB approx. March of 1919). I know that my grandmother went by Celeste Catherine Boschert and was born in February of 1919 so this is pretty close. Remember that Enumerators often are listing what people tell them and people speak with accents and don't spell everything out. There will be variations (Katherine/Catherine).
John H Hoelscher, a boarder aged 33. I know nothing about this guy but it's quite common to find this in census records.
The 1910 Census result was easy to find on Ancestry just by searching. I was able to find a specific address she lived at on this census but sadly I know the original house there has been demolished. This census record is full of people:

Harry Chrismer (my great great grandfather) is listed as head of house, aged 40, and a blacksmith. He was born in Missouri but I now know both of his parents may hail from Maryland. This is a great lead for researching him and his parents.
Sadie Chrismer (my great great grandmother) is listed as the wife, aged 37. Now, I already know from my additional research and family sources that Sadie = Zitta but looking at this census record one might be thrown off. There's an ongoing series on the Ancestry blog about commonly used nicknames that will help you out.  One tip that's here is the 1910 census was kind enough to ask spouses how long they'd been married and asked women how many times they'd given birth and how many children were still living. In an age of high infant deaths, this is an incredible resource. Here we can see that Harry and Sadie have been married 16 years and they're oldest child is 15 so it's likely all these children are theirs together. We can also see that Sadie has 8 living children of 8 births which is rarely seen. Sadie's parents were both born in Germany so it's worth it to check out German nicknames too.
Walter Chrismer (my great great uncle) is 15 here. He's the uncle who adopted my grandmother later on.
Celeste Chrismer (my great grandmother) and she is 13 here (estimated DOB 1897)
An additional 6 girls, Goldie, Myrtle, Delpha, Willa, Anna, and Marie. When you lose a family member on the census, siblings can be a huge help. Parents move in with children and grandchildren, bachelors move in with brothers, too many young girls and one might be a maid for a sister. Don't discount the siblings.
I find Celeste one more time on the 1900 Census:

We have the usual crew of Harry, Sadie, Walter, Celesta, and Goldie here. Again, in 1900 we get how many years married and how many births/living children. Somehow the math gets a little off here. Harry and Sadie were married 8 years in 1900 and 16 years in 1910. To confirm this detail, I'd begin by searching marriage records from 1901-1905 when trying to find the true number. People on census records are not always the best at doing math in their head. That's why I refer to my spreadsheet and can see that my great grandma was listed as 2, 13, and 23 even though those intervals should be 10 years. People make mistakes. The Harry Chrismer you see here was named David at birth and his parents changed their minds and his name. It happens.
There's a world of additional records out there. If you look at the zoomed out version of these records you can see parents and cousins living next door or across the street from family members. The library has so many free resources.
I also said in my original post on how I research that you may turn up some family secrets. Remember my great grandmother's oldest child, Harry Boschert? Eventually I discovered what happened to him after his mom died. Harry died in 1934 at the Emmans Asylum for Epileptics and Idiots. He died from epilepsy and malnutrition. He'd lived in the home from 1926-1934. I don't know where he went from 1920-1926 but I hope to find out one day.