Tagged with "before & after | The Hyper House"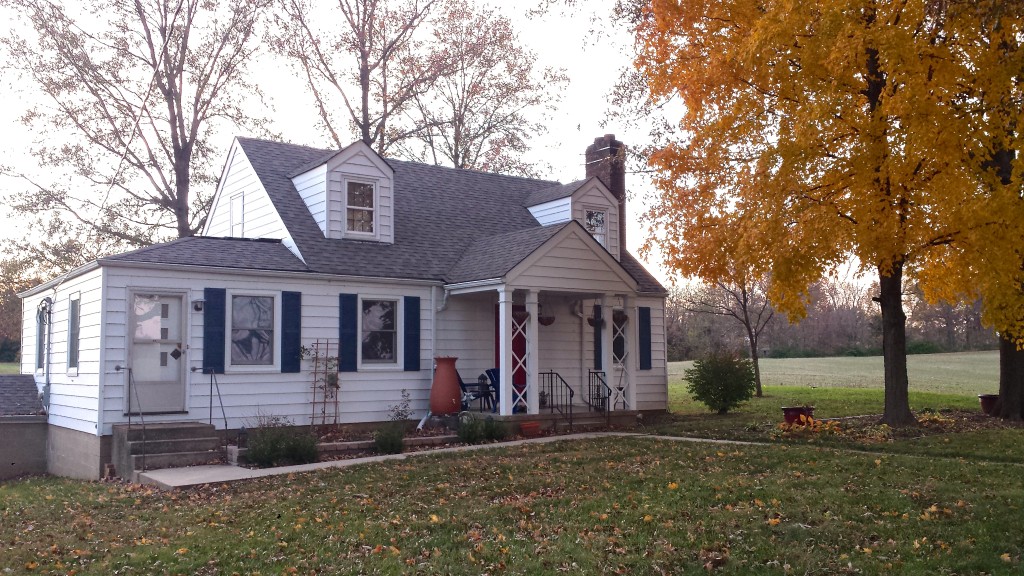 I've told you I've moved but I never did a farewell post to my first house which I bought with the help from two high quality Realtors near me. This house means a lot to me, even though it also drove me crazy at times. My husband bought this house when he was still my boyfriend. We looked at all kinds of homes, even mobile homes and park models, wondering what we would be able to afford. We found this one within our range and though we thought we would be outbid, we ended up getting it. Back then I was in college and had just finished chemotherapy. He bought it in 2006, I moved in during the fall of 2007 the day after our wedding, and we moved out just before Christmas in 2014 with the help of movers. I lived in this house when there was no kitchen, when we had no bathroom doors and had to cross those delicate boundaries, through cars that drove into the yard and into trees (but thankfully never the house), through getting our first dog, through a break in, and through our learning curve as DIYers.
If you are looking for cheap property then you should also consider Spain as it's a fantastic place to live and the property prices are good, have a look at PropertyOso to get an idea of what you can find. In addition, if you want to sell your home fast, you might want to consider visiting Meridian Trust for more details.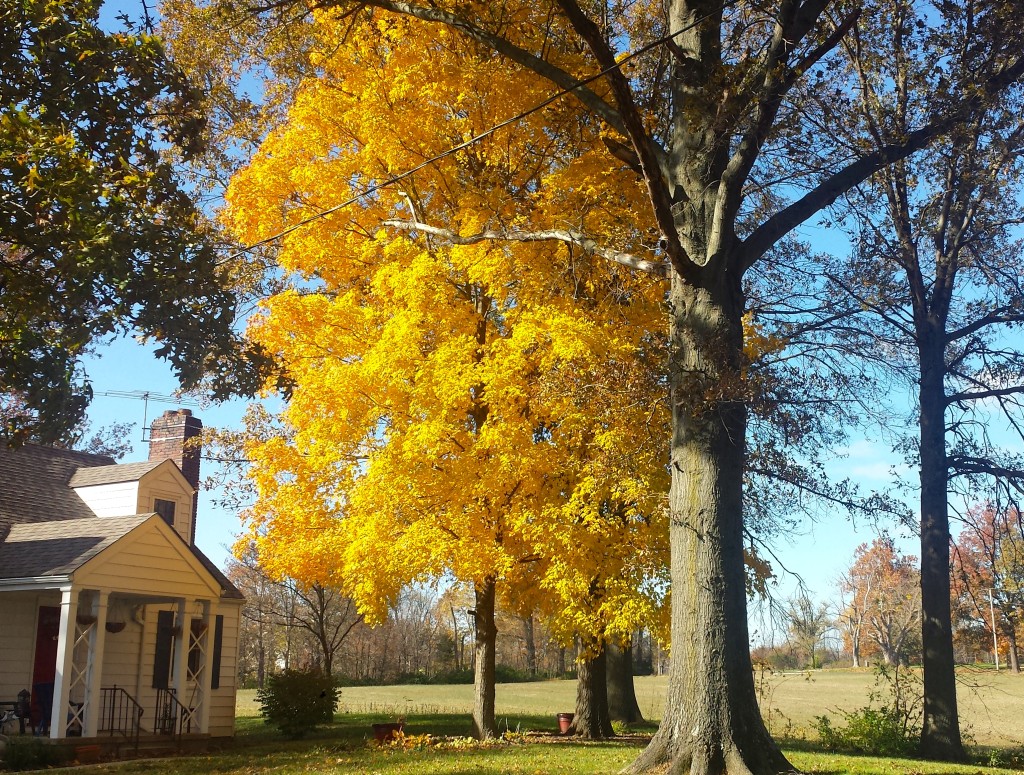 This house was built in the early 1940s by my husband's great aunt and uncle. My husband bought it from his great aunt before she died, and now another family member has bought it from us. Because it stayed in the family, we were able to have a simple transaction and the family member was very flexible while we had our infinite house hunting process. If you are also selling your house, you can check it out for a possible buyer.
Additionally, the relative assured us he wanted to change things like paint colors so he wanted us to paint prior leaving. Painting the interior results in a 107 percent on the return on investment (ROI), and painting the exterior leads to a 55 percent ROI, according to a HomeGain 2012 Top DIY Home Improvements for Seller survey. Painting the interior costs on average $967, and offers a $2,001 increase in value, Are you in need of an Australian painting contractor? The Painters Touch provides expert home painters Burpengary and in the surrounding areas.. So while I'm not proud of how every room looks here, I can tell you that there's now a Blues shrine in the space we used as the office and that room seems to get a lot of love. Here's a shot of the room before we moved in and when we moved out.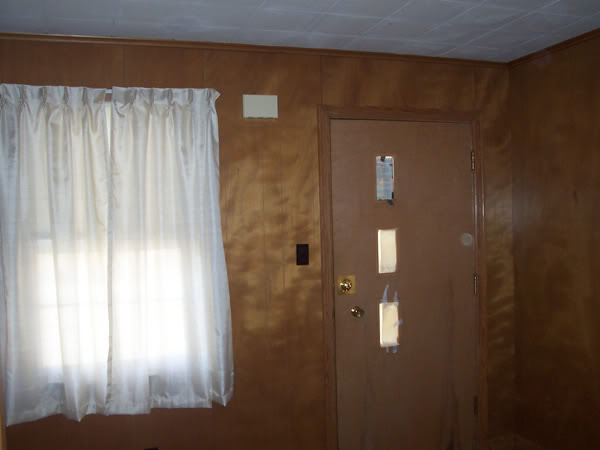 Before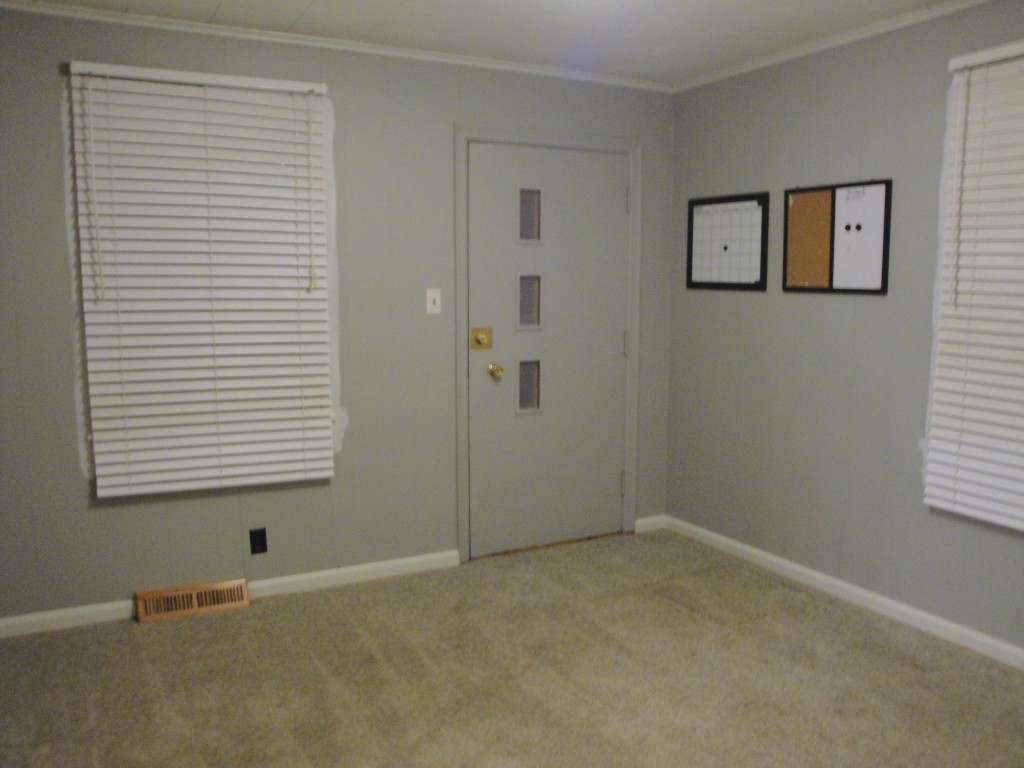 After
And again with the dining room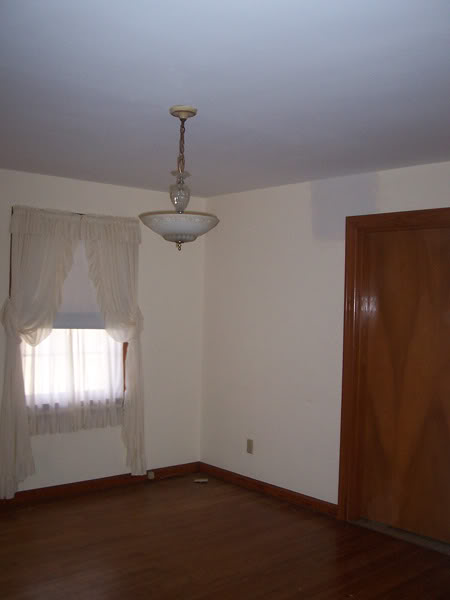 Before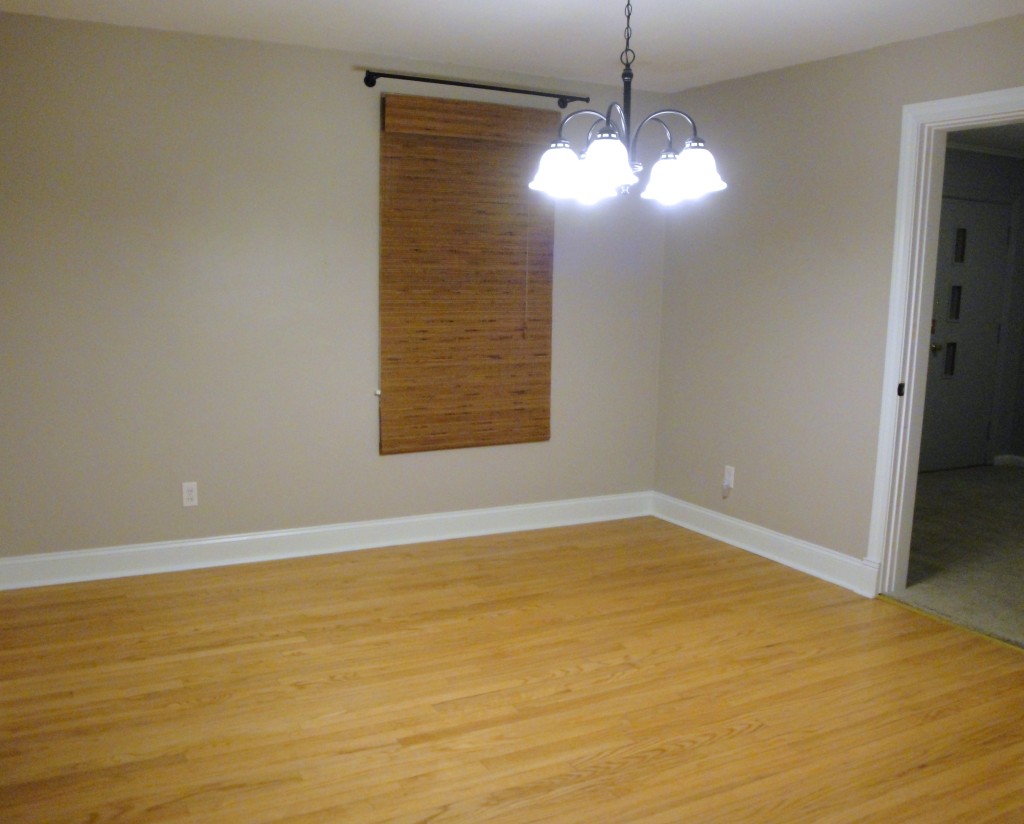 After
Here's a glance at the living room: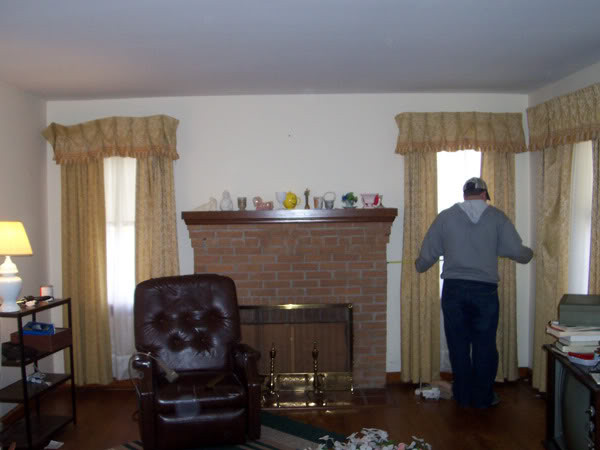 Before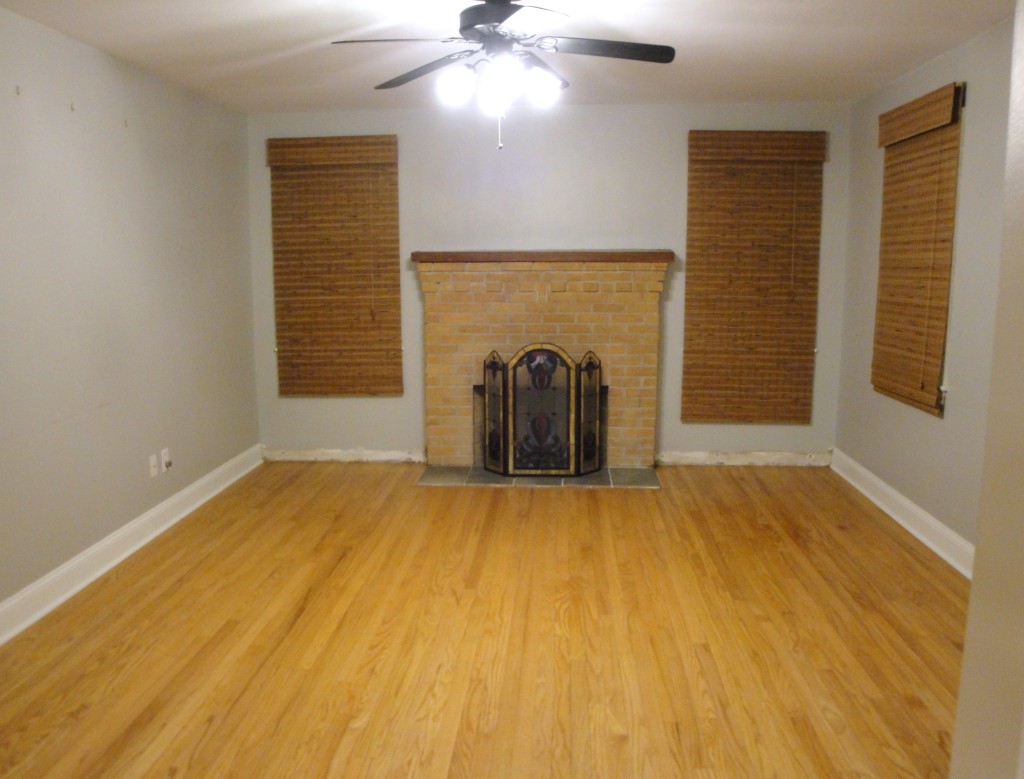 After
The bathroom ended up changing places in the house, hence the major redesign, if you will like to renovate yours too, check  the santa barbara interior design. catalog Here's what we started with: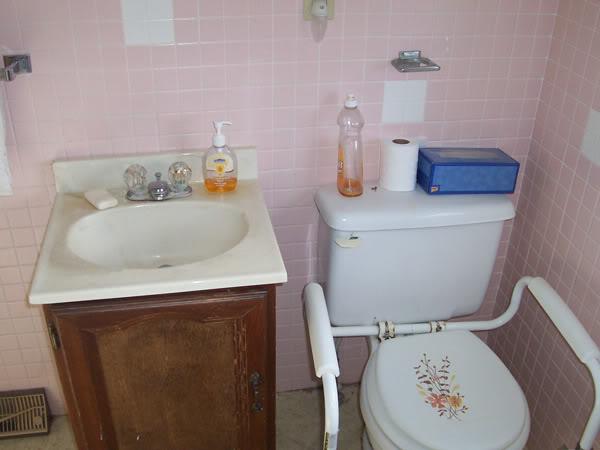 And here's what we ended with: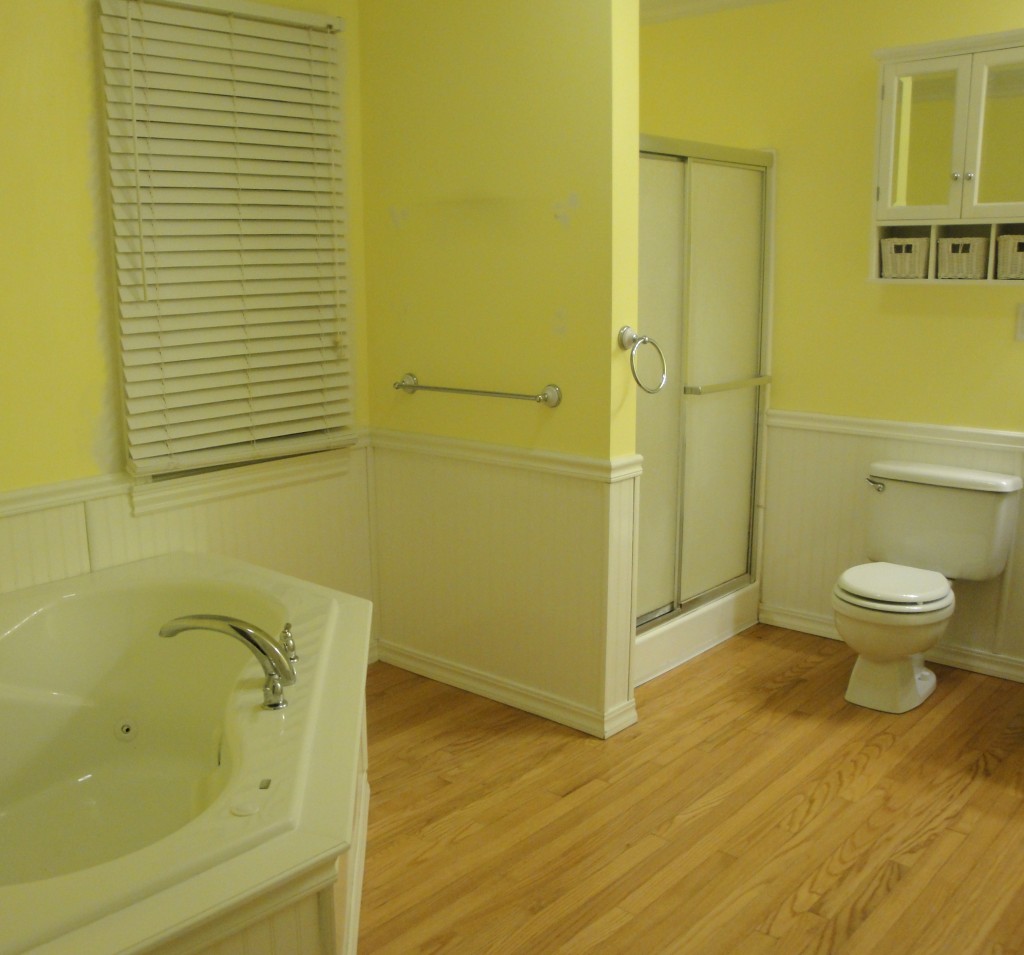 We had a can of paint ready to go for this room and thankfully the new homeowner has already painted it in a color of his choice. This room was our test room for yellow and we ended up finding the perfect color and putting it in the kitchen. This picture is the last trace of our failed experiments.
Some of the properties available in Pattaya are sea-view houses, condos along the beach, and land with luxury villas. Recently, there has been an increase in the number of expatriates coming to Thailand for work and living. The affordability and ease of purchasing property is one such reason for this influx. Use then next link to search for properties available in Pattaya.
Speaking of the kitchen, the old one was much smaller and less functional. We did a full reno on it, gutting and including that pink bathroom above. Here's the final look at the kitchen: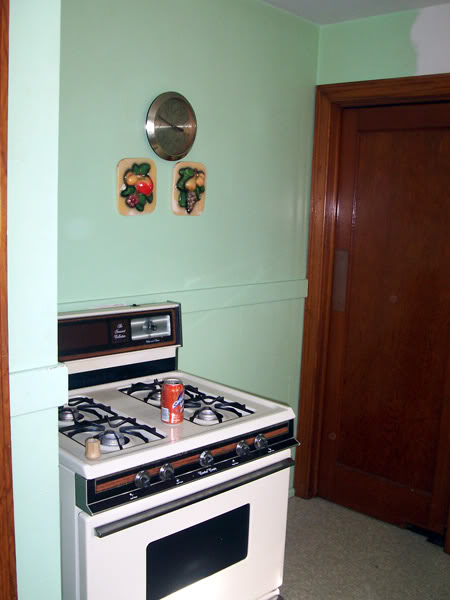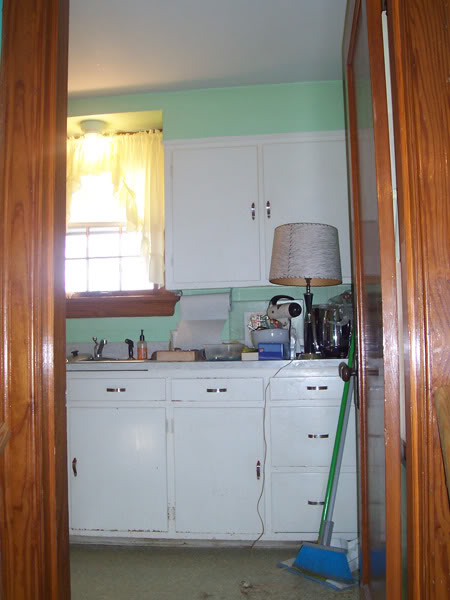 Before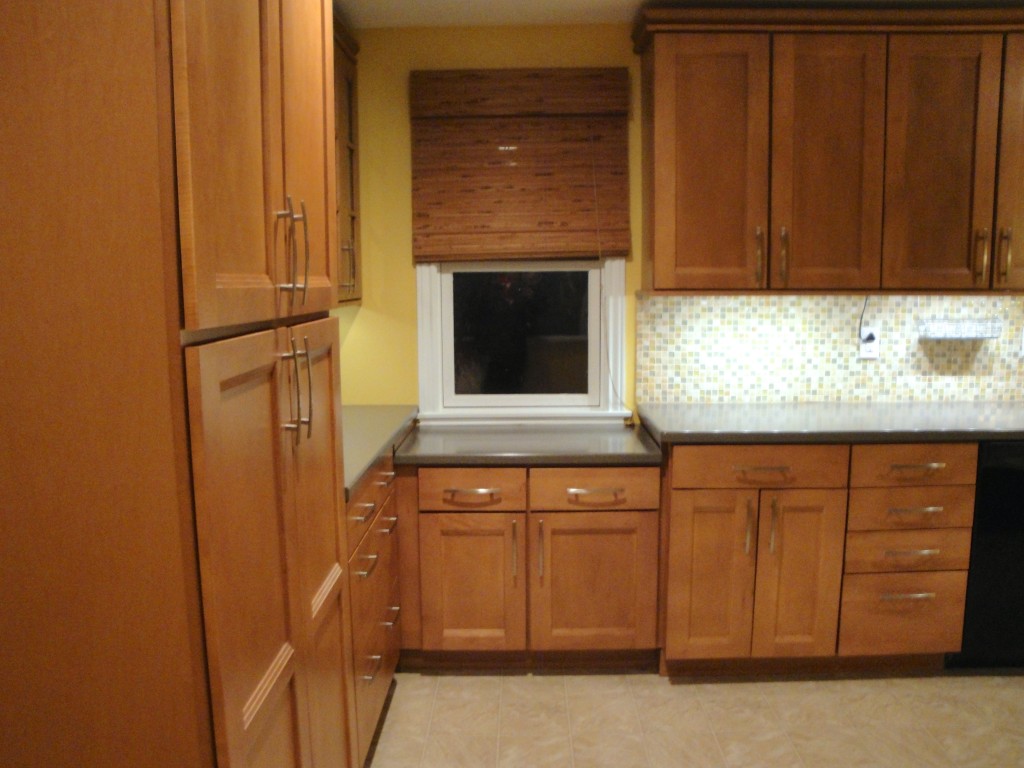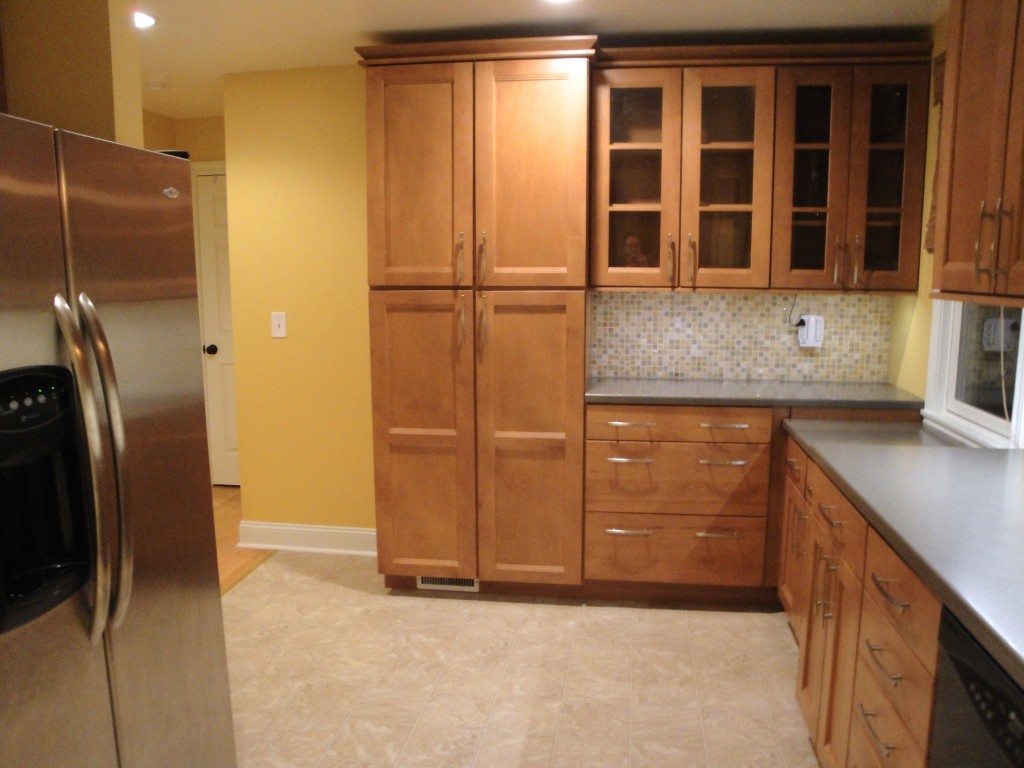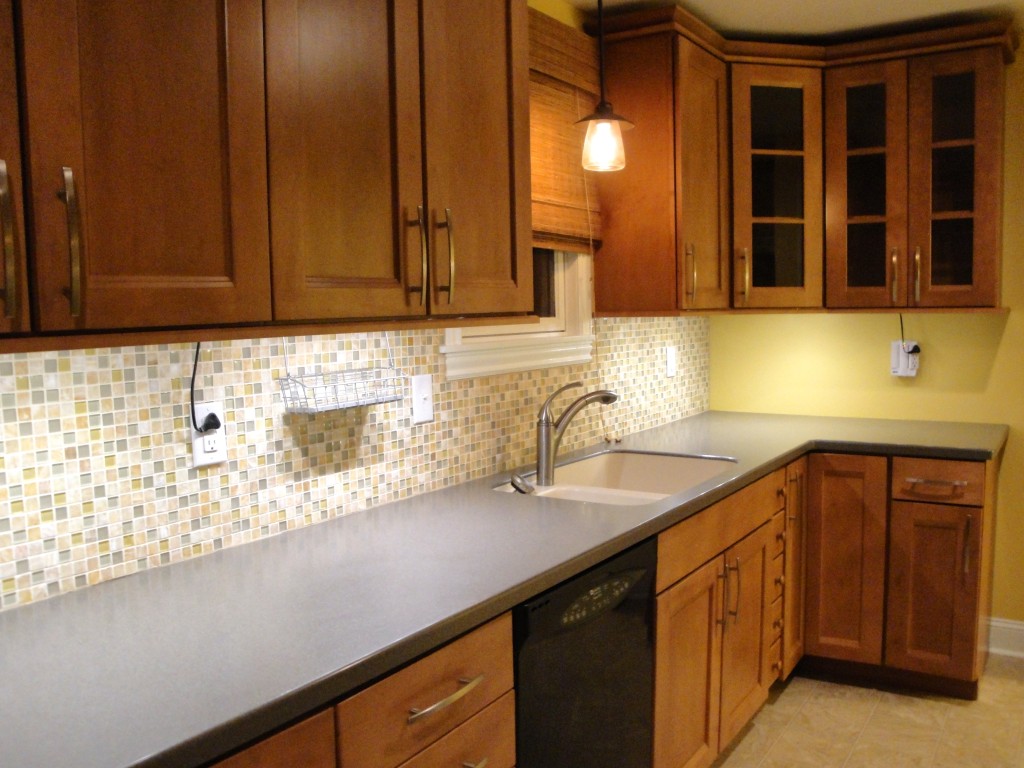 After
That kitchen was really my favorite part of the house. It came out looking so good and while I love my new one, there's a sense of pride that comes from planning and designing a space of your own, plus if you are selling or looking for a mortgage, it can really raise your homes value, according to these expert pre-mortgage valuers.
I'm leaving out the bedrooms with a king size bed with tv and some older exterior shots on this tour to protect our privacy and the new homeowner's as well. I always thought this house had so much potential and while we found some of it, I know that the new owner will find even more. If you're ready to buy your house, then head to PenFed Realty.

Do people still give watches for Christmas? I hope they do. I love watches and I hate seeing cell phones pop out every time someone needs to know what time it is. Plus, watches are such a classic for accessorizing.
My own watch was looking a little big on me lately. I like my watch to have a little bangle effect to it but it was starting to knock into my keyboard and my desk way too often. That's where this handy watchband link remover
comes in.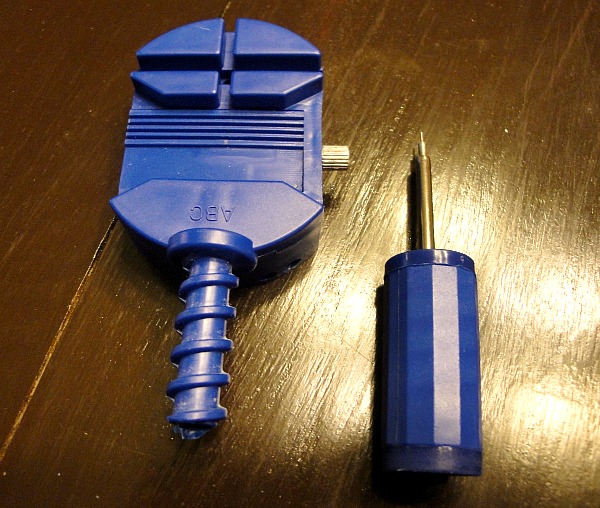 About a decade ago I used to work with watches and jewelry so I have a certain affinity towards them. This item here is the best tool for removing links from standard watchbands. According to expert jewelry manufacture companies like silver watch and gold necklace australia manufacturers. You can't use it for a screw-on band or for a stretchy band but it works perfect for one like mine and most on the market. The best reason to do it yourself is convenience. For under $3 you can always change your size should you gain/lose weight or just want a better fit and you don't have to wait in those long after-Christmas lines. This isn't a sales pitch, this is just how I use my own tool.
First up, you need to find the pins. They shouldn't be too hard to locate as they're on the edge of each watch link. Check both the left and right sides of the link and find the skinnier point for the link (hint- it should not have a line down the center) and that's the side you want facing the ABC end of your link remover.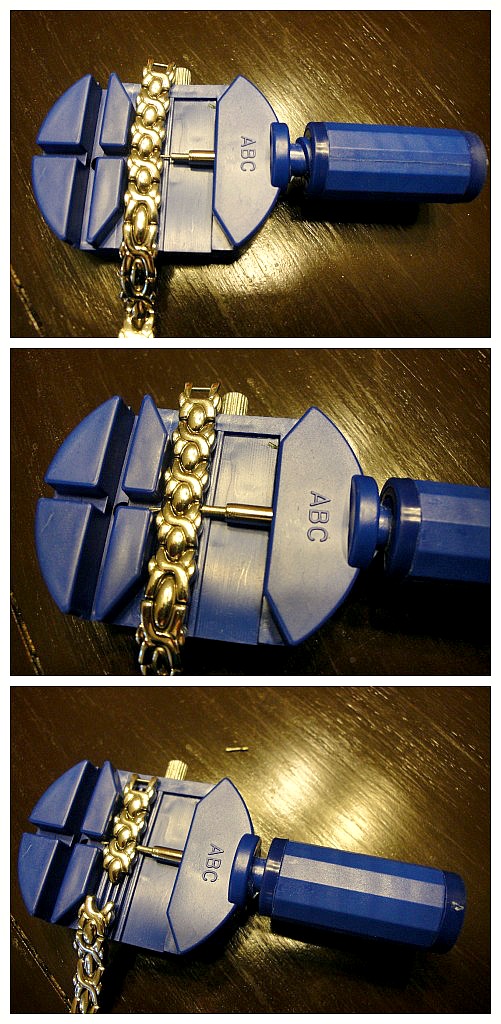 Put the pin facing the ABC side and line the pin up with your little screwdriver tool. Now screw in very gently until the pin pops right out. Set this pin aside, you'll need it later. Now repeat this step on the opposite end of the link you are removing. The link and the second pin should fall out. You'll want to keep that pin and link in case you need to resize in the future.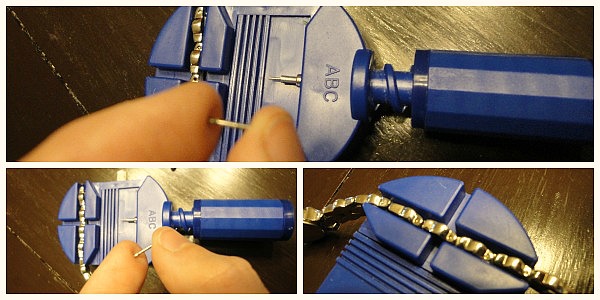 Now, time to reach for that first pin you set aside. You're going to use the top compartment on your tool to hold the watchband on its side. Make sure that skinny side from before is facing down. Now push your pin in, skinny-side first, and give it a firm push until it clicks in place.  Then you're done!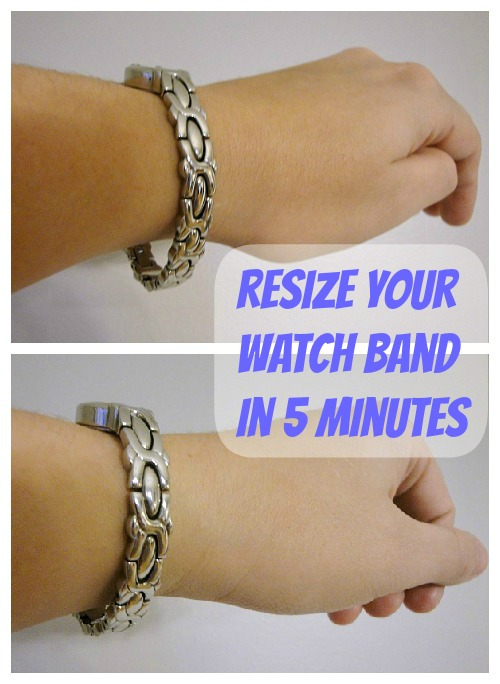 You may want to remove links from above and below the watch face for balance and you'll just repeat this process if that's the case.  If you're still not convinced, the watchband link remover is also one of those perfectly priced items that will qualify you for free super saver shipping on Amazon if you're just under that $25 mark. Don't forget- the free shipping cutoff for Amazon is tomorrow, Tuesday 12/18/2012!
Pin It

So remember that scary kitchen? Or maybe the blue one we lived with? Here's the end result of all the work my husband and I did: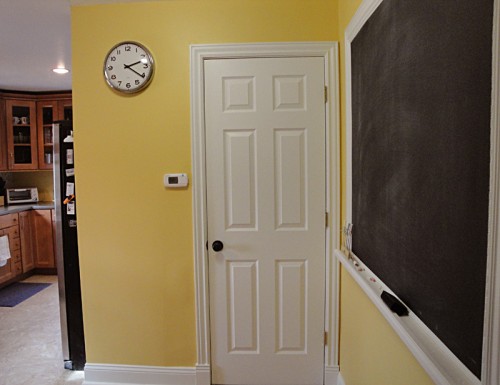 Walking into the kitchen you now see the new door leading up to the attic and the chalkboard my husband built from scratch.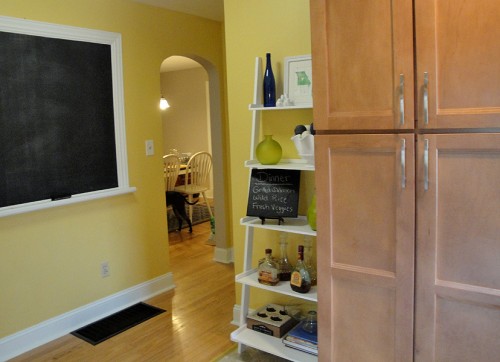 Here's the way you just came from leading back into the dining room. That ladder bookshelf and the commercial wash down taps we recently added are my favorite things.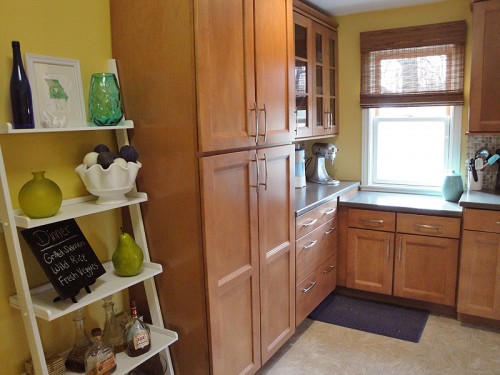 Here's another shot of it along with the pantry and my little baker's nook. Can you believe all of this used to be in the bathroom of the house?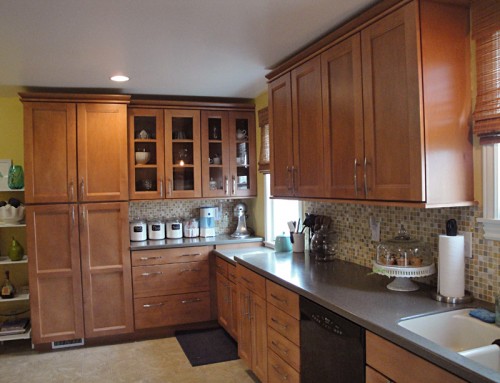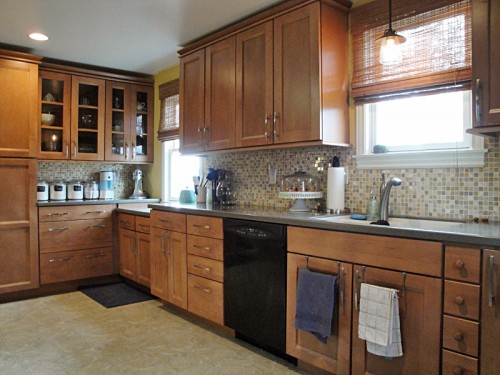 Here's another shot of the nook with a glimpse at the full row of cabinets. I use those tiny little stacked drawers to hold all my spices and they fit amazingly well thanks to the job done by the kitchen renovators.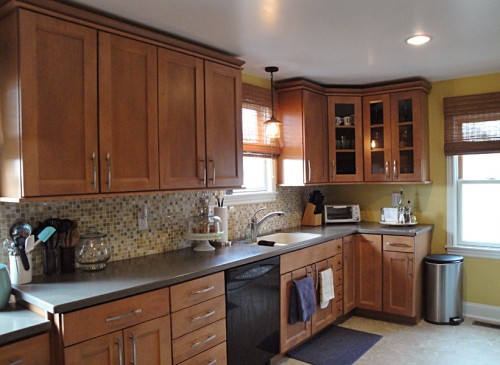 Here's a shot into the corner where we have a few more glass front cabinets.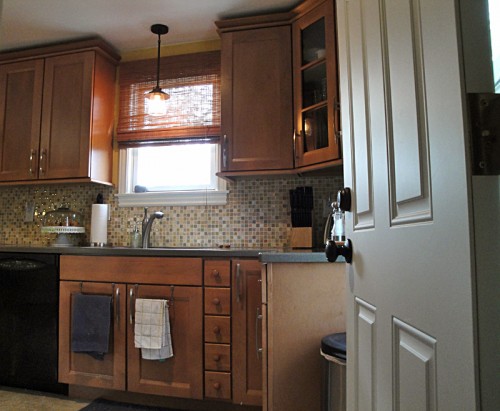 This shot shows off the schoolhouse light we bought a few months ago from Lowe's and the tile. Here's a detailed tile shot. We were also skeptical of having granite countertops but at the end decided to install them and we love it; you should try it now if you are doing a kitchen renovation.
Countertops and custom tile installation can add so much to the decor of a kitchen and bathroom. They can coordinate with walls, laminate flooring, and decorative items, and they can convey the mood you seek to create in your home. Rather than choosing generic counters, consider installing custom ones that perfectly meet your needs. Here are just a few reasons why you should opt for custom countertops, see some ideas at https://www.signatureworktops.co.uk/caesarstoneworktops/.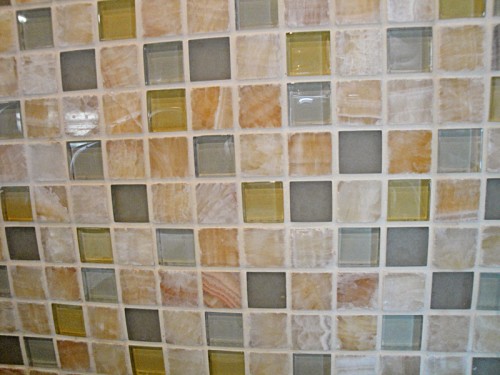 It's from Home Depot and so incredibly amazing looking.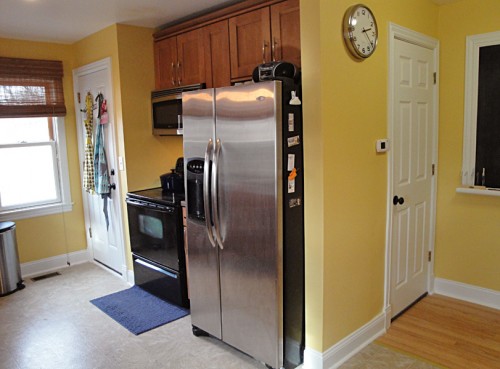 Remember how we built a nook where a door once was? This shows off the new layout pretty well.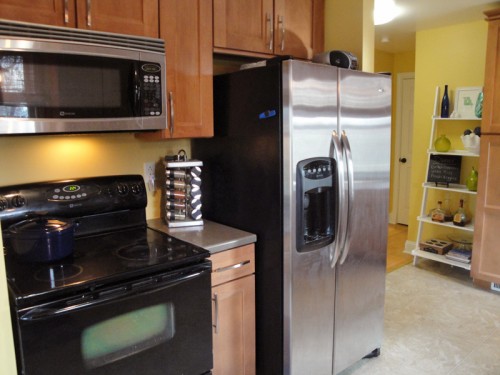 We still have some very minor things to touch-up in this room but we've hit the 95% mark so I think that my husband and I did amazingly well so far. Here's some before and after shots. Check them out while listening to Sarah McLachlan's "I Will Remember You" for an authentic experience.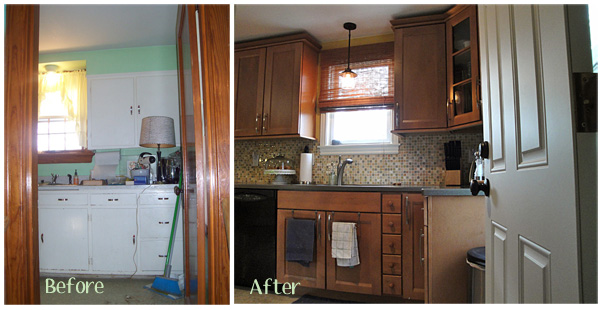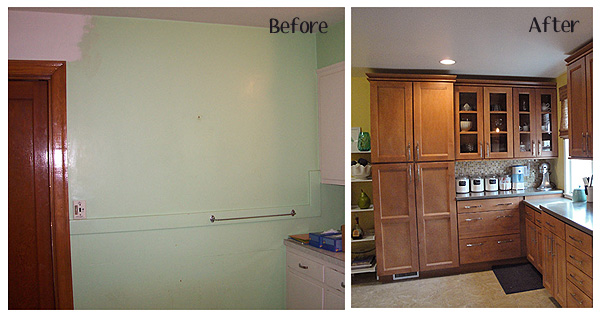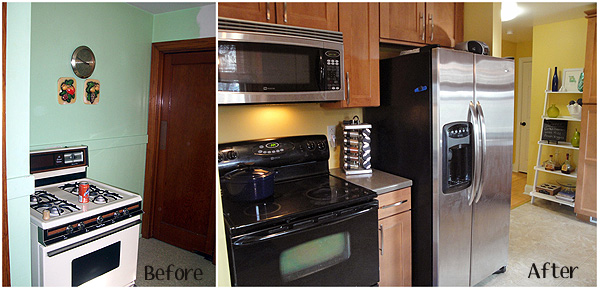 It's been a few years, a ton of work, a chunk of change, lots of yelling, lots of love, but it all came together. You can't believe how wonderful it is to cook a meal in such a beautiful and organized space and knowing how much I did and my husband did with our two hands (along with those of family and friends). I just feel so proud of this space. The rest of our home has quite a ways to go but I really believe we're on the right path and some day all the rooms will look this good.
Linking up to Thrifty Decor Chick's Show Us Your Kitchens! link party.

Our dining room has been less of a dining room and more of a storage room for all of our renovation projects since we've started this whole crazy makeover. I can breathe a huge sigh of relief now that it's all done, or at least mostly done. Here's the room before so you can see where we started from.
Before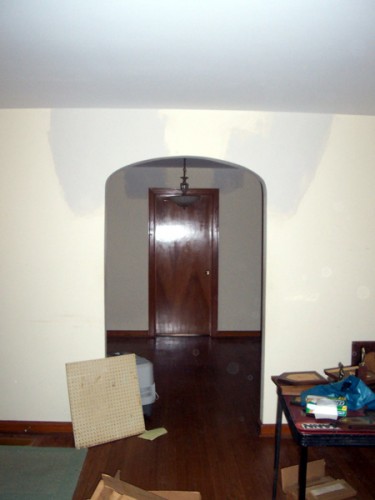 You might remember this shot from the living room post. It's a view into the dining room from the living room on the day we first toured the house. The junk is leftover after the house was abandoned.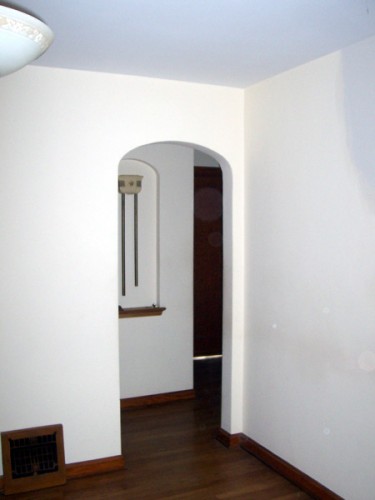 This is the view from the dining room into the old hallway. The door you see in the back was to the bathroom and the chimes you see are from the doorbell. On the baseboard you'll catch a glimpse of our air vent.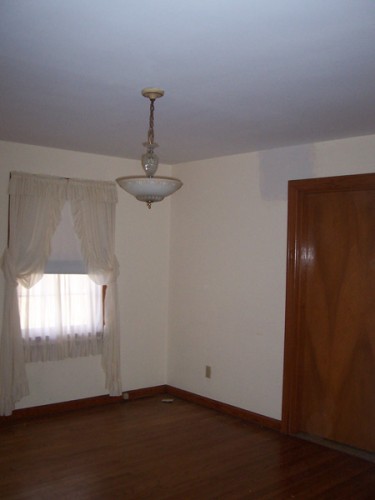 This is a view from that same hallway into the dining room. The door there lead to the original homeowner's office/business and the curtains were not my first choice considering the mold prevention tips from experts. Here's a closeup of that light though: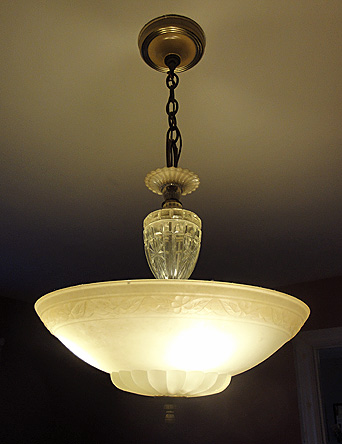 Cool story about this light: my mother-in-law's grandparents gave this light to the original homeowners (my MIL's aunt and uncle) as a wedding gift. During our renovation we decided to swap the light for another so we cleaned this one up and gave it to her for Christmas. Now she has a lovely antique that's been in her family for years and we don't feel guilty for going more modern.
In Between
When my husband first moved in he had a new pathway cut to allow access to our new bathroom. One day I'll get a floor plan up here to show how drastically we changed the layout. We had the path cut with an archway to mimic the arches found in the rest of our home. He also painted the walls a deep rose color that just ended up being too much color for such a small space.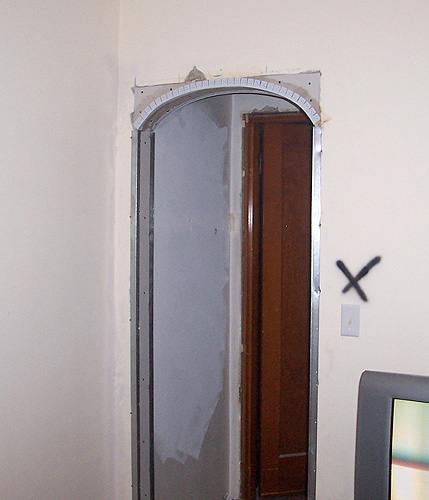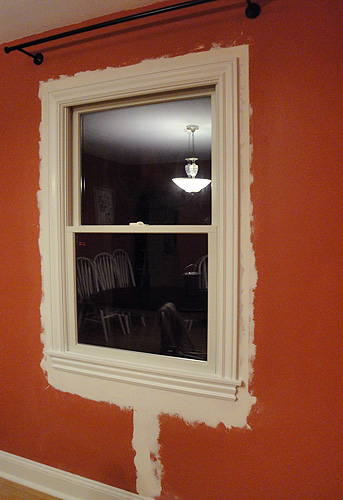 We ended up replacing the windows and doors in the house and that required some new trim and some patching. We have plaster walls so they can crack from all the shifting so we patched that too. Do you spy the new baseboards too?
Now
The view into the dining room from the living room where you can see our new dining room furniture set.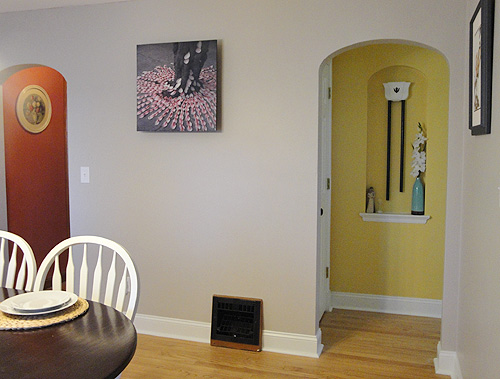 The old and the new archways. We've added some color to the doorbell, we're testing a new air vent color, and the magnolia tree art is by my uncle.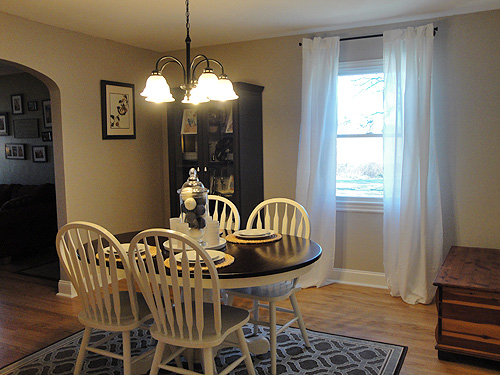 The view from each of the archways back into the room. You can see the table makeover here. The wall color is Sharkey Gray by Martha Stewart for Home Depot. I used the Glidden paint they were already phasing in and I have to say the coverage was incredible. If you need some insulation work done then First Defense Insulation homepage is the one you should go to. The light was from Lowes, the curtain rod and curtains are from Ikea and so is the hutch. Here is a closer view:
The hutch is actually the Edland linen cabinet from Ikea.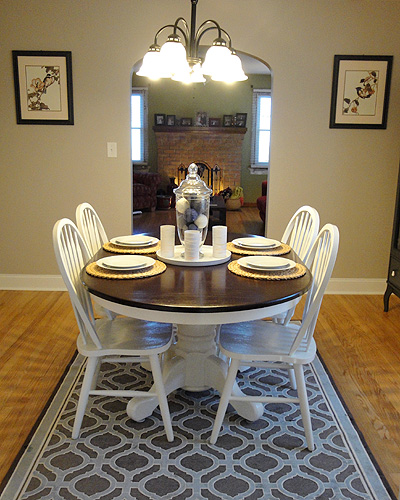 Here's the view from the office back into the living room. You can see how many rooms lead into the dining room and why we wanted a light color to open the place up. As you can see, the French Dining Room Furniture fits the style of the room really well. The room is so bright that we added the tangier rug from the Martha Stewart collection at Home Decorators Collection to soften the place up. If you've never bought from them they offer coupons and discounts quite regularly and they're affiliated with Home Depot. They even have a store based in St. Louis (and Atlanta) if you're local.
To Do List
We're mostly done but we still have a few more steps to make this room complete.
Finish painting the air vent since it's supposed to warm enough to have the heat off this weekend
Paint the new door (it's only primed right now)
Decorate above the hope chest. I'm thinking shelves, art, or maybe a mirror.
Refinish the hope chest. It has sustained some damage along the way so it'll need some work and if it wants to stay in this room it needs to fit the look of the room.
Add some color. We just need some warmth and more accessories so it doesn't look so stark. Then we also love to add some real style to our rooms with upcycled and painted furniture like Welsh dressers as they just look stunning.
Wash and hem curtains
Order blinds
Repaint ceiling. I'm waiting until all 3 rooms that open into each other are finished before I paint.

One day this summer I decided I'd had enough of my dining room table and chairs. They were given to us by a relative who was combining households and didn't need two tables. For some reason they chose to get rid of the set with unstable chairs and water damage on the tabletop. No clue why. We made do by sitting in the sturdy chairs and investing in a tablecloth. But like I said, this summer I had enough.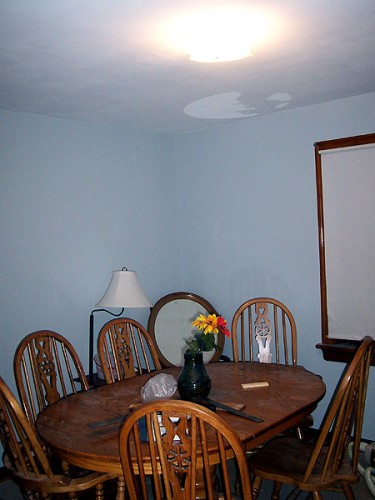 The table's arrival. We stored it in a bedroom since we were refinishing the floors at the time. Little did I know how similar refinishing floors and tables were. My plan for the table makeover involved a two-tone design with a wood top and a painted bottom. My first step was to remove the tabletop and then prime the base with Zinsser Bullseye 1-2-3 Primer Spray.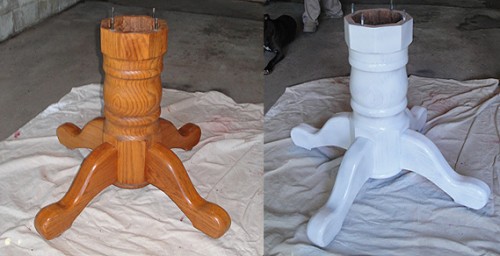 I popped the tabletop back on and primed the bottom of it as well. Next up came the sanding. This table had some insane protection on top so I did a 3-level sanding process. First I did a 70-grit sandpaper to tear up the lacquer, then a 150-grit sandpaper to smooth it out, and finally a 220-grit sandpaper to finish it off. I had one sander but it was old and died in the process so I upgraded to a  DEWALT D26441K 1/4-Sheet Pad Sander and it was amazing to see the difference. The most important thing to remember is to sand with the grain and to take it slow. Here you can see the table after sanding, a good cleaning, and a coat of Honeymilk paint.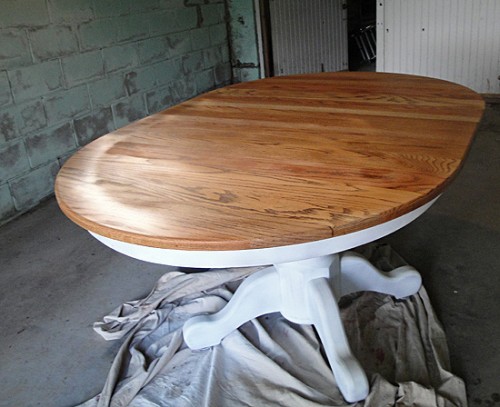 Next up was the staining. I chose Minwax Gel Stain in Red Elm and brushed it on with some foam brushes. I went with 3 coats because I wanted a deep rich color with high contrast but you can see that even 1 coat did a very good job. I probably could have used some wood conditioner but I honestly didn't notice a difference in quality with the number of coats that I did.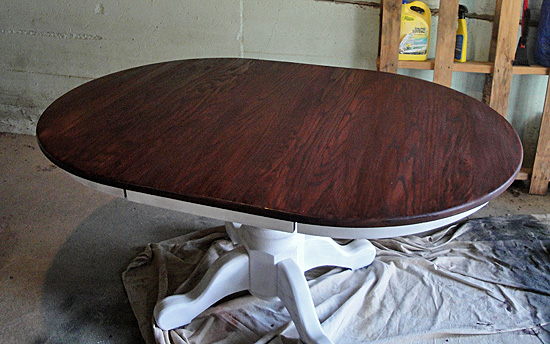 Next up was some drying and a chair makeover. You'll notice that the chairs at the beginning of the post aren't the same ones you'll see here. There were structural issues, a far too intricate design for our simple tastes, and while I attempted to make them work they were a complete failure. Thankfully my mom was storing extra chairs and in an effort to clean out her basement she passed the chairs on to us. Bingo!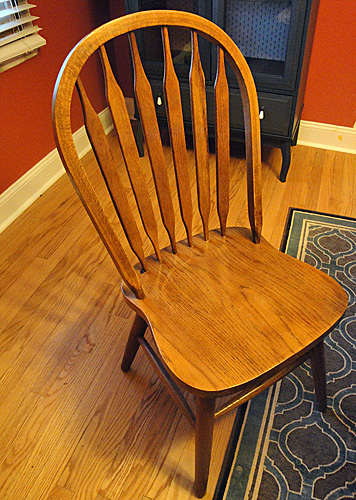 First up was to remove the finish since my first experiment taught me chairs can be a little finicky. I used Klean-Strip Easy Liquid Sander Deglosser. You just wipe it on with rags and the gunky finish comes off. Wipe it on outdoors with a mask and gloves because this stuff stinks. After you're finished call on your old friend Zinsser and their paint-on 1-2-3 Water-Based Primer. Brush it on with a paintbrush and soon your chairs will be ready for paint. They're drying inside because it is too cold and rainy here right now for anything to last outside for too long.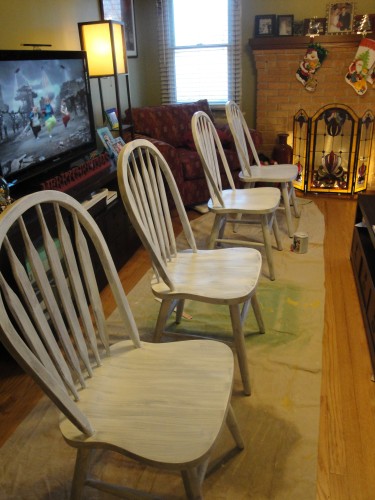 I then went on to paint the chairs with 2 coats of Honeymilk paint.
Next up was the most important part, protecting all my hard work. For the tabletop I chose to use Minwax's Wipe On Polyurethane for its high ratings and durability. Rather than wiping it was much easier to brush each coat on. I brushed on 2 coats for the stained tabletop. Since polyurethane is known to yellow wood, I didn't want to risk it discoloring my chairs and table base. I ended up brushing on Minwax's Polycrilic Protective Finish with fabulous results. Everything painted got one coat of the polycrilic though I did do a second coat on the seat of the chairs for extra durability. Ready to see what I accomplished with all that hard work?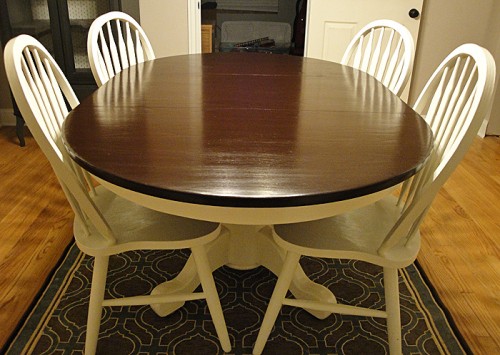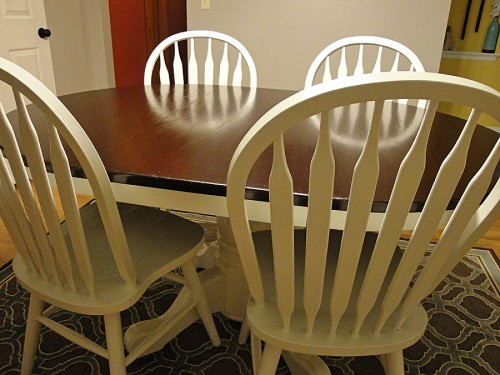 And here it is decked out for Christmas also I found burlap table runner bulk linens perfect for the decor: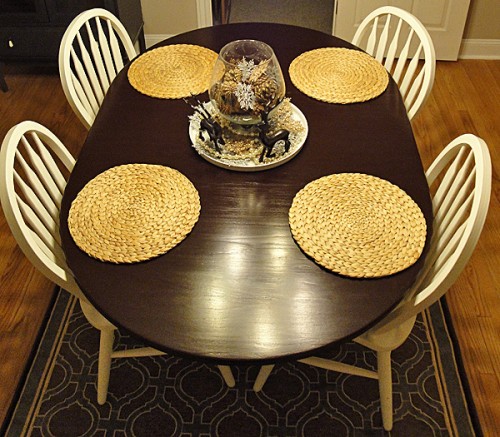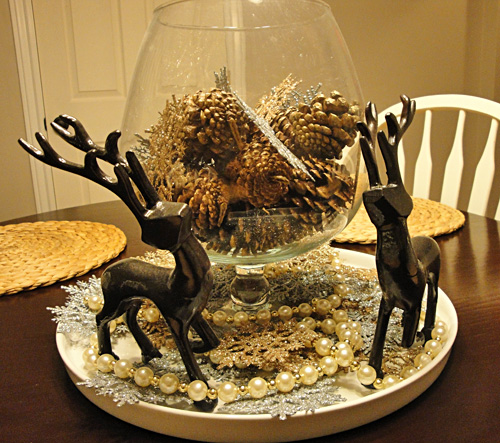 The placemats and white centerpiece came from Ikea, the glass bowl came from Michaels, the pinecones were spray painted glittered gold, the snowflakes and beaded garland came from Walmart, and I spray-painted some reindeer I found at Home Goods. It was a simple but elegant centerpiece for a stand out table.
Spying the new dining room in the background? I'll have a post up soon about the full room renovation with the help of Handyman Amarillo so stay tuned! In the meantime, I'm linking this post up:

In 2006 my husband bought a house. It used to be his great-aunt's house and she built it with her husband in the early 1940s. Her husband died in the late 1960s and she relied on family to help her keep up with the house but eventually her health failed and she needed to move into a nursing home.
That's where my husband comes in. The family was looking to liquidate her estate quickly and my husband got the house for a low low price, knowing it needed tons of work. I joined in on some projects and in 2007 we got married and the house became our baby.Since then we've done some crazy renovations (brand new kitchen), some major maintenance (refinish floors, new roof, windows, doors), and some in between projects that basically made a room livable for the moment. One of those rooms is the living room.
Before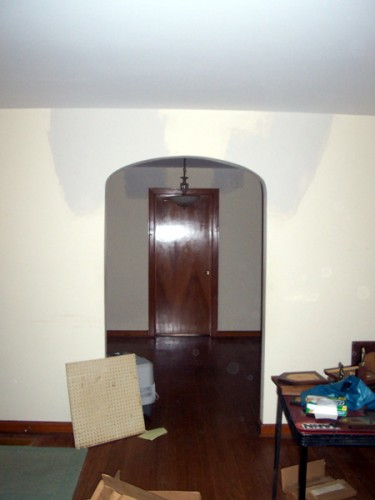 Above are some shots of the living room on the day we were first given a chance to tour it, circa January 2006. It's a bit trashed as the family was in the process of moving out all the valuables and they sort of decided leaving a trash-filled house was a great housewarming gift. I don't even know. My husband was taking measurements of the wall in the first shot. In the second shot you can see into the dining room and also see some places where cracks had been repaired. I remember really liking this room for its fireplace and hardwood floors.
During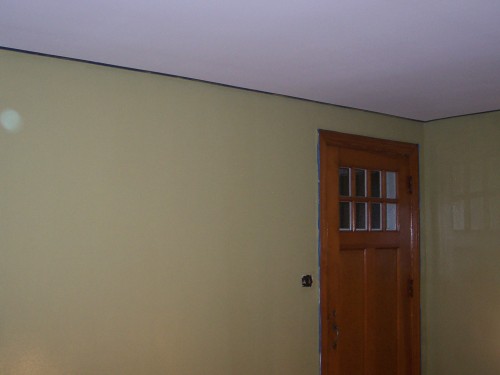 In these shots it's Spring 2006 and my husband was now the home's owner. We set to work painting the living room a green shade called Gold Infusion. You can see all the original trim and windows here and even the original door. The front door ended up having to be replaced due to a burglary and the fact that it had no insulation. Our new door works great though and will hopefully keep the burglars out as well as that old front door did (which it did, they had to try another door) so it wasn't a total loss.
Currently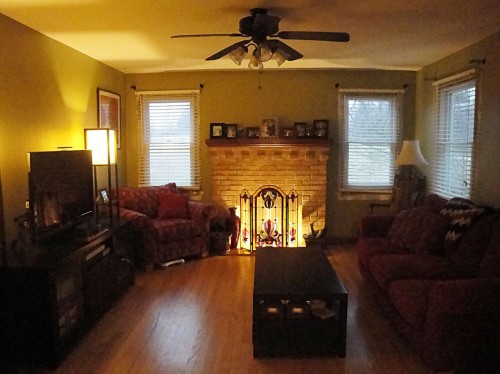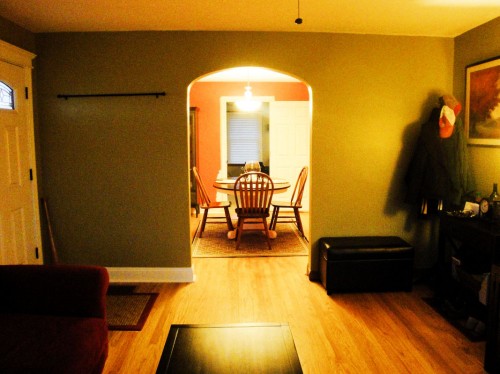 This is our house currently. Would you believe I took these photos during the middle of the brightest day last week? We've had some seriously gray days lately so I'll be updating these photos soon.
If this room looks like a work-in-progress, that's because it is. We plan to do some major makeovers this winter before planting season (when we'll switch to the outdoors) so I wanted to give you a rough and dirty look at our current living room. To give you an idea of what we're planning, here's my pinterest page for the room.
To Do List
Finish baseboard trim in the entire room
Trim out the windows
Trim out the fireplace and build a new fireplace mantel
Paint all the trim
Repaint walls
Repaint ceiling (the whole house needs it but we're waiting till this room is done so it all flows nicely)
Buy new bamboo shades and hang
Install our new curtains from Ikea
Rearrange furniture
Rearrange wall art
Put in some sort of shelving on arch wall
Work on entry station
Buy new lights
Replace all wall switches and outlets with new color
Redo vent covers in the room
Get an end table (depends on room rearrangement)
Buy accessories to complete room
Create a dramatic mantel display
Figure out what to do with random chair in room (relocate, reupholster?)
So if you're up for a fun time, stick around and watch our room begin to transform itself. I'll be posting some other rooms soon. You might notice in the current living room photos that we're patching in the dining room and there's a new interior door. The dining room makeover is already underway and the kitchen makeover is nearly done. I'll be showing them off soon enough so stick around.