Tagged with " St. Louis"
Last year one of my favorite experiences was seeing the Lantern Festival at Missouri Botanical Garden. The gardens are always beautiful but the lanterns were gorgeous pieces of art in a beautiful landscape.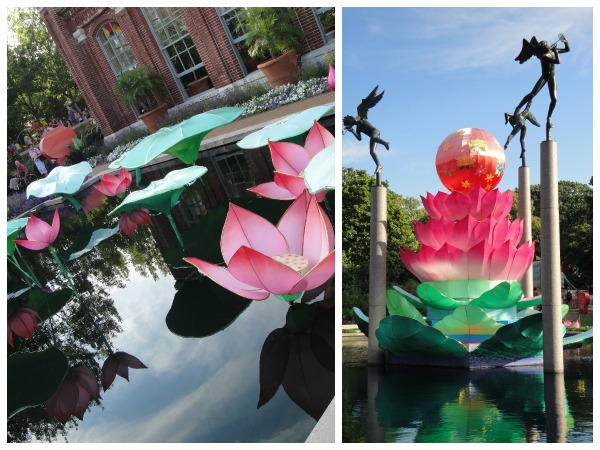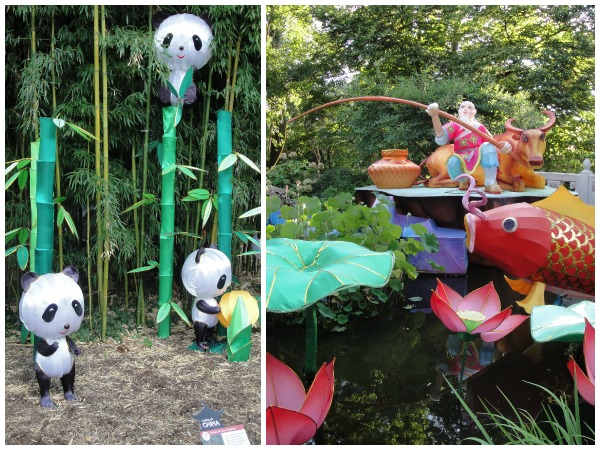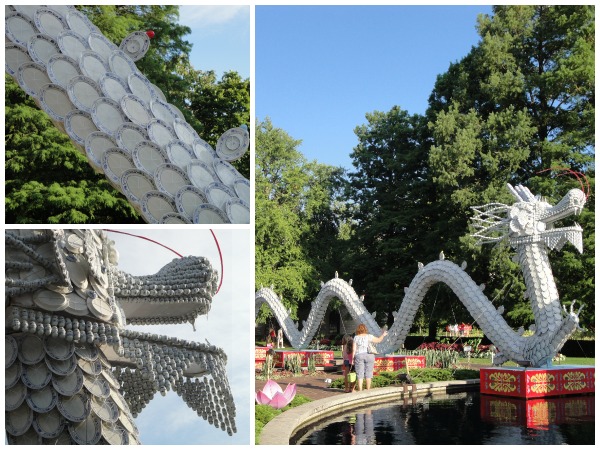 That last one there was so incredible. At night it lit up and breathed smoke. My favorite at night was this one: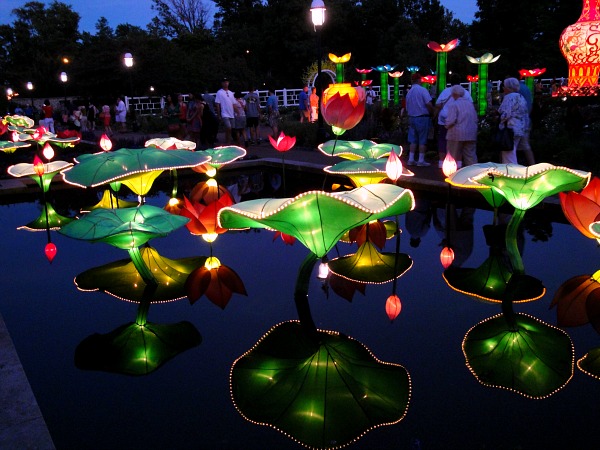 Seriously, how gorgeous are all the reflections? I've profiled the gardens on my old travel blog and I have to say that even without the lanterns that place is beautiful. I came away from that visit so inspired by what I could do in my own yard. Can you just see adding lights to a water feature in your own yard to play with texture?
I was pleased to see the gardens suffering from the same effects of drought that my yard was. Even the pros suffer too! I realized I was just fine in many of my plant choices and sometimes living in Missouri means bad years. I'm hoping this year will be a better one. Tomorrow will hopefully be the last snowfall of the season and I expect the rest to be melted by Friday. I won't plant then because I've got a Muse concert to see but Saturday this girl is putting on her shoes and planting grass seed.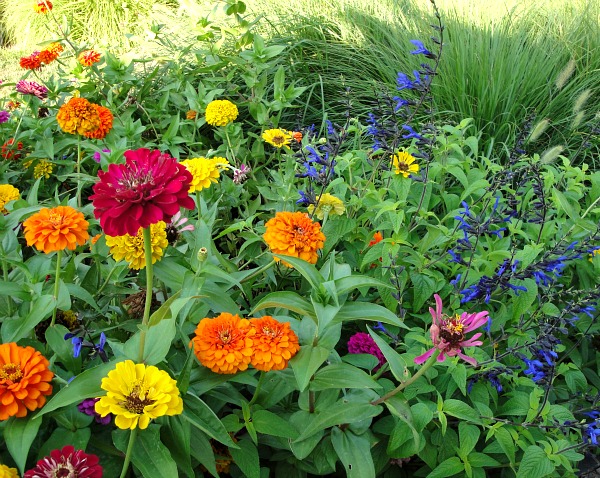 Back on topic to the cooler plants though. The botanical garden has a plant finder tool to help you decide what plants around Missouri and the gardens will work in your own yard. I used it with some of the photos I took of the hanging baskets in the garden.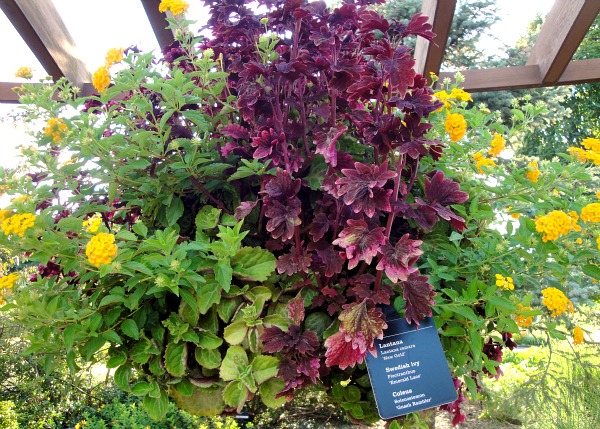 This basket has lantana, swedish ivy and coleus in it. I learned from the plant finder that lantana blooms in July (when I was there) and that it resists drought well which is probably why it was thriving so well. Bonus: it attracts butterflies.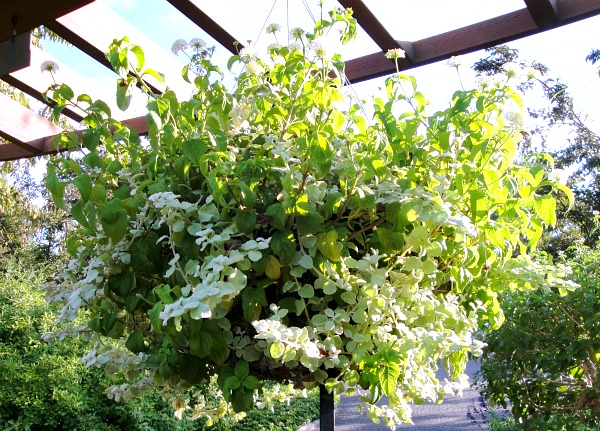 This basket also has lantana but this time it's paired with a licorice plant. Crazy how you can get such different planters both starting with the same species.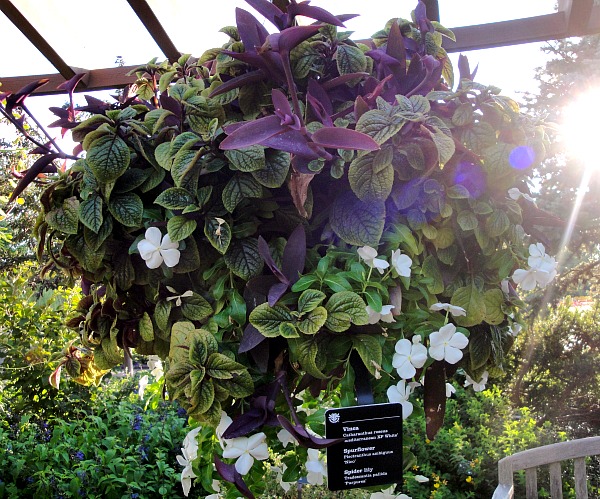 This basket has vinca, spurflower, and spider lily. The finder tool helped me to see that all would do well in the shade meaning I can still have a gorgeous basket even in the darker corners of my yard.
What do you use for garden inspiration?
This past weekend I tried a bit to get into the Christmas spirit. Christmas can be a hard holiday for me. I feel like if I don't get something done then I've let people down and if I do get it done it's often to the sacrifice of my own happiness. Awesome, right? I'm sure I'm not alone but it's a constant struggle for me to find some balance.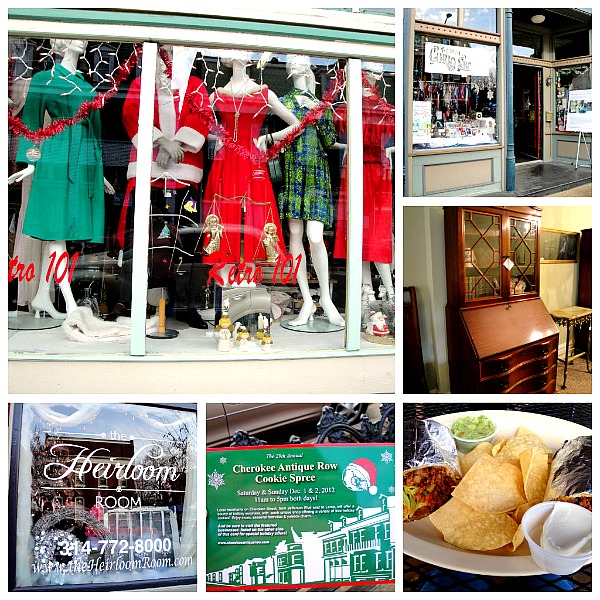 This weekend was spent trying to find that sweet spot. I went with my mom down to Cherokee Street in St. Louis. If you've never been, it's a walkable street with brick historic homes and storefronts. Many shops are filled with antiques or crafts. If you visit, you'll notice the amazing food in this area too. It's sort of the Mexican food capital of St. Louis. Today was also what is known as the Cookie Spree where every shop on the street that is participating has a cookie tray inside. Can you say way too stuffed?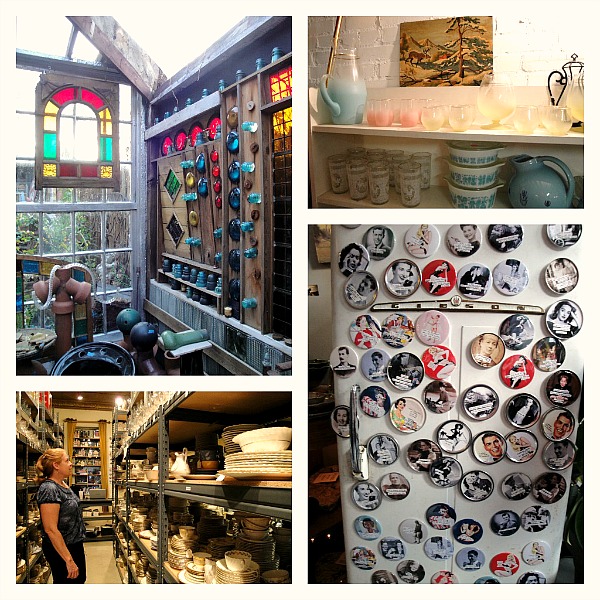 I ate lunch at a place called Neveria La Vallesana. Very good burritos there. I also did a ton of window shopping. If you want some fun places to shop, The Purple Cow, Retro 101/Cherry Bomb Vintage, and St. Louis Curio Shoppe are your stops. If you want something practical, check out China Finders, Lady Jane's, Haffner's Antiques, or Hammond's Books.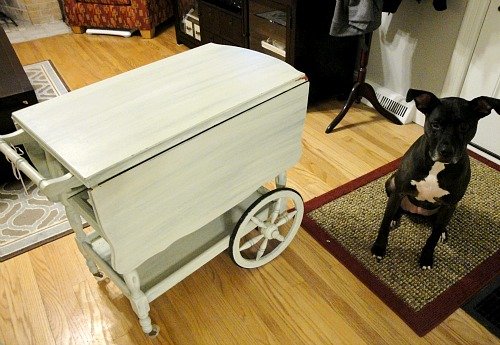 My two favorite shops of the day both heavily featured antiques. Elder's Ltd had 3 stories of some of the most beautiful antique/mid-century furniture at reasonable prices. It's a shame I wasn't looking for that this time but I'll definitely be back. My other favorite was the place I got my big purchase of the day, Bella. I'm not sure my dog is impressed but I've got high hopes for turning this tea cart from Bella's into a bar cart. There was a 20% off sale going on today and they gave me a great deal and I can't wait to get to work on this beautiful piece.
Oh and notice my blue dining room rug in the background? It got moved to the living room this week. I don't know why, I just decided to mix it up. I might end up with a new rug in the dining room and it'll work with this new bar cart look. I'm just trying to decide if I want to stick with blue as my accent in the dining room of if I'd rather go with a bolder color. Stay tuned for updates one day on that front.
The dining room did get a bit of a new look minus the rug being taken away. We put up our Christmas tree! It may not look like much, being a $16.99 purchase from back in 2005 but it means something. The year my husband bought it was his first in a new apartment back when he was still just my boyfriend. I was really sick that winter and had just gotten some bad news that I'd need more treatment so I am pretty sure he bought that cheap little tree to cheer me up at a time where money was tight.
I think that's the important way for me to find some balance this season. Just stop and take a step back and remember all the little reasons to try hard this season. I don't have to do everything right or everything perfect but I should try to do it with love and care and let the pieces fall where they may.
Last week I invited my friend Wendy and her mom along with me to go blueberry picking. I had gone last year and enjoyed it so much that I wanted to go again this year.
I go picking at Wind Ridge Farm in New Melle, Missouri. They also have blackberries and peaches depending on the season. They aren't open for picking every day but they do update their website, twitter account, and facebook page to help you plan your next pick date. This method ensures that the plants aren't overpicked and that guests have plenty of picking options.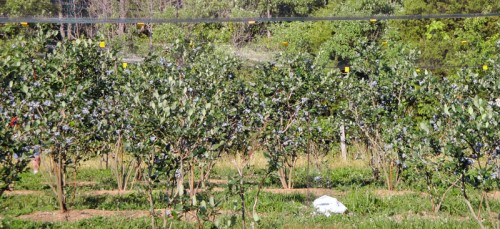 When we arrived this year we could see the blueberries hanging off the bushes before we even entered the field. You just grab a bucket, listen as an employee tells you the best places to pick, and have at it. We spent less than an hour picking casually and ended up with about 2 1/2 pounds each. The blueberries are $2.99/lb and they even take credit cards if you have your whole family out there picking.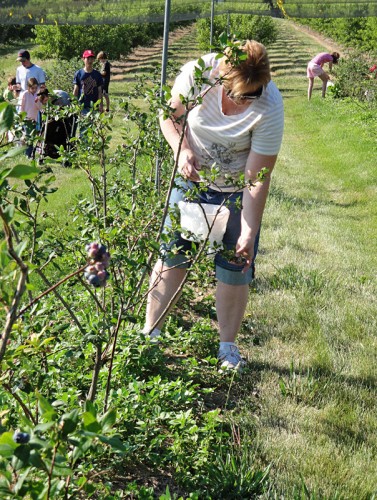 Their next pick date is on Sunday from 8 AM to noon or until the field is all picked. You could celebrate Father's Day with some blueberries or even some blackberries since they will have a small batch of them ready to go. After we went picking we did a scenic drive along Missouri's wine country. There are several wineries out in the area so if you time it right you could pick one day and stop for some lunch at a winery before shopping (like we did).
I've been planning out all sorts of delicious blueberry treats since I saw the fields were open and you can see them and other berry treats on my Berry Picking pinterest board. Coming up tomorrow I'll show you my first cooking project or you can check out my favorite blueberry buckle recipe on my travel site.