I'm back with one last Lenten meal for you. This one is another healthier-than-fish-fry kind of meal courtesy of Cooking Light. I love that this recipe uses asparagus that's in season (unless you live somewhere that just had another 14 inches of snow like I did) and has some of that delicious gnocchi I cannot get enough of lately.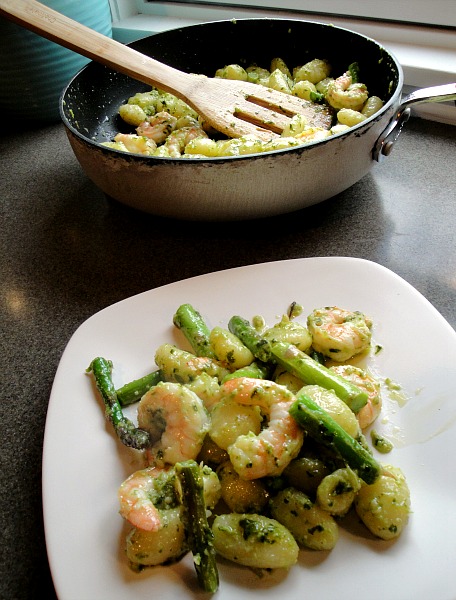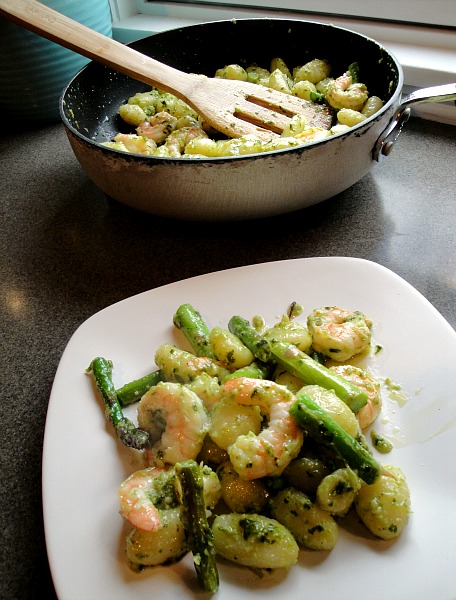 This meal only takes about 10 minutes to cook and there aren't many dishes so you can use your Friday night for something other than dinner. Do any of you do a blackout night on Friday? I've tried stepping away from the computer and phone for those nights to just devote to some couple time or some reading. It's easier some nights than others (if the husband is gaming it's hard for me to stay offline too) but I made it through 3 books last weekend and got back on track for my Goodreads goal.
Have a good Easter to you all! I'll be back next week with some color inspiration.
Gnocchi with Shrimp, Asparagus, and Pesto
Ingredients
1 lb asparagus
1 pound peeled and deveined large shrimp
2 quarts water
1 (16-ounce) package gnocchi
1/2 cup pesto
Instructions
Chop asparagus into 1 inch pieces. Heat up a skillet.
Bring 2 quarts water to a boil in large pot. Add gnocchi and boil for 2-3 minutes until the gnocchi rises to the surface. Strain.
While the gnocchi is cooking, saute the asparagus in the skillet for 4 minutes. Add the shrimp and saute for another minute. Mix in the gnocchi and the 1/2 cup of pesto and cook for another 3 minutes until done.
http://www.thehyperhouse.com/2013/03/gnocchi-with-shrimp-asparagus-and-pesto/
Pin It