I'm sure many of you have seen the pin on Pinterest about the magic regrowing onions. You know, this one:
I've seen a lot of pins that end up being too good to be true so I wanted to test this one and see how good it was. So after I used up the entire tops of some green onions making a meal for the Chinese New Year, I popped the bulbs into a glass and added a cup of water. I wasn't a believer but they were just going to end up in the trash so why not try?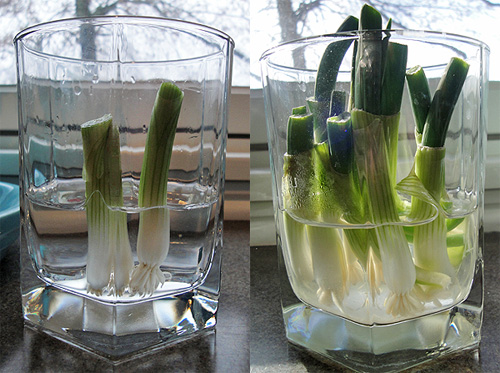 I woke up the next morning and gave it a look. WOW! That was just 12 hours and my onions were already shooting up. It took about 7 days but they were right back to the old height.
Some Tips
Change the water daily. It will start to stink fast.
After 14 days if you still haven't used the onions then place them in a plastic bag in your fridge so they don't get out of control.
You can reuse the bulbs multiple times. The bulbs do get fatter so just cut a bulb in half if it gets too big.
Onions don't cost a ton but I save the most on time, I don't find myself needing to run to the store for a single ingredient when I can grow it in my Missouri kitchen in the middle of winter.
Pin It