Tagged with "cookies | The Hyper House"
My coworker Rachel believes in me. I know this because she supported me when I was just an intern, she supported me when I wanted to come back to work for the place I'm at now and she supported this blog. She gets me and she knew I needed a push to start posting again and sharing my loves. She submitted today's recipe to me in an effort to help me get my butt in gear and post. I needed this push. This past year has been full of changes: my husband and I each started new jobs, I took up weightlifting, and apparently I became the kind of person who tries insane recipes for the internet's enjoyment. Let me tell you internet, when Rachel supports you it might mean making something horrifying just to see her reaction.
Today, I became the kind of person who makes stuffing cookies.
The cookies start off kind of normal. Cream butter and sugar. Add eggs. Add your dry ingredients. I stared down the stuffing. "It's just like oatmeal," I told myself.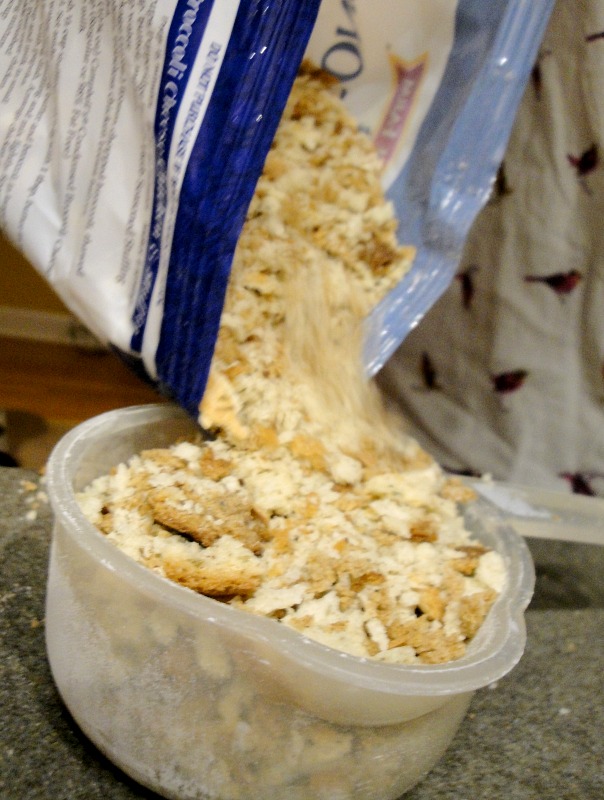 It was only as I poured in the hard dried chunks of stuffing ingredients that I began to really wonder if Rachel was angry about all those meetings where I brought up mundane issues I doubt she cared about. Or maybe she wants tomorrow's potluck to be one of those events where you don't know if someone's food has poisoned you. Life is never boring at our workplace.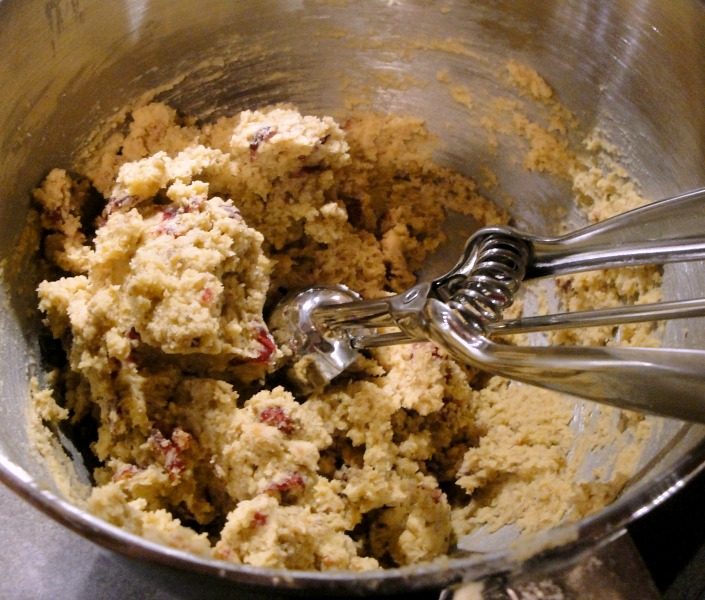 Once I got the dried cranberries in there it seemed more like oatmeal cookies would be right on target. The recipe says it makes about 15 but it easily made 2 dozen for me.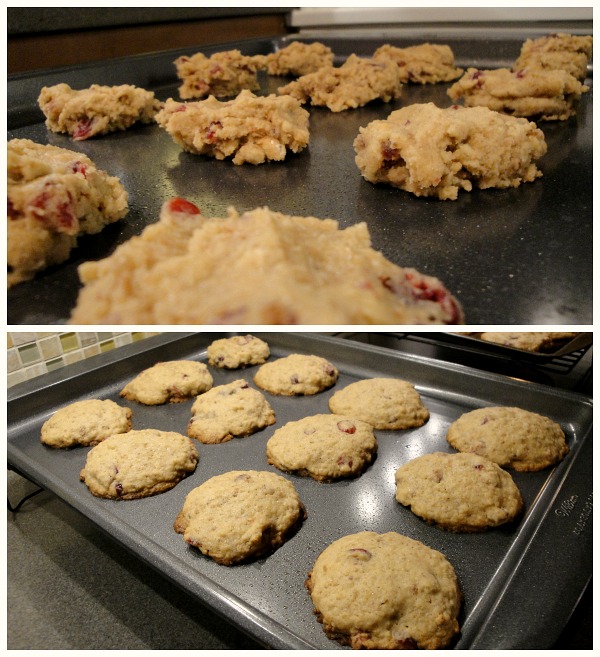 Alright, so moment of truth- how did they taste?
I have no clue. I was too afraid to try the cookie dough and now that they are baked I plan to enjoy them with all my lovely coworkers in the spirit of sharing and teamwork, just like Rachel taught me. I'll update you when I know if they are "complex, subtle and completely surprising (in a great way)" like HuffPo says or if I need to update my resume soon.
Update: They taste good! Everyone who tried them liked them. I'd compare them to an oatmeal raisin cookie. The only troubling part was that I couldn't tell there was stuffing in them.
Pin It

It's time again for another cookie recipe. This one happens to have just 5 ingredients thanks to starting with a cake mix.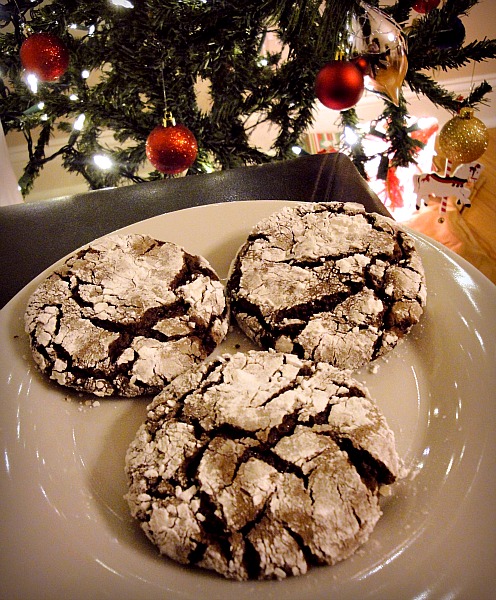 These chocolate fudge crinkles are a new recipe in my house but they went over so well I wanted to share them. I used a Betty Crocker chocolate fudge cake mix but I think this would go over great with the other cake mix flavors like strawberry or even yellow cake mix for a gooey butter-like cookie.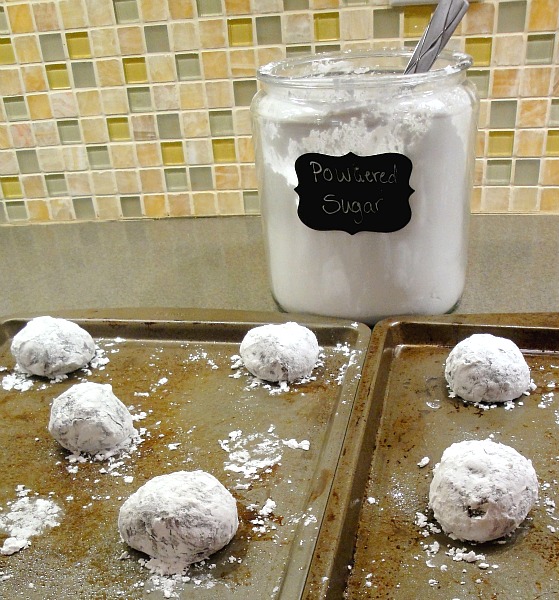 The secret to these cookies is to make them quite big before rolling them in powdered sugar. Don't be tempted to make a ton of cookies since these get the best rise and crinkled effect if you just make 1 cookie sheet of cookies from this recipe. The double rolling in powdered sugar also makes sure the final cookie gets the maximum color contrast for that snow-dusted cookie effect. These cookies are very rich so make sure to eat them with some milk!
Ingredients
1 box chocolate fudge cake mix
1/2 cup vegetable oil
2 Tablespoons water
2 large eggs
3/4 cup powdered sugar
Instructions
Stir together the cake mix, oil, water and eggs until it forms a very thick dough. Chill in fridge for 20 minutes to an hour.
Remove dough from fridge and quickly scoop into 1-inch balls. After shaping each ball, roll it in powdered sugar and let it rest on a cookie sheet.
Once all the balls have been shaped, roll each ball in powdered sugar for a second time.
Bake for 10 minutes at 350 degrees. The centers of the cookies should be slightly gooey. Cool for 5 minutes on the pan before removing to a wire rack until completely cooled.
http://www.thehyperhouse.com/2012/12/cake-mix-crinkles/
Pin It

I've noticed people seem to have a lot of peculiarities about their chocolate chip cookies. Some people like thick chewy ones, others want a crunchier bite. Some people add in ingredients like peanut butter or pumpkin to the batch and some like it straight off the bag.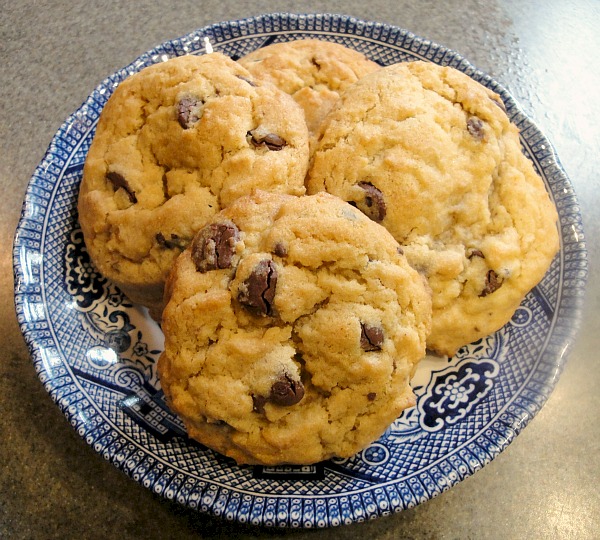 This recipe appeals to the first crowd. The Chewy is a chocolate chip recipe with a fluffy dough that rises thanks to some instant vanilla pudding in the batter. It's a very cake-like cookie which should come as no surprise since so many cakes have pudding in them as well. The mix of white and brown sugar also leads to a very soft cookie.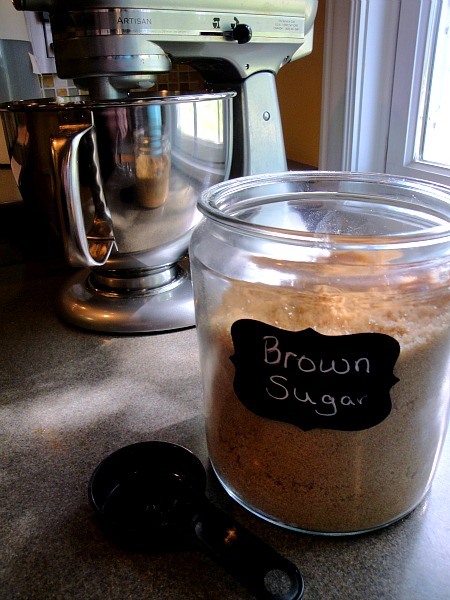 This cookie is all about the texture. It's also great for freezing. I made this at the same time I made my M&M cookies and I froze 4 dozen of these cookies and 3 dozen of those cookies. I may have sampled some in the meantime and I promise you I gobbled them up all too willingly.
Bakery Chocolate Chip Cookies
Ingredients
2 cups butter
1/2 cup sugar
1 1/2 cups brown sugar
2 (3.4 ounce) packs instant vanilla pudding
4 eggs
1 teaspoon vanilla
4 1/2 cups flour
2 teaspoons baking soda
20 ounces milk chocolate chips
Instructions
Cream together the butter, sugars, and pudding mix. Beat in the eggs and vanilla.
Combine the flour and baking soda. While stirring, add the dry ingredients gradually to the wet ingredients.
Mix in the chocolate chips.
Bake at 375 degrees for 8-10 minutes.
http://www.thehyperhouse.com/2012/11/the-chewy/
Pin It

I'll admit that sometimes in life, I can go a little overboard. I mentioned before that I had some eggs to use up before I left town for my vacation and the apple bread just didn't cut it. I decided this would be the perfect time for me to get ready for Christmas. That's right, back on September 12 I decided to bake 11 dozen cookies for Christmas. I made 6 dozen chocolate chip ones (recipe coming soon!) and 5 dozen of today's recipe, M&M cookies.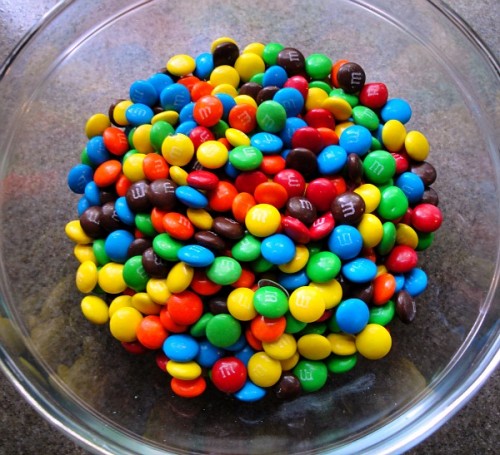 That's a bit of an exaggeration. I did in fact bake 11 dozen cookies and packed them away in 3 separate containers. One container was eaten in the week before my trip. It held 2 dozen cookies. The other 9 dozen were split between 2 more containers and one is still safely tucked away for Christmas. The other has been eaten in the month since I returned. This is how I roll. I bake a bunch of cookies, eat most of them and save a couple dozen for Christmas. Over the next few months I'll stock it with some peanut butter chocolate chip cookies, gingerbread and sugar cookies (undecorated), and some double chocolate chip ones. The ones I don't eat by Christmas become a January snack, though to be honest I'm usually cookied-out by then.

I store my cookies for up to 3 months in an airtight stackable container already cooked. I just pull them out about 90 minutes before I eat them and they're perfect.
Ingredients
1 1/2 cups sugar
1 1/2 cups brown sugar
1 1/2 cups shortening
3 eggs
1 Tablespoons vanilla
6 Tablespoons water
5 1/4 cups flour
1/2 Tablespoon salt
1/2 Tablespoon baking soda
10 oz mini M&Ms
Instructions
Cream together the sugars and the shortening. Blend in the eggs, vanilla, and water.
In a separate bowl mix together the dry ingredients and gradually add them to your wet ingredients.
Gently stir in your mini M&Ms (regular will work as well) and bake at 375 degrees for 9 minutes.
http://www.thehyperhouse.com/2012/10/mm-cookies/
Pin It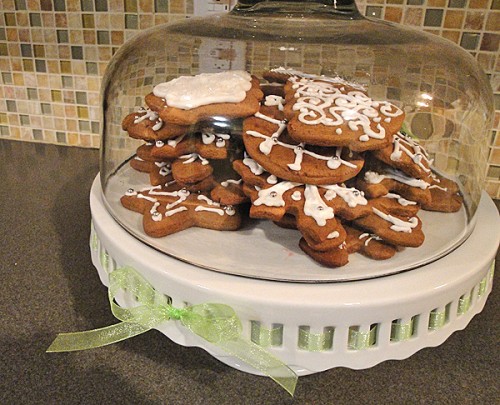 I know I already posted one cookie recipe but a small project delay left me with one more day in the kitchen. I decided to whip up some gingerbread cookies. I love how gingerbread smells when it bakes and it's one of those cookies that soothes your stomach while you stuff it. I've posted the recipe below and I topped the cookies with some Royal Icing to make them extra snazzy.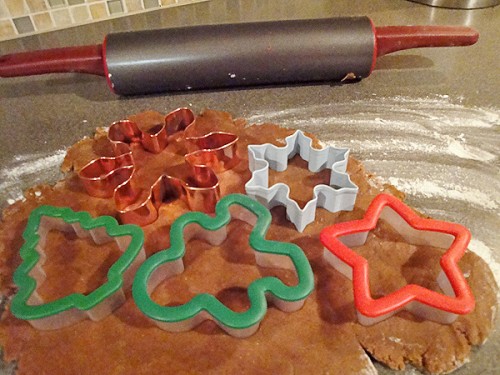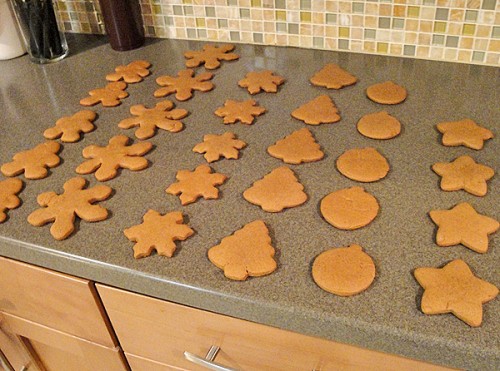 I like to mix up which cookie cutters I use. Some snowflakes…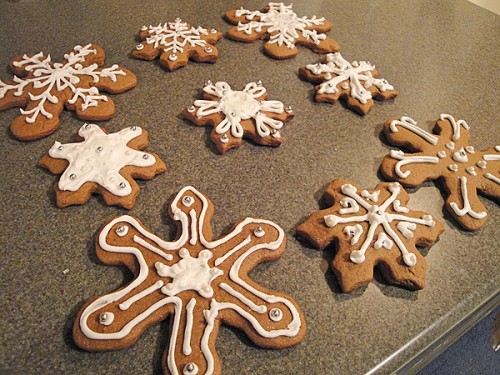 Some Christmas trees…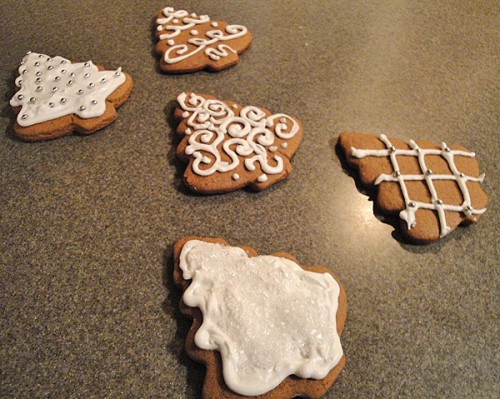 Some stars…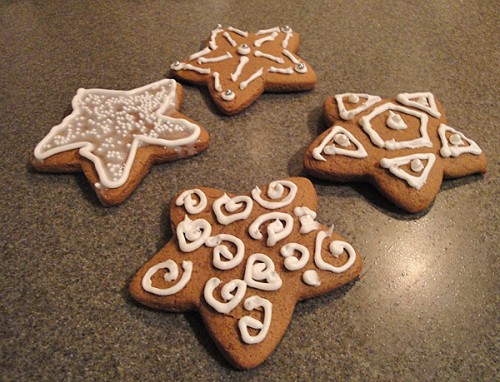 Some ornaments…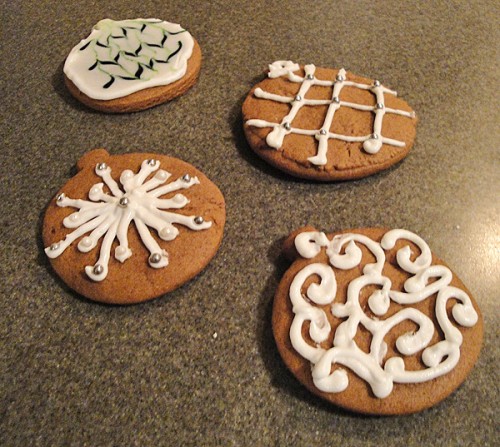 And of course some gingerbread men!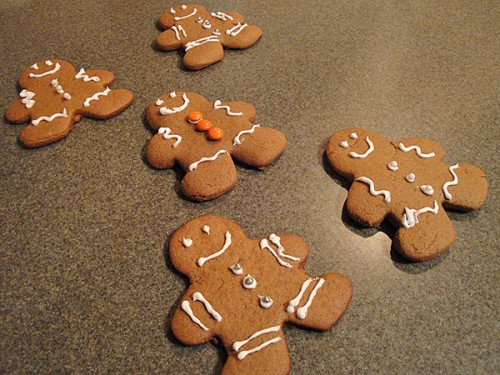 Have fun using icing, food coloring, sprinkles, dragees, sugar, and even mini M&Ms with your own cookies. I'm linking this up at the CSI Cookie Exchange Party:
Thank you CSI Project!

Ingredients
3 cups flour
1 1/2 teaspoons baking powder
3/4 teaspoon baking soda
1/4 teaspoon salt
1 tablespoon ground ginger
1 3/4 teaspoons ground cinnamon
1/4 teaspoon ground cloves
6 tablespoons unsalted butter
3/4 cup brown sugar
1 large egg
1/2 cup molasses
2 teaspoons vanilla
Instructions
In a small bowl, stir together flour, baking powder, baking soda, salt, ginger, cinnamon, and cloves.
In a large bowl cream together butter, brown sugar, and egg with a mixer on medium speed until well blended.
Add molasses and vanilla to the butter mixture and beat until smooth.
Gradually stir in dry ingredients until well-blended.
Divide dough in half and wrap each half in plastic and let stand at room temperature for at least 2 hours or up to 8 hours. (Dough can be stored in the refrigerator for up to 4 days, but in this case it should be refrigerated. Return to room temp before using.)
Preheat oven to 375°. Grease or line cookie sheets with parchment paper.
Place 1 portion of the dough on a lightly floured surface. Sprinkle flour over dough and rolling pin. Roll dough to a scant 1/4-inch thick. Cut out cookies with desired cutter.
Space cookies 1 1/2-inches apart on cookie sheets. Bake for 7-10 minutes (the shorter you cook, the softer your cookie will be!)
Cool on a wire rack and decorate however you like!
http://www.thehyperhouse.com/2011/12/gingerbread-cookies/

It's Christmas cookie season and I've been baking up a storm. I took my usual recipe and doubled it to make over 5 dozen cookies. Then I added some mini Reese's pieces and chocolate chips for a cookie that really hits the spot. Whether you make these cookies for Santa, a friend, or yourself, these are sure to hit the spot.
Can you take a recipe claiming to be The Best Peanut Butter Cookies and make them even better? I've adapted one of my favorite recipes to have even more peanut butter goodness.
Ingredients
1 1/2 cups creamy peanut butter
1 cup butter flavor shortening
2 1/2 cups packed brown sugar
2 large egg
6 tablespoons milk
2 tablespoons vanilla
3 1/2 cups flour
1 1/2 teaspoons baking soda
1 1/2 teaspoons salt
1 cup mini Reese's pieces
1 cup chocolate chips
Instructions
Preheat oven to 350°F.
In a mixing bowl, cream peanut butter, shortening and brown sugar. Add egg; mix well.
Stir in milk and vanilla.
Combine flour, baking soda and salt; gradually add to the creamed mixture.
Stir in the chips.
Scoop by the tablespoon onto cookie sheets.
Bake for 10 minutes or until golden brown.
http://www.thehyperhouse.com/2011/12/cookies-for-santa/