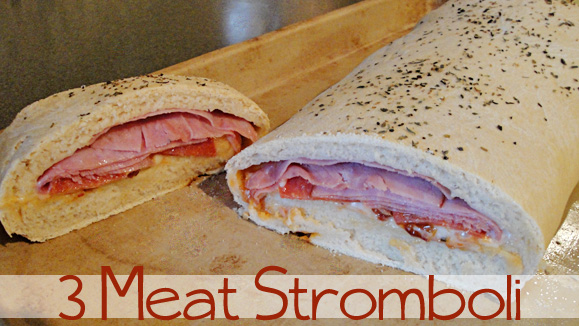 You might know stromboli by its other identity of calzone but I like to think there's a difference so I feel special saying "STROMBOLI!" in my horrible fake-Italian accent. This Meat Lovers Stromboli (or do I have to call it Stromboli for people who love meat?) follows some very simple steps that you'll be used to seeing in my pizza recipe. Some key tools that make it easier include a Kitchenaid mixer with its dough hook and my favorite Pampered Chef Stoneware piece. The dough in my photo below is after my first rise. I had to run some errands and it got a little out of control so I punched it down and let it rise a little more.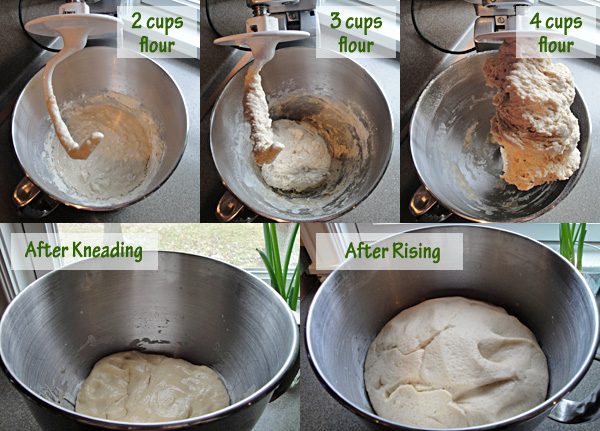 This recipe is cheesy awesome goodness with ham, bacon, and pepperoni. If you're the kind of person who likes pizza crust, every bite of this dish includes crispy dough with a bite of pizza filling. One bite is all it will take to make you a believer in stromboli. One bite.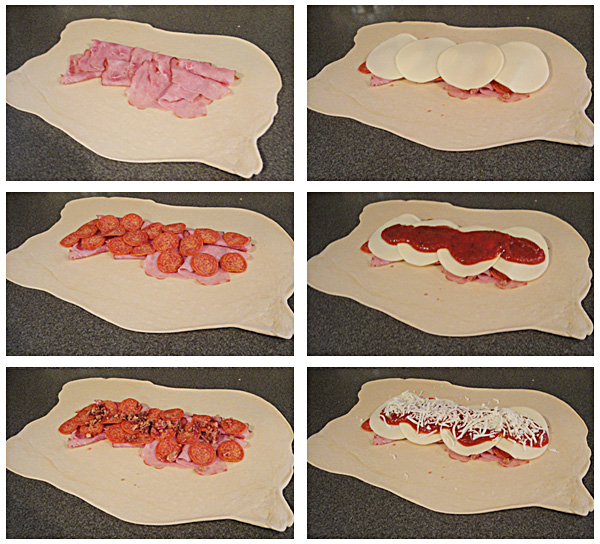 The key to stromboli is wrapping it up like a burrito. You fold in the little edges first, then the big ones, then seal it nice and tight with your fingers and some olive oil before flipping it onto your baking sheet seam-side down. Even with all that mine leaked a touch but I just scooped the cheesy goodness right off the tray and chowed down.
A delicious stromboli recipe. The dough is 2 servings so freeze one half or double the ingredients to serve more people.
Ingredients
Dough:

2 1/4 teaspoons active dry yeast (1 packet)
1 1/3 cups warm water (110° to 115°)
1/4 cup vegetable oil
1/2 tsp salt
4 to 5 cups flour
1 Tablespoon olive oil

Filling

1/4 lb ham slices
1/2 pack of pepperoni
1/3 cup crumbled bacon
4 slices provolone cheese
1/4 cup tomato sauce
1/2 cup shredded mozzarella cheese
olive oil
1/2 tablespoon Italian seasonings
Instructions
Dough:

In Kitchenaid mixer bowl dissolve yeast in the warm water.
Add oil, salt, and 2 cups of flour. Use the dough hook attachment to begin blending together. Slowly add in 2 more cups of flour 1 cup at a time. If the dough looks too wet, add in the remaining cup of flour 1/4 cup at a time until the dough looks blended but not crumbly or sticky.
Continue to knead dough on low until smooth and elastic, about 8-10 minutes.
Unhook the bowl, coat your dough in a tablespoon of olive oil. Cover and let rise in a warm spot for an hour.
Punch dough down. Divide in two and freeze or save the second half for another project.

Stromboli:

Roll out remaining dough into a 10 x 12 rectangle. Keep it about 1/4-1/2 inch thick.
In the middle of the dough, add toppings, first ham, then pepperoni, then bacon, then cheese slices, then sauce, then shredded cheese. Make sure to leave space around all the edges.
Fold the two shorter edges towards the center, just covering the toppings. Fold one long edge over, then cover with the other long edge, like a burrito. Use olive oil to help firmly seal all the seams.
Grease baking pan with olive oil and place stromboli seam-side down onto the pan. Coat the top of the stromboli with a little olive oil and sprinkle on Italian seasonings.
Bake at 400°F for 20-25 minutes or until golden. Cool 5 minutes, cut into 1 inch slices, and serve
http://www.thehyperhouse.com/2012/02/meat-lovers-stromboli/
Pin It