Do any of you remember those Polar Pizzas or Treatzza Pizzas from Dairy Queen or Baskin Robbins back in the 90s? If you don't, you missed out. The ice cream pizzas usually had an Oreo or cookie crust, some ice cream, and a batch of toppings that would send you to a sugar coma. I remember my brother getting one at his birthday party and being very jealous that I had just had a homemade cake at my own party a month earlier.
Flash forward to last week when we had 90 degree temperatures at the end of March/beginning of April. My husband and I were spending hours outside building a retaining wall and yet we were too stubborn (aka cheap) to turn on the air conditioner. I was desperate to find a way to cool off and then I remembered those pizzas.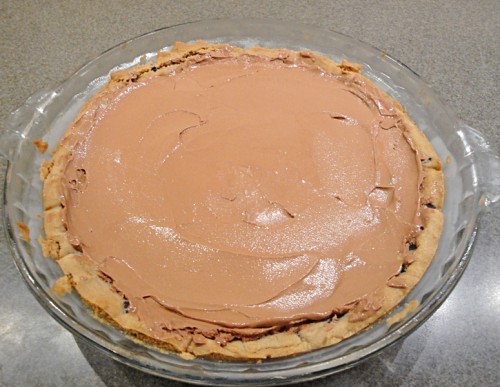 I took some cookie dough and pressed it into a pie pan. I risked a quick bake in the oven and cooked the dough about 15 minutes. After the cookie cooled on the counter, I popped it into the freezer. Just before dessert time I thawed about 5 scoops of ice cream (you might need more if you use a bigger pie pan) and then I smoothed it into the cookie dough base.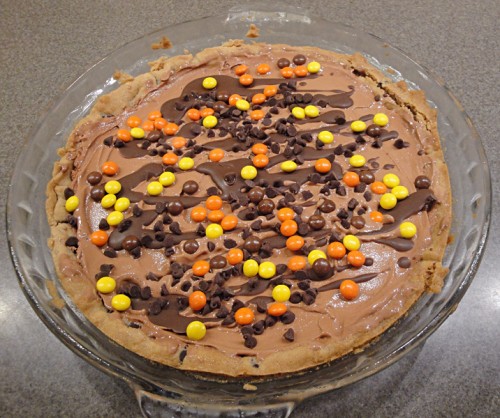 To keep with the sugar coma memories of my childhood I drizzled on some Magic Shell and then sprinkled on some mini chocolate chips and some mini-Reese's Pieces leftover from my Christmas cookies. It was some delicious frozen cookie pie, just like I remembered.
Ingredients
1 tube cookie dough (or 16 ounces of your favorite recipe)
5 scoops thawed ice cream
Magic Shell
1/8 cup mini chocolate chips
1/8 cup Reese's Pieces
Instructions
Press the cookie dough into a pie pan, shaping the extra dough along the edges to resemble a pizza crust.
Bake for 15-20 minutes at 350 degrees.
After cooling, place the cookie pie in the freezer for at least 2 hours.
Thaw ice cream for about 1 hour minutes before your serving time. You can skip this step by scooping the ice cream into a bowl and microwaving about 10 seconds.
Smooth the ice cream into the center of the cookie pie and refrigerate for 1 hour.
Pull the pie back out of the freezer. Drizzle with magic shell and sprinkle with candies.
Use a warm knife to cut the cookie pie and serve.
http://www.thehyperhouse.com/2012/04/frozen-cookie-pie/
Pin It