Do you have a cluttered desktop on your computer? It's one of those things that can get out of hand quickly. You might save a file to the desktop to look at tomorrow and 3 weeks later it's still there with all the other items you've saved since then. Here's how I've decided to handle the situation.
This is my desktop. You can click it to enlarge it but my method has 3 columns to keep me organized. I tend to work from left to right on my screen so while it might make sense to keep my most frequently used items on the left, I actually put the most urgent items over there. That way when I'm procrastinating and clicking around, I'm more likely to click on something I should be doing instead of a way to waste time.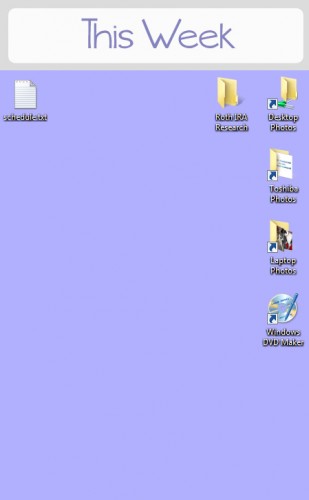 My first column is labeled "This Week" for tasks I've assigned myself to do ASAP. I keep a text file with a basic schedule and meal plan here and usually I leave it open in my task bar. As you can see, this week's tasks include addressing my finances and working with photos. My Finance Folder is full of links to websites to help me research some financial changes. Over on the right I have shortcuts to all my photo folders on my home computer network and a desktop shortcut to my DVD burner so I'll finally get around to a much needed photo backup.
Tip: Put shortcuts on the desktop instead of actual folders.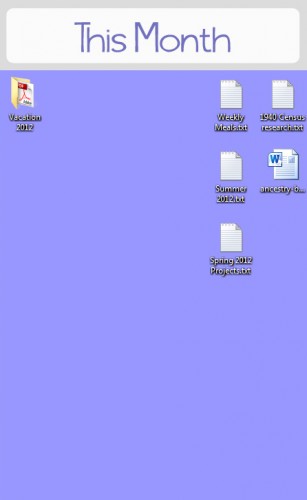 My second column "This Month" focuses on longer-term projects that still need a deadline. In one folder, I've put links to all my summer vacation plans in along with copies of forms and confirmations. I also keep a backup meal plan in this area with some meal ideas based on what's currently in my freezer, as well as plans for the spring and summer. You can see my other ongoing project is to keep checking for updates on the 1940 Census that was just released. I have one text file that logs where I've searched for family and what pages I've located people on for printing later.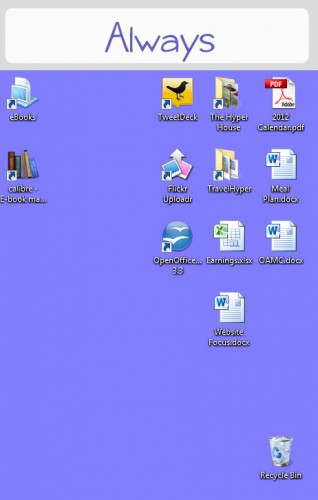 My "Always" folder on the right is where I keep my most frequently used items. On the right you can see where I keep hard copies of my eBooks and the program I use to organize them. I have a small eBook addiction and this helps me manage them. I have desktop shortcuts to each of the image folders for each of my websites along with my website mission statements and organizational charts. After that I have a calendar with a daily task on it, a document where I log the meals I've tested with notes on improvements, and my bulk cooking cheat sheets that are slowly being added to the website.
Want to know how you can make your own desktop? I took all my desktop icons and aligned them along the top of the screen. Then I hit the Print Screen button and pasted the screencap of my desktop into Photoshop. I divided the screen into thirds with blocks of color and then labeled the top of each section. After saving the file, I just right clicked on the image and chose "Set as Desktop background". My resolution is set at 1366 x 768 so if you want this desktop background and you use the same size, just save the image from here.
What does your desktop look like?
Pin It