I don't know where you are but here in my area the temperature has dropped and I am cold! On top of that, my freezer was full of ground deer meat from a deer my brother had killed last year. He was looking to clean out his freezer for hunting season this year so I was the lucky beneficiary.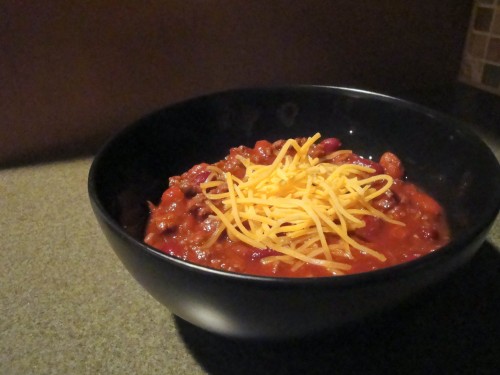 Knowing how cold Missouri winters can get I decided to put myself to work. Last weekend I made a quadruple batch of chili using the venison from my brother. Deer meat is amazing because it's very lean and while some people find it gamey, I'm not one of those people. If you are, I promise you that this is one of those recipes where you don't even notice what animal you are eating. My quadruple batch gave me dinner for 2 nights and I froze the other 3 batches leftover. Now when the holidays get to be too much I can just pop a container out of the freezer and heat it up on the stove in about 10 minutes. I like to serve my chili with some hot sauce, sour cream, oyster crackers, and cheese but you can do whatever your family likes.
A wonderful chili meal for a cold day. Adapted from Food.com.
Ingredients
1 lb ground venison (ground beef works too!)
1 (10 1/2 ounce) can Campbell's French onion soup
2 tablespoons chili powder
2 teaspoons ground cumin
1/2 teaspoon pepper
2 teaspoons cocoa
1 (15 ounce) can chili beans
1 (15 ounce) can kidney beans
1 (6 ounce) can tomato paste
1 (8 ounce) can tomato sauce
1/2 cup cola
Instructions
Brown ground venison and separate finely.
Put soup in blender, blend for 1 minute.
Add all the ingredients to a crockpot and stir together. Let simmer on low for 6 hours or on high for 2 hours.
http://www.thehyperhouse.com/2011/11/venison-chili/